It is well known that you can't go skiing without the proper equipment, however most ger looks the same to the novice. But there must be something to set everything apart, right? Advanced skiers will want to learn more about the best ski boots, while beginners will want to know what's the difference between them.
It might seem that seasoned skiers know everything, but that's because they learned it the hard way, through trial and error. Not everyone wants to try all the ski boots out there to discover the best of them, especially not beginners who don't want to spend a lot of money. Instead, an article that presents them in a fair light, like this one, is much more useful to them.
Reading a review article such as ours, as well as the opinions of others on the subject, can really help you make an informed choice. This article is aimed at everyone, regardless of their skiing skills and knowledge.
Our Top Picks
What is the flex index?
The flex index is a number that indicates just how difficult it is for the wearer to bend the upper part of a boot, forward. The downside is that each manufacturer uses a different number to indicate how much a boot flexes. This practice can be compared with clothes sizing, where designers use a different classification to indicate how big their clothing is.
There a few things to remember though: the flex index helps you find the right boot for your experience level, and usually the flex index starts at 50 and ends at 130. The lower numbers are for beginners, and the higher ones for more experienced skiers. Indexes higher than 130 do exist, however those are available only as custom orders.
The boots will feel soft, medium and stiff. The very stiff feel is for the custom made boots, and are only demanded by racers. Occasionally, the indexing will use a 1 to 10 rating system, with the lowest numbers being softest. As mentioned, only professional skiers will need the most stiff boots they can find. The rest of us will use the index to compare different boots made by the same designer, or to try and identify a specific flexibility we could be interested in.
Be careful though, because women's flex index is lower than that of the men. This is due to women having a lower body mass and smaller feet than men. The stiffest women's ski boots that are commercially available range from 85 to 100, and anything above that must be ordered.
What is the "last"?
The last of a ski boot indicates just how wide the product is, so that the skier can buy something that fits their feet better. This width is measured on the foot across the metatarsal heads in a rather diagonal line. Usually the wider the last is, the wider the boot is at the heel area as well.
Boots with a last of 97 mm to 98 mm are narrow and will fit a low volume foot. The average last is around 100 mm, and are supposed to fit most people as they are, even brand new. A wide last is for feet between 102 mm and 106 mm.
Since not all feet are the same, those people with unusual foot shapes are better off ordering their skiing boots as well. A custom made foot wear will feel more comfortable than a larger one. Make sure to pay attention to the last in numbers, as not all brands use the classification mentioned here.
What about the size of these boots?
It is pointless to buy ski boots that will not fit in length. This size is measured in centimeters, and the scale is called Mondopoint. To discover your Mondo size, all you have to do is to take a ruler, and step on it, making sure you place it under your longest toe.
If you don't own a metric ruler, just use whichever one you have and convert the number. If you measured in inches, you should multiply that number by 2.54 and you're done!
What other points do I need to pay attention to?
The cuff shape, or better said size, is also important. Men and women have different calves – they differ in shape, size, and even location on the leg. Women's ski boots are built in a manner to better fit their calves, and some models even flare out if needed.
All the other elements you'll see on these boots are generally aesthetic, and are chosen based on preferences. Some of these elements can help with making the boot more versatile and to offer an increased comfort throughout the day.
It is our hope that this little presentation helps you better understand some of the terms used in relation to skiing boots, as well as the features most liked by the experts. It is time to actually see some of the products that have those characteristics.
Best Products on Today's Market
The boots you'll see below are some of the best on the market as we speak. We don't only present you their advantages, but some of their disadvantages as presented by those who used them. Choosing a pair of skiing boots is easier this way.
Salomon X-Pro 120 Ski Boots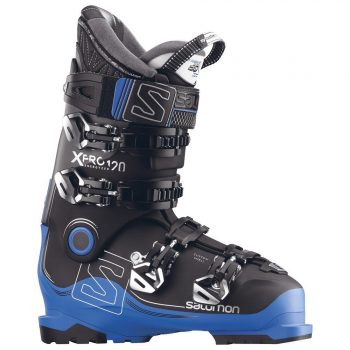 Weight: 10.3 pounds
Specific features: Aluminum buckles, adjustable last
Best use: Skiing
The Salomon brand is well known for its sports gear, and this boots do not disappoint. If you need a pair of high performance skiing boots but your foot is wider than average, this could be an option to consider. This item expands 6 mm, while retaining all its properties at the same time.
The boots include 4 micro aluminium buckles which will keep your foot protected. In addition to this, the product features a 45 mm adjustable power strap. The boots' last start at 100 mm, but you can simply expand them up to 106 mm if needed.
This Salomon X-Pro 120 Ski Boots comes in a wonderful black and blue color combination that suits any style. Furthermore, the polyurethane and polyamide combination makes them durable and convenient to wear during your mountain expeditions. Your foot will stay fully protected, as these ski boots offer all the high performance needed for this sport.
PROS:
45 mm adjustable power strap
Adjustable last
Related: Not only your feet and ankles need to be protected against accident, but your head as well. You could have a look at the Smith Vantage MIPS Helmet, if you need a new one.
Dalbello Panterra 120 I.D. Ski Boots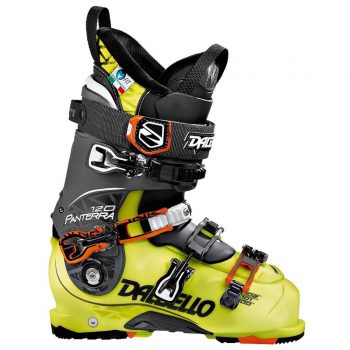 Weight: 15 pounds
Specific features: Grip walk sole
Best use: Skiing
If you are looking for some stylish ski boots that also deliver great performance, check out the Dalbello Panterra 120 I.D. Ski Boots. These boots provide the comfort you need on a ski trip, and include several properties that will make your skiing more fun. Available in a cheerful yellow and black mix, the boots feature a ski cuff system for improved grip.
Furthermore, the boots provide an adjustable flex as well as an adjustable heel inclinator that fits most sizes. These boots offers style and support your foot on the most difficult mountain areas. You will be able to comfortably wear this item regardless whether you are hiking or skiing.
If you are worried about getting wet, you should know these boots provide a system that keep your feet dry. These boots are perfect for active wear, as they are durable and convenient to use no matter if you are a beginner or advanced skier.
Related: If you feellike your skis could need a new set of bindings, check out the Look SPX 12 Dual WTR Bindings, as they match in color the boots we just presented.
Tecnica Cochise 120 Ski Boots
Weight: 10.8 pounds
Specific features: 4 aluminum buckles
Best use: Skiing, hiking
While there are many boots you can use for skiing, thee boots exceeds all expectations. These boots are the ideal product for any type of mountain expedition due to their high performance features. The Tecnica Cochise 120 Ski Boots features no less than 4 buckles made of micro aluminum with lift lock.
The 45 mm powerstrap offers comfort of wear, and these boots are made to suit the requirements of any professional skier. The anatomical shape improves mountain performance and comfort. The ski walk feature does not disappoint, as it enables you to slide easily and tackle even the most challenging mountain areas.
These boots are made for those who want to ski no matter the conditions, and this is great. The soles can be replaced for those who really like this product and want to use it for a longer time. The bolts have a hex head, which is less likely to strip than other types of bolts.
You can rest assured you feet will not get wet thanks to the Aqua Stop Water Protection technology. The boots features oversized straps which enhance response but also keep your feet protected. In addition, the Cochise 120 is a stylish product that will draw all eyes on you.
PROS:
Replaceable soles
Various mountain expeditions
Related: Carrying or even storing your boots when you don't use them surely can turn into an issue. Use the Athalon Everything Boot Bag, and you can be certain your boots will stay protected from both dust and water.
Nordica Speedmachine 130 Ski Boots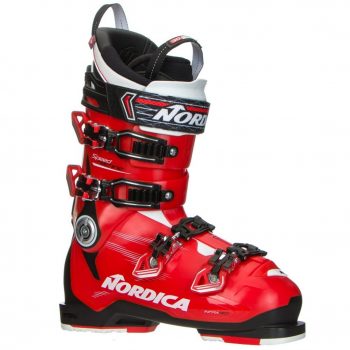 Weight: 10.3 pounds
Specific features: 4 micro adjustable buckles
Best use: Skiing, mountain
Your mountain trip will be made much easier by the Nordica Speedmachine 130 Ski Boots. These red boots are a great attention catcher, and their stylish appearance is matched by their highly performant features. The boots offer improved comfort as well as flexibility thanks to the cork wood heel support.
The Cork Feet liner provides improved support and stability to your feet, a feature which offers great help when exploring the mountain. To improve comfort and insulation, the Primaloft Insulation liner was used. This helps the liner maintain its shape for longer while also keeping moisture away.
This product includes 4 micro adjustable buckles – they look sleek and really add to the item's appearance. Furthermore, the boots were designed with the Tro Fit technology system which makes difficult mountain areas easily accessible. In addition, these boots are lightweight enough to be worn comfortably during any weather. This allow the boots to keep you comfortable for hours on end while skiing and having fun on the slopes.
PROS:
Cork liner
Extra heel support
K2 Pinnacle 130 Ski Boots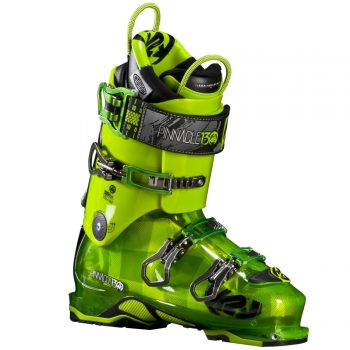 Weight: 10.1 pounds
Specific features: 4 aluminum buckles
Best use: Skiing, mountain
The K2 Pinnacle 130 Ski Boots may see heavier than other mountain boots, but their features more than make up for it. The boots weights 10.1 pounds but offer great flexibility and comfort to any mountain climber. The 4 aluminum buckles provide increased support and durability to this product.
This is a pair of boots you can comfortably wear on the slopes without worrying they will get worn out or your feet get tired. The boots offer a 130 mm flex, and were designed with the PrecisionFit Tour Molded liner. You will get maximum performance while going downhill and exploring those challenging mountain areas.
The removable outsoles of these boots make things easy if you want to replace the bindings of these boots. Style was not forgotten when this product was designed, as it comes in a catchy lime green color. You should be warned though, that you'll have a harder time when trying to walk in these boots.
CONS
:
They feel heavy
Not ideal to walk in
Related: You'll probably feel better having a good pair of ski socks on, when you're coming down-hill. The pair of Pure Compression Ski Socks is perfect for both skiing and snowboarding.
Rossignol Alltrack Pro 120 Ski Boots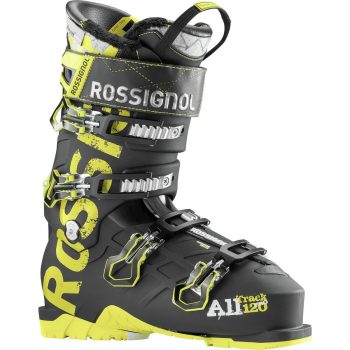 Weight: 10.3 pounds
Specific features: Walk to ride
Best use: Hike, walk, climb, and ski
It is quite difficult to carry an extra pair of boots to the slopes, therefore being able to walk in your skiing boots should feel safe and without fearing you'll damage them. The Rossignol Alltrack Pro 120 Ski Boots are a product that fits that description perfectly. If you need to climb as well, these boots will surely not let you down, and it's all thanks to their special soles.
Your feet will feel comfortable and warm thanks to the 3D Thinsulate Platinum liners. This is a new type of liner that also helps with the support of your feet. Unlike other similar products, this one has a powerstrap of 50 mm, and not 45 mm. Some people might feel it is difficult to put them on and taking them off.
The buckles are made entirely of aluminum, and they're positioned diagonally. Their teeth have 3 possible positions, for a better adjustment of the boot's tightness. The shell's wrap is further improved with the sensor grid technology specially designed for this task.
PROS:
Fit for hiking, walking and climbing too
Related: Some of us want to make sure their skis and ski boots will match perfectly. If you share this opinion, then you could check out the Rossignol Soul 7 HD Freeride Skis designed by Rossignol. Not only the brand matches, but the colors as well.
Lange Rx 120 Ski Boots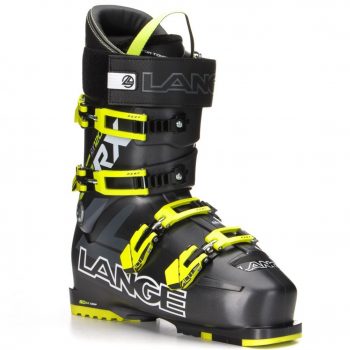 Weight: 11.9 pounds
Specific features: Custom tongue, stiffer flex
Best use: Advanced and expert skiers, mountain skiing
All skiers know there is a risk of blood circulation being cut off by their boots, however the  Lange Rx 120 Ski Boots use a custom tongue that prevents that. This also means that your feet will stay warmer throughout the day. You'll also notice the improved tongue makes the boot feel more comfortable than others.
Another major issue is the traction or durability of the boots' soles. This model uses replaceable soles, which is great if you really like the product and would like to use it for a longer time. The forefoot is 100 mm which is great because it fits more feet, but the ankle and heel hold are not compromised.
This being said, the boots are made for narrow feet with an average volume. That being said, some people with narrow feet said these boots were painful to wear, and that they felt a pressure in points there should be no pressure.
PROS:
Custom tongue
120 flex index
CONS
:
No tech fittings
Narrow fit
Related: Carrying your ski boots can be difficult, especially considering their weight. Get a special strap to help you carry them in an easier manner. The BootYo! Strap is a pretty good choice.
Final Thoughts
That was the last product on our list. By now you should know what are the features you need to look for when shopping for skiing boots, regardless of the brand.
It is our hope that you understand why is it important to buy a pair of boots f a really good quality, no matter your experience and skiing level. Good quality gear will reduce the accidents' rate, keep your feet warm and comfortable, while also looking stylish on the slopes. Poor quality boots can break at the first wrong move, and that only means a waste of money.
We'd also like to hear from you, because we shared everything we know! We want to hear any recommendations, stories, and anything else you might think of, related to owning an almost ideal pair of boots for skiing.