Activities like hiking through a slot canyon, spelunking through a deep cavern, or wading up-river to a hidden spot can be thrilling. While soaking your toes can be a nice experience on a tropical beach or at the side of an alpine lake, do you really want to keep trekking with soaking wet feet? Wouldn't it be nice if you can traverse a trail without having to worry about wet feet? Fortunately, the best waterproof socks can remedy this problem.
Wet feet can mean discomfort, blisters, fungus, and even hypothermia in many situations. Luckily, waterproof socks offer a solution. Whether you're a hardcore canyoneer or just find yourself jogging, biking, or hiking in the rain, a pair of waterproof socks will keep you warm, dry, and safe. However, how do you exactly shop for waterproof socks? Fret not because we are here to help!
In this article, we've put together a guide on all you need to know about waterproof socks – from translating waterproof jargon to picking the right material. We've also laid out 7 of the best brands for all types of use, so that you can find the perfect pair for your next adventure. Let's get started!
Our Top Picks
Things to Consider Before Buying
Before you dive into buying, you'll want to take a look at the features of your socks. This guide lays out five of the most important things to look for when buying.
Waterproof Rating
The most important (and obvious) feature of a waterproof sock is, of course, its waterproofness. This is left up to the outer layer of the sock, which can be made of any number of materials that seal out water and keep your skin dry – but buyer beware, not all waterproof layers are made equal.
The first thing to check for is that the socks you're buying are, in fact, waterproof. Some specialty socks made for activities like canyoneering and spelunking look like the waterproof variety, but are actually designed only to stay warm while wet and absorb water. Make sure that the description clearly designates "waterproof" to avoid surprise soggy feet.
The next thing to pay attention to is the actual area of waterproofing on the sock. Most waterproof socks have a mid-shin length, but the actual amount of the foot with the waterproof lining varies. Check to see how far up the leg waterproofing goes – and make sure to cover the tops with gaiters or rain pants to keep water from seeping in the top.
Material
Material is important for any clothing item, and it's especially important for this one. Unlike regular socks, waterproof socks are usually made up of multiple layers – think of them like a sock parfait. The inner layer, usually a wool or synthetic blend, insulates the foot and provides cushion, while the outer layers provide a seal against water and additional insulating power.
All these layers make for many materials, and the material you should buy depends on your expected activities. Outer layers are almost always made up of a high percentage of nylon or polyester, which keeps water out while maintaining flexibility. Look for a sock with synthetic blends that use these high-quality materials.
The interior of the sock offers a few more options. The inner layer usually consists of either a hearty wool blend or a synthetic blend, both of which have their perks. Wool is warm and comfortable, and works great as an insulator. Synthetics are usually lighter and less warm, but will stay warmer if they manage to get wet. Choose wool for cold activities like snowshoeing, fishing, or cold-weather hiking.
Weight
When we talk about weight with waterproof socks, we're not really referring to how many ounces each sock will add to your pack. Instead, we're talking about how hefty that inner layer is, and what that means for both comfort and functionality.
Heavyweight material blends pack a lot of warmth and insulation into their design. With a heavy blend, you can expect a thick sock for its size and a lot of density – so you'll want to make sure your boots or shoes are a little bit bigger to accommodate the extra thickness. Heavyweight socks are perfect for snow activities and cold-weather adventures.
Lightweight blends, on the other hand, offer increased breathability, thinner design, and often more comfort. These socks aren't designed to insulate as well, and are better for less extreme environments and rainy day activities.
Size
Size seems like a no-brainer – buy the size that matches your foot, right? Well, with waterproof socks there are a few more things to consider. Waterproof socks are thicker than normal socks and are considerably less stretchy. While you will get a little stretch and compression, make sure to pay attention to the size you buy to make sure it matches your foot size – loose socks can mean blisters and hot spots.
Another thing to consider when looking at size isn't the size of the sock itself, but of your boots and shoes. Waterproof socks are thick, and depending on which design you buy, they can increase your foot size anywhere from a half size to a full shoe size up. Make sure to consider this when deciding on the heft of your potential socks.
Finally, waterproof socks are not like regular socks – their triple layers and synthetic materials can mean that they're difficult equip. Make sure you get a properly sized sock to avoid endless struggle tugging them on – believe us, you won't regret the extra time it takes to check out the size chart.
Breathability
The final consideration we'll talk about is breathability. Waterproof socks are designed to keep water out – and, unfortunately, that often means that sweat doesn't get out. While any waterproof sock is going to have much less breathability than your typical hiking sock, there is some variation here as well.
Certain materials and blends are able to seal water out while still airing out your feet. We won't go into the science of it, but materials like PTFE allow for some breathability without letting the water in. The membrane, or middle layer, of your sock should be both waterproof and moisture wicking if possible to prevent soggy feet. Look for explicit info about breathability to make sure it's a feature of your socks.
Best Products on Today's Market
Without further ado, let's get into the reviews!
Waterfly Waterproof Trekking Socks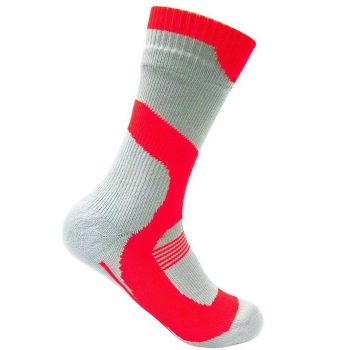 Price: $18 – $26
Weight: Heavyweight
Sizing: S to XL
Specific features: Multiple styles, wool and nylon inner layer, 98% nylon outer layer, PTFE membrane, shin length
Best use: All weather adventures
Description: We start our reviews with a pair of socks that are the perfect entry into the waterproof world. Waterfly Waterproof Trekking Socks are shin-high socks that feature a PTFE membrane and nylon exterior. The membrane keeps water out while wicking away sweat, leaving you with dry, toasty feet.
The interior layer is made from a blend of Merino wool and nylon that allows for the comfort of a regular sock while trapping heat and providing a ton of insulation.
These socks come in a number of styles, and their price makes them perfect for those who want to try out waterproof socks without breaking the bank. While we classify them as heavyweight, the inner layer contains a lower wool content than most other heavyweight varieties, giving them versatility in both cold and warm weather.
More hardcore trekkers may opt for a heftier pair, but those who stay out of extreme environments can't go wrong with these Waterfly socks.
PROS:
Breathable
Warm
More affordable
CONS
:
Thick
Low percent wool blend
Related: Protect your feet from water even further with these Waterfly Waterproof Gaiters, which protect your socks from seepage and keep your pant cuffs from getting soaked.
DexShell Ultralite Waterproof Socks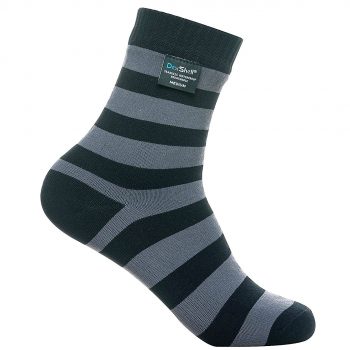 Price: $20 – $30
Weight: Lightweight
Sizing: S to XL
Specific features: Porelle membrane, bamboo/nylon blend inner layer, seamless design, ankle length, lightweight
Best use: Warm and wet weather
Description: For a more lightweight option that keeps your toes and your wallet happy, check out the DexShell Ultralite Waterproof Socks. These ankle-length socks feature a seamless construction that increases their durability and last, all while providing totally waterproof, windproof, and comfortable hiking experience. The fit is also an aspect where these socks shine and adds to its reliability.
The most unique feature of these socks is their inner layer. The blend consists of 70% bamboo rayon, which allows for a lightweight feel and great breathability – no more sweaty feet. All of these features come in several styles, all featuring stripes. The socks are perfect for those who need durability and functionality in warm weather without breaking the budget.
Overall, this is one of the cheapest waterproof socks that you can buy on the market. However, don't make the mistake that it won't deliver in terms of performance.
PROS:
More affordable
Lightweight
Seamless construction
CONS
:
Less warm
Ankle-length is short for some activities
Related: You're already keeping your feet dry, why not keep your hands dry, too? The DexShell Alpine Waterproof Gloves are lightweight, breathable gloves that are the perfect way to complete your waterproof ensemble.
Always Outside STRYDE Waterproof Socks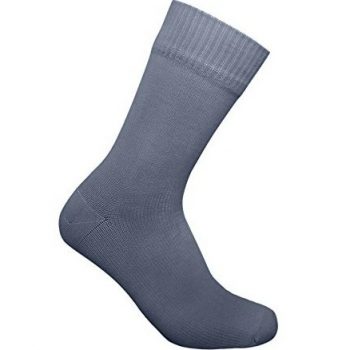 Price: $21 – $40
Weight: Lightweight
Sizing: S/M to XL
Specific features: Seamless construction, calf-length, PTFE membrane, Coolmax inner layer, cushioned sole, multiple styles
Best use: Warm and wet weather
Description: Hikers, cyclists, and runners need a sock that will keep their feet cool, and Always Outside STRYDE Waterproof Socks deliver. These lightweight socks feature a calf-length, seamless design that utilizes flexible nylon and rubber with a PTFE membrane to keep both rain and sweat out.
In terms of comfort, the sole has extra cushion. This is perfect for those who spend a lot of time on their feet and do plenty of long walks. The pair also offers durability and flexibility like that of a heavyweight sock without holding in too much heat.
The Coolmax inner layer wicks away sweat and lets your feet breath, perfect for hot and wet conditions where there is the ever-present risk of overheating. These socks come in a number of colors to help you customize to your style, making them a fashionable, and functional, addition to your gear room.
A great pair to have even in the toughest conditions.
PROS:
Cool and lightweight
Breathable
Extra cushion
CONS
:
Less insulating
Less versatile
Related: In addition to the STRYDE model, the same manufacturer offers the Always Outside URBAN Waterproof Socks, which feature the same great waterproof technology but with a different, stylish look.
SealSkinz Waterproof Socks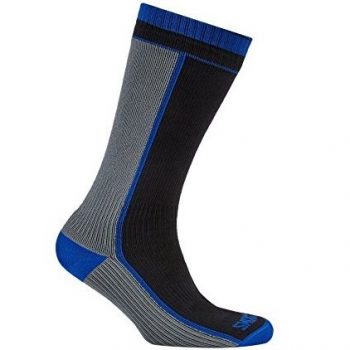 Price: $45 – $88
Weight: Heavyweight
Sizing: S to XL
Specific features: Merino wool lining, elastic ankle and insteps, hydrophilic membrane, nylon outer layer, Stretchdry technology
Best use: Cold and wet weather
Description: The SealSkinz Waterproof Socks are your answer to cold, wet conditions that require the very best in insulation. These socks feature a Merino wool inner layer that not only cushions the foot, but traps heat and wicks away sweat, keeping your toes toasty through the very coldest conditions. The hand-linked toe seam prevents rubbing, so you'll never have to readjust on the go.
Featuring Stretchdry technology, these socks don't lack in comfort. While the wool lining pads the foot, elastic ankles and insteps keep your sock snug and in place through miles of hiking, biking, or running. These high-quality socks combine lasting durability, extreme functionality, and comfort for the most serious trekkers.
The mid length is something that buyers should seriously consider as it might not be the best for very cold conditions unless you'll be wearing snow pants or traversing wet grass.
PROS:
Very warm
Form-fitting
High-quality materials
CONS
:
More expensive
Only one style
Related: For more high-quality, super-warm, and super-waterproof gear, check out the SEALSKINZ Waterproof Ultra Grip Gloves. These gloves utilize the same high-quality materials to provide warmth and comfort without getting your paws wet.
Rocky Gore-Tex Waterproof Socks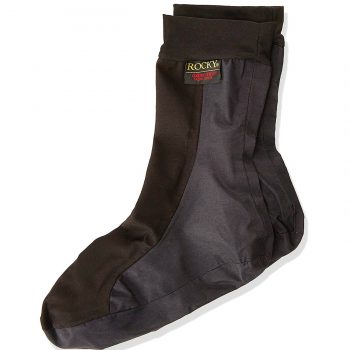 Price: $50 – $95
Weight: Lightweight
Sizing: 5 – 14 M
Specific features: Gore-Tex soles, Gore-Tex fabric inner lining, durable bottom panels, elastic cuffs, shin-length
Best use: Very wet weather, snow sports
Description: The Rocky Gore-Tex Waterproof Socks take a little bit of a departure from the other products on this list. Instead of the traditional 3-layer design, these socks utilize Gore-Tex all around.
The exterior consists of a highly-waterproof Gore-Tex shell with additional bottom panels to prevent wear, and the interior utilizes (yet more) Gore-Tex fabric to keep out even more water and wick away sweat. These socks are made for serious water and serious last.
While most of the other socks on this list fit more like a regular sock, the Rockys fit a little tighter which is something that you need to keep in mind when buying. The material means little stretch, so you'll want to make sure you get the right size to avoid frustration getting them on and off.
While the material may be different, it's some of the most long-lasting on the market, and these socks are sure to be well worth your money.
PROS:
Very waterproof
Highly durable
High-quality material
CONS
:
Less stretch
More expensive
Less breathable
Related: For the ultimate waterproof experience, combine Rocky socks with their Moose Waterproof Winter Snow Boots. These boots feature a leather outer and fleece inner that will keep your feet warm in all conditions.
DexShell Hytherm Pro Waterproof Socks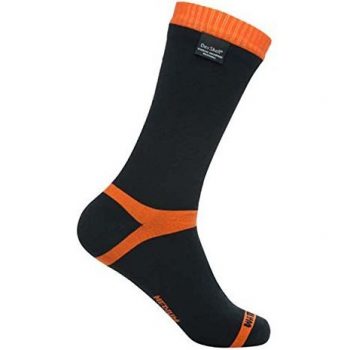 Price: Approx. $46
Weight: Heavyweight
Sizing: S to XL
Specific features: Calf-length, Porelle membrane, Merino wool blend inner layer, nylon blend outer layer, seamless construction, micro dot lamination
Best use: Very cold weather
Description: We can't get enough of DexShell, and the DexShell Hytherm Pro Waterproof Socks are definitely worthy of mention. The warmest socks offered by the brand, these socks feature a Merino wool blend interior that not only insulates the foot against the cold, but keeps it comfortable and snug in the sock. The Porelle membrane keeps water out without sacrificing breathability to the extent of other fabrics.
Despite the heft of these socks, they don't skimp on flexibility. The layers are designed using micro dot lamination, which allows the material to stretch in all directions. This reduces the chaos of getting on a stiff sock, so you can get to your adventure sooner.
The flex also limits hot spots and blisters, so you can keep going longer. This is another highly recommended pair from a high-quality brand but it does command a higher price tag, which is something you should keep in mind.
PROS:
Very warm
More flexible
More durable
CONS
:
Less breathable
More expensive
Related: DexShell doesn't stop with socks and gloves – they offer hats, too! The DexShell Waterproof Beanie is another great addition to your wardrobe that combines function and style.
Showers Pass Crosspoint Waterproof Socks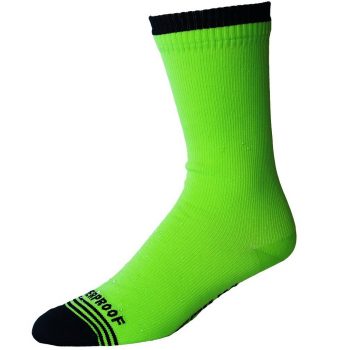 Price: $28 – $35
Weight: Lightweight
Sizing: S/M to L/XL
Specific features: Coolmax anti-bacterial inner layer, knit exterior, Artex membrane, long-lasting material, breathable liner
Best use: Warm and wet weather
Description: We wrap up our reviews with the Showers Pass Crosspoint Waterproof Socks. These socks combine the function of a waterproof sock with the comfort and look of a regular pair, making them a perfect addition to any casual hiker's pack.
The knit exterior allows for the stretch of a normal sock, increasing comfort and reducing blisters, while the Artex membrane provides total waterproofing and an escape for interior moisture.
The Artex membrane isn't the only fancy piece of this sock puzzle. The Coolmax inner lining wicks away sweat and features anti-bacterial properties that will keep your feet not only cool, but healthy.
All the materials are long-lasting and durable, which just increases the bang for the buck you get with this product. Showers Pass socks are an industry standard for quality and affordability, and the Crosspoints are no exception.
This is a great pair that can serve you well during warm or wet weather.
PROS:
More affordable
Lightweight and flexible
Comfortable
CONS
:
Less insulating
Only one style
Related: Complete your wardrobe with the Showers Pass Storm Pants. These nylon rain pants are seam taped and 100% waterproof – allowing you to stay 100% dry.
Wrap Up
We've come to the end of our reviews, and the end of the article. We've given you a guide on the uses, features, and considerations for your purchase and a few suggestions for the best waterproof socks to get you started. Now get outside and stay dry!
Where do you use waterproof socks? Do you have any rainy-day adventures to share? Feel free to let us know in the comments!