We all love being outdoors! However, there are many of us that just can't part with our handy gadgets and devices. If you're someone like this, then it's likely that you've run into the problem of running out of smartphone juice while you're out hiking or camping. Thankfully, there is no shortage of, and we will recommend you the best power bank chargers that you can buy in the market.
These products, also known as external batteries or external chargers, are portable devices that contain a charge that you can use to power up your electronic devices even when you are nowhere near an electrical outlet. Luckily, you don't need to know a lot about technology or this type of product in order to choose one most fitting your needs.
If you are looking to shop for the best power bank chargers, then it's likely that will be overwhelmed with all the options in the market. To help you out, we have zoned in on the features that you will need to consider when shopping for power bank chargers. While we're at it, we have thrown in a couple of highly recommended models that should be worth your time and money.
Our Top Picks
Most Important Features to Consider When Buying
These are the features most people pay attention to when buying such a product.
Compatibility
You can use a portable power bank to charge almost any device, as long as it's compatible. Some external batteries are not compatible with certain products or brands, so be sure to check and make sure your device will work with that particular power bank.
It's a good thing that modern power banks support a multitude of devices including smartphones like Android and iOS.
Number of Charges per Device
That being said, most of them will work for smart phones. However, there are differences in how many times your phone will be able to be charged fully from a given battery pack; charging times and quantities vary between iPhones and Androids and even between the different models of phones within each of those categories.
In this case of course, the more the better but it means that will end up paying more for the unit.
Power Indicator
External batteries work when you charge them, and then they hold the charge and you can take them just about anywhere to use to charge your devices. Some external batteries feature an LED light that indicates how much charge is left on the battery so you don't risk taking it along and not having enough energy to charge your devices.
Size
In general, larger external batteries have a greater charge capacity than smaller ones. You can quantify how much power is stored in the battery by looking at its capacity, which is measured in milliamp hours, or mAh. The larger this number, the more energy the battery can store, so the more times you can charge a device.
If you're a light backpacker, you will obviously go for a charger that has a light and slim profile. However, this also means lesser battery to be stored.
Number of Ports
You also want to see how many ports are available on a given device; if you are on a business trip, for example, you might want to be able to keep your phone and tablet charged simultaneously. The amount of power that is available through each port is measured in amperage (A).
For smartphones, you want a 2 A port at least, although some iPhone users can get away with using a 1 A port.
Capacity
It's also important to keep in mind that the capacity measurements listed on a product's advertisements and specs is some amount greater than its actual capacity. This is because no power bank is 100 percent efficient; they lose energy when converting power.
While it is possible to charge tablets off of power banks with a lower capacity, you really want a high capacity device to charge laptops and other things that take much more power than a small cell phone.
Stand by Mode
Additionally, sitting dormant for a long period of time will cause the power bank to lose power as well so it is a good idea to re charge it before heading out if you haven't used it in a while. Having an external battery can afford you flexibility and peace of mind when you are in a situation where you need to keep your devices charged.
Best Products on Today's Market
Below are the power banks that match the above features the most. With hopes that you'll make an unbiased decision, we'll talk both about their best and worst features.
Zendure A2 Portable Charger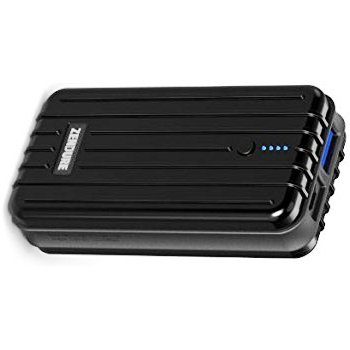 Price: Aprox. $30
Weight: 4.8 ounces
Dimensions: 3.6 x 1.9 x 0.9 inches
Specific features: Single USB port, speeds up to 2.1 A, 6,700 mAh capacity
Best use: Emergency preparedness, outdoors
Description: The Zendure A2 Portable Charger has several unique features that make it a great choice for an emergency backup charger. Made of a composite plastic, the Zendure is very durable and won't get crushed easily.
Another feature of its external design is that the Zendure has a shock absorbing belt encircling the product to help prevent damage from bumps. It only has one USB port, but can be plugged into the wall to charge itself while simultaneously charging a device; included with the Zendure itself is a USB to micro USB charging cable.
It will turn itself on automatically when you connect a device that you want to be charged, so you don't have to worry about forgetting to press a power button and returning some time later only to find out that your device hadn't been charging at all.
With an output of 2.1 A, the Zendure will hold 95 percent of its charge even after six months of standby mode, which is an excellent feature for emergency preparedness. It also includes a row of LED lights that indicate how much charge is left on the device. For approx. $30, this is a small and durable option for an external charger.
PROS:
Lightweight
Compact
Crush proof
CONS
:
Just 1 USB port
LED lights show how much power is left
Related: We also recommend the FosPower PowerActive Power Bank because of its rugged appearance, ability to stand impact from 3 ft, LED flashlight and waterproofness.
Anker Powercore Power Bank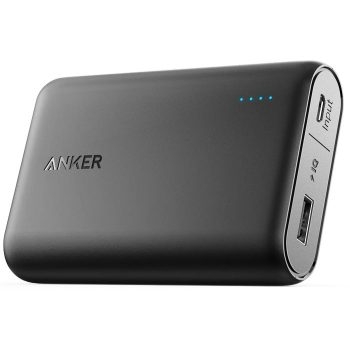 Price: Aprox. $26
Weight: 6.4 ounces
Dimensions: 3.6 x 2.4 x 0.9 inches
Specific features: Quick Charge 3.0 output, capacity of 10,000 mAh
Best use: Traveling, camping
Description: The Anker Powercore Power Bank utilizes a Quick Charge 3.0 output, which is a recently developed type of charger from the technology company Qualcomm.
The advantage of the Quick Charge is reduced charging times, so it gives you more flexibility in that you don't have to stay glued to the wall while your phone takes forever to charge when using a wall charger with that technology, but the same advantages apply to your portable charger.
The Anker will charge devices that are compatible with Quick Charge technology to 80% in a half hour. The device's capacity is 10,000 mAh which is enough power to charge a phone three times in most cases. At just 3.6 x 2.4 inches, this is a smaller option for an external charger that does a great job of quickly charging your phone multiple times.
If you are trying to charge a tablet instead of a phone, the Anker has enough power to charge it about one time before needing to be recharged.
PROS:
Lightweight
Compact
Power button
CONS
:
Just 1 USB port
LED lights show how charged it is
Related: Most of these batteries come with a wire to charge some smartphone models, but no plug to connect them to an outlet. The Anker 24W Dual USB Wall Charger is just what you need especially when travelling because the plugs are foldable and there are 2 USB plugs on it.
Crave Travel Pro Power Bank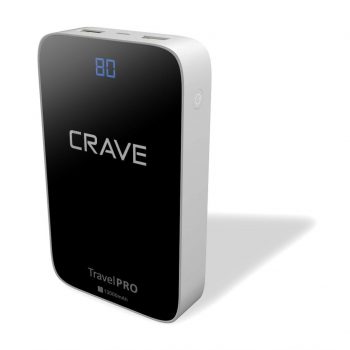 Price: Aprox. $23
Weight: 13.6 ounces
Dimensions: 6.9 x 1.9 x 4.2 inches
Specific features: Capacity of 13,000 mAh, 2 USB charging ports, digital display
Best use: Travel, outdoors
Description: The Crave Travel Pro Power Bank is an excellent choice for just that: travel. With a relatively high capacity of 13,000 mAh, you should have enough power to get you through between hotel stays.
It's great to have on hand for use at airports, where unoccupied outlets can sometimes be few and far between but you need to have your devices charged up anyway.
Because business travelers often need to have both their phones and tablets working at once, another advantage of the Crave power bank is that it has two ports for USB so you can charge more than one device at once.
The 13,000 mAh is enough power to charge a phone battery four times and it is compatible with both Android and
PROS:
Can charge the same device up to 4 times
Digital display
CONS
:
99 shows a fully charged bank
Doesn't come with cable
Related: The Askborg ChargeCube External Battery Charger can hold up to 20800 mAh of power for your gadgets and therefore it is a very good item to have when in an emergency or while away from a power outlet.
Innogie C8 Portable Charger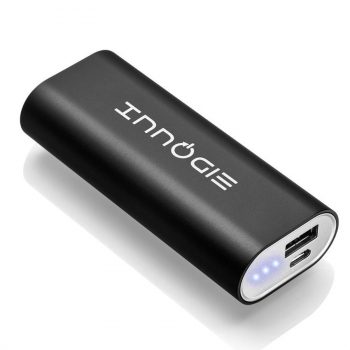 Price: Aprox. $20
Weight: 4 ounces
Dimensions: 3.5 x 1.8 x 0.9 inches
Specific features: 6000 mAh capacity, aluminum shell with hidden LED
Best use: Casual battery backup
Description: The Innogie C8 Portable Charger is one of the most inexpensive portable chargers that you will be able to find. However, because it is less expensive you also don't get as much charge capacity as you would find in other models of external battery chargers.
Still, this portable charger is very lightweight and portable, weighing in at only 4 ounces and is 3.5 x 1.8 inches long and wide. The charge capacity of 6000 mAh is enough to charge an iPhone about 3 times and a Galaxy phone once. It can also charge a tablet, although some of the larger tablets it would not be able to provide a full charge to.
It is compatible with a wide range of phones and will also charge both Apple and non Apple brand tablets. One advantage of this charger is that for a compact charger, it has a high output of 2.4 A while charging.
Also, compared with other chargers of its size it maintains a consistent output instead of losing its charge after a little while. It's encased in aluminum and has a hidden LED light for an attractive, small and lightweight product.
PROS:
Can charge about 3 iPhones
Sensor that turns on when you connect something
CONS
:
Not the fastest charging device
Doesn't have a power button
Charges just one device at a time
Related: If you only own one smartgadget, you might be happy with a smaller and lighter power bank. The Anker PowerCore 5000 External Battery can hold 5000 mAh and this translates to 2 iPhone 6s charges and 1.3 Galaxy s6 charges.
EC Technology 2240 Power Bank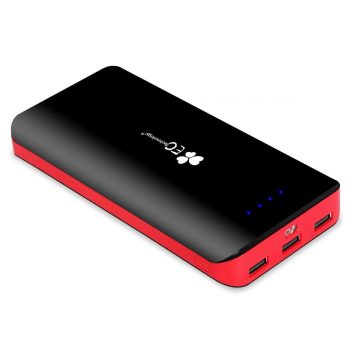 Price: Aprox. $33
Weight: 15.4 ounces
Dimensions: 6.3 x 2.9 x 0.8 inches
Specific features: 22,400 mAh capacity, integrated LED lights to show power status
Best use: Charging multiple or larger devices, camping, hiking
Description: The EC Technology 2240 Power Bank certainly packs a punch by providing 22,400 mAh of power at your disposal. It also includes some unique features such as a built in LED flashlight with three different light modes. This product features three different USB ports so you can charge three devices all at once.
The ports will work with any device with an input of DC 5V, which covers your basic range of smart phone and tablets (both Apple and Android). Weighing in at almost a pound and more than half a foot long, the EC charger is quite large; however if you are traveling with multiple devices anyway then it isn't such a big deal because of the benefits it provides.
Inside, it has a lithium ion battery that holds its charge very well; one test showed that after 24 months of sitting at standby, the battery was still at 80 percent full. It is made of a textured, flame retardant plastic to prevent it from being damaged but it isn't a bad idea to add on some rubber pieces to the bottom to further prevent it from slipping.
In addition to the LED flashlight, it also includes an LED indicator light to show the charging status. This product is great if you need the capacity to charge multiple devices at once or charge larger products more frequently.
PROS:
3 USB charging ports
Built in LED flashlight
Indicates which port to use based on the type of device you own
Shows the remaining power with LED indicators
CONS
:
May start showing signs of damage in less than a year
Related: The Jackery Titan 20100 mAh Charger Battery is a good alternative if you want another fast charging battery backup. It cuts the charging time in half, all thanks to its 3.4 A output for each port.
Mogix Juice Pack External Battery Charger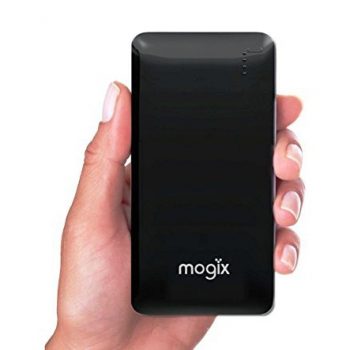 Price: Aprox. $24
Weight: 6.6 ounces
Dimensions: 5.3 x 2.9 x 0.5 inches
Specific fetures: Capacity of 10,400 mAh, lithium polymer battery, 2 output ports
Best use: Multiple device charging, outdoor use
Description: The Mogix Juce Pack External Battery Charger is a nice middle of the road product for a reasonable price and a good capacity of 10,400 mAh. It has two charging ports and is compatible with smart phones and tablets. The charging ports have outputs of 2.1 A and 2.5 A, both of which will work for your devices.
It also has a LED signal to display the status of how much power is left on the device, which is powered by a lithium polymer battery. One thing to be aware of when using this device for the first time is to make sure that it is continuously charging your device; some external chargers have a habit of halting the charge after about 20 minutes of charging even though there is still power left on the device.
The medium size of this charger correlates with its medium level power capacity, and the number of times it will fully charge your devices varies based on which devices you need to charge. As a general rule, iPhones will get more charges than Androids, and tablets will get the fewest number of charges.
PROS:
Affordable
Shuts off once the phone is charged
Full charge is shown with 4 LED lights
CONS
:
Some chargers stop the charging process after some time
Related: We also recommend the Fritesla Powercore Power Bank because of its capacity of 10000 mAh. You can also use this device as a backup flashlight thanks to its powerful LED light.
Vinsic Ultra Slim Power Bank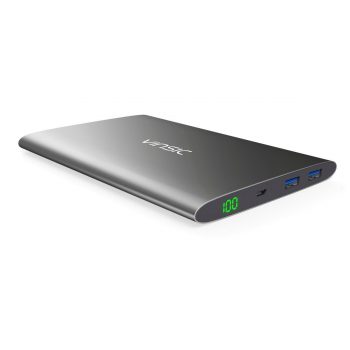 Price: Aprrox. $31
Weight: 17.6 ounces
Dimensions: 6.8 x 4.8 x 0.5 inches
Specific features: 20,000 mAh, two USB ports, 2.4 A outputs for both ports
Best use: Travel, outdoor use
Description: The Vinsic Ultra Slim Power Bank is a larger external battery, but like the EC technology charger this is because it has a large capacity of 20,000 mAh. It has two USB ports, and each port has an output of 2.4 A.
One highly useful but underappreciated feature of the Vinsic power bank is that it protects against short circuiting, over charging, over discharging, and other hazards that could occur while charging and harm your device.
It is manufactured from hard plastic and aluminum alloy with rounded corners and is compatible with both Apple and Android smart phones and tablets.
An LED light on the device indicates the charging status of the power bank. Another nice feature is that the power bank will start charging a device immediately upon plugging it in.
Because it has a relatively large capacity and is affordable for the capacity that it does carry, the Vinsic power bank would be a good option to bring along on car rides or to airports for family vacation to be able to charge multiple phones and entertainment devices all at once.
PROS:
Ultra slim design
100 means fully charged
CONS
:
Not very light
Slow charging
Related: For a similar unit that has the similar specs as the aforementioned power bank, the ToHLo Portable Charger Power Bank comes highly recommended. It's a high quality power bank with a great ultra slim design.
Maxoak External Battery Power Bank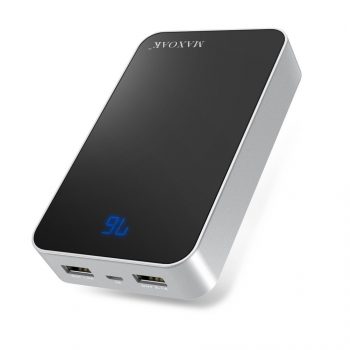 Price: Aprox. $26
Weight: 10.72 ounces
Dimensions: 2.83 x 4.72 x 0.83 inches
Specific features: Capacity of 13,000 mAh, 2 ports, compatible with phones, tablets, and other devices
Best use: Outdoor use, travel
Description: The Maxoak External Battery Power Bank is in a completely different league from the other, smaller external batteries included in this review, but it essentially does the same task: charges your devices. The thing that sets it apart is the extra large capacity of 13,000 mAh that will charge tablets, phones, digital cameras, and other electronic devices.
With two USB ports, you can charge two different types of devices at once. Another way you can use the massive amount of power this stores is by charging one smaller device like a phone multiple times if needed. It takes 24 hours to fully recharge this power bank and will perform well for at least 500 cycles of recharging.
Depending on how much power can the battery of your device hold, you can make at least 4 full charges before repowering the bank. Sadly, laptops cannot be charged with this device, but tablets can.
Thanks to its size, you can carry it with you anywhere you go. The device has a small smart screen showing how much more energy there is stored. When fully charged it shows only 99, for it can only display 2 digits.
PROS:
Affordable
Lightweight
Charges all devices using a USB cable
Related: If you found the above product heavy, you can always check out the Duragadget Universal Power Bank. It weighs a little under 11 ounces and has a capacity of 2600 mAh which is great for outdoor use.
Wrap Up
We finally reached the end of our list and of our presentation. We tried our best to show you not only really good power banks you can get, but also the specs that make a product stand out the most. This way, you can choose a power bank not included here as long as it has most of these features.
Having an external battery can be a huge asset for anyone that needs to stay connected, because we don't always have access to a wall outlet 100 percent of the time. Remember, these products are also useful in case of an emergency while traveling or a natural disaster.
Featured Image Source: https://unsplash.com/photos/UP_RojtnvTU