Whether you are an outdoorsman or a hardcore survivalist, you will agree that a tough jacket is a must-have item. In tough, survival situations, a jacket will allow you to carry the necessary tools to deal with the danger at hand. When it comes to survival jackets, don't you agree that a heavy-duty and versatile one will serve you best? If so, the best tactical jacket should be in your shopping list.
Tactical jackets were designed with comfort and functionality in mind, with plenty of pockets for everything you plan on bringing with you. Many have storage pockets on the back and the chest for those who want to conceal carry their weapons on their person. A great option for those who are avid hunters or are interested in protecting themselves from predators. But how do you go about looking for one? Don't fret because we're here to help!
In this article, we'll show you important features that every tactical jacket should have, as well as provide you with a short list of the top rated products in the market. So let's get started!
Our Top Picks
Things to Consider Before Buying
Before you can get started on finding a tactical jacket, you need to first determine what's important to you in order to find the perfect product. Thankfully, we're going to take you through the most important elements of a tactical jacket so that you know what to look for. Here are the features you should keep an eye out for.
Climate
When it comes to a tactical jacket, you want something that's going to be able to deal with various climates and weather conditions. An essential part of being prepared is having one item that's capable of fulfilling a variety of functions, so a great tactical jacket should be able to account for both summery, cool, and colder conditions.
Many manufacturers list whether their tactical jackets are two- or three-season jackets; it's rare to find one that's four-season. Which you choose is up to you, but it's a good idea to know that two-season jackets tend to be thinner, so that can be layered with thicker jackets.
Three-season tactical jackets are thicker, but some can still be layered if you're wearing a bulky enough winter coat. It all depends on how much extra gear you want to carry with you when you need to cool off.
Mobility
This is both in regards to how well you move in the jacket, as well as the weight of the jacket when you're traveling and carrying it in a backpack, for example. Heavier jackets are great at keeping out the elements, but can easily slow you down and sap your energy. They also tend to be less flexible, limiting your full range of motion.
Lighter, thinner jackets are more form-fitting, and are easier to shift with your movements. This is especially important for when you need get around on difficult terrain, especially when hiking or climbing is involved. And when you need to take one off, it's easier to carry in your arms, tied around your waist, or stuffed into your backpack.
Function
When it comes to what kind of activities you're going to be engaged in, you're going to need a tactical jacket that can handle anything being thrown at it. A majority of the tactical jackets that have been reviewed in this article are very suitable for both hiking and climbing.
Although you may be looking for something else, the features of the jackets we have mentioned will give you an idea of what additional features you should look for to be more suitable for other activities.
As mentioned above, you are going to want a jacket that can move with you, but you also want it to be able to protect you from the elements should they take a turn for the worse. A functional jacket could mean the difference between being comfortable and having to end your trip early.
Material
The material is very important, as it makes up 100 percent of your jacket. The wrong material could end up being counterproductive to your activities, so getting it right the first time makes all the difference. So what kind of materials should you be looking for?
Look for jackets that are made from nylon or polyester on the outside. These materials are water-resistant to a certain degree, so they're going to keep the water out in a light drizzle. Heavy downpours, however, are more difficult to deal with, and will completely soak your jacket.
On the inside, you want insulating material like fleece to keep you warm. It's good for trapping your own body heat, but is also breathable so that your sweat can escape. No one wants to be stuck wearing a jacket that's drenched in their sweat. In fact, a wet jacket, even with a lot of insulation, can actually make you colder than the air around you.
Color
Although it's not the most important consideration when buying a tactical jacket, which color you choose can still be a worthwhile thing to ponder. Most tactical jackets come in wide variety of colors such as black, green, gray or a combination of hues and patterns. With that said, choosing the colors can depend on the activity that you are planning to do.
For example if you are hunting, you will want a jacket with visible colors so as to prevent accidental injuries. For people who are into airsoft or paintball games, camouflaged jackets would be more ideal for that element of stealth.
Best Products on Today's Market
Now that we've discussed the important features that you should be looking for when it comes to finding the perfect tactical jacket, it's time to take a look at some product reviews. This is by no means an exhaustive list, but it is a list of the top rated jackets, so you have some idea of what's out there in the market.
Condor Summit Tactical Jacket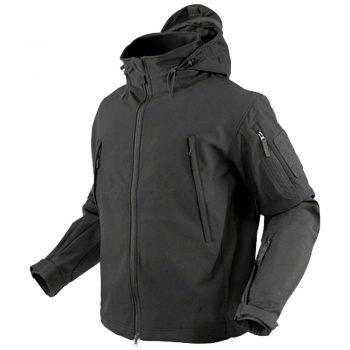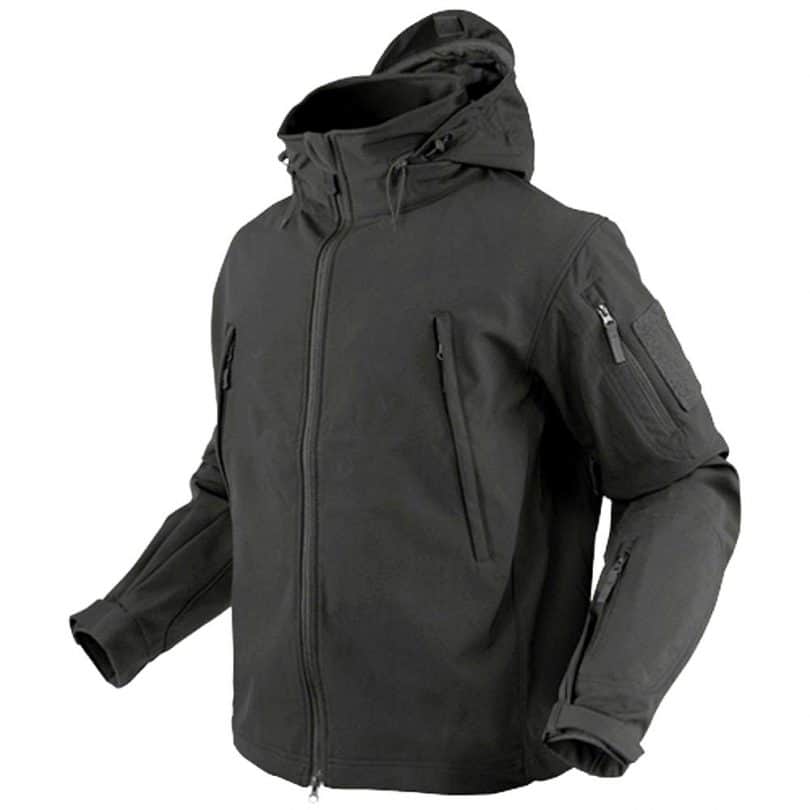 Price: $70 – $113
Material: 100% polyester with DuPont Teflon coating
Specific features: Velcro loops on shoulders, underarm vent zippers, double zipper back pocket, drawstring waist and hood, stow-away hood, two shoulder pockets, two internal pockets, two chest pockets, forearm pocket
Best use: Hiking, climbing, camping
The Condor Summit Tactical Jacket was created with both functionality and style in mind. The shell has three layers to keep out both wind and water, leaving you dry and warm no matter what the elements are outside. It's the perfect companion to have with you on any hiking or camping excursion.
There's also a multitude of pockets for you to work with. You can store all of your small items and gear so that they're at the ready when you need them. From cellphones to pocket knives to a conceal carry weapon, you won't have to worry about leaving any of your gear at home ever again. That makes you fully prepared for anything that comes your way.
The reinforced areas in the forearms means that the fabric won't stretch or fray, which means no air will creep in or your jacket won't fall apart. That makes this jacket a quality investment to consider, especially if you're looking for something that will last a long time.
PROS:
Durable
Made well
Plenty of pockets
CONS
:
Zippers can be fussy
Position of hand pockets
Related: The key to surviving away from civilization is to have a good knife on you, and the Gerber StrongArm Fixed Blade Knife won't disappoint. It has a ceramic blade coating to ensure toughness, and the rubberized diamond-texture grip will keep the knife in your hands. The heath system allows the blade to be mounted vertically or horizontally on a belt.
Free Soldier Waterproof Tactical Jacket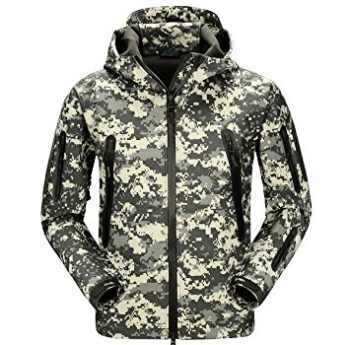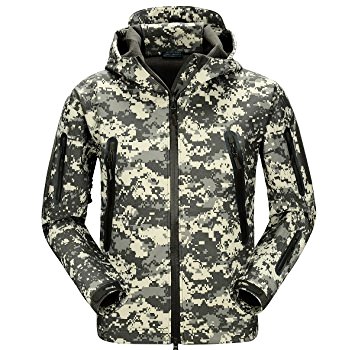 Price: Approx. $50
Material: DINTEX fabric; fleece lining
Specific features: Waterproof, windproof, breathable, brimmed hood, ventilation system under arms, adjustable cuffs, two vertical breast pockets, two back pockets, two shoulder pockets, one forearm pocket, reinforced elbows
Best use: Hiking, camping
Want a jacket that's guaranteed to look great? The Free Soldier Waterproof Tactical Jacket was made with style in mind, so no frumpy, baggy jacket for you. It's available in a number of colours, all of which look great, and even has camouflage amongst its lineup.
But the design isn't only about looks, it's made for functionality as well. It's made with DINTEX fabric, which is both windproof and waterproof, to a certain extent. It may get soaked eventually in a heavy rainfall, but it's durable enough not to fall apart at the seams, no matter the kind of rough treatment you put it through.
The hood comes with a brim similar to a hat, allowing you to shade your eyes when the sun is particularly bright. The cinched closing guarantees to keep it in place, as well as to prevent any wind from getting inside the jacket.
CONS
:
No inside pockets
Not fully waterproof
Related: Looking for great thermal underwear? Then look no further than the Duofold Double-Layer Thermal Pants. They're extremely lightweight and breathable, while still keeping you warm. They're easy to throw in the wash, and dries very quickly too.
Camo Coll Soft Shell Tactical Jacket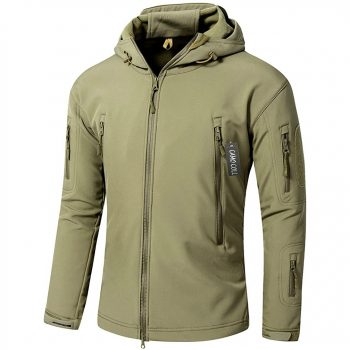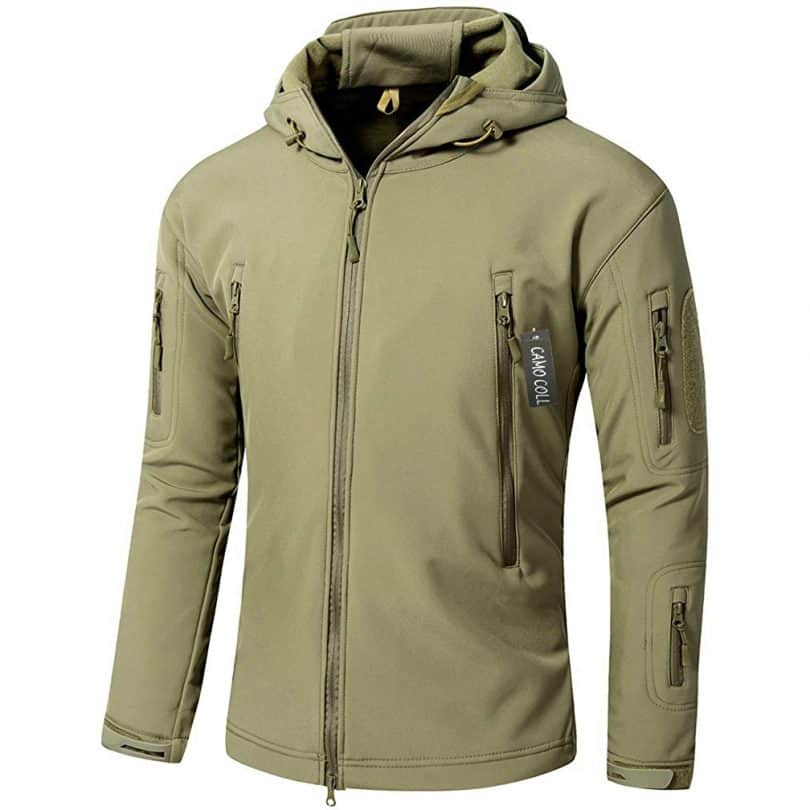 Price: Approx. $50
Material: 95% polyester/6% spandex outer shell; 100% polyester lining
Specific features: Water-resistant, windproof, drawstring waist and hoof, adjustable wrist cuffs, two vertical chest pockets, two shoulder pockets, one forearm pocket
Best use: Hunting, fishing, hiking
The Camo Coll Soft Shell Tactical Jacket is quite a sleek jacket to behold. It has a wonderful cut that looks quite sleek on the body, instead of the bulky jackets you might normally wear. Even with the sleek look, however, it still has plenty of storage on the body and sleeves so that you can keep your gear with you.
The added spandex to the shell gives it some stretch so that it fits to your torso. At the same time, it's also breathable so you won't feel sticky and sweaty. That makes it a great choice if you intend to go hiking, as the material will breathe with you.
Thankfully, this jacket also comes in camouflage colors to help you blend in if hunting is your hobby. This will help you get the jump on your target before they know you're even there. Overall, this is a fairly great jacket that is quite affordable.
PROS:
Affordable
Fits well
Warm
CONS
:
Zippers are a bit cheap
Recommended to buy a size larger for proper fit
Related: Layering is extremely important in winter, and you shouldn't go without the Tesla Compression Baselayer. This thermal shirt will trap your body heat to keep you warm but is also breathable so you won't feel sweaty. It's easy to clean and dries quickly so it can be ready to wear again after it's been washed.
Rothco Special Ops Soft Shell Jacket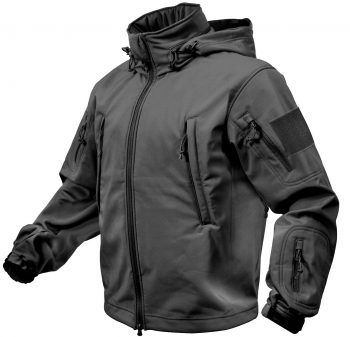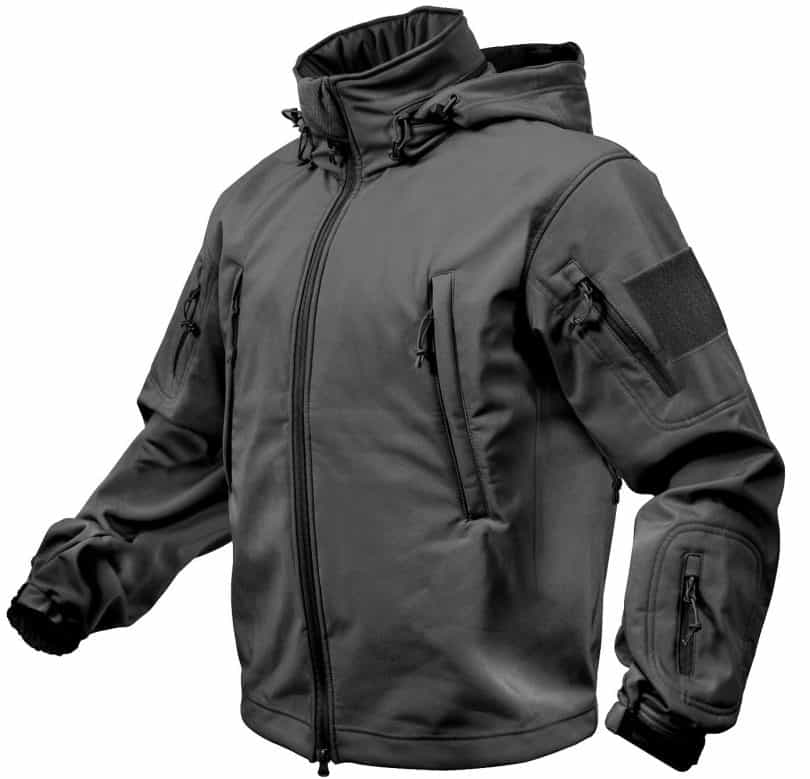 Price: $70 – $220
Material: 100% polyester shell; 100% fleece liner
Specific features: Two vertical chest pockets, 2 shoulder pockets, one forearm pocket, fleece-lined collar, concealed detachable hood, wind-resistant, zippers under arms for ventilation, moisture-wicking, drawstring waist and cuffs
Best use: Camping, hiking
When it comes to staying both dry and warm, the Rothco Special Ops Soft Shell Jacket has exactly what you're looking for. The breathable material used in the construction of the jacket retains your body heat, as well as wicks away moisture to keep you dry. A big problem with windproof jackets is that they may not be breathable, which means you're stewing in your own sweat. But not with this jacket and its arm venting zippers.
It has a versatile hoodie that can be hidden within the jacket itself to keep it out of the way, or it can be detached altogether if you don't need it. This gives you some versatility in how you want to wear your jacket, especially if you're trying to keep it minimalistic.
Some people aren't into the baggy look, and they can keep themselves looking svelte with the drawstring waist and cuffs. Just cinch them tight, and you're ready to go.
PROS:
Lots of pockets
Lightweight
Easy to clean
Durable
CONS
:
No hand warmer pockets
Sometimes loose stitching on seams
Related: Keeping your face is a priority during the winter months, as chapped cheeks and nosebleeds aren't fun one bit. The N-Ferno Thermal Fleece Balaclava is guaranteed to keep your face warm, is extremely lightweight, and the hood can be flipped back on a hinge. It's a unisex product that can be worn by just about anyone.
Maelstrom TAC PRO Tactical Jacket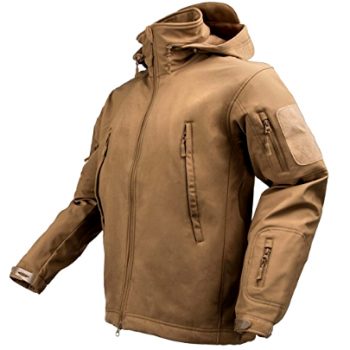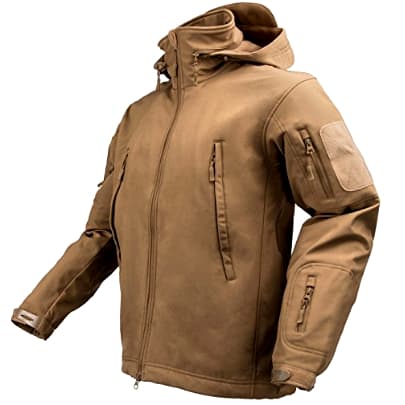 Price: Approx. $50
Material: 3-layer polyester outer shell; soft fleece liner
Specific features: Mandarin collar, zippers under the arms for breathability, zip-up storage pocket with headphone port on arm, reinforced elbows and cuffs, adjustable waistband, forearm storage pocket, two back pockets, two vertical chest pockets with headphone port and key hook, wind- and water-resistant
Best use: Camping, hiking
The Maelstrom TAC PRO Tactical Jacket is probably one of the warmest jackets you'll find on this market. It has three layers of polyester bound together to make it virtually windproof, so you many not even need to layer under this. It retains your body heat well, yet wicks away any moisture so that you don't feel sweaty and gross. The soft fleece lining also feels great against the skin.
This jacket offers a number of pockets for your personal storage. Sporting six pockets, you have enough for your small electronics, tactical gear, and a weapon, should you decide to conceal carry.
The drawstrings added to the waist and the hood allow for a professional fit, so you don't look like a baggy mess. Ensuring that everything fits perfectly means that you won't get caught on hazards in your surroundings, and remain on the move.
It's easy to recommend this jacket as it is not only offers great protection against the elements but very budget-friendly as well.
PROS:
Lightweight
Durable
Great storage
CONS
:
Does require some breaking in
Jacket is a bit short for taller men
Related: You'll be fully prepared with the 5.11 TDU 1.5-Inch Belt on your side. It's a convenient belt that's durable, easy to use, and can withstand the elements with its nylon body. In a pinch, it can be sued as a secure tie-down or a carry strap for luggage. And because of the non-metal buckle, there's no need to remove it when you're going through security at the airport.
TRU-SPEC Tactical Softshell Jacket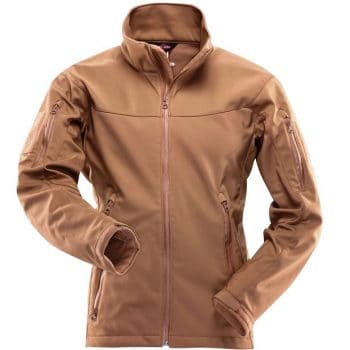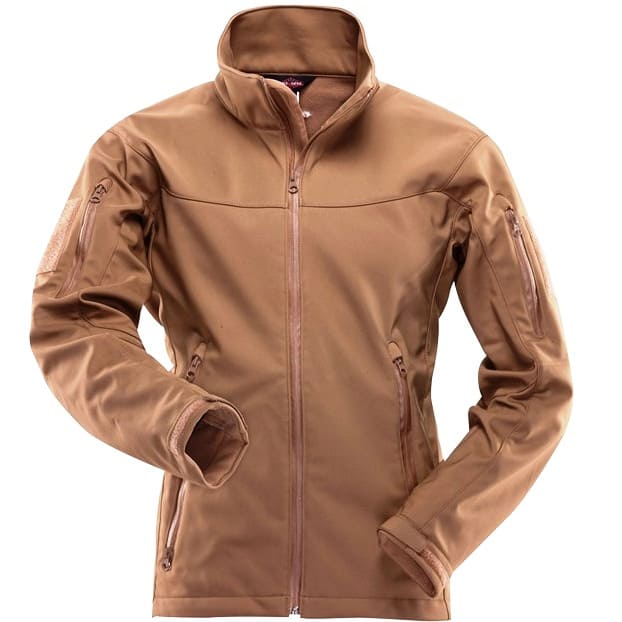 Price: $60 – $140
Material: 90% Nylon/10% spandex
Specific features: Side seam pockets, wind- and water-resistant, fleece-lined zipper, two waist pockets, two rear pockets
Best use: Hiking, camping, walking, running
Investing in a TRU-SPEC Tactical Softshell Jacket means you're getting the same quality of product that police, firefighters, and EMTs use when they're on the job. They're made with quality and durability in mind, so you're definitely getting your money's worth at this price. The availability of sizes means that they can be worn by just about anyone.
The side seam pockets means that you don't have to remove the jacket to get to your pants pockets or your belt to remove it. This makes it easy for you to get to your stuff quickly and easily. And with the additional storage pockets, you may not even need to get to the ones on your pants. Included with two waist pockets are also two rear pockets, giving you the opportunity to conceal carry your weapon, should you need to.
The nylon and spandex also gives this jacket a snug fit while still keeping you warm. It's also thin enough to be worn under a heavier winter jacket, if you want to layer your outerwear.
PROS:
High collar stays up
Arms have good length
Warm
CONS
:
Sizing is pretty snug
No internal pockets
Related: A great way to protect your leather boots is to apply shoe polish, and nothing is better than the Kiwi Parade Gloss Shoe Polish Paste. It uses a mixture of wax and silicone in order to provide a durable shine that will make your leather shoes look great. It will also protect them from the elements and save the leather from becoming dry and cracking.
ZAPT 1000D Cordura Tactical Jacket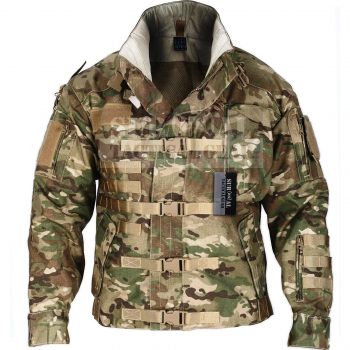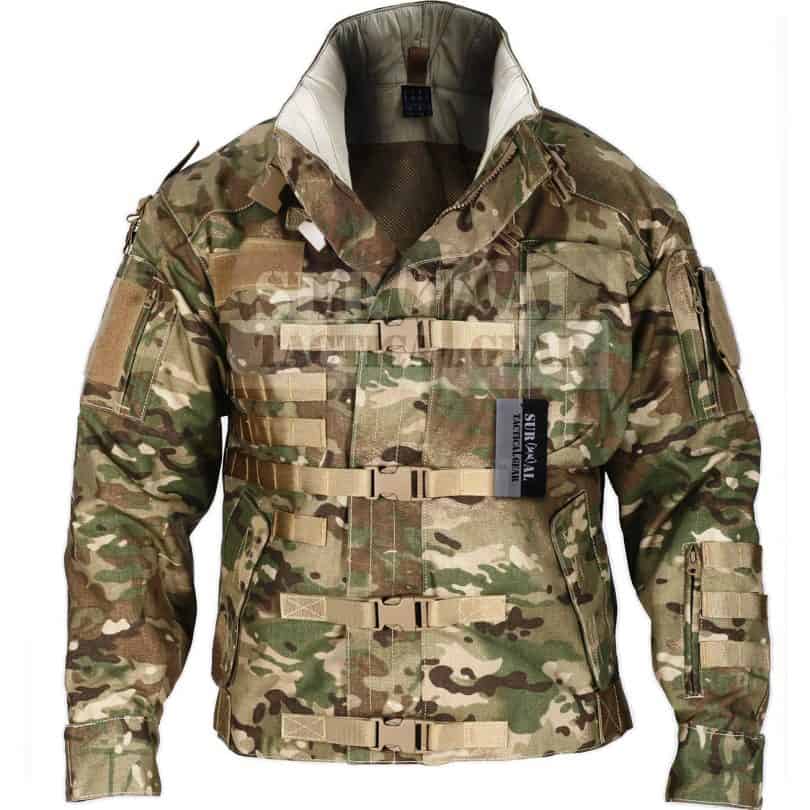 Price: $230 – $250
Material: 1000D Cordura
Specific features: Windproof collar, emergency drag strap, reinforced elbows, shoulders and cuffs, arm pocket, chest pocket, flashlight pocket, four interior pockets, waist cinch, zipper and straps enclosure, waterproof
Best use: Camping, hiking, bugging out gear
Description: If you're looking for a jacket that will keep you both warm and dry, then you may want to consider the ZAPT 1000D Cordura Tactical Jacket. It's made from 1000D Cordura, so it's guaranteed to keep out the wind and the rain, especially with the high collar. However, that means that it's also very easy to keep clean, so you won't have to worry about lingering stains.
This jacket comes with plenty of pockets for you to keep all of your devices and smaller pieces of gear in. The chest pocket has an internal pocket for you to store a flashlight, so in the event you lose power, you'll have exactly what you need on hand.
The reinforced areas of the jacket, which include the elbows, shoulders, and cuffs, will ensure that your jacket will continue to withstand the elements. That's more money in your pocket from not having to replace your jacket in the future.
PROS:
Lots of functionality
Large number of pockets
Good quality
CONS
:
Sizing is larger than stated
Related: Have you been looking for a way to save your knees from being on the hard ground or strenuous activities? Then you may want to consider the ZAPT Tactical EVA Knee Pads. They're made with neoprene and are very lightweight while still being sturdy.
Condor Alpha Tactical Fleece Jacket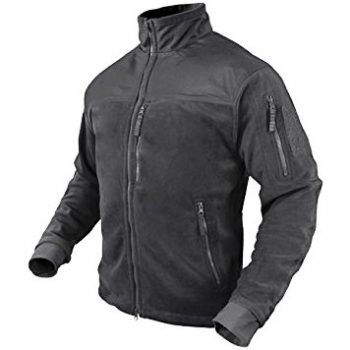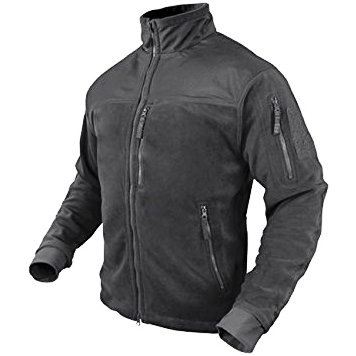 Price: $40 – $80
Weight: 5 pounds
Material: 100% polyester outer shell; laminated polyester lining
Specific features: Two Velcro loop shoulder patch panels, vertical chest pocket, two hand pockets, abrasion-reinforced forearms, shoulders, and collar, thumbholes, drawstring waistband, shoulder pocket
Best use: Camping, hiking, wearing in cooler weather
The Condor Alpha Tactical Fleece Jacket is quite sleek, and is made with a tapered fit to give you an attractive silhouette. The use of nylon in both the shell and the liner, traps your heat in while still being breathable, so you're not overheating and sweating on the inside of your jacket. The sleeves, shoulders and collar, areas in which wear out the most, are reinforced to help them last a lot longer. No more holes in these vulnerable spots.
This jacket also provides you with plenty of storage for you to keep your belongings in. There's one vertical chest pocket to keep your wallet in, and the hand pockets offer some warmth when the cold winds pick up. The shoulder pocket can be used for anything, such as your phone, keys, or credit cards.
The sleeves even have thumbnails so that you can maintain the heat in your hands when the temperature drops those few extra degrees. They make it easy for you to get work done without having to remove your jacket altogether.
PROS:
Affordable
Warm
Dries quickly
CONS
:
Front zipper causes problems
Related: If you're looking for a great way to keep your neck warm when you don't have a scarf on hand, then you may want to consider the Condor Thermo Neck Gaiter. It comes with an elastic closure at the top so that it fits snugly around the neck. Or you cal pull the gaiter up higher to protect the face, a good thing to have if you're prone to nose bleeds or wind-chapped cheeks.
Wrap Up
This wraps up our guide and reviews. The secret to finding a tactical jacket is to exercise some scrutiny and patience for the products that you're looking at. Hopefully, with our advice and the information we've shared, you'll have an easier time of finding what you're looking for without any problems. You should be on the right path to finding a tactical jacket that's perfect for your needs.
Featured Image Source: https://unsplash.com/photos/lF7PE1QMbjY