From time to time, people who have never worn fingerless gloves before have a misconception about them. The say that buying the best fingerless gloves is not necessary since you can get the ones with full protection; after all, gloves are meant to be as warm as possible, right?
What they might not be considering is the fact that having your fingers completely covered by the glove's fabric reduces considerably your movement and dexterity. Also, with common gloves you will not be able to use most devices with touching screens, like GPS or Smartphones, since they are intended to work when interacting directly with your fingertips.
Now, since we know that hikers, bikers, motorcyclist and hunters will be in that situation more than once, we have selected the top rated fingerless gloves that can be found nowadays, so all you have to do is keep on reading and, at the end, choose the one that fulfills your needs.
Our top picks
Things To Consider When Buying Fingerless Gloves
Before you buy anything, you have to know what the most important aspects you should look at are, so you don't get a poor quality pair that will not fulfill your needs. For that reason, we have written about them; so, read on to know more about them.
Material
There are fingerless gloves mostly used for cycling that are made from synthetic materials, which is the most popular fabric used to build these kind of gloves because their main feature is to absorb the excess of moisture from the palms of your hands while you perform any activity.
Another commonly used material in fingerless gloves' construction is the leather. Bikers love them because it can protect their hands from the wind, which comes in really handy when cycling at high speed. When shopping leather gloves, you should find a balance between thickness and flexibility. Leather gloves are also extremely durable and very comfortable to wear.
Woolen gloves, however, are mostly appreciated for their warmth properties. They are usually knitted or crocheted. Keep in mind that this is a natural material, so it might be more expensive than the rest.
Although cashmere gloves are the softest and most comfortable glove your skin will ever touch, their price also indicates their impeccable properties. Both of these materials are natural ones, they have similar properties but their price is very different.
However, if you are thinking about these two choices, it is better to leave this decision to your budget limit. Meaning, if you can afford cashmere, go for it, you won't regret the choice.
Lace fingerless gloves are a fashion choice which is rarely seen, but still appearing on formal occasions. Since they are mostly used as formal gloves, their length is also formal. Although in the past, the lace gloves were intended to be used by women only, the times and conditions have changed.
Length Of The Gloves
The fingerless gloves come in different length for every occasion. There is an unwritten rule for these kinds of things which is greatly followed.
The first thing you should do before buying any kind of glove is to select their length according to the activity and/or situation you will use them for. There are 4 main groups, which are:
Wrist length gloves: mainly used for sports activities. They are usually made from non slippery materials and their purpose is strictly practical.
Mid arm gloves: mainly fashionable gloves. They usually have a lower price and many different designs you could choose from. Their purpose is partly fashionable, partly practical since they allow people to handle a touch screen without taking gloves off.
Elbow length gloves: usually used on formal occasions and are considered elegant gloves. Because of their main use, they are often found in pastel colors. Nowadays they are a common accessory for weddings and formal parties.
Long gloves: considered as formal gloves. This length is considered more elegant and is used only for special occasions, like operas, waltzes, and similar events.
Even though it is good to know the types and length of different fingerless gloves, we are going to discuss and review only gloves used for outdoor activities.
They should provide you protection and comfort while also allowing you to manipulate the touch screen from your devices, since it is useful for hunters, climbers, fishermen and cyclists to use their GPS without taking the gloves off and putting them back on every once in a while.
Glove Lining
The lining of the gloves is usually made with natural material which is able to hold the heat inside. The outside is also important, but nothing can hold the heat like a natural material.
The most common linings are fleece, acrylic, Lycra, and wool. The first three materials are recommended for not too low temperatures since they are synthetic materials not suitable for colder temperatures. Wool, however, is a high quality material which is suitable for colder weather conditions.
The silk and cashmere linings are also extremely warm and comfortable, but they are also harder to find and they are very expensive. However, if the budget allows you, it is the most recommended material.
The most economical option is a heat absorbent lining combined with a windproof outside fabric. This mix will keep you warm at extremely low temperatures. There is a great chance that the tips of your fingers don't feel the cold outside.
Additional Features
The most important additional feature most fingerless gloves have nowadays is a rubber or leather material added to the palm of the glove that is really helpful for cyclists, motorcyclists, and others. The leather can either cover your entire palms, or be added only on the main pressure points of them to give you a better grip and prevent accidents.
Check Out These Best Fingerless Gloves
Now that you know how to recognize a good pair of fingerless gloves, it is time for us to show you our recommendation of the best products on today's market.
Sofishie Outdoor Fingerless Gloves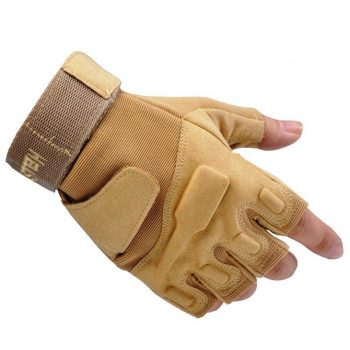 Size: M/L/XL
Specific features: Nylon, curved design
Best use: Hunting, cycling, motorcycling
An Interesting pair of gloves that you will definitely love! The Sofishie Outdoor Fingerless Gloves are made of low profile nylon with a loop on the cuff that permits simple donning and also attachment to carabineers.
They have an ergonomic cut and also their pre curved design matches the contours of the proper position of the hand more exactly when it is in a relaxed condition.
This is designed for the best dexterity and less bulk when pushing the items. These lovely gloves are made of genuine materials and leathers with high quality that it gives a maximum performance. They also have protection against melting and dripping. On the back of the hand, there is molded foam appropriately placed to protect that part of the hand.
Some users have said, however, that these gloves are not durable enough. Also, they say that these gloves do not keep your hands warm, which is a problem in cold weather; and that they are not true to size.
PROS:
Ergonomic cut
Comfortable
Hand protection
CONS
:
Weak materials
Not warm enough
Not true to size
Related: We also recommend the Sofishie Active Shorts. It is a comfortable piece of clothing that is made of polyester and spandex with elastic waistband and internal draw string. They are soft, have two side zipper pockets and do not shrink.
Vbiger Fingerless Gloves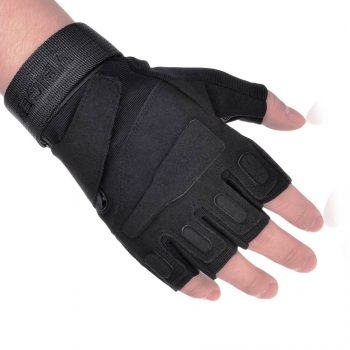 Size: S/M/L/XL
Specific features: Half finger gloves, super fiber material
Best use: Cycling, shooting, military tasks
The Vbiger Fingerless Gloves is great for your cycling trips since they are made of low profile nylon and they have a loop on the cuff that allow you to put them on easily. The finger part of the gloves is made of synthetic leather which is durable and wear resistant and it is a good choice for challenging situations.
The palm part is made of microfiber fabric which is anti skipping and it dries fast. Their main functions are anti skip, anti static, anti thorn, low temperature and it helps in keeping you warm. The manufacturer recommends washing the gloves by hand, but if you want to wash them in a machine you have to put them into a laundry bag.
Users say that the fit is quite small even when buying the XL gloves; that the protection on the knuckles is not very breathable; and that they are a bit heavy compared to other gloves.
PROS:
Durable
Anti skip, anti static, anti thorn
Fast drying
CONS
:
Bad odor
Not true to size
Not breathable
Related: The Vbiger Hiking Backpack is one of our recommendations when it comes to backpacks. It is made of a water resistant material that is also strong against abrasion; it is comfortable due to its design; and has plenty of room to store what you might need on the trail.
Kevenanna Tactical Gloves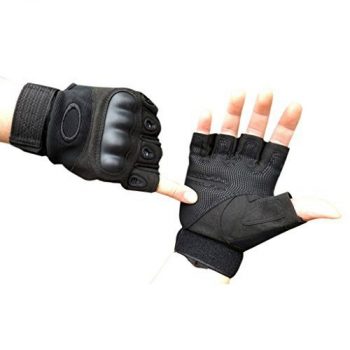 Size: M/L/XL
Specific features: Breathable, knitted fabric, elastic fiber
Best use: Outdoor activities, military activities, combat, hunting
The KevenAnna Tactical Gloves are a great choice for your outdoor activities since they offer a comfort design and are very breathable. They are made of a material known as knitted fabric, in a double layer that is water resistant. They contain elastic fabric that provides an excellent place for the fingers.
The product is easy to adjust and to take off because of the pull ring placed on the fingers and also on the palm. These gloves are made of genuine materials and high quality treated leathers that ensure maximum protection.
However, some users have claimed that they were very disappointed because the gloves are way bigger than what the description says and that they are lacking in terms of durability.
PROS:
Easy to adjust
Water resistant
Breathable
CONS
:
Not true to size
Weak materials
Bad smell
Related: The KevenAnna Trekking Poles are just what hikers and backpackers need for their trips since they are made of a lightweight yet resistant aluminum; they have a shock absorbing system perfect for people with weak joints; and it can be adjustable reaching up to 54 inches.
Glacier Glove Fingerless Gloves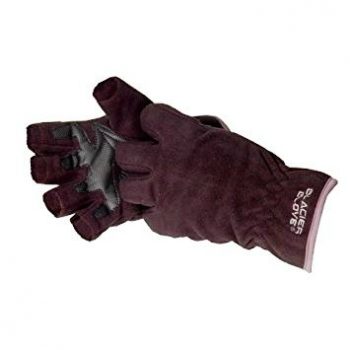 Size: S, M, L, XL
Specific features: Windproof, lightweight and comfortable
Best use: Fishing, outdoor activity
The Glacier Glove Fingerless Gloves are one of the most commonly bought gloves since they are windproof, lightweight and comfortable. They are pretty warm and recommended for your camping trips, but you can also use them for driving because of the good coating of rubberized grip that line up perfectly.
Also, they fulfill the most important task fingerless gloves have: to keeping your hands warm while leaving your fingers free, so you can use them for typing on your computer, tablet or on your phone. It is very easy to put them on and take them off since they do not have a tight fit, which is pretty useful for most people.
People who have bought this pair of gloves say that they are not as strong as they should. Also, people say that they are good only in mild temperatures since they do not keep your hands warm enough; and that they tend to be smaller than what the description says.
PROS:
Windproof
Easy to wear
Not a tight fit
CONS
:
Weak
Not for cold temperatures
Not true to size
Related: If your plan is going to a place with a lot of contact with sunrays, the best thing you should do is to buy the Glacier Glove Sun Hat. It is easy to wear and to adjust due to its chin strap and interior headband; and it does not have a too tight fit, so you can wear a bandana along with the hat if you want to.
Orvis Fingerless Gloves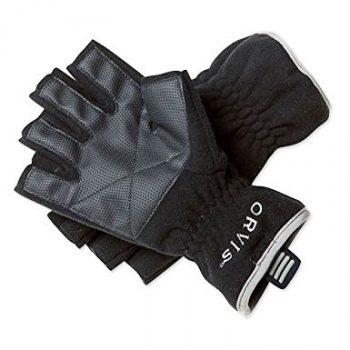 Size: S/M/L/XL
Specific features: Warm, windproof, poly fleece
Best use: Fishing, hiking, camping, or cycling
The Orvis Fingerless Gloves are pretty useful for most outdoor activities. These gloves allow your hands to stay warm without sacrificing dexterity while also being windproof, so they provide maximum protection. Additionally, the palm is equipped with embossed polyurethane that gives you a better grip.
Their back side is made of an anti pilling material with a poly fleece fabric that makes them both resistant to abrasion and easy to wear. On the palm side, the gloves have a double layer of poly fleece, which enhances warmness. For this reason, people usually take them to their winter trips.
Users have been saying that the gloves have a rather strong chemical smell. Actually, people recommend washing them a couple of times before using them. Also, they are bigger than what the description says and their material do not let enough air pass by.
PROS:
Windproof
Great grip
Easy to wear
CONS
:
Bad smell
Not true to size
Not breathable
Related: The Orvis Encounter Wading Boot are a very comfortable pair a boots great for backpackers and campers since they held up great, are made of a strong and durable leather, are water resistant and also breathable enough to give you a great experience while walking for long periods of time.
Giro Jag Gloves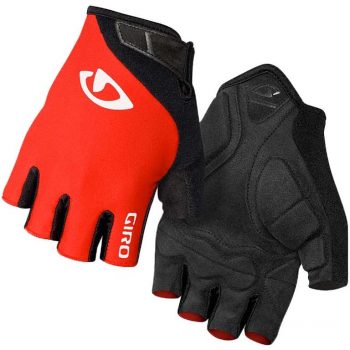 Size: S/M/L/XL/XXL
Specific features: Lycra, microfiber
Best use: Outdoor activity, cycling
These Giro Jag Gloves come in wide range of sizes – from S to XXL – so you'll have the possibility to choose the most convenient one for you. The gloves come with hook and loop straps that allow an easy pull on and off. Even more, the mentioned microfiber structure on the upper surface helps keep your sunglasses and any other delicate gear without scratching the lenses.
The material is microfiber on the palm and on the upper side, but they are cover with Lycra just to keep you comfortable during hot climbs. They are recommended for any outdoor activity but they are most suitable for cycling.
Nevertheless, people say that they are not durable enough since the cloth between fingers start coming apart after only a few weeks of use. Additionally, the palm pads are not lined up correctly, which can be troublesome for some people. Lastly, the sizing could really use some work.
PROS:
Easy to wear
Soft surface
Comfortable
CONS
:
Weak materials
Palm pads not lined up
Not true to size
Related: We also recommend the Giro Verona Helmet for cyclist since it offers full coverage for your head, has a reflective rear decal, is made with polycarbonate and has a snap fit visor with reinforced anchor points.
What We Learned
We hope that our suggestions will help you make a wise decision when looking for fingerless gloves, especially considering their importance in cold weather. We also hope we managed to offer a few useful reviews so you won't have to look for the needle in the haystack.
Featured image source: https://cdn.pixabay.com/photo/2018/02/01/19/56/mitten-3123906_960_720.jpg