You're getting ready for a backpacking trip, one by one loading up your pack, when it comes time to pack up your sleeping bag. Some stuff their bag straight into the pack, others push it into a pillowcase.
But when you spend that much money on a quality bag, it deserves quality treatment to make it last through all of your adventures. Plus, you need the pack space for other gear and food. The most elegant solution to this problem is a compression sack.
Compression sacks are a great way to reduce the volume of any soft item, like clothes, but today we're going to focus on the best compression sacks for sleeping bags, how to choose, and the variability you have in each kind of compression bag.
What Type of Bag Do You Own?
First off, what kind of sleeping bag are you trying to pack? A big, bulky, winter bag or a thinner summer bag? What's it filled with? The size of your bag is dictated by two things. Its temperature rating because of the fill and the actual size of your bag (Regular, Tall, etc.)
Let's take a look at fill since that's going to be the most predictive of the compression sack size you're going to buy.
Down
Down compresses better than synthetic so you can even buy a regular dry sack for a down three season bag. A compression sack will be a better choice if your bag is down and meant for cold weather.
When thinking of down mummy bags, you can get a smaller compression bag since the cut of the bag compensates for the increased volume. But if you're stuffing a rectangle bag, go a little bigger because it's shape demands the space even if it's volume doesn't.
Synthetic
Synthetic bags don't compress as a small as down bags so you will need a higher volume sack. The same wisdom should be applied to mummy and rectangle bags though.
If you've got a subzero synthetic sleeping bag, use the compression sack the manufacturer gives you with the bag or sells separately. A bag of that volume is going to be very difficult to find a compression sack for.
Determining Sack Sizing
Determining size of the compression sack you need can be tricky. We've got two methods to help you figure it out.
Find the Specification
The specification of a bag is the dimensions of the bag when it's stuffed down into a sack.
You can find this:
Included with the bag, probably on the included stuff sack.
Online. Search the manufacturer and the bag model.
The degree rating doesn't mean enough when it comes to determining compression sack size.
You can stuff the sleeping bag into the sack and measure it yourself.  
Use a Box
Put your bag in a cardboard box, one that's larger than the bag.
Measure the length and width of the box.
Press the sleeping bag down until the surface of the bag is level with the edge of the box.
Measure the average depth that the bag takes up.
Multiply the length x width x depth to get the volume in cubic inches.
Divide this total by 61 to get the volume in liters.
Compression sacks are listed in liters, so from there it's easy going!
Important Features to Consider
We're going to discuss the different types, styles, and closure options available for your compression sack next. These tips are meant to help you determine what you need in a compression sack and what your preferences are.
Types of Storage Sacks
There are three types of storage sacks: Compression, Waterproof, and Stuff. We're focused on compression but compression sacks can also be waterproof which might be an option that's useful to you and you might not have considered.
We're going to cover stuff sacks too because you might need a stuff sack instead of a compression sack like we mentioned earlier with the warmer season down bags.
Compression Sacks
Designed to reduce the volume that gear takes up in your pack.
Best use:
Down filled winter bags
Three season synthetic bags
What a 'vented' bag means
Some compression bags feature a panel of breathable fabric that vents air as you compress the bag. The idea is to get rid of excess air and get the bag to compress even smaller.
Waterproof Sacks
Also known as a 'dry bag'. There are two types: made with PVC or Urethane – coated and made with Sil-nylon or Cordura.
The PVC/ Urethane bags are meant to be submersible. They are extremely waterproof and the kinds of bag you'd store in your kayak or canoe. The Sil-nylon/ Cordura bags are lighter weight making it a better option for backpacking and camping.
Think of it more as an option for a bear hang. If it rains, your food will stay dry, but it's definitely not meant to get dunked into the ocean.
Best Use:
During water sports
Bear Hangs
Camping and Backpacking
Stuff Sacks
Stuff sacks are commonly made from Sil-nylon, Cordura, or Ultralight cuben fiber. They're more meant for organized storage than compression and do not offer the same space saving capabilities as a compression sack or the protection from the elements from a waterproof sack.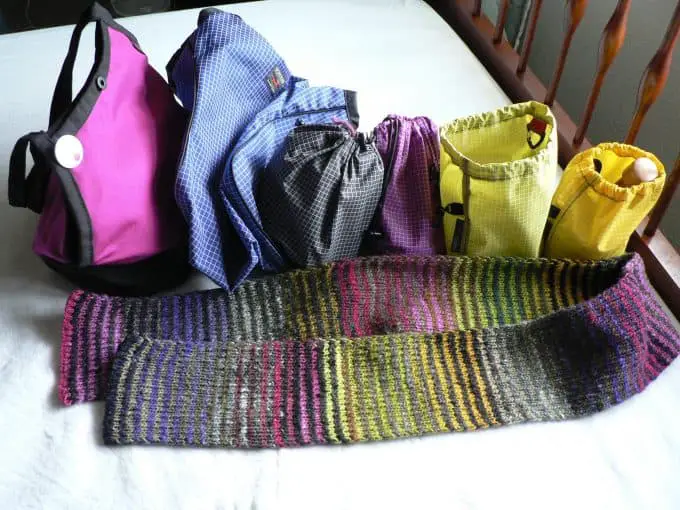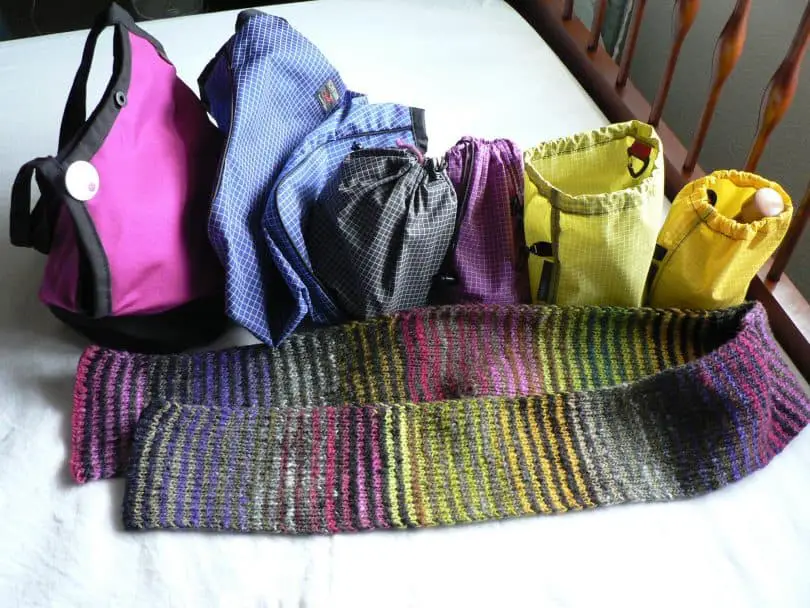 You may have also heard of small stuff sacks referred to as 'ditty bags' which are mainly used to store personal items and medical supplies.
Best Use:
Closure Style on Different Sacks
Each of the sacks we've just gone over also features a different style of closure, which is another important feature to take into consideration as you choose a compression sack for your sleeping bag.
External Straps
You'll see external straps and buckles on compression sacks. Pulling the straps through the buckles is how you mechanically compress the bag.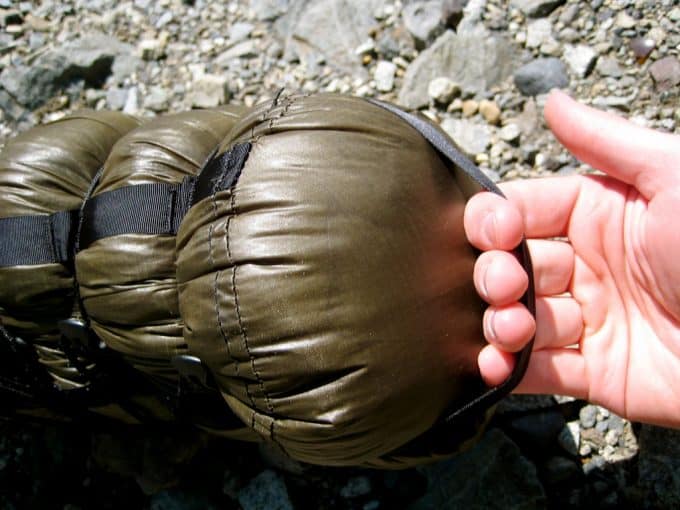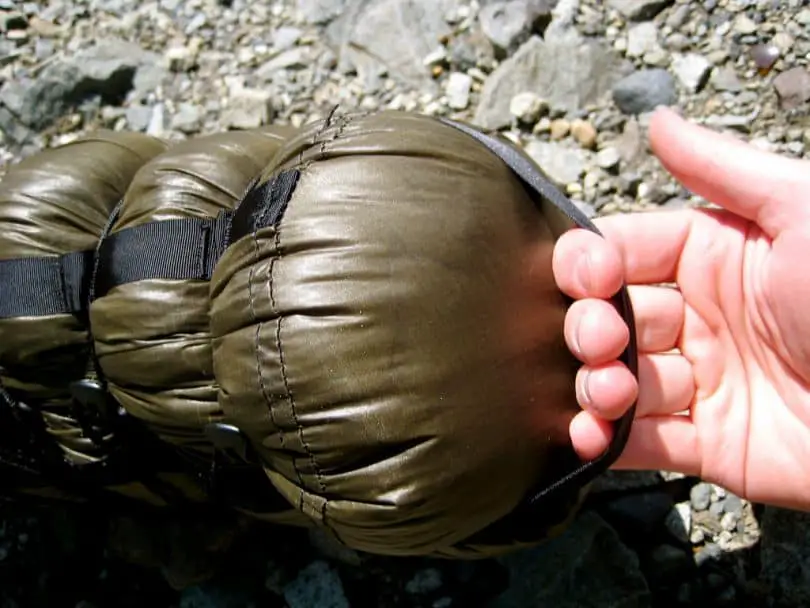 Roll Top
Roll top closures are for the heavy duty waterproof bags. You're going to squeeze the air out of the bag, roll down the top, and secure the bag with two buckles that feed into each other like a loop.
Drawstring
A drawstring closure is what you're going to find on a stuff sack. It doesn't provide much compression or water protection but it stays closed and keeps your belongings from spilling out into your bag.
Top Product Reviews
Now it's time to get into the reviews. You know roughly what size you're looking for and what details you might want in a compression sack.
Looking at the reviews below will simplify your options and offer some of the industry's best choices. We've organized the options generally from most water proof to least water resistant.
Outdoor Research DryComp Ridge Sack
Weight: 17.1 oz
Dimensions: 3 x 11 x 26 inches
Specific Features:
Waterproof roll-top closure
Radio frequency welded seams
Breathable mesh shoulder straps
Air bladder back panel
Internal hydration sleeve
Best use: Water activity, day hiking.
The Outdoor Research DryComp Ridge Sack is meant for hauling gear in wet conditions whether you're hiking, riding a motorcycle, or a horse. It's essentially a waterproof compression sack with straps.
It features welded seams, reinforced fabric, a mesh pocket for a hydration bladder, gear loops to secure gear to the outside of the pack, and compression straps to cinch down all of your gear as you adventure out into the rain.
The main drawbacks of this pack have to do with fit. Some find the shoulder and chest strap placement uncomfortable and the adjustments are limited.
Sea to Summit Ultra-Sil eVent Compression Dry Sack
Weight: XXS 0.24 oz, XS 1.3 oz, S 2.1 oz,
M 4 oz, L 4.8 oz
Dimensions: XXS 1.3 – 3.3 L, XS 2 – 6 L, S 3.3 – 10 L, M 4.5 – 14 L, L 6.7 – 20 L
Specific Features:
Nylon
Waterproof seams
Double stitched and fully tape sealed
Waterproof
Air-permeable eVent fabric base
Hypalon closure does not wick moisture
Reinforced stitching on all stress points
Pull handle at bottom
Best use: Water activity, backpacking, camping.
The Sea to Summit Ultra-Sil eVent Compression Dry Sack was made after the success of the Compression Dry Sack. This updated version is lighter due to the use of Ultra-Sil technology, but it retains the functionality of the original design.
The Ultra-Sil Technology compresses gear to 1/3 of its volume while keeping it dry. This bag is extremely waterproof and the combination of compression and ventilation makes it ideal for packing tight and light. As with many compression sacks, the straps have a tendency to twist but it's easy to untwist with a little patience.
It's recommended that if you have a long sleeping back to get the 20L.
Related: If you don't want it to be waterproof but still love Sea to Summit, try the Sea to Summit Compression Sacks, sizes are available from XS to XL.
Outdoor Research AirPurge Dry Compression Sack
Weight: 8.8 ounces
Dimensions: 5L: 15″ x 51/2″, 8L: 18″ x 61/2″, 10L: 211/2″ x 7″, 15L: 24″ x 8", 20L: 25″ x 9″, 35L: 29″ x 10″.
Specific Features:
Roll-top waterproof closure
Air permeable/waterproof fabric band purges air during compression
Hydroseal coated nylon is waterproof and durable
Waterproof taped seams
Internal zippered pocket doubles as small item and stuff sack storage
Roll-top waterproof closure
Best Use: Backpacking, camping, water use.
The Outdoor Research AirPurge Dry Compression Sack is extremely waterproof. It features fully taped seams, roll top closure, and air permeable, waterproof fabric bands that offer waterproof protection as well as purge excess air from the bag. Its fabric is thin which makes is less durable than older, similar bags but it can pack very small when not in use.
There's even a zippered pocket it folds itself up into, making it a great choice when trying to save on space. The thinner straps and smaller buckles also add to its lighter weight but use increased caution when ratcheting it down.
Because of the air permeable technology, this sack can always be ratcheted down a little more than you'd expect. Because of that, these compression sacks run a bit higher in price than the average.
Outdoor Research UltraLight Compression Sack
Weight: 13 oz
Dimensions: 14 x 4 x 2 inches
Specific Features:
Four compression straps
40D rip-stop sil-nyl
Drawcord and hypalon cordlock keeper closure
Rip-stop nylon compression rings
Bound seams on end caps for durability
Best Use: Backpacking and camping.
The Outdoor Research UltraLight Compression Sack is made out of Sil-nylon fabric which makes it lightweight and water resistant. It's even a little see through so if you've got a few of these and forget what's in each, you can look at it without opening it to see its contents.
The Sil-nylon also makes it easier for you to pull the sack in and out of a tightly packed bag. If you've got a bulkier or synthetic bag, it's recommended that you buy a size up as there's not much give in this material. This sack has a "Top Cap" style of closure, typical for a compression sack and a drawstring underneath the cap for added compression.
The compression straps have buckles that quick release for easy removal of the sleeping bag. Need a little more space? This sack has a pocket in the end cap to store small items. Finally, this sack comes in 5 L, 8 L, 10 L, 15 L, 20 L and 35 L.
Kelty Compression Stuff Sack
Weight: S 3 oz, M 4 oz, L 5 oz, XL 6 oz.
Dimensions: S 6 x 12″, M 8 x 15″, L 10 x 18″, XL 11 x 22″.
Specific Features:
100% Nylon
4 vertical compression straps with quick-release buckles
Hidden storage pocket
Water-resistant nylon rip-stop with DWR finish
Self-stuffs into storage pocket
Best Use: Backpacking and Camping.
The Kelty Compression Stuff Sack compresses sleeping bags and clothing down to increase the available space in your pack. It's well made, easy to use, and features water resistant nylon rip-stop with durable water repellent, which makes it a great option for backpackers.
It's not totally waterproof nor does it offer the greatest compression making is best for compressing clothing, a tent, or summer and three season sleeping bags.
Use care when pulling on the straps, some consumers have reported the snaps or straps breaking which is common with any compression bag that is over stuffed or yanked instead of steadily pulled.
Grand Trunk Getaway Compression Sack
Weight: 0.38 pounds
Dimensions: 10 x 4 x 16 inches
Specific Features:
600D Nylon exterior
Multiple waterproof YKK zippers with zipper garage
Water-resistant fabrics
Separate storage compartments
Compression straps with buckles and loop handle for convenient transport
Best Use: Travel, organization.
The Grand Trunk Getaway Compression Sack helps you to make the most out of your space because it streamlines packing and makes organization easy. The twin compartments especially make it easy to divide contents like laundry into "dirty" and "clean".
The expansion zipper also doubles to cubic volume of the internal compartment. The exterior has durable 600D water resistant nylon and compression straps to minimize bulk.
Sea to Summit Ultra-Sil Compression Sack
Weight:  XS 2.4 oz., S 2.6 oz., M 3 oz., L 3.3 oz., XL 4.1 oz.
Dimensions: XS 5.5 x 14 in, S 7 x 16 in, M 8 x 18 in, L 9 x 20 in, XL 10.5 x 23 in
Specific Features:
30D Siliconized Cordura
Four webbing cinch straps
Flip top lid
Best Use: Backpacking and Camping.
The Sea to Summit Ultra-Sil Compression Sack is ultralight and great for compressing not just your sleeping bag but clothes and down jackets as well. It has four webbing cinch straps to compress your gear and offer more room in your pack.
The flip top lid prevents the straps from tangling and the slick Cordura finish allows this sack to easily slide in and out of a tightly packed space. Though it feels thin, it can stand up to a lot of use. It's a great option for backpacking and keeping weight down.
Related: Like Sea to Summit but are looking for a dry sack? Try Ultra-Sil View Dry Sack and take advantage of the window feature to see into your bag as well.
LifeVenture Compression Sack
Weight: 3.2 oz
Dimensions: 15 L, 8.7 x 8.7 x 15.8 inches
Specific Features:
Lightweight siliconized Cordura fabric
Double stitched seams add durability
Internal draw-cord closure with anti-snag system
Cord-lock keeps the top closed when full
Three color coded sizes available
Best Use: Backpacking and Camping.
LifeVenture Compression Sack is a lightweight 15 L sack designed to compress and store soft gear like sleeping bags and clothes and make more space in your pack. The Cordura fabric makes this sack light and easy to pull in and out of a tightly packed backpack.
The seams are double stitched to increase durability, the draw cord keeps the sack closed, and the flip top and straps keep your items tight and secure. This bag makes organization simple.
Gobi Gear Hoboroll V2.0 Stuff Sack
Weight: 3.5 oz
Dimensions: 10″ diameter x 15″ long when full.
Specific Features:
Nylon, drawstring closure
30D diamond rip-stop siliconized nylon divided into 5 segments to keep your items separated
2 anodized aluminum sliders
Reinforced stress points, carry handle, drawstring openings at both ends, grommets for a removable shoulder strap
Pull handle on the bottom slippery finish for easy packing
Secret inner zippered pocket
20 L capacity
Best Use: Travel, backpacking, camping, and organization.
The Gobi Gear Hoboroll V2.0 Stuff Sack has five internal compartments to organize gear and keep it all in one place. It's a major departure in style from the classic compression sack and for some a worthwhile change of pace. It features quick release aluminum sliders which provide strong compressibility.
There's a secret inner zippered pocket for added storage for tiny, valuable things. Think wedding rings, wallet, keys, and passports. Common detractions from this product include faulty clasps and draw strings. Usually a manufacturing error but nonetheless inconvenient.
Compressing Your Options
We've learned about the different types of compression bags, their materials, closures, and most importantly how to get the right size for your bag. We've also taken a look at nine different sacks to help you get a sense of what's on the market.
Featured Image Source: "Kifaru Compression Sack" by Pig Monkey is licensed under CC BY-NC-SA 2.0