There are two types of people in the world: those who have known about hammock camping for years, and those who still think that hammocks are just for the backyard. Okay, so maybe there are a few more, but for many of us buying our first hammock for backpacking, hiking, and camping can be a little intimidating – let alone putting it up.
Straps can be just as confusing as the hammock itself, and there are a lot of options to choose from. For hammock enthusiasts and newbies alike, let's take a look at the best hammock straps options available – and which one you should choose.
Our Top Picks
Things to Consider Before Buying
Before we get into the actual products, it's important to review some of the qualities of good straps – and bad ones. Here are some of the important features of straps and how you can customize them to your specific needs and activities.
Length
The first quality of hammock straps you need to consider might seem unimportant to some, but pay attention! Strap length is one of the most important features to pay attention to, and the incorrect length can leave you high and (not so) dry out on the trail.
While they can make great sleeping spots in a variety of environments, altitudes, and weather conditions, hammocks require anchors to set up – usually trees, but if you're crafty, rocks, stumps, and other natural features. This creates a unique set of considerations over tents, and you need to think primarily about your location of use.
Location is pretty straightforward – where are you going to be? If you plan to take your hammock into heavily wooded areas, you'll likely have a lot of options for where to set up for the night or a trail break. Your biggest struggle here is finding the perfect spot, and while that's a challenge, strap length is less of a concern.
In these types of areas, shorter and less adjustable straps are a satisfactory option. However, if you plan to go to less forested locations like those in coastal chaparral, desert, or higher altitudes, you're going to need longer straps with more adjustability to make up for the lack of anchor spots.
Weight
The second factor to consider in your strap decision is the weight. Hammock straps come in a variety of weights as well as lengths, often related to the material and the durability. As it tends to be with most products, generally the more durable you get, the heavier you get. However, light isn't always the best option.
Take into consideration your needs before opting for the lightweight version, and make sure you think about all the wear and tear you might subject your straps to. Hammocks usually have a weight advantage over most tents to begin with, so chances are you're already looking pretty good in the weight category if you're looking for straps.
You might need to go lightweight for these accessories if: you plan on trekking long distances or through difficult terrain, you are carrying other heavy weight items like radios or camping accessories, or you have physical conditions that make weight limitation especially important.
If these conditions don't apply to you and you plan on sticking to more casual trips, it might be worth it to invest in some more heavy duty straps that will not only keep you safely suspended, but last a long time.
Durability
This consideration is related to the last – and it's just as important. Durability can mean a lot of different things, however, so let's figure out what we mean by that first. In the case of straps, durability usually refers to how well they fare when you're actually using them. This means how likely are they to break or wear through from friction while you sleep, and it's important to take into account.
Luckily, all of the products below rank high in this field, and as long as you follow load guidelines and set up instructions, most straps won't snap in the wee hours of the morning. There's a little more variation when it comes to the other meanings of the word, however. Durability can also refer to the strap's lifespan and tolerance to use, as well as it's tolerance to harsh conditions.
Some straps are made for light use – and they're really good at it! If you plan on using your hammock for occasional trips in temperate conditions, you probably don't need to spend the extra dollars on highly durable products. If you use your hammock often or in harsher conditions like extreme heat or cold, rain, snow, and high wind, you probably want to invest in some straps that highlight their durability as a key feature.
Load Bearing Capacity
This is the feature that holds the most weight in your decision – literally. Most straps are rated to hold somewhere between 200 and 2,000 pounds, and that number shifts dramatically according to how you use them. For instance, the angle of your anchor can increase or reduce a 400 pounds rating by as much as 200 pounds. Learning proper hammocking technique is very important if you don't want to end up on the ground.
In addition, even if your straps are solid, other weak points can make your system fail. Cheap or improperly placed carabiners, rings, and hooks can wear through your webbing or simply break on their own under tension. If you have the fundamentals all figured out, then load capacity becomes a good and reliable measure.
A 400 pounds rating suits most people, but if you plan on keeping gear in your hammock or want to share it with someone else, that 400 quickly becomes too low. If you can't find anchors that allow for optimum weight distribution, then that rating can get split in half – and there are many people who don't fall under 200 pounds.
If you're confident that you can find a good place to set up and your careful about how much strain you put on your straps, a 400 pounds rating is generally easy to find and more than satisfactory. If you need more, however, check out some of the straps below that rate up to 2,200 pounds.
Material
The final consideration for buying straps is the material. As with any other item you buy in preparation for camping or backpacking, material means a lot. Hammocks come in all sorts of materials, from coated nylon to woven nylon and from canvas to military grade polyester. It should come as no surprise, then, that straps do too!
The most common materials are nylon and polyester, although you can find suspension systems that utilize things like cotton and hemp rope as well. The products reviewed here utilize nylon and polyester, so we'll stick to those here.Nylon is a durable material used for things like climbing ropes and anchor webbing for mountaineering – that is to say, it's strong and it's tough.
While a lot of climbers prefer a little stretch in their rope, most hammockers do not. While nylon is a safe material as far as durability goes, its stretch often means ending up much lower than you initially hung your hammock. If you plan to be in wooded areas, this may simply mean fixing your anchors a little higher than usual to accommodate.
If you're in a place with less options, however, you may want to consider a no stretch option to avoid this sink. Poly filament and polyester straps offer the same durability as nylon without the stretch, but can often be a little more pricey. Now that we've gone over some of the considerations for buying your straps, let's get into the reviews!
Best Products on Today's Market
As promised, here are our suggestions for some high quality products to meet your needs.
Eagles Nest Outfitters Atlas
Weight: 11 ounces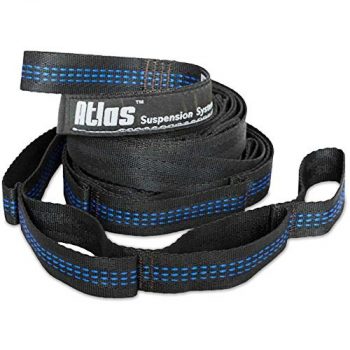 Length: 108 inches
Max. load: 400 pounds
Specific features: Tree friendly, polyfilament webbing, included storage bag, assorted colors, "frustration free" packaging, 30 adjustment points, daisy chain style
Best use: Light load backpacking and trekking
Looking for a high quality set of straps from a trusted company? Look no further! Eagles Nest Outfitters Atlas is a great option for the more rugged among us, and is guaranteed to keep you safely suspended throughout your many adventures.
These straps do not stretch, provide adequate tree protection with their 1 inch width, and utilize high quality PolyFilament webbing, making them a great option for long distance backpackers and trekkers who don't want to worry about breakage.
This product won't disappoint, and if it does, you're covered with a two year warranty. Eagles Nest Outfitters holds an outstanding customer service reputation, even going so far as to have "frustration free" packaging for their products.
These straps, although not the longest on the market, come equipped with thirty (that's right, thirty) adjustment points along their daisy chain design, allowing for the perfect customized hanging experience. What they hold in durability and adjustability, however, these straps lack in load bearing and affordability.
These straps are tested to hold 400 pounds of tension which means if you weigh over 200 pounds you might need to pay some extra attention to how you angle your hammock to avoid breakage. The price is a bit on the higher end, but considering the features listed above you pay for what you get!
PROS:
Very durable
Non stretch webbing
2 year warranty
30 adjustment points
Strong daisy chain design
CONS
:
Higher price range
Shorter length
Lower weight limit
Mid range carry weight
Related: Eagles Nest Outfitters doesn't just make hammock straps – they make the actual hammocks too! If you're looking for the whole package, check out Eagles Nest Outfitters DoubleNest Hammock. This is a lightweight and durable hammock designed for multiple uses, and it pairs perfectly with the Atlas Straps.
Hang Tight Hammock Tree Straps
Weight: 13.2 ounces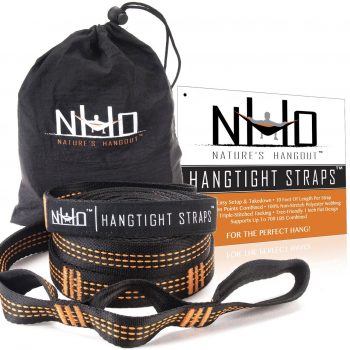 Length: 120 inches
Max. load: 700 pounds
Specific features: Tree friendly, 32 adjustment points, reinforced double power stitching, no stretch webbing, lifetime money back guarantee
Best use: Multi person or high weight backpacking and trekking
If the atlas straps are out of your budget, but you still want something with guaranteed high durability, the Hang Tight Hammock Tree Straps might be for you. These straps boast no stretch, 100% polyester webbing with 32 adjustment points for a highly customizable and highly durable hammocking experience.
What's more, this product has a test load capacity of over 700 pounds, making this an ideal option for heavier customers or those looking to fit more than one person in their hammock. This is by far the highest load capacity of the products listed, so look no further if capacity is your number one concern.
As with Eagles Nest Outfitters products, Hang Tight offers fantastic customer service and a lifetime money back guarantee if these straps fail to live up to their expectations.
These straps are 120 inches a piece, allowing for hanging in a wide variety of settings. However, they are also on the heavier side, weighing 13.2 ounces with their carrying bag. If lightweight travel is what you're planning, this might not be the best option for you.
Additionally, while this product is a high quality option, it definitely ranks on the more expensive side of our recommendations. These straps are best suited for heavy weight travel, including camping, backpacking, and trekking, but if you're looking for something for casual concert viewing, overnighters, or ultra lightweight adventuring, the heavy durability of this product may not be necessary.
PROS:
Strong, non stretch webbing
32 adjustment points
Money back guarantee
High load capacity
Medium length
CONS
:
Higher price range
Heavy weight
Loop design
Does not include carabiners
Little River Co. Sling Straps
Weight: 12 ounces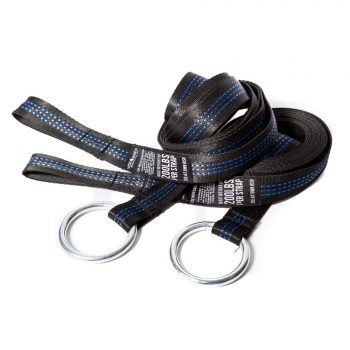 Length: 132 inches
Max. load: 400 pounds
Specific features: Tree friendly, poly filament webbing, custom metal loop design
Best use: Casual hiking, backpacking, and camping
The Little River Co. Sling Straps is a unique and highly affordable model of straps that offers several benefits, as well as several downsides. These 132 inches flat straps come with attached aluminum rings that allow for fluid adjustability in setup. The webbing itself is a high quality poly filament that boasts no stretch status and triple stitching to ensure durability.
Although it takes a little more effort to learn the suspension technique with these straps than standard loop or daisy chain designs, it is no less effective, like most high quality products, these straps are a tree friendly 1 inch thick and have a load capacity of 400 pounds.
What's more, this product fits neatly into any budget and a portion of your purchase goes to the National Parks Conservation Association.
While you can't argue against donated profit, this product does have some downsides. First, the suspension system takes time to learn and more time to set up than other products. For those in no rush, this is no problem – but for trekkers or backcountry backpackers, that time and fenagling can add up to too much.
Second, while the webbing is as strong as any, the aluminum rings are not continuous, creating a potential weak point for breakage, especially under heavy or constant weight. This product is a great option for those who need an affordable set of straps for more casual ventures.
PROS:
Affordable
Durable, non stretch poly filament webbing
Triple stitched webbing
Portion of purchase donated
High adjustability
CONS
:
Added time for learning and set up
Welded, non continuous rings
Mid to heavy weight
Not as easily matched with different hammocks
Related: Little River Co. also makes several other suspension systems, including the Fully Adjustable Hammock Suspension Hanging Kit. This product is a fresh take on the more traditional cinch buckle hammock hanging style and includes rolled steel buckles, nautical grade rope, PVC piping, and aluminum carabiners.
Eagles Nest Outfitters SlapStrap
Weight: 12 ounces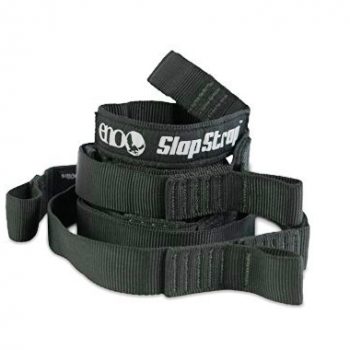 Length: 88 inches
Max. load: 400 pounds
Specific features: Tree friendly, 8 adjustment points, Tubular Nylon webbing, assorted colors
Best use: Casual backpacking
The Eagles Nest Outfitters SlapStraps are the more affordable cousin to the Atlas straps reviewed above, and they hold many of the same benefits. ENO is known for quality customer service and quality products, and the SlapStraps are no exception. However, if you're looking for a product comparable to the Atlas straps, there are some things you might want to consider before making this purchase.
This product is made from nylon webbing with a load capacity of 400 pounds, just like polyester or poly filament webbing in many other products. However, this material does stretch, and if you are unable (or unwilling) to anchor your hammock more than a few feet off the ground, you may wake up in the middle of the night in the dirt.
Like the Atlas straps, this product utilizes a strong daisy chain design. However, it only has 8 adjustment points instead of 30, and the length is significantly shorter than most at 88 inches. Despite the shorter length, this model is not significantly less heavy than other products, weighing in at 12 ounces.
Despite the cons associated with this product, these straps have many benefits as well. These are easy to set up and easy to pack straps that are perfect for casual trips including camping, concerts, picnics, and even light backpacking. Bring these along to heavily wooded areas to ensure enough anchor points, and you're good to go!
PROS:
Mid price range
Good customer service
Durable webbing
Daisy chain design
CONS
:
Short length
Few adjustment points
Stretchable webbing
Related: As mentioned above, Eagles Nest Outfitters provides several hammock and strap options for campers and backpackers. If you're looking for something comparable to the SlapStrap with a few more features, check out the Eagles Nest Outfitters SlapStrap Pro. This product features the same material as the traditional SlapStraps, but with an added 24 inches in length.
Bear Butt Kodiak Straps
Weight: 16 ounces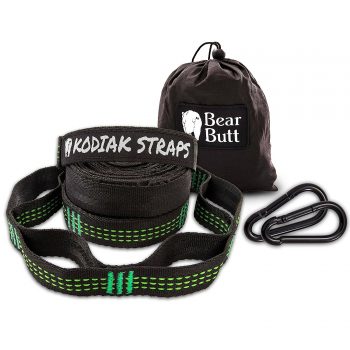 Length: 88 inches
Max. load: 1000 pounds
Specific features: Tree friendly, triple stitched seams, tubular polyester webbing, small company, 40 adjustment points, includes carabiners, assorted colors (including reflective)
Best use: All season backpacking and trekking
Are you looking to get a high quality product and support a small company at the same time? Well Bear Butt Kodiak Straps might just be the option for you. Bear Butt is a "hippie approved" company sworn to providing high quality products and exceptional customer service. These straps are 88 inches long that are tree friendly, no stretch (thanks tubular polyester!), and incredibly durable.
The webbing does not absorb water or mildew and does not lose effectiveness over time from UV rays. This product also comes with included carabiners and stuff sack, and you can purchase in a variety of colors including a reflective option (no more middle of the night clothes lining for the win!). Additionally, these straps are tested to 1,000 pounds.
This product is top notch, and with that comes, unfortunately, a higher price tag. However, the higher price is accompanied with an unbeatable money back guarantee – you'll get a refund within 6 hours and you get to keep the product.
Additionally, the high price pays for itself when considering the durability of the material. This is a great option for those who have a little higher budget looking for a long lasting, highly durable product for trekking, use in all conditions, or plain old regular use. If you're looking for something for the occasional weekend getaway, a more affordable option may hold what you're looking for.
PROS:
Highly durable material
No stretch polyester webbing
40 adjustment points
Small company with exceptional service
CONS
:
Higher price
Heavy weight
Colors difficult to match with many standard hammocks
Related: As a start up Bear Butt doesn't offer the range of products as some of the other companies reviewed. However, they do offer the Bear Butt Double Hammock – a fantastic companion to the Kodiak Straps. This hammock is made from light weight, durable nylon and fits up to two people.
Youphoria Outdoors Hammock Straps
Weight: 8 ounces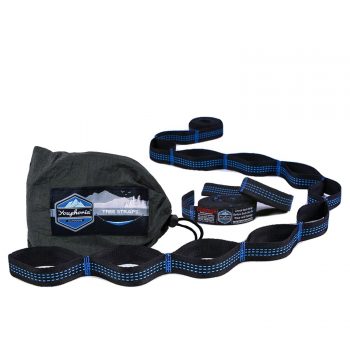 Length: 120 inches
Max. load: 400 pounds
Specific features: Tree friendly, lightweight, 24 adjustment points, no stretch heavy duty polyester webbing, daisy chain design
Best use: Lightweight backpacking and trekking
These Youphoria Outdoors Hammock Straps are a durable and inexpensive option for hammock dwellers looking for a lightweight set of straps. These straps come in a high quality daisy chain design and are made from polyester webbing making them highly resistant to stretching and damage.
They feature 24 adjustment points – while not the highest number we've seen, couples with the 120 inches length they offer plenty of room for customization in the field. The most unique feature of this product is its weight – combined with the included compression sack, Youphoria boasts a minor 8 ounces!
These straps are a good all around option for any backpacker or camper, but are best suited to lightweight travel.
PROS:
Lightweight
Affordable
Daisy chain design
Highly adjustable
CONS
:
Lower load capacity
Less weather resistance
Does not include carabiners
Related: In addition to lightweight straps, check out the Double Parachute Camping Hammock by Youphoria Outdoors. This is the perfect lightweight accompaniment to your straps – weighing in at 1.5 pounds and made of breathable woven nylon, this hammock is perfect for all summertime trips and treks.
Final Thoughts
And there you have it – a detailed look at all you need to know about buying hammock straps. This review has gone over six of the best products you can buy, from lightweight straps on a budget to heavy duty and ultra durable suspension systems with plenty of bang for their buck.
We took into account some of the features you need to consider before you buy, and you're now equipped with all you need to make your next hammock experience an uplifting one. Have tips on straps of your own you want to contribute? Any ideas for efficient set up you've found to be helpful? Let us know in the comments!