Most hikers have resigned themselves to the notion that they need to sacrifice style for practicality while on the trail. Sadly, the minute you don't expect to run into another living soul is the precise moment when your hot ex comes wandering into the frame. Being poorly dressed at that moment could ruin your day. However, having a pair of stylish hiking boots at that moment could save the day!
Who says that stylish boots can't be practical? Today's manufacturers have provided us with a variety of fashionable, yet practical shoes to make us look fabulous on the trail.
However, how do you pick a fashionable hiking boots without sacrificing comfort and performance? Don't worry, because we are here to help! In this article, we're going to take a closer look at the features to consider when shopping. In addition, we will be highlighting some of the most popular pairs available.
Even if you already consider yourself knowledgeable when it comes to selecting trail friendly footwear, it doesn't hurt to brush up on the ins and outs of hiking boots before sinking your cash into a new pair. Let's get to it!
Our Top Picks
| Product | Shaft Measurement | Materials | Water Resistant | Price |
| --- | --- | --- | --- | --- |
| Polar Women's Winter | 13.5 inches from arch | Synthetic upper, rubber sole, faux fur lined interior | Yes | Check price on Amazon |
| Box Leather Snow | 4 inches from arch | Leather upper, warm fleece lining | No | Check price on Amazon |
| Polar Men's Thermal | 10 inches from arch | Synthetic upper, calendered rubber sole, faux fur lining | Yes | Check price on Amazon |
| MIA Women's Maylynn | 7 inches from arch | Synthetic upper and sole, faux shearling lining | No | Check price on Amazon |
| Timberland Premium | 6 inches from arch | Premium leather upper, rubber lug outsole | Yes | Check price on Amazon |
| DailyShoes Women's Comfort | 12.5 inches from arch | Synthetic, rubber sole, faux fur trim | Yes | Check price on Amazon |
Things to Consider Before Buying
Before grabbing your credit card and going hog wild on all the fashionable hiking boots to be found, you need to educate yourself on some ground level hiking boot basics to ensure you won't be totally blinded by the bells and whistles of today's stylish options. Here are some things you need to take into consideration when you're trying to purchase the best and most stylish hiking boots:
Type
There's a hiking boot for every occasion. If you're headed out for a breezy day on the trail or a short backpacking excursion with a light pack, the mid to high cut day hikers/trail boots will do the trick. They often sport a combination of fabric and leather but usually aren't waterproof right out of the box, so you'll have to take a few extra precautions if there will be a lot of wading in your future.
While these boots definitely offer more durability and traction than your running or walking sneakers, they lack the support needed to keep you stable on under a heavy pack, so be mindful of your cargo. Day hikers typically don't require much breaking in before they're ready to go.
Backpacking boots are another option. These boots will happily help you withstand the worst of a heavier load on more challenging turf, with a high, above ankle cut for optimal support. Some styles are waterproof, while some are purposefully porous to allow for better airflow during hikes in hotter climes.
Thicker, stiffer mid soles protect your feet from rocky terrain but still allow for plenty of flexibility. Off trail boots will take you off the beaten path, giving you sure footed security with above ankle support and rigid midsoles. Off trail boots are usually constructed with full grain leather (more on that later) and require quite a bit of breaking in before the sole and heel cup are soft enough for multi day, heavy load hikes.
Some varieties allow for the addition of crampons (lightweight steel or aluminum traction clamps that improve grip on snow, ice, or steep inclines). Most off trail boots are waterproof thanks to minimal seams and all leather uppers.
If the steep terrain is your thing, you'll want mountaineering boots. These heavy duty, crampon friendly, high load bearing boots are as tough as they come. With their minimal seams and full grain leather, they are fully waterproof and usually come with an extra layer of insulation.
Their above ankle support and rigid build make them a poor choice for regular trail trekking, but the perfect pair for short stride hiking on steep slopes. Expect to spend a good amount of time breaking in these boots before attacking any mountains.
Uppers
The uppers – the part of the shoe that covers the foot – are obviously a critical component when it comes to hiking boots and their prime directive of keeping you upright with your extremities intact.
Here are a few typical examples of typical hiking boot uppers and how each of them affects the performance of the boot. The first one is full grain leather. There is nothing that beats full grain leather when it comes to water resistance and durability, although it does require generous break in time.
Split grain leather comes as a close second. This material is the result of "splitting away" the rough, inner part of the cowhide from the smooth outer layer. The split grain leather is used in conjunction with nylon or mesh to produce a lightweight, well ventilated, and more affordable boot. Split grain uppers offer less water resistance, however, and aren't quite as resilient against the bumps and scrapes of rough terrain.
The third is Nubuck leather. Often confused with suede, Nubuck leather is actually a full grain leather that is buffed and brushed to yield a suede like appearance. As a full grain leather, it is water and abrasion resistant, but requires ample break in time.
Synthetics come as the last option for uppers. This "family" is commonly found in boot construction and includes polyester, nylon, and synthetic leather. Synthetic uppers make for a lightweight, easily dried, and more affordable boot that takes much less time to break in. They require more stitching, however, and this typically causes the boot to show wear much sooner than with leather.
Midsoles
Midsoles are that all important ingredient in boot construction that cushions your foot and protects it from shock. There are two common midsole materials. The first one, Ethylene vinyl acetate (EVA), is very soft and very affordable. EVA comes in a variety of densities to provide more support where necessary.
Polyurethane is the second option. This sturdier, firmer material is a go to for midsoles in heavy duty off trail boots and mountaineering boots.
Outsoles
Rubber is the rule when it comes to hiking boot outsoles, and some manufacturers add carbon to increase stiffness in mountaineering or off trail boots. The outsole characteristics you'll want to keep in mind while browsing includes the lug pattern.
A boot's traction comes down to the lugs, or bumps, on the outsole. Deeper, fatter lugs will provide good grip on heavy duty boots, and widely spaced lugs made it easier for mud to dislodge from the bottom of the boot as you travel.
One other important factor when it comes to the outsoles is the heel brake. Hiking boots have an easily identifiable heel area, separate from the arch and front of the boot. A sturdy heel brake protects against sliding on steep surfaces.
Fit
A hiking boot should fit snug—but not tight—to your foot, while still allowing your toes to wiggle freely. Always try on boots at the end of the day when your feet are at their fattest (no offense; everyone's feet swell over the course of the day, and yours most certainly will after a day of hiking), and be sure to wear the socks you'd normally wear on the trail.
Take your boots for a little spin around the store, going up and down stairs and moving from sitting to standing and back again (why not throw on a backpack while you're at it?). And once you settle on a pair, remember to break them in before their maiden hiking voyage.
Those stylish hiking boots will be nothing but instruments of extreme torture if you neglect the breaking in and end up with feet full of blisters. Ouch.
Best Products on Today's Market
Okay! Now that everyone is up to speed on their hiking boot facts and figures, let's take a look at some of the snazziest boot options for your fashion forward feet.
Polar Women's Winter Boots
Price: $30 – $35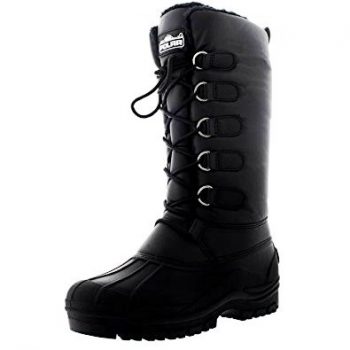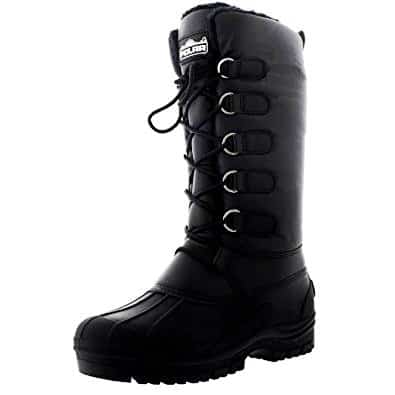 Specific features: Synthetic upper, rubber sole, a faux fur lined interior, lace up design, fully waterproof, shaft that measures up approximately 13.5 inches from the arch of the foot
Best use: Areas with cold temperatures and moderately challenging trails
Description: The Polar Women's Winter Boots offer attractive yet rugged protection against bitter winter weather. The lightweight synthetic construction makes it a more affordable option than pricier boots with leather uppers do – not to mention a more animal friendly choice (the fur lined interior is faux all the way).
This boot comes in a variety of hues for every hiker, and the rubber sole unit is calendered (formed and pressed directly onto the boot). Five shiny metal eyelets on the front of the boot compliment its stylish and adjustable lace up design. Wearers of this boot cite a roomy toe box and reliable water resistance among its best features.
Also, they run true to size and fit snugly around your feet. While the midsole is not flexible enough to allow for hiking on rough terrain, they are definitely a solid option for a light day hike. This versatile boot is perfect for running errands on a blustery January weekend as well as taking a peaceful stroll through a snowy forest.
PROS:
Environmentally friendly because it uses faux fur
The calendered rubber sole offers great traction
Roomy toe box
Great water resistance
Great fit
CONS
:
The midsole is not flexible enough to handle rough terrains
Related: These boots are perfect for when you feel like traipsing through a winter wonderland. But you'll still need a pair of pants that's equally water and snow proof before you get going. These Geval Women's Fleece Snow Pants will keep you warm and fashionable during those wintry excursions.
Box Leather Snow Boots
Price: $25 – $85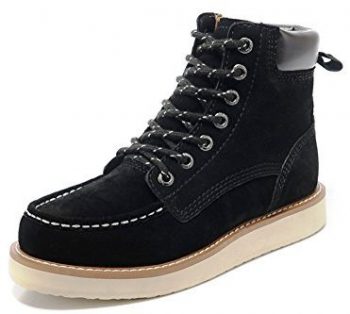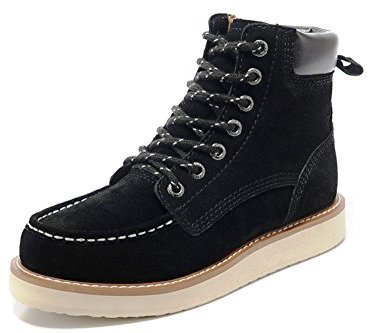 Specific features: Unisex box boots, leather upper, warm fleece lining, padded collar, breathable mesh tongue, 1.25 inch heel
Best use: Light trail hiking on cold, dry days
Description: The Box Leather Snow Boots are a solid choice for a basic winter boot. A warm fleece lining will keep your feet toasty in frigid environments, but if you choose this boot, you will want to take a few extra steps to ensure its water resistance.
Despite being marketed as a waterproof boot, user reviews are mixed, with some saying it kept feet warm but not dry. This boot does offer ankle support, but users also reported a lack of substantial cushioning in the midsole.
All things considered, this boot seems ideal for the casual winter hiker who avoids slushy days and carries an extremely light pack (or no pack at all).
They might not be able to withstand more than one or two winters of use, but if you're a weekend warrior who won't be too demanding on your footwear, this affordable leather option might just be perfect for you. These boots are unisex, so both women and men can wear them. Just make sure to pick the right size.
PROS:
Warm thanks to the fleece lining
Good ankle support
Affordable considering it's made from leather
Good for both men and women
CONS
:
Its water resistance is rather questionable
Not enough cushioning around the midsole
Related: For the weekend warrior among you, don't forget to wear this rugged Caterpillar Men's Microsuede Cap. Your gear will not be complete without it. This cap not only protects you from the sun's glare—it also adds another layer of badassery to your appearance.
Polar Mens Thermal Boots
Price: Approx. $40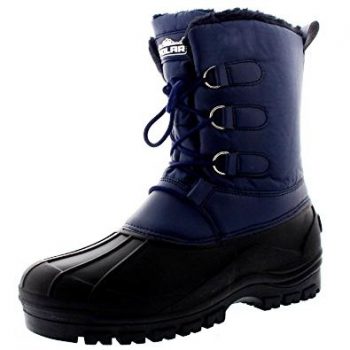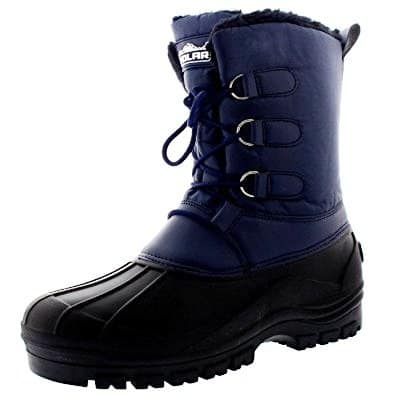 Specific features: Synthetic upper, calendered rubber sole unit, faux fur lining, 10 inch shaft (from arch), lace up design, water resistant materials throughout
Best use: Day hikes on moderately rough terrain in cold, wet conditions
Description: Like its female friendly companion, the Polar Mens Thermal Boots provide ample protection against cold, wet winter weather, but not enough flexibility and support for heavy duty hiking or backpacking.
If you're looking for a pair of boots with great insulation that will keep your feet warm no matter how severe the winter can be in your area, look no further. The animal friendly faux fur lining will keep feet surrounded in warmth for hours, making this boot a great choice for a winter day on the trail.
The lace up design provides an adjustable fit, and the calendered rubber sole unit provides sufficient traction for somewhat tricky terrain without the burden of a pack. Users report ample wiggle room for toes that stay perfectly toasty.
This boot is available in a variety of colorful shades guaranteed to make you a sharp dressed man in the wilderness as well as when you're braving a blustery blizzard in the stands of a playoff football game.
PROS:
Great insulation
Great water resistance
Great traction thanks to the calendered rubber sole
Big toe box
CONS
:
Not flexible enough for heavy duty hiking
Related: Don't forget to also equip yourself with this Arctix Men's Snow Sports Cargo Pants so you'll be all set to brave the cold. You will not be challenging a rough backpacking trail in those boots anytime soon, which is why you need a pair of pants that is also good for casual wear, not just for hiking.
MIA Women's Maylynn Winter Boot
Price: $50 – $90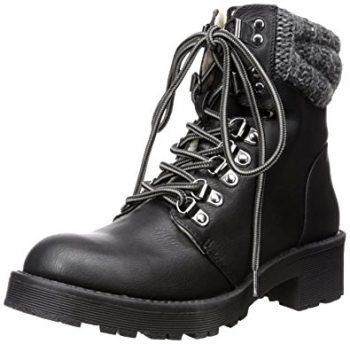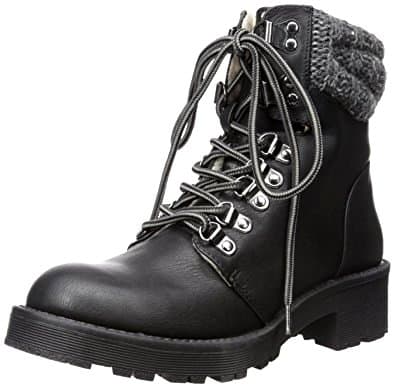 Specific features: Synthetic upper and sole, lace up vamp, padded collar, a warm faux shearling lining, lugged tread, a 7 inch shaft from the arch of the foot, a 1.75 inch heel
Best use: Traversing city streets on cold, damp winter days
Description: One of the most fashion forward boots available, the MIA Women's Maylynn Winter Boot shouldn't be your first choice for rugged, off trail hikes, but they're more than capable when it comes to keeping feet warm and cozy while out and about in winter.
The Maylynn is entirely synthetic from upper to the interior to the lugged sole, which makes it lightweight and affordable, but not water resistant or particularly hardy when it comes to abrasions from rough terrain. The faux shearling lining and sweater trim are effective at retaining heat and keeping the winter chill at bay while adding to the boot's overall visual appeal.
Users report that the lightly cushioned footbed is comfortable, but not made for absorbing significant amounts of shock or helping you bear the load of a heavy pack.
This boot will serve you well on a light hike on a dry winter's day (and will definitely keep you looking cute on urban treks), but it is far more fashion than function. Oh, and these boots run small, so be extra careful when considering what size you should purchase.
PROS:
Warm thanks to the faux fur lining
Comfortable cushion
Lightweight
CONS
:
Not water resistant
Run small
Related: These boots may have your feet covered whenever you feel like taking a quick walk around town on a winter day, but don't forget that you'll also need to keep the rest of you in proper winter gear. If you're looking for a fashionable jacket that would go well with your cute new boots, this Outdoor Research Women's Ferrosi Jacket will do the trick.
Timberland Premium Waterproof Boots
Price: $110 – $170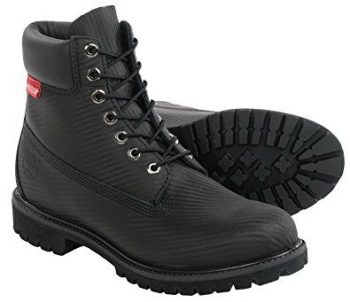 Specific features: Premium leather upper, seams sealed waterproof construction, 400 g of PrimaLoft insulation, a padded collar for comfortable ankle support, 100% recycled boot laces, rustproof hardware, a durable rubber lug outsole
Best use: Handling rough trail terrain and a busy worksite in the driving rain
Description: Timberland's original waterproof boot was designed over 40 years ago and continues to be a bestselling favorite among outdoor aficionados and workers alike. The Timberland Premium Waterproof Boots feature unique anti fatigue cone support technology to provide you with long lasting comfort during long, multi day hikes, and the rubber lug outsole can handle an uneven trail with ease.
Timberland's PrimaLoft Eco insulation is made from 50% recycled synthetic fibers that are compression resistant and maintain warmth even when damp.
The leather used in these boots is imbued with special waterproof properties during the tanning process, and extra insurance against moisture is provided with either seam sealing or an internal waterproof membrane.
As these pairs have an upper crafted from 100% high quality leather, you should expect to spend a fair amount of time breaking them in for optimal comfort and fit. These boots cost extra than some other varieties featured here, but this time tested boot is worth every penny.
PROS:
Comfortable and cushiony
Very durable – good for rough terrains
Waterproof and warm even when damp
CONS
:
Expensive, but only because of the high quality leather
Takes time to break into
Related: Every stylish man out there needs a stylish wallet on top of stylish shoes, and that's where this Timberland Men's Wellington Passcase comes in. Also made from high quality genuine leather, this wallet is practically the Timberland Men's Premium Waterproof Boots' counterpart and one should not be spotted without the other in its company.
DailyShoes Women's Comfort Snow Boots
Price: $20 – $70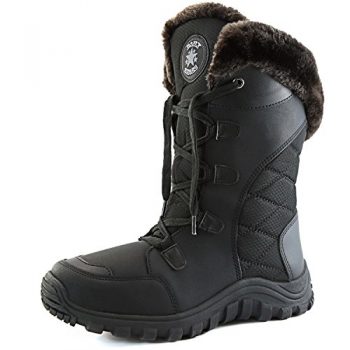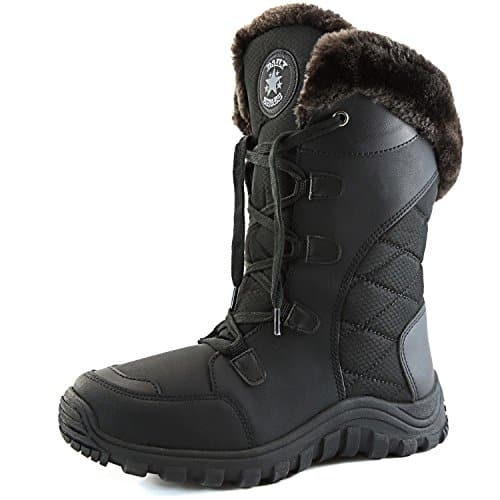 Specific features: Synthetic materials, high traction rubber sole, faux fur trim, a 12.5 inch shaft height from the arch, quilted sides
Best use: Wet winter hikes on uneven terrain
Description: Animal lovers will adore the vegan faux leather of the DailyShoes Women's Comfort Snow Boots and the fluffy faux fur trim around the 12.5 boot opening provides more critter friendly comfort. The water resistant cloth keeps your feet dry in deep snow, and the mid calf shaft height provides ample ankle support.
These boots are equally appropriate with a sweater dress and leggings as they are with your favorite hiking outfit, and users report that these are rugged enough to last through several winters.
The lace up vamps enable each wearer to adjust the snugness of fit, and users say they are a good option for those with wider calves. The tradeoff is that, for those with slender calves, these boots tend to run big. Make sure you get the size right before you click on that purchase button.
Faux fur insoles make each step feel like walking on a silky bearskin rug—with the peace of mind that comes with knowing that no bears were hurt in the making of these chic kicks.
PROS:
Environmentally friendly
Good water resistance
Great ankle support
Durable
Comfortable and warm
Related: A stylish pair of boots deserve a stylish jacket to go with it, don't you think so? Or else those chic shoes will be wasted. But don't just go after fashion without considering the jacket's quality. If you're looking for a jacket that goes well with anything without sacrificing practicality, Wantdo Women's Mountain Rain Jacket is a perfect choice.
Wrap Up
We have arrived at the end of the reviews. There are clearly just as many stylish hiking boot options as there are snowflakes in winter – with each option being just as unique from the next. When you're in the market for a set of capable yet cute hiking boots, you can't go wrong if you know just what to look for when it comes to your personal activity level and aesthetic demands.
Sure, that baby soft lavender fleece is pretty, but how does it hold up against biting late fall breezes? Will it maintain an optimal core temperature, or just go really well with my blue lips when the park rangers have to rescue me from the brink of hypothermia? You can certainly understand the valid concerns here.
Do you have a favorite pair of hiking boots that manage to marry pleasing design with dogged durability? Or have you worn any of the brands featured here? Let us know all about it in the comments!