Are you someone who prefers the minimalist approach when it comes to anything outdoors? Do you prefer to wear minimalist and ultralight gear whenever you go for a hike? Traditional hiking gear can be rather heavy due to its construction and features. However, this doesn't mean that you'll have to settle with what's traditional.
When it comes to hiking footwear, a pair of the best minimalist hiking shoes might just be your best bet. There are many benefits to removing the excess materials found on your standard hiking boots. The soles should have less rubber and less of a heel, which will allows your foot to sit in a more natural position than it would in your average heavy duty hiking boot.
Some minimalist hiking footwear even has individual pockets for each of your toes, which can provide a more customized, streamlined fit. However, shopping for such hiking footwear can be tricky. Lucky for you, we are here to help!
You've come to the right place if you're looking for guidance on how to choose the best minimalist hiking shoes. We have gone through some options on the market to come up with the best pairs for your money. However before we go to the product recommendations, let us give a brief preview of the things you need to consider when picking a pair of minimalist hiking boots. Let's take a look at some shoes!
Our Top Picks
Things to Consider Before Buying
It doesn't take an advanced degree to know that feet come in all shapes and sizes, and just because your friend has one pair of hiking shoes doesn't mean you should buy the same pair. It can take a lot of research and trial and error to get the right fit.
However, once you find that perfect shoe, your favorite hard packed backcountry trail could feel like a billow of clouds underneath your feet. Although minimalist hiking seems like a small category of footwear, there are actually many factors to consider and many different types in this category.
Versatility
Researchers say that with minimalist trail shoes, the foot is allowed to move and fall in its more natural state, almost as though we were completely barefoot, which is how the human foot was designed to move. That makes for a marvelous range of movements across a variety of landscapes, which is why minimalist hiking shoes are generally considered to be very versatile.
However, the level of versatility offered differs from one pair to another. One of the most important things to take into consideration when testing how versatile the shoe is, would be the weight.
Less material also makes minimalist hiking boots much lighter. After hiking backcountry trails all day, many hikers complain of sore hip flexors from lifting their feet with each and every step. Tired hip flexors come as a direct consequence of the heavy boots on their feet, adding to the overall weight that you have weighing down your body.
If you have a more lightweight hiking shoe, you'll be carrying around less weight and may find that your legs are less tired at the end of the day. Less weight on your feet will also make you agiler if you have to cross a stream or step over a rock or stump.
Waterproofness
Speaking of stream crossings, some minimalist hiking shoes are designed to dry extremely quickly. If your heavy, leather hiking boots happened to get wet from a snow slope or a stream crossing, the boots could take days to dry.
Wearing wet boots on a hike causes blisters and even more weight pulling down on your feet. With quick drying hiking shoes, your feet will be dry within hours of crossing a stream or snow slope.
Although, not all minimalist hiking shoes are waterproof. Some are only water resistant while others don't have any kind of water resistance at all. A non waterproof pair of minimalist shoes usually has its own upsides, so it's not like you should dismiss it entirely, but make sure you pick one that suits your needs.
Packability
With less material and less weight, minimalist hiking footwear are generally much more packable than other clunky high top hiking boots are. They can be packed in such a way that will take minimal space in your backpack. That can be handy in case that you need to carry a backup pair of shoes, or even a pair of shoes specifically for using in the water, depending on your trip.
Some minimalist hiking shoes are easier to carry than others – because they come equipped with pull tabs so you can hang them on the outside of your backpack. You should choose this option if you plan to do activities such as rock climbing that will keep both of your hands occupied so you can easily slip the shoes on and off.
Soles
Depending on how experienced or how durable your feet are in the hiking setting, you may find that some minimalist hiking boots do not provide enough impact protection on the soles of the shoes. After miles and miles of hiking over gravel, hard pack, or boulders, some minimalist shoes could leave your feet feeling sore and even bruised.
Some hikers see this as a necessary compromise for shedding the weight of the regular hiking boot. Others could find that thin soled shoes are not something they can get used to. If you're looking for more protection for the bottoms of your feet, minimalist hiking boots with a sole at least 4 mm of protection between your foot and the rocks is ideal.
Shape and Size
Minimalist hiking footwear varies widely in the shape and size of the toe box. Many minimalist hiking shoes have adopted the style of having individual toe pockets so that the shoe fits tight to the skin like a glove. In general, this is a fairly polarizing design feature. Most hikers know right away whether this is a feature that they want or not.
Many researchers claim that this feature allows the foot to tread on the ground in a more natural way, as though you were completely barefoot. Although this barefoot feeling can be very desirable, especially compared to having your foot locked up in a heavy duty hiker, some can't stomach the feeling of heaving their toes separated into individual compartments.
If you don't prefer minimalist hiking shoes that have individual toe pockets, there's always the option of getting ones that look just like normal boots but offer a better grip and traction.
Lacing System
Another feature to consider is how the shoe secures to your foot. Most shoes have standard shoelaces, while others have the quick cinch lacing system in which you simply pull a tab tight at the top of the tongue until your foot feels locked in. Many different lacing systems offer varying levels of customizable fit.
Some hikers find they need to customize their lacing system to feel that a shoe is truly snug, while others don't mind the standard lacing systems. Knowing which lacing system you prefer can be a valuable starting point when purchasing your minimalist hiking pair.
Best Products on Today's Market
Whether you're looking for a completely barefoot feel or a minimalist hiking shoe with a little more protection, there's a minimalist hiking shoe for everyone. Let's see our favorite picks!
Vibram Women's Trek Ascent Hiking Shoe
Price: Approx. $85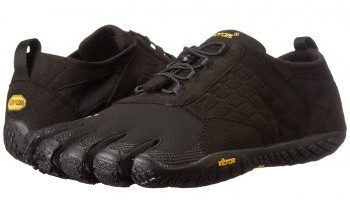 Weight: 6.34 ounces
Dimensions: 13 x 7 x 5 inches
Specific features: Rubber sole, Packer K100 leather and Hemp blend upper, deep toe flex grove with 4mm PU insole, ICETREK outsole, 0 mm drop
Best use: Hiking, canoe trips, trail running
The Vibram Women's Trek Ascent Hiking Shoe builds on many of the famous features of the Vibram Five Fingers minimalist shoes by adding a more durable leather upper for warmth and protection from a wider variety of terrain. Within the shoe is an Anit-Microbial Dri-Lex Sockliner which allows you to go barefoot without cultivating odor.
The 4 mm PU insole provides sufficient protection for the soles of your feet from sharp rocks on the trail. The zero drop feature of this product gives these shoes a truly barefoot feel, allowing your foot to fall in its most natural position, regardless of the terrain.
These shoes are the perfect footwear option for the adventurer seeking a flexible, minimalist, breathable shoe with a little added protection for inclement weather or difficult terrain.
The only thing to downside is that it's a bit difficult to break into these shoes initially. These shoes may feel like they run small because they tend to hug your feet very tightly during the first few times you wear them. H they are quite flexible and should loosen up soon enough.
You may also feel like the tongues are rubbing against your ankle excessively during the first few excursions in these shoes, but just like the overall fit, the tongues shouldn't bother you anymore after a few uses.
PROS:
Durable and dependable
Utilizes a technology that reduces unpleasant odor
Very comfortable thanks to the 0 mm drop
CONS
:
A bit difficult to break into
Related: A comfortable shoe deserves a pair of comfortable socks, especially if you're planning for a long hike. In that case, you should couple the Vibram Trek Ascent with these high quality HASLRA Low Cut Toe Socks.
Columbia Men's Conspiracy Vapor Shoe
Price: Approx. $50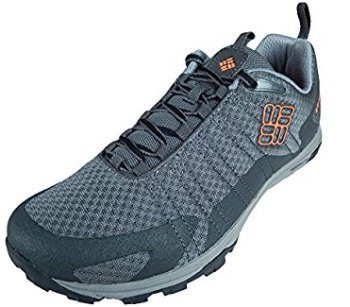 Weight: 9.5 ounces
Dimensions: 13.1 x 7.8 x 5.4 inches
Specific features: Lightweight multi sport shoe with breathable mesh upper, protective toe cap and heel, Techlite midsole with superior cushion and 3 mm drop, Omni grip high traction nonmarking rubber outsole
Best use: Hiking, trail running, multi sport
The Columbia Men's Conspiracy Vapor Shoe is one of the lightest shoes that Columbia has on the market. From upper to the sole, the shoe is built to deliver everything your feet could need on a hike in a lightweight package. The upper is composed of a lightweight and breathable mesh material with a rubber screen print grid for added protection against rocks and pebbles.
The sole sits low to the ground with a 3 mm drop and a cushioning Techlite midsole. The Techlite midsole certainly offers enough protection so you won't feel like the rocks and pebbles are digging into your foot, but the protective layer can sometimes feel too thin or inadequate – although it differs from person to person.
The rubber outsole provides traction for the constantly changing terrain that you'll encounter on your adventures. The multi sport usability of the shoes is outlined by the non marking rubber used for the outsole, which can be used both on indoor courts as well as on your weekend hike.
PROS:
Lightweight
Comfortable thanks to the breathable mesh
Great traction thanks to the rubber outsole
Can also be used indoors
CONS
:
The sole feels rather thin
Related: For a similar pair with the same minimalist approach, the Columbia Megavent Trail Shoe is a great option for its high quality fabric and synthetic sole.
Merrell Women's Proterra Hiking Shoe
Price: Approx. $60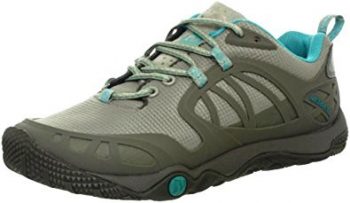 Weight: 24 ounces
Dimensions: 12 x 8 x 4 inches
Specific features: Merrell Stratafuse upper provides glove like fit, bellows tongue keeps debris out, M Select FRESH naturally prevents odor, M Select GRIP provides durable traction, 4 mm drop
Best use: Day hiking
The Merrell Women's Proterra Hiking Shoe is the ideal minimalist trail shoes if you're looking for a lightweight, breathable hiker with a balance between cushioning and feel. With a 4 mm drop, the soles offer more protection for your feet than most other minimalist hiking footwear while still providing maximum ground feel.
The sticky rubber soles provide traction in all conditions and terrain, from packed gravel to steep single track. Finally, the Merrell Stratafuse fabric upper provides a glove like fit and offers maximum breathability and quick drying in the event of increased activity levels rise.
This product is the best minimalist hiking shoe for women setting off on a day hike of any duration in any terrain. Unfortunately, it does come with its fair share of caveats. These shoes aren't the most durable. You will have to treat it rather carefully or risk having to replace it quite soon after purchase.
You'll also want to be careful about wearing these shoes to muddy or snowy areas. This is because the bottom of these shoes are concave and can quickly get clogged up with all the muck and will result in reduced traction.
PROS:
Lightweight and comfortable
Offers good traction
Offers a great fit
Quick drying materials
CONS
:
Not very durable
Not suitable for muddy and snowy areas
Top of Form
Related: The Merrell Proterra may not be suitable for muddy and snowy areas, but they are a perfect choice if your plan involves a day trip. For such trips, don't forget to bring this Sawyer Products Mini Water Filtration System so you can keep yourself properly hydrated, especially on a hot day.
Feelmax Kuuva Boots
Price: Approx. $170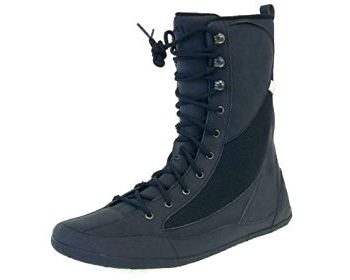 Weight: 32 ounces
Dimensions: 18 x 14 x 5 inches
Specific features: 2.5 mm soles, great durability, high tops provide ankle support
Best use: Minimalist hiking
The Feelmax Kuuva Boots minimalist hiking boots are perfect those looking for that barefoot feel with a little added ankle support and protection from the elements. The boots are so comfortable that you might even forget you're wearing boots.
The 2.5 mm soles are made from a highly flexible material specifically designed to protect your foot from sharp objects in the trail without impeding the natural movements and strength of your feet. The thin soles also improve the ground feeling of your feet.
Although you may completely forget that you're wearing hiking boots, these high tops provide exceptional ankle support to prevent any risk of injury in steep or uneven terrain. The boots are the authentic barefoot hiking boots best suited for the minimalist hiker looking for ankle support and a truly barefoot feel.
Unfortunately, this pair is one of the most expensive shoes in our list. They are also relatively heavy and the thin soles may also feel like they are not providing enough protection.
PROS:
Great ankle support and protection
Elegant design
High quality materials
CONS
:
Expensive
Relatively heavy
Soles feel too thin
Related: As mentioned, the soles of these shoes are rather thin, so it might not feel like they are providing adequate protection at times. If you cover your feet with these Feelmax Health Toe Socks, though, you should feel less resistance as you hike.
evolv Cruzer Approach Shoe
Price: Approx. $65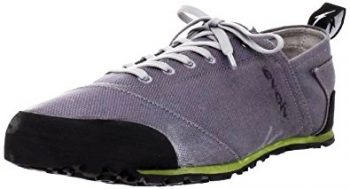 Weight: 17 ounces
Dimensions: 14 x 7 x 5 inches
Specific features: Canvas, high friction TRAX rubber sole, barefoot friendly moisture wicking footbed, folding heel for slipper style, heel tabs for carabineer clipping
Best use: Hiking, climbing approach
The Evolv Men's Cruzer Approach Shoe sit in a happy grey zone between hiking shoes, climbing approach shoes, and rock climbing shoes. The extremely high friction TRAX rubber provides slip free traction even in the most slippery conditions. The shoes are great for scrambling up low angle slab pitches, hiking on the approach to the base of the climb, or even just for a casual day hike.
The canvas upper is an extremely lightweight durable material designed to help this minimalist hiking footwear withstand the test of time. The moisture wicking microfibre lined memory foam insole allows you to wear these minimalist hikers without socks on the warmest of days, and the fold down flap in the back provides a slipper like functionality.
Finally, the pull tabs on the heel are great for clipping the shoes with a carabiner to your harness or your backpack. The shoes are perfect for anyone looking for a minimalist hiker with extremely high traction rubber that allows them to be used in scrambling situations or even the odd rock climbing pitch.
One thing you should take note of before purchasing is that they run small especially around the toe box. Be careful about which size you end up purchasing.
PROS:
Very versatile
Offers great traction
Lightweight and durable
Odor reducing technology
Portable
CONS
:
Runs small, especially the toe box
Related: As mentioned previously, these shoes are portable because you can easily clip them to your harness or your backpack using a carabineer. So don't forget to purchase this Black Diamond Positron Screwgate Carabiner as it will be easier for you to carry your shoes while on a hike.
Vibram Trek Ascent Insulated Shoe
Price: Approx. $78
Weight: 7.8 ounces
Dimensions: 12 x 7 x 5 inches
Specific features: ICETREK outsole, customized fit, 360 wool lining, nylon fabric, water resistant, synthetic
Best use: Hiking, trail running
The Vibram Trek Ascent Insulated Shoe is the best minimalist hiking boot if you're a barefoot hiker who doesn't quit when the weather gets frigid. The insulated, water resistant upper provides warmth and protection for the elements in even the coldest of winter temperatures.
The ICETREK outsole engineering provides excellent traction and balance on snow, ice, and slippery surfaces without compromising the feeling of being completely barefoot. The standard lacing system provides a snug, customized fit, while the full length Vibram Magegrip rubber compound provides some of the best traction in the industry for uncompromising traction on outdoor surfaces.
These are the best minimalist hiking shoes for those barefoot hikers who won't let a little snow and cold weather interrupt their outdoor explorations.
Sadly, the lack of a heel tab makes these shoes quite difficult to put on. Luckily, once they are on, they will hug your feet with just the right snugness and fit, leaving you with the best possible climbing experience ever.
PROS:
Insulated toe box
Great traction
Offers a great fit
CONS
:
A bit difficult to put on due to the lack of heel tab
Related: These shoes are designed in such a way so they can be worn comfortably while barefoot. They are insulated too so you should have adequate protection against the cold even without these Meaiguo Toe Socks, but it's always best to be prepared. These toe socks will certainly become necessary when during cold weather.
Vivobarefoot Men's Off Road Hiking Boot
Price: Approx. $140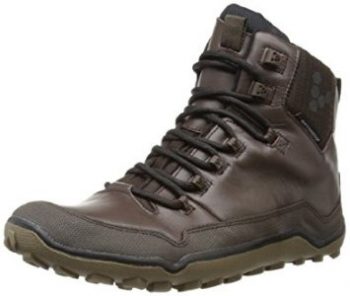 Weight: 32 ounces
Dimensions: 12 x 8 x 4 inches
Specific features: Leather upper, Dir-Lex waterproof membrane, Hydroguard waterproof sock, multi direction v-teeth thread, speed hook lacing
Best use: Hiking
The Vivobarefoot Men's Off Road Hiking Boot is the best hiking boot for the outdoor adventurer looking for a customized fit with improved ankle support and fully waterproof materials without compromising on the barefoot feel of the minimalist hiking boot.
The multi directional v-teeth thread provides unparalleled traction on a variety of surfaces, and the Dri-Lex waterproof membrane combined with the Hydroguard waterproof sock block rain, snow and puddle water from ruining your hike. The durable sole is extremely minimalist and provides superb ground feel for that minimalist hiking sensation but still provides excellent protection from rocks and other sharp objects on the trail.
Finally, the hightop feature provides excellent ankle support for times when the terrain gets steep or uneven. The boots are ideal for those looking for unparalleled foot protection in a minimalist hiking boot.
The one thing about these shoes that seems rather lacking is the breathability. Your feet will tend to sweat a bit more compared to the other shoes featured here.
PROS:
Waterproof
Great traction
Very durable
CONS
:
Expensive
Not very breathable
Related: If you are into climbing as well, the Metolius Personal Anchor System might be a worthy consideration. It's a very versatile anchor system that passes the CE/UIAA Sling Standard, and is actually safer than daisy chains.
Wrap Up
And now, we've arrived at the end of the review section. With that said, hiking of all forms, from through hiking to day hiking, has surged in popularity in the last five to ten years. With outdoor retailer's successfully promoting nature as a great weekend escape and countless books and movies touting the healing powers of nature, it's no mystery why thousands of people are taking to the wilderness whenever they can find the time.
Whether you're looking for increased ground feel, a more natural footfall, or just a lighter shoe to leave your legs with more energy at the end of the day, minimalist hiking boots are a great option for hiking of all varieties. We've now seen a number of different hiking boots with varying features, from increased ankle support to a super barefoot feel.
What features are you looking for in your minimalist hiking footwear, and how do you plan on putting them to good use? What kinds of adventures will you get into with your next pair of minimalist hiking boots? Let us know by posting a comment below!