Down booties are fantastic: they are warm and soft and provide you with the highest level of comfort during camping in a tent, around a cabin, or when you simply are lounging around your house. Moreover, they are appreciated for their compressibility: it means that you can easily find a place for them in your backpack or small luggage.
We are sure that even those hikers who do not want to spend money on buying down booties, would be definitely happy to have them or receive a pair as a gift from someone.
Therefore we have written this article, in which you can find the most useful information about men's down booties and decide for yourself, which ones you might purchase in the future.
Our top picks
Some things to consider before buying
You might get confused while choosing and deciding which down booties you should buy because the modern outdoor market is full of different manufacturers, models, designs, and etc.
We decided to help you and to facilitate your choice by providing the list of the most important features of booties that it is necessary to take into consideration before spending money.
Weight
We believe that it is not necessary to explain to you, why the weight of your footwear is so important, especially if you take it with you outdoors. When you pack your backpack for a trip that lasts for at least a couple of days, you might need a lot of stuff.
As a result, the backpack becomes very heavy and each extra kilo is like a serious burden on your shoulders. Therefore, it is smart and practical to choose light camp footwear.
Usually, all down booties are quite light, but they can also vary in weight a little bit. We recommend you to buy the lightest you can find, even if they are a bit more expensive – you will realize later that it was the best decision.
Ability to compress
If you are an experienced outdoor lover, it is not a secret or surprise for you that every backpack has a limited space. If you go for a long camping trip that lasts for several days or even weeks, you might probably face a problem with the lack of space in your backpack. The best way to solve this problem is to take only that stuff that takes little space.
As a result, many backpackers decide to leave many things at home, even though they might be useful in the trip. One of such things is camp booties. However, you should know that if you choose the right pair of booties, you will not have to face the dilemma: to leave them because they are bulky or to try to find a space for them.
Fortunately, most models of down booties are quite compact and you can easily fold them in order to place in your pack. In any case, we recommend you to check thoroughly the ability of boots to compress before purchasing them.
Thick sole
Every camping area and ground is different, and you do not know for sure in which conditions you are going to stay. The ground might contain many trees roots or small stones that are quite dangerous for your feet and might even cause injuries of the toes.
In order to prevent this, our recommendation is to choose booties that have a solid thick sole that will prevent too close contact of your feet with the ground. In addition, it is good to have booties with a special toe kick protection and front padding.
A thick sole is especially important if you are planning to camp during winter and walk on an icy ground. Many campers underestimate the temperature of a winter ground that has a great capacity to suck the heat from everything that comes in touch with it.
This also applies to feet that can freeze very fast if contact ice or snow. For this reason it is not enough just to have warm down booties – they must have a really sick and firm sole that will not allow you to freeze.
Quick-drying features
You might check the weather forecast and expect the sunny weather during your trip, but there is no guarantee that it will be exactly like that because the weather is unpredictable. Therefore, if you want to make sure that your feet will stay warm and dry while you walking around your tent in unexpected rainy conditions, choose quick-drying camp booties.
Usually camp footwear with such characteristics is made of mesh, plastic or nylon. Some models of nylon boots are also treated with silicone that provides even higher level of water resistance.
Though water-resistant footwear is more expensive, you should know that the more water-resistant your booties are, the longer their durability is. It means that you might not have to buy a new pair after some time.
Comfort and convenience
It seems that down booties because of their shape and design easily fit any type of foot, and the main criteria for choosing them is the size. But that is a misunderstanding, and it is extremely important to try the booties on and to wear them for at least a couple of minutes in order to understand, whether you feel comfortable or not.
In general, it is possible to say that perfect camp booties must be lightweight, should have porous mesh in order to drain liquid and be equipped with shallow rubber tread to grip wet and slippery surfaces.
Best products available on the market today
Below we would like to introduce you to some down booties that we strongly recommend you to have.
Valandre Olan Down Bootie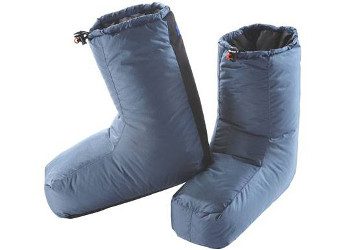 Price: Approx. $149.95
Weight: 6.7 ounces
Material: Polyester
Specific features: Fully reinforced sole and back, elasticized draw cord closure, 4 x 2 individual baffles, goose 95/05 down load
Best use: Camping in extremely cold conditions
For more than 30 years the french manufacturer Valandre produces high-quality equipment for comfort staying outdoors in winter, and Valandre Olan Down Bootie is not an exception.
By taking these down shoes with you on an outdoor trip you do not have to be worry about extra burden: the weight of these booties is only 6.7 ounces. However, though they are very lightweight, they are also extremely warm, their extreme rating is -22° F.
The secret of the shoes warmth without much weight is French Fat Grey Goose down that fills all four compartments of the booties.
In addition this pair of shoes is equipped with a fully reinforced back and sole, as well as with a single draw cord that helps to keep the warmth inside the boots.
We recommend you to wear these booties during long term and serious expeditions up to the mountains to the height of 8,000 meters and higher. They are designed specifically for outdoor lovers, who travel to the destinations with extreme low temperatures and the lack of oxygen.
You can wear them by walking around your tent or even sleep in your sleeping bag with Valandre Olab Down Bootie as supplemental protection.
PROS:
Lightweight
Extremely warm
Durable
Soft
Related: If you are going up to the mountains, it is worth having a high quality sleeping bag with you that will not allow you to freeze during the night. We recommend you to check out Valandre Expedition Thor Sleeping Bag that is created specifically for comfortable stay in extremely low conditions.
Outdoor Designs Men's Down Bootie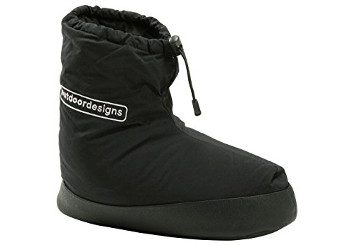 Price: $56.50 – $76.95
Weight: 11.8 ounces
Material: Polyester
Specific features: Down filled, durable padded sole, minimal weight, nylon outer shell, cinch cord closure, slip resistant rubberized sole
Best use: Camping in winter conditions
Duck down booties with soft nylon outer and durable padded sole is designed specifically for keeping feet warm in extremely cold conditions. They are appreciated for the outstanding warmth and minimal weight provided by down duck filling.
Besides, Outdoor Designs Men's Down Bootie have cinch cord above the ankle and a special elastic that help to keep the shoes securely on feet and provide additional warmth and comfort. You can also wear them in rainy conditions without a threat of getting your feet wet due to the bootie's nylon outer shell that is characterized as water resistant and durable.
In addition, the shoes come in a mesh bag, which makes it much easier to pack, carry, and store them.
The only one downside pointed out by many wearers is the foam inside the sole that is not as soft as it was expected to be.
PROS:
Extremely warm
Lightweight
Durable
Water resistant
CONS:
Not a soft foam inside the sole
Related: Outdoor Designs Fuji Convertible Gloves – multifunctional fleece warm gloves that are easily converted from fingerless gloves into mitten style. It is a really great piece of equipment that will keep your hands and fingers warm in very cold conditions.
Exped Syn Booty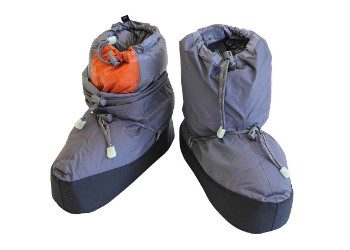 Price: Approx. $58.95
Weight: 5.3 ounces
Material: Ripstop nylon
Specific features: Removable inner sole, texped PA 35 ripstop nylon combined with 200 g/m² Texpedloft microfiber, cordura outer sole, compact and lightweight
Best use: Camping in winter conditions
If you need a lightweight way to add more comfort to your camping or backpacking trip, then the Exped Syn Booty is the right choice. These light and very compact booties are perfect not only as camp, but also as hut footwear. They have synthetic insulation system that is toasty, lightweight and is able to resist moisture.
Besides, the booties have a 600 denier reinforced nylon base and outstanding ripstop nylon outer, which makes them extremely durable. There is also a removable closed EVA Foam footbed that provides a camper with the higher level of comfort.
We also like the fact that there is a special silicon print on the sole that gives extra grip, which is especially beneficial if you walk on slippery or icy surfaces. We really like high warmth to weight ration of these slippers. Wearers also love these booties for their double pull up strings that keep booties on feet by not allowing them to slip about. They are available on the market in three sizes.
They are definitely perfect both for camping activities and just for walking around. The only one their downside is the price, they are a bit more expensive than similar booties of other manufacturers.
PROS:
Lightweight
Durable
Comfortable
Perfect fit
Related: We recommend you also to consider Exped SynMat Mega 12 for your comfortable camping experience. Made of polyester and TPU laminate, this pad is a perfect choice for those, who do not want to freeze while sleeping in winter conditions outdoors.
The North Face Thermoball Traction Mule II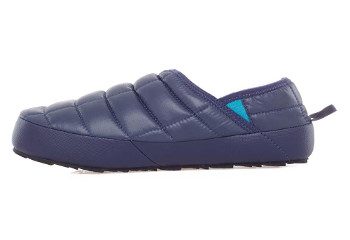 Price: $65 – $90
Weight: 17.6 ounces
Material: 100% recycled P.E.T ripstop upper
Specific features: Warm, lightweight, compressible ThermoBall insulation, water resistant, durable, 40% recycled rubber outsole
Best use: Camping in winter conditions
Excellent and extremely warm down booties is a perfect choice not only for wearing in a camp, but also for daily use. They are able to keep your feet warm and dry even in the coldest conditions due to ThermoBall insulation.
One of the main advantages of The North Face Thermoball Traction Mule II is that they have a durable rubber outsole that provides great traction.
We especially like the fact that due to their recycled ripstop upper, these down slippers men's resist water by not allowing your feet to get wet. Besides, they are extremely light, their weight is only 17.6 ounces, so you can easily take them everywhere and they will not turn into an extra burden.
Many owners of these booties admit that they are one of the most comfortable and warm footwear they have ever had. It is possible to wear them in any weather conditions without losing the feeling of cosines.
The only one disadvantage that needs to be mentioned is not sufficient arch support.
PROS:
Extremely warm
Comfortable
Water resistant
CONS:
Not sufficient arch support
Related: Together with this pair of slippers campers and outdoor lovers also often buy a female model of them – North Face Thermoball Traction Mule II Women's. They also have Thermoball insulation, and with regards to their weight, they are even lighter – only 12 ounces.
Western Mountaineering Flash Bootie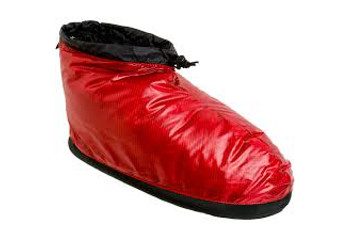 Price: Approx. $69.95
Weight: 3.2 ounces
Material: Synthetic
Specific features: Water resistant, 850-fill insulation, drawcord lacing
Best use: Camping in winter conditions
What could be better than slipping out of your ski, mountaineering or hiking boots into this pair of very warm, soft and comfortable Western Mountaineering Flash Bootie at the end of a long and intense day outdoors?
Goose down inside of these slippers provide your feet with warmth and does not allow your toes to freeze even if you decide to stay outside for a long time. However, it is not only down that makes these shoes so warm, there is also an elastic draw closure above the ankle that helps to keep the cold air outside.
In addition the booties are equipped with a reinforced sole that give you a possibility even to make short outdoor trips.
We really love the universality of these booties, due to which you can easily use them in many places and conditions including indoor use, a tent, or even sleeping bag if you want to make sure that your feet will not freeze while you are sleeping.
Though wearers really like and appreciate cosiness and warmth of these use, they point out that the sole does not provide sufficient protection to your feet, which means that they are not really good for walking around a camping site.
PROS:
Warm
Water resistant
Soft
Good insulation
CONS:
The sole is not thick an hard enough
Related: In addition to these booties many campers while preparing for their outdoor trips and expeditions buy Western Mountaineering TerraLite 25 Degree Sleeping Bag that also has 850-fill goose down insulation by providing a very comfortable sleep in the coldest conditions.
Warm Things Down Booties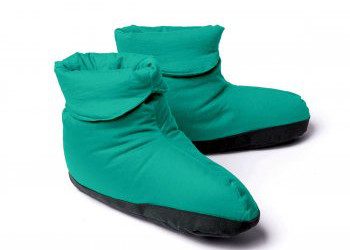 Price: Approx. $19.79
Weight: 10 ounces
Material: Cotton
Specific features: 300 thread count, breathable and soft cotton sateen fabric, 550 fill power white down, lightweight
Best use: Camping in winter conditions
These lightweight and breathable cotton booties filled with 550 white down are characterized as breathable and warm for wrapping your feet in the highest level of comfort without overheating.
They are made of 100% cotton, a very soft and durable fabric, which makes the Warm Things Down Booties perfect for camping, home or hut footwear.
Besides, due to their universal design and characteristics, these slippers fit perfectly people of all ages, and are appreciated for their affordable price.
Though in general they are characterized as comfortable and soft booties, many owners point out that they are not warm enough and should be worn together with thick socks. Moreover, there is no arch support that is a significant disadvantage for some wearers.
PROS:
Soft
Comfortable
Affordable price
CONS:
No arch support
Not warm enough
Related: If you are looking for a warm and affordable recreational sleeping bag – check out the one designed by Warm Things – Down Filled Sleeping Bag Blue. It has baffled channel construction with 550 fill-power white down by ensuring comfortable sleep outdoors for the whole night.
In Conclusion
We hope that the reviews of the products that we gave you would help to facilitate your choice and choose the most appropriate pair of down booties for you enjoyable indoor and outdoor experience.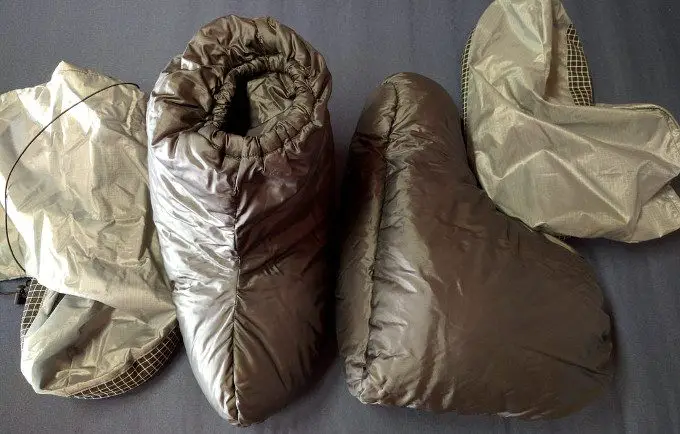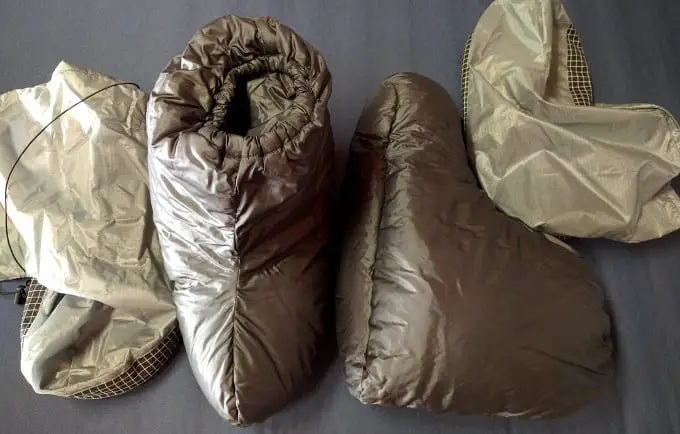 Tell us, what pair of presented booties in this article caught your eye and why? Have you ever tried any of these products before? What would you recommend to your friends? Feel free to leave your comment below.