When you're in the depths of the backcountry or out on the water, you want the best handheld GPS available. In conditions like these, you need to know where you are at all times and where you've been so you can return from your adventure safely.
For example, if weather conditions deteriorate, like in a whiteout or if a trail has spotty markers, a GPS will help you navigate your way home. Fishers, hunters and mountain guides all use GPS to plot trap locations, kill locations, and trailheads.
You can also use a GPS for geocaching. In this article, we'll review 8 different handheld GPS's so that you can find the right one to find you.
Important Features To Consider
Because they are meant to be used in the backcountry, a handheld GPS is tough. It's designed to withstand any weather condition the Mother Nature will throw at you and they have an average battery life of 20 hours.

They are usually small and light enough to stash in a pocket or wear around your neck and they fit easily into a backpack. Knowing these basics, think about where you'll be using your GPS.
In the backcountry or on the open seas is one way to start prioritizing your needs and narrowing down the specifics you're looking for in a device. Once you've got that decided we'll outline some other features that vary from one GPS to another and then we'll get into the eight reviews.
Touch screens and buttons
You'll want to think about if you prefer buttons to a touch screen. For younger generations of GPS users, a touch screen might seem like the natural choice but for others, having the hardware of buttons is more comfortable. Let's take a look at the pros and cons of each.
Touch Screen offers faster operation than a traditional screen, but uses more battery, and can freeze in cold conditions. They even don't work with gloves on.
 Button on the other hand can be used with gloves, have longer lasting battery life and works just as well in the cold. The downside of buttons is not as fast and takes long to type info.
Electronic and differential compass
The big difference between an electronic compass and a differential compass is movement. A differential compass needs movement to display a direction and an electronic compass doesn't. The benefit of an electronic compass is most obviously displayed when you think of a whiteout or dense fog situation.
Barometric Altimeter
A barometric altimeter uses sensors to help you calculate altitude. You use altimeters to track weather patterns, which is useful in the backcountry when you won't have access to a weather app, for example.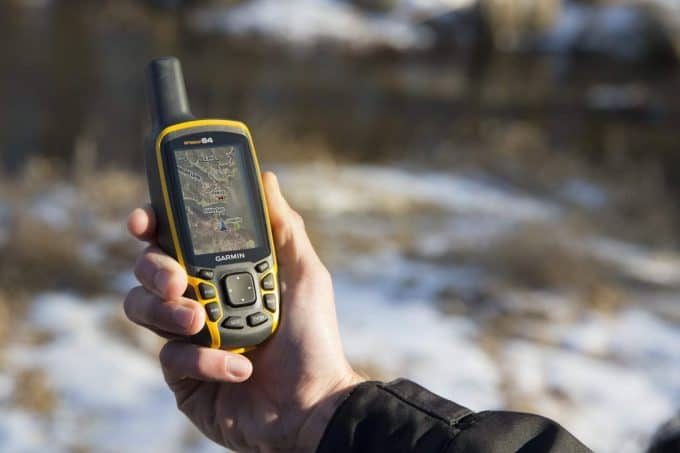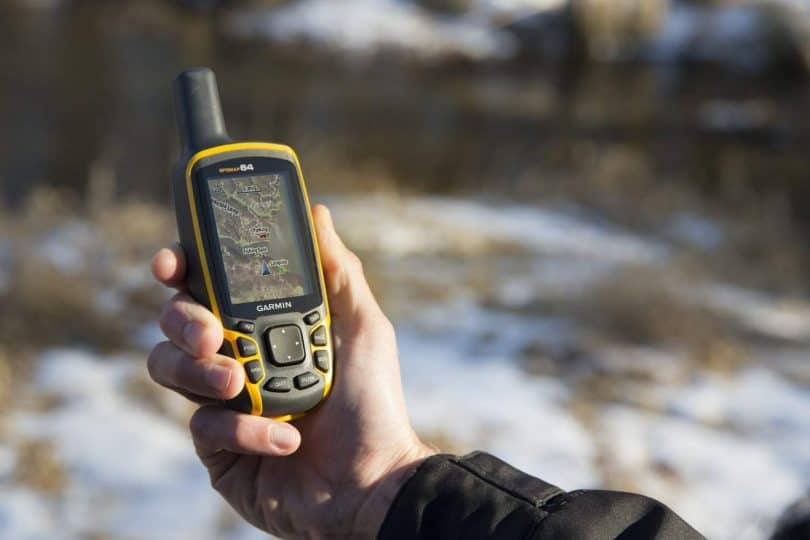 On the other hand, if you are using your GPS for casual geocaching or on the water, this feature might not be a high priority for you.
Media Options
Most recently manufactured handheld GPS's have options for a camera and voice recorder. These features can be a fun part of documenting your day and showing off your adventure at home or it can be a great way to mark waypoints and collect data, especially when surveying.
Wireless Shareability & Smart Notifications
"Wireless sharing options" means that your GPS has Bluetooth technology. With Bluetooth you can send and track files to other devices in a matter of minutes. This is a cool option if you're a guide and a group is planning on following the same route you've done. If you are attached to your Smartphone, you can sync it to your GPS. That's right, through certain GPS's you can get texts and social media updates.
Top GPS gadgets that you can buy
Now that you're armed with all of this new information, it's time to read the reviews. They're organized by weight from the overall best hiking GPS, to best water activity, and then to the best GPS for golfing.
Garmin eTrex 20X GPS
Price: Approx $68.80
Weight: 5 ounces
Dimensions: 2.1 x 4 x 1.3 inches
Specific features: Color display, sun light readable, 3.7 GB of internal memory and microSD card, utilizes WAAS enabled GPS receiver, HotFix satellite prediction and GLONASS, requires two AA batteries and has a battery life of 25 hours, Bluetooth technology
Best use: Backcountry, ATVs, bicycles, boats, cats, hot air balloons, and geocaching
The Garmin eTrex 20x GPS is an upgrade from Garmin's popular eTrex 20. They've enhanced the screen resolution for an easier to read display and added more internal memory so you can download even more maps.
It comes with BaseCamp, software that allows you to easily organize and share maps, routes, waypoints and tracks with those you'll be adventuring with. BaseCamp displays topographic map data in 2D or 3D on a computer screen with contour lines and elevation profiles.
This GPS is specifically designed to support Geocachers as well. The maps are easy to download and display information regarding not only the location but the terrain, its difficulty, and it even offers hints and descriptions.
The GLONASS satellite system locks on to your location 20% faster than standard GPS, saving you precious time in tricky situations and works well in heavy cover or deep canyons.
This GPS has a bit of a steep learning curve for those new to using a GPS. It comes with a startup manual but there's no user manual. There are different packages of topo maps you can purchase from Garmin costing around $140 that catches some users by surprise.
PROS:
Excellent display
20% than standard display
Related: People who buy this GPS always buy the Garmin eTrex Carrying Case which is meant to ensure durability and long run life of the GPS. This carrying case is made up of nylon material which makes it easy to slide it in and out of the GPS. With this case in access you are likely to outrun all the chances of scuffs and scratches from your device.
DeLorme InReach Explorer GPS
Price: Approx. $339.47
Weight: 7.04 ounces
Dimensions: 2.44 x 1.02 x 5.78 inches
Specific features: Color screen with predictive, virtual keyboard for standalone two way messaging, adjustable tracking intervals from 10 minutes to 4 hours allow you to track your trip and share your location including GPS coordinates, elevation and speed, provides 100% global coverage through satellite network
Best use: Backcountry use and geocaching
The DeLorme InReach Explorer GPS is the most affordable satellite communicator that allows you to send and receive text message with GPS coordinates to cell numbers and email addresses worldwide. It even sends confirmation messages so you know if yours went through successfully.
The keyboard is digital and has predictive text. You can also trigger an SOS with this two way device. It uses GEOS, the 24/7 search and resume monitoring center that will work with local authorities to coordinate a response.
GEOS will be able to communicate with you via this device and will keep you informed of the authorities ETA. InReach uses Bluetooth technology to message, track, and navigate your location through free maps and NOAA charts.
The Explore web portal is another online feature of this device. It's a great place to consolidate and share your adventures with friends and family to see. You can manage contacts, preset messages, and link up to social media and view your past trips.
You can adjust the tracking intervals as your trip progresses and can decide what aspect to share as well, like speed, GPS coordinates, location and elevation.
PROS:
In built Bluetooth technology
CONS:
On the higher side of the price scale
Related: The Intelligent Dual Purpose Charger is one of the most often bought products with this GPS. The charger is worth having in your possession because of its charging capability via vehicles. Its intelligent circuit gives precise output so that the battery is efficiently charged and safe. The unique combination of Rapid wall and car charger in the most compact size makes it an intelligent purchase.
Garmin Oregon 650t GPS
Price: Approx. $309.95
Weight: 7.36 ounces
Dimensions: 4.5 x 1.3 x 2.4 inches
Specific features: 3 inch sunlight readable, touch screen display with multi touch capability, dual band GPS/GLONASS satellite positioning, 3 axis compass
Best use: Backcountry use and geocaching
The Garmin Oregon 650t GPS comes with preloaded 100K U.S. Topo, NiMH battery pack, USB charging cord, AC adapter and a carabineer clip. It's a touchscreen that's compatible with many gloves and its reflective display technology boosts touch screen brightness so that maps and the display are as vivid in the shade as they are in the sunlight.
Each photo you take is geotagged with the location it was taken at, allowing you to revisit the picture perfect spot in the future. You can share your photos through Garmin Adventures, an online sharing community. If you find yourself needing more space, you can insert a microSD card as well.
With this device you can share waypoints, tracks, routes and geocaches 50 times faster with other wireless compatible Garmin handheld device, even large files like photos.
It also holds an unlimited number of geocaches. You've got options with this GPS's power source. There is an internal, rechargeable, NiMH pack included or you can use AA batteries. The electronic compass shows you where you are, even when standing still and the barometric altimeter tracks on pinpoint your precise altitude.
Some users have had trouble with this GPS freezing during use and there have been complaints about the battery life.
PROS:
Space for microSD card
Photos can be geotagged
Related: The ArmorSuit Militaryshield is one of the most often bought products with this GPS. When you are buying an expensive device, you would surely like to give it the best protection and that is where this protector shield comes in. It is likely to reduce dust, oil, & fingerprint smudges away, keeping your phone neat and clean all the times.
Garmin GPSMAP 62St
Price: Approx $268.00
Weight: 9.28 ounces
Dimensions: 6.3 x 1.4 x 2.4 inches
Specific features: Waterproof navigator with 2.6 inch, sunlight readable, color display and 160 x 240 pixel resolution, 3 axis tilt compensated electronic compass and barometric altimeter
Best use: Backcountry use
The Garmin GPSMAP 62St uses a quad helix antenna for reception that connects to satellites in about 45 seconds from when you turn it on. It also features a high speed USB connection and transfer rate.
It even connects wirelessly to compatible Garmin Handhelds making this GPS reliable, precise, technology forward. It comes with 100k topographic makes of the continental United States and had a worldwide base map.
The map details national, state and local parks and forests, as well as information on elevation, trail, rivers, lakes, and other popular points of interest. Its large memory and 4 GB SD card gives you lots of room to download and explore.
It does not have Bluetooth technology and some users have also noted a discrepancy between the wording of the instructions and the white direction indicator. The wording is sometimes wrong but the white direction indicator is always correct.
PROS:
Reliable
High speed USB connection and transfer rate
CONS:
You will find a little problem with the wordings
Related: Those who buy this product also buy the Garmin eTrex 30x. This handheld GPS comes with better resolution and memory than the previous versions. The screen resolution has been enhanced to offer more readable display and the memory has been expanded to hold more maps. Durability, affordability, and greater readability, the GPS is equipped with it all.
DeLorme Earthmate PN-60 Handled GPS
Price: Approx $249.00
Weight: 6.7 ounces
Dimensions: 5.8 x 4 x 7.8 inches
Specific features: 3 Axis electronic compass and barometric altimeter, Li-ion rechargeable battery, power management system with ambient light sensor for optimal battery life, exchange GPS Files to SD cards, 3.5 GB of user available memory, rugged case
Best use: Backcountry use, water sports, geocaching and more
The DeLorme Earthmate PN-60 Handled GPS was designed to support all popular outdoor activities and to be used by the more experienced user. It has an intuitive icon based user interface for easy on device navigation.
It has a GPX file exchange to SD card so you can easily archive your GPS data. The navigator also features an elevation profile with cutaway views that pinpoint your position, a particularly useful feature for hikers and climbers.
It also has the ability to display NOAA nautical charts, making it a good GPS for kayakers and sailors. The three-axis electronic compass works when held in any position and whether you are moving or standing still. This GPS comes with a topo map of North America, 5 regional disks of PN Series maps, a user manual, a quick start guide, 2 Li-ion rechargeable batteries, a USB cables, a lanyard and $40 worth of data downloads.
PROS:
3 axis electronic compass
GPX file exchange to SD card
Related: Lithium Ion Battery & Charger is one of the products that people always buy with this GPS. If you have a Kodak camera, then this one is the perfect purchase. With these batteries in access you are likely to click a number of pictures without any obstacles. Given that it comes with a low price, you can buy it without much expense.
Garmin GPSMAP 78 GPS
Price: Approx $167.50
Weight: 7.68 ounces
Dimensions: 1.2 x 2.6 x 6 inches
Specific features: 2.6 inch LCD display, rubber side grips, worldwide shaded relief basemap; microSD card slot for optional mapping, 1.7 MB built in memory, 3 Axis compass & barometric altimeter, requires 2 AA batteries, battery life is 20hrs, it's buoyant
Best use: Boaters, water sports enthusiasts, and geocaching
The Garmin GPSMAP 78 GPS features many marine and waterproof focused alterations that to make this a great GPS for the water. It contains marine maps among the classically featured maps: topographic and road on the microSD card. BlueChart is for adventures on the water and City Navigator is for turn by turn road directions.
This GPS also supports GPX files making it a great choice for geocaching too. The card slot is inside the waterproof battery compartment so you don't need to worry about it getting wet. It's intentionally a bit bigger than most hand held GPS's so that there is room for air space.
The extra space allows it to float in the water. The buttons on this GPS are located on top of the screen. It even has a "Man Overboard" button. When pressed and held, it locks onto the position and gives you the option to navigate back to that position.
Anchor Drag alarms are another water friendly feature as it lets you know the depth of the water. It's easy to share data wirelessly with this GPS too, just press send to share with friend your waypoints, tracks, routes and geocaches. The major criticism of this GPS is its screen readability. Without the backlight turned on it can be difficult to read as there isn't enough of a color contrast for some users.
PROS:
Waterproof battery compartment
Anchor drag alarms
CONS:
Screen readability is one major concern
Related: The Garmin Marine Mount 78 Series is one of the products that people often buy with this GPS. Marine Mount 78 series gives you an optimal viewing and the easy locking mechanism is meant to keep the device secure. You can simply attach the device to the mount and enhance the viewing angles. Being sturdy and durable, this mount is also known for its affordable pricing. For anyone, who likes a little comfort with technology, this one is a perfect purchase.
Magellan eXplorist 510 GPS
Price: Approx $400.00
Weight: 15.2 ounces
Dimensions: 5 x 2 x 6 inches
Specific features: Waterproof, 3 in touch screen and button controls
Best use: Backcountry use and geocaching
The Magellan eXplorist 510 GPS combines the user friendliness of a touch screen with the reliable comfort of two customizable hard buttons. These buttons are typically programmed to be your two most used functions for a streamlined experience.
The battery life on this GPS is 15 hours and to conserve power, you can use the "suspend mode" to turn off the device but maintain GPS tracking. There are also adjustable power management settings.
There are thirty navigational data fields and like any other GPS, you have ability to create waypoints, record tracks, and routes. Media options are available with this GPS. You have a camera, microphone, and speak to create detailed notes and store memories.
You do need to go to Magellan to download the maps; the download code it comes with is for one regional map. You will also need to purchase a 2GB microSD card if you want enough room to download a US topo map.
The GPS is fitted with 2 megapixel camera, microphone, and speaker. It covers all the little details of a map, including roads, gardens, rivers, and other small details. The VantagePoint software inside is compatible with Windows XP, Window Vista, Windows 7 (Not compatible with Macintosh computers).
PROS:
Attached with 2 megapixel camera, microphone, and camera
Detailed map
Adjustable power management setting
CONS:
Battery life is 15 hours only
Related: You can also buy the Garmin eTrex 20x with this product. It features 2.2" 65K color sunlight readable display that offers increased resolution. With 3.7 GB internal memory, it allows the users to upload a variety of map. The highly sensitive WAAS enabled GPS receiver, GLONASS support, and Hotfix satellite prediction allows the eTrex locate your position quickly.
Garmin Approach G3 Gps
Price: Approx. $118.71
Weight: 5.3 ounces
Dimensions: 2.2 x 1.3 x 3.9 inches
Specific features: Box contains: Approach G3 GPS, a belt clip, USB cable, and owner's manual
Best use: Golfing
The Garmin Approach G3 Gps has been a tool legally used in PGA tournaments since 2005. It's like having your own pocket sized caddie. It's small enough and lightweight enough to fit in your pocket as you walk about the courses and has a sunlight readable display.
It's easy to use and has no buttons. Just touch what you want to select. It comes preloaded with thousands of North and Latin American courses and it updates itself for free. The touch targeting feature provides you with the yardage to any point on the course. Just tap the flag on the map to zoom in on the green, then drag the flag to position it where you see it, which gives you more accurate yardage.
There's even a feature that examines tree line coverage to help you adjust your shot. At the end of your game, you can even review your scores with the approach feature. The results come in with how many you are over par. This GPS does not use rechargeable batteries.
Detailed golf course maps will provide the precise distance information about fairways, hazards and greens from any point on the course, as you move about the course, the unit will continuously update your position and show you the distance to each target, touch screen, 2 AA batteries required.
PROS:
Waterproof golf GPS
Ease of operation
Speedy delivery
CONS:
You need to remove the batteries for charging
Related: You can also buy the Bushnell Neo Ghost Golf GPS with this product. This tournament legal pocket sized golf GPS is pre loaded with more than 30,000 courses. The GPS comes with a long battery life and is capable of playing at least three rounds before charging. For problems and troubleshooting, you can simply use the manual instruction.
Conclusion
You've equipped yourself with the basic knowledge of what a handheld GPS is and what considerations you'll need to take into account to buy the right one for your upcoming adventure. Now, you can move ahead and equip yourself with the right GPS.
What kind of GPS do you like to use? Where is the most interesting place you've used it? Share us your thoughts in the comments!