When it comes to backpacking, there's a lot of things to worry about. Effective packing, route finding, protection from the elements, and wildlife are just a few of the things you need to think about on the trail – and worrying about gear can be more stressful than all of them.
Backpacking requires a ton of stuff, and unfortunately, that stuff isn't cheap! So won't it be nice if you could acquire the high quality backpacking gear without breaking the bank Luckily, it's possible to get all the gear you need without draining your savings.
Affordable gear does exist, and a lot of the time it's just as good as the couture! In this article, you will learn some of the basics that will help you hunt down cheap backpacking gear without compromising quality. Plus, we have thrown in some of our recommendations to help you get on the right track with your gear hunt.
Our top picks
Things to Consider Before Buying
Not all backpacking gear is created equal, and there are a few things you need to take into account before you buy. Shopping in the lower price ranges, whether it be cheap hiking gear, backpacking gear, or any other type of outdoor accoutrement, can be budget effective – but it can also leave you with gear that stinks.
Take a look at these guidelines to find gear that works both in the field and with your wallet:
Durability
One of the biggest considerations when buying any gear, regardless of price, is its durability. No one wants to buy a backpack that only lasts one trip – even if you only spend thirty dollars on it. When it comes to buying affordable gear, durability is an especially important thing to watch out for.
Many products are more affordable because they utilize cheaper materials. That means that, while you may think you're getting a good deal, you're actually getting a product that won't last. When you have to buy a replacement for a cheaper product, you end up spending more overall!
Luckily, there are many affordable products out there that are high quality. When looking for durability in products, look for the materials used. For instance, a jacket or tent with ripstop nylon will probably last longer than cotton or polycotton. A knife or pot made from stainless steel or aluminum will probably last longer and be more resistant to wear than cheaper, coated metals.
Necessity
Another thing to consider when entering the cheaper market is how necessary a product is for your backpacking experience. With so many exciting products around, it can be tempting to buy all sorts of, if we're being honest, unnecessary things. For instance, while a shower in the field can be nice, a solar shower might be extra unnecessary weight – and all that dirt might be a good way to bond with Mother Nature.
When looking into your next purchase, consider how much you actually need the thing you're about to buy. The best way to stick to a budget is to cut out the things that aren't that important. You may have found a super affordable backpacker's espresso maker – but you probably don't need it. Instead, save that money for something with a little more utility.
Emergency Use
The next thing to think about when buying gear is how it holds up in an emergency situation. Certain products have utility in the field for things like cooking, cleaning, or bathing, and some are purely for comfort. Some of these items double as useful tools in emergencies, however – and when things get bad, you want a product that won't let you down.
While affordability is always great, it's especially well suited to items that are purely for comfort. When it comes to things like knives, fire starters, shelters, and water filters, you want to make sure that what you get is high quality. In emergency situations, make sure that your item will be able to hold up – for instance, your knife is able to cut small branches to build shelters or make fires, and your tarp is able to withstand wind and hail to keep you dry and warm during an unexpected bivy.
Adaptability
There's nothing better than a tool that can do it all. When looking for the best value in an item, take a look at all the things it can do. While a product may be sold for one specific use, most backpacking supplies can be utilized in a whole bunch of different ways. Getting supplies that are sturdy enough to be used in multiple scenarios is one way to get a ton of bang for your buck.
For instance, a knife can be used to cut food and branches for kindling, but it can also be used to cut paracord or guylines as well as help clean wounds in a pinch. A tarp makes a great shelter, but it can also be used to collect rain or dew. Trekking poles are good for supporting your knees on long hikes, and they can also be used to splint sprains and fractures or build an impromptu shelter.
Comparison
And finally, the last thing we'll take a look at when buying affordable gear is how to compare to other, similar products. Most types of gear have a huge (and we mean huge) variety on the market. Everything from baby wipes to backpacks range from incredibly cheap to incredibly expensive – and price doesn't always indicate the quality.
When shopping for cheap gear, take a look at similar products on the market that are in the same price range. Take a look at their specs – are the materials the same?
Do you get the same customer service or warranty? Some products are more affordable simply because they are an older model of a high end product, while some are cheaper because they are lower quality. Make sure to compare the details – chances are you'll be able to find a great product without overspending.
Now that we've given you some tips on how to shop on a budget, we've put together a list of 10 great, affordable products for the budget backpacker. Let's go!
Best Products on Today's Market
Are you open to suggestions? If so, do yourself a favor and check out some of the best budget friendly backpacking gear that you can find in the market.
Chill Gorilla Camp Shelter
Price: Approx. $60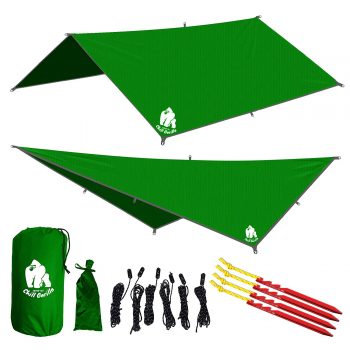 Weight: 1.4 pounds
Dimensions: 120 x 120 inches
Specific features: Ripstop polyurethane treated nylon; waterproof; 9 guy points; includes 170 inches centerline, 6 9' guy lines, 6 rope tensioners, 4 tent stakes, 2 stuff sacks
Best use: Summer backpacking
If you're looking for a truly rugged backpacking experience, the Chill Gorilla Camp Shelter will definitely deliver. Tarp shelters are a long held tradition among many backpackers, and offer a simple, lightweight alternative to traditional tents. The Chill Gorilla is a 120 by 120 inches tarp that can be used not only as a shelter, but as a hammock, rain fly, and ground tarp.
The tarp weighs only 1.4 pounds – so it won't weigh you down on the trail. What's more, it's truly waterproof – utilizing polyurethane treated ripstop nylon and reinforced corners.
This camp shelter comes equipped with 9 grommeted guy points for customizable use with its 170 inch centerline. The price includes not only the tarp, but six 3 meter guy lines, six rope tensioners, 4 aluminum tent stakes, and two waterproof stuff sacks for easy storage. This tarp is durable, reliable, adaptable, and, of course, affordable.
PROS:
Multi use
Highly durable
Waterproof
CONS
:
Bulky
Less comfortable than tent
Related: If tents just aren't your thing, Chill Gorilla has options. The Chill Gorilla Double Hammock is a massive, comfy, lightweight hammock for those backpackers who feel the need to see the stars.
SE Tanto Knife
Price: Approx. $9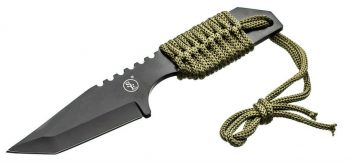 Weight: 0.25 pounds
Dimensions: 7 x 0.2 x 0.5 inches
Specific features: 3 inches blade; 7 inches solid stainless steel design; includes ferrocerium rod and striker; nylon lanyard and handle wrap; full tang; includes a sheath
Best use: Backpacking
Everyone loves a tool that combines utility with style, and the SE Tanto Knife has you covered on both fronts. This 3 inch, full tang knife is made from 100% stainless steel with a seamless design that won't bend (or break) under pressure. Its uses range from the casual to the emergent – and it holds up through all situations.
In addition to the thick blade, this knife includes a ferrocerium rod and striker. Not only will you be able to cut kindling, but you can light it too! The paracord lanyard is handy for keeping your knife easily accessible, and it can also be unwound and used as guyline, rigging, shelter building, and whatever else your heart desires. With this knife, you'll never feel unprepared in the wilderness.
PROS:
Multi use
Reinforced sheath
Related: For even more survival preparation, check out the SE Survival Whistle. This 5 in 1 tool includes a whistle, storage container, compass, mirror, and fire starting flint.
Etekcity Portable Backpacking Stove
Price: Approx. $30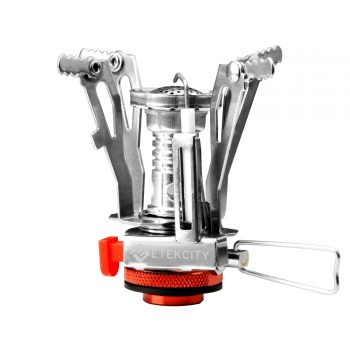 Weight: 0.3 pounds
Dimensions: 2.3 x 1.8 x 3.5 inches
Specific features: Collapsible; multi fuel compatible; aluminum alloy and stainless steel base; adjustable heat valve; 1 year warranty
Best use: Weekend backpacking
While cooking over an open fire is certainly romantic, honestly? It takes forever. Enter Etekcity Portable Backpacking Stove. Backpacking stoves are the standard for prepping hot meals in the backcountry, and this stove combines their ease with the affordability of traditional campfire cooking.
The Etekcity utilizes an aluminum alloy and stainless steel design that makes it both tough and flexible – and collapsible for easy storage. Not only is this stove easy to store, but it's easy to use no matter where you go. Both butane and butane – propane fuels are compatible for use, and both meet U.S. Forest Service standards for Leave no Trace practices.
What's more, users can adjust the heat and intensity of their flame with a control valve – whether you want a simmer or a boil, Etekcity's got you covered. Definitely one of the best backpacking stoves that you can find in the market.
PROS:
Multi fuel adaptable
Compact and collapsible
Easy storage
CONS
:
Not cold weather resistant
Heavier than some alternatives
Related: For light without the heat, the Etekcity LED Camping Lantern is the perfect product. This electric lantern is the ideal complement to your stove to replace the warmth and comfort of a traditional campfire.
LifeStraw Personal Water Filter
Price: Approx. $20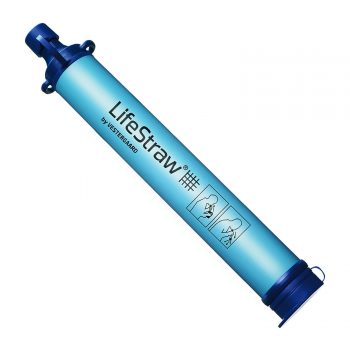 Weight: 0.125 pounds
Dimensions: 8.86 x 0.98 inches
Specific features: Removes 99.9999% of waterborne bacteria; filters up to 1,000 liters of water; chemical free; removes 99.9% of waterborne protozoan parasites; lightweight; 1.7 L per minute flow rate
Best use: Hiking
The LifeStraw Personal Water Filter is the perfect companion filter for any hiker who wants a little extra security on the trail. This straw like filter is less than an inch thick and weighs only 2 ounces, making it an easy addition to any pack. Hikers can pack it and forget about it – until water runs dry during a bivy or hotter than usual weather. Then, bust it out and use the 0.2 micron filter to get fresh water without the worry of illness.
This filter is super convenient, affordable, and easy to use. However, it's not the best option for serious backpackers. While lightweight, the design of this filter makes it hard to use to filter any more than small quantities of water.
International travelers should also consider that this model does not offer protection against viruses – which may be important, depending on your destination.
PROS:
Good for emergencies
Chemical free
Lightweight
CONS
:
No viral protection
Lower filter capacity
Related: For a heartier filter, check out LifeStraw Mission Water Purifier System. This gravity fueled filter provides a ton of clean water, protects against viruses, and can filter up to 18,000 liters.
Teton Sports Scout 3400 Backpack
Price: Approx. $70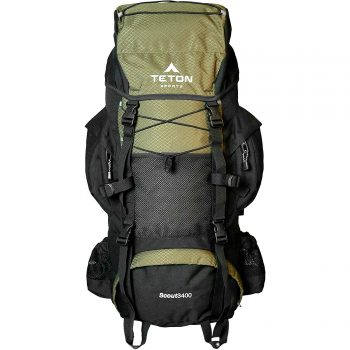 Weight: 4.5 pounds
Dimensions: 30 x 17 x 12 inches
Specific features: Internal frame with molded lumbar pad; multi directional compression straps; internal sleeping bag compartment; included rainfly
Best use: Backpacking, camping
One of the most expensive pieces of gear you can buy for backpacking is, well, your backpack. Luckily, the Teton Sports Scout 3400 Backpack is a low cost alternative to the competition. This internal frame pack features a 3400 cubic inches interior with several exterior pockets, multi directional compression straps, and pole loops for easy gear storage. The interior includes a sleeping bag compartment to speed up packing even further.
This pack is ideal for weekend trips and holds up in all types of conditions – it even comes with its own rainfly! Hardcore trekkers may want to invest in a pack built for more intense adventures, but this backpack is a great place to start – and certainly one of the most affordable. The pack comes with a limited lifetime warranty.
PROS:
Includes rainfly
Several pockets/compartments
Molded lumbar pad
CONS
:
Heavy
Not the most durable
Related: For a little step up from the Scout, check out the Teton Sports Mountain Adventurer 4000 Backpack. This 66 liter backpack is a bigger and burlier model than the Scout with even more tools to help you make it up the mountain.
Archer Outdoor Gear Camping Wipes
Price: Approx. $8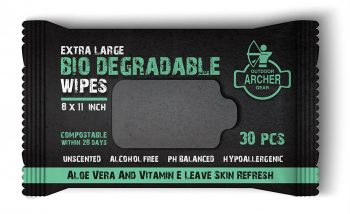 Weight: 0.8 pounds
Dimensions: 8 x 11 inches
Specific features: Biodegradable in 28 days; hypoallergenic and pH balanced; unscented and alcohol free; flushable; pack contains 30 wipes; vitamin E and aloe enriched
Best use: Backpacking, car camping
Looking for a little more comfort when you camp? If you're not the kind of person who can last four days without at least a wipe down, the Archer Outdoor Gear Camping Wipes are for you. These large wipes are perfect for cleaning up and moisturizing your freshly sunburnt skin. Featuring aloe, vitamin E, and absolutely no alcohol, each wipe will leave your skin feeling refreshed.
Not only are these camping wipes good for your skin, they're good for the environment! No fragrance means no nasty chemicals to shed into water and soil, and each wipe is 100% biodegradable over 28 days. Just because they can biodegrade, however, doesn't mean they should – leaving no trace means always packing out your trash, and it can be a pain to carry out extra trash.
PROS:
Biodegradable
Skin safe and soft
Unscented so it won't attract animals
CONS
:
Extra trash
Only 30 in a pack
Related: Of course, one way to avoid the need to clean is to avoid getting too sweaty in the first place! The Archer Outdoor Gear Cooling Towel keeps you cool and clean in the hottest of conditions.
Wise Owl Outfitters Fitness Towel
Price: Approx. $15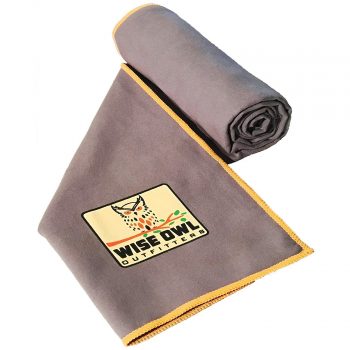 Weight: 0.67 pounds
Dimensions: 60 x 30 inches
Specific features: Super absorbent microfiber; quick drying; includes free small second towel; snap loop for easy hanging; includes carrying bag; money back guarantee
Best use: Car camping
Speaking of towels, the Wise Owl Outfitters Fitness Towel is the go to for outdoor dippers, waders, and bathers everywhere. This towel may not be big, but sometimes big things come in small packages. The fabric is super absorbent and quick drying, meaning that a little goes a long way in getting (and keeping) you dry. Unlike other quick drying materials, this towel is super soft, too!
These towels come in two different sizes – and each one comes with a free, smaller, companion towel (use it for your dog!). Each one folds down small and can easily be crammed into any pack pocket or compartment. They also feature corner hoops with snaps for easy hanging, drying, and home storage.
If you're not totally happy, Wise Owl offers a money back satisfaction promise on their products!
PROS:
Very absorbent
Quick drying
Extra free towel
Related: After drying off, take a post swim nap in a Wise Owl Outfitters Camping Hammock. These hammocks come in a ton of different colors and both single and double sizes – so you can customize to your heart's delight.
Famoney Camping Cookware Kit
Price: Approx. $40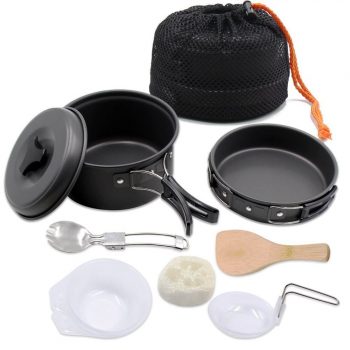 Weight: 1.2 pounds
Dimensions: 3.74 x 6.3 x 6.3 inches
Specific features: 10 piece kit; items collapse into each other; BPA free plastic and non toxic aluminum materials; includes drawstring pouch
Best use: Car camping
Unless you've taken to freezer bag meals or eating exclusively skewer roasted hot dogs, cookware is a necessity when camping. The Famoney Camping Cookware Kit covers all your bases, and a few extra, with a 10 piece, collapsible cookware kit for all types of camp meals.
This kit features a frying pan, pot, two bowls, a ladle, a spoon, a fork, and a microfiber cloth for cleaning. Each piece fits into the pot, making it a compact way to carry a whole lot of cookware.
The products in this kit are all made from high quality materials. From anodized aluminum pots to BPA free plastics, the cookware is all safe to eat with, and even the nylon carrying bag utilizes quality stuff. As an extra bonus, the kit comes with a marshmallow roasting guide!
It's a sizable cookware set and compact, what's not to like?
PROS:
High quality materials
Wide variety of tools
Compact
Related: Brighten up your camp kitchen with a Famoney Led Camping Lantern. These lamps are solar rechargeable, collapsible, and portable.
Trekology Inflatable Camping Pillow
Price: Approx. $30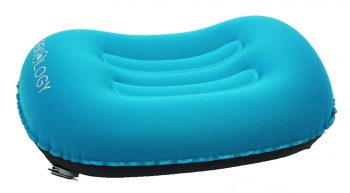 Weight: 0.17 pounds
Dimensions: 16 x 12 x 4 inches
Specific features: Compact and portable; ergonomic design with neck support; elastic TPU fabric; water resistant; includes storage bag; inflates in five breaths; lightweight
Best use: Backpacking, car camping
Backpacking isn't known for being the most comfortable sport. With the Trekology Inflatable Camping Pillow, however, it gets one step closer. This pillow goes from less than the size of a soda can to fully inflated in about five breaths or less – so you won't wear yourself out carrying it to camp or getting ready for bed.
Its packed size is matched by its light weight – only 0.17 pounds – which is a major bonus for any serious lightweight backpacker.
Each pillow is ergonomically designed for optimal head and neck support. While you can't adjust your support level, it's definitely a step up from a stuff sack full of socks. In addition to being supportive, these pillows are stylish and come in a number of colors.
If you want best kind of comfort that you can get while in the wild, this pillow will surely get the job done.
PROS:
Easy to inflate
Ergonomic
Water resistant
Related: If posh camping is your thing, complement your pillow with a Trekology Portable Camping Chair. These ultralight chairs fold down ridiculously small and fit in your pack alongside the rest of your gear.
BAFX Products Trekking Poles
Price: Approx. $20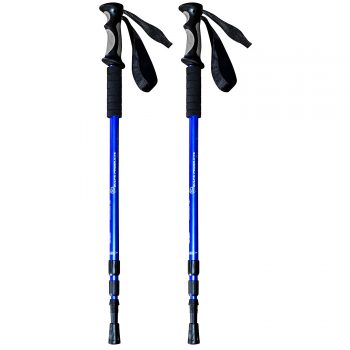 Weight: 1.5 pounds
Dimensions: 26.5 to 53 inches
Specific features: Anti shock springs; carbide tips with two pairs of removable rubber tips; padded wrist straps; ribbed hand grips; extendable poles with wide range; twist lock design; includes mud discs
Best use: Hiking, backpacking
Hiking, especially with the weight of a heavy pack, is tough on your knees – regardless of your age and physical shape. Poles help stabilize not only your balance, but support your joints and prevent injury, and the BAFX Products Trekking Poles make it easy.
These poles are affordable, sturdy, and ergonomic, featuring rubberized grips and adjustable wrist slings. Each pole adjusts from a height of 26.5 inches to 53 inches and uses a twist lock system to stay at the perfect length.
Each pair of poles comes with carbide pointed tips and two sets of rubber tips for pavement. The anti shock springs built in to the bases prevent damage to the wrists and hands and allow for steady, stable movement and whole body support.
If you are looking to go for a particularly tough hike, you will want to consider taking this with you.
PROS:
Adjustable
Includes extra tips
Rubberized grips
CONS
:
Twist lock prone to slipping
Related: There will come a time that your hiking poles will deteriorate in performance due to wear and tear, especially with the tip. It's a good thing that you can always get the BAFX Products Hiking Pole Replacement Tips to help absorb shock while you're on the trail.
Summing Things Up
And there you have it – ten of the best cheap pieces of gear for your next backpacking trip. Remember, when it comes to outdoor gear, more expensive isn't always better. What matters is you get the gear that will best suit your backpacking needs.
Do you have tips for finding the best affordable gear? Tell us about them in the comments!