Winter offers many opportunities and conditions for outdoor fun. However, your outdoor experience will never be enjoyable and comfortable enough without an appropriate pair of winter hiking boots. If you wear quality hiking footwear in winter conditions, the cold becomes a non-issue and instead becomes an opportunity for new experience and adventure.
We know that because of the wide variety of hiking footwear on the market today it might be difficult to choose the best ones, and that's why this article will be useful for you. In this guide, you will find all the necessary information about hiking footwear, including the features that you should look for in high quality winter boots, and reviews of some the best women's winter hiking boots that are available for purchase.
Why a good pair of winter hiking boots is important?
If you are on the fence about spending too much money to buy a pair of good hiking boots, then you should know that high quality winter footwear are the best investment for your hiking experience. When hiking, you rely on your feet and especially ankles, therefore they deserve the best footwear.
In winter it is even more important because in cold weather conditions hiking boots have an additional task to keep your feet warm, especially if you are planning to go on a long trip.
What you should look for in women"s winter hiking boots?
Warmth 
It is obvious that warmth is one of the major concerns when shopping for winter hiking boots. You might have a question in your mind: how to measure the warmth of boots if you cannot try them out? Then you should know that usually most brands that produce such kind of boots always point out a temperature rating.
However, in case there is no rating, you can always check the material, which will help you to understand how warm the boots are. A lining material falls into two categories: removable or non-removable. Removable liners are usually produced of acrylic, wool, or some other special materials such as Zylex.
With regards to non-removable liners, they are usually made of different thermal materials. If you are looking for a combination of comfort and fashion, then a good choice is a pair with a lining material made of a special kind of wool – shearling.
Breathability
Good breathability is a very important quality of hiking boots because this ensures that your feet are ventilated by preventing them from the growth of bacteria or odors that can start caused by intensive sweating. Unfortunately, the more solid and durable boots are, the lower their breathability is.
Therefore, if you prefer leather winter hiking boots, you should know that they are not very breathable. However nowadays, more and more brands produce hiking boots by using a combination of several fabrics or materials such as Gore-Tex. Such boots might cost more, but it your comfort while hiking is pretty much guaranteed.
Comfort
If you are going to wear your winter hiking boots for an extended period of time, comfort is very important. Comfortable hiking boots provide a proper support for your feet and ankles, as well as promote good walking posture. There are two elements that are responsible for the level of comfort provided by your boots: the boot insole and the lacing systems.
It is recommended to choose footwear with orthopedic insole because it will help your feet to adopt to an appropriate position inside the boots. With regards the lacing system, it is better to give priority to full lacing since it provides protection against deep snow.
Waterproofing qualities and elements
It is important to make sure that the winter hiking boots that you are buying are waterproof. Hiking footwear with good waterproofing qualities prevents snow, water and mud from entering your boots. Therefore, it is more practical to purchase boots made of water-resisting upper material.
Also it is recommended to look for boots with a gasseted tongue that also does not allow mater or slush to enter your footwear. Another essential and useful element in women's hiking boots is a gaiter or cuff. It is a type of lining that curves at the top of footwear by forming a kind of collar.
The cuff is able to catch snow or mug and to make sure they fall outside of boots. There are many models of women's hiking boots with gaiters that also make them look more fashionable. However, even if you have not found boots that have them, you can always buy the gaiters separately.
Weight
Since winter hiking boots are well known for their solidity, durability and large size, it is not a surprise that they are quite heavy, especially when compared to other types of hiking and outdoor footwear.
It might be difficult to find lightweight winter hiking boots, but we encourage you to choose the boots as light as possible. The lower weight of hiking boots is, the less tired you will feel by the end of the hike.
The best womens hiking boots to buy
Since you already know why you need a good pair of winter hiking boots and what qualities are important, you are probably ready for shopping. In order to facilitate your choice to buy the best boots, below we provide the reviews of a number of products that we highly recommend.
Sorel Women's Tofino II Waterproof Boot
Weight: 4 pounds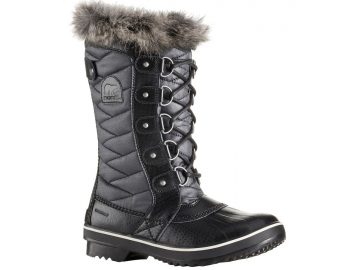 Dimensions: 14 x 14 x 6 inches
Material: Canvas
Features: Faux fur, rubber sole,  cowhide, the shaft height is approximately 10.25'' from arch, platform measures approximately 1''
Best use: Hiking in snowy and rainy conditions, backpacking, fishing
These Sorel canvas hiking boots with faux fur, rubber sole and ostrich-embossed leather covers are chosen by female outdoor lovers who appreciate the combination of comfort and style. They look nice and neat on feet thanks to their feminine design and neutral colours.
Sorel Women's Tofino II Waterproof Boots provide the highest level of comfort even in the coldest weather conditions due to a rubber sole, fur and good waterproofing qualities. Perhaps one of the main advantages of this pair is its light weight.Even by wearing them for the whole day, you will not get tired.
Sorel Women's Joan of Arctic Winter Boots
Weight: 1 pounds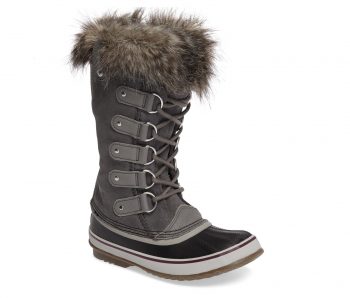 Dimensions: 14 x 14 x 6 inches
Material: Leather and suede
Features: Faux fur, rubber sole, the shaft height is approximately 12.5 " from arch
Best use: Winter hiking, backpacking, walking in snow
Sorel Women's Joan of Arctic Winter Boots are made of full-grain leather and suede are the perfect choice that will make your outdoor experience as warm, dry and comfortable as possible, thanks to their thick rubber sole, a waterproof shell and removable felt lining. They are perfect for women who love fashion and appreciate comfort.
Their now-classic silhouette and natural colors make them a universal pair that is suitable for any type of outdoor clothing. Though they might feel a bit heavy compared to other women's hiking boots, this pair one of the most durable and reliable snow footwear for female outdoor lovers.
Vasque Women's Pow Pow II UltraDry Boot
Weight: 3 pounds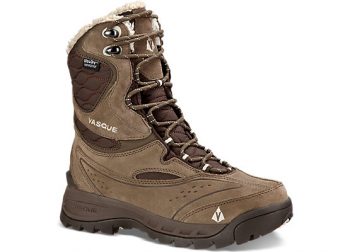 Product dimensions: 16 x 8 x 4 inches
Material: Leather and fabric
Features: Rubber sole, the shaft height is approximately 8'' from arch, insulated with ghillie-style lacing featuring quilted panels and faux-shearling lining, 400g 3m Thinsulate Ultra Insulation, molded rubber heel kick, ultra dry waterproofing system, dual density EVA footbed
Best use: Hiking, walking, backpacking
Very light and comfortable boots that provide great arch support and adequate waterproofing protection, which is of great benefit for comfortable outdoor recreation in different weather conditions including snow and rain. With their rubber heel kick and thick sole, even the harshest conditions and the hardest surfaces won't pose much of a problem.
Vasque Women's Pow Pow II Boots are definitely unique and high-quality thanks to the 400 g Thinsulate Ultra Insulation which is breathable, lightweight and moisture resistant. Moreover, it is quick-drying, therefore even if your feet get wet for any reason, you can still stay warm and comfortable while being outdoors.
Their dual density EVA footbed is designed anatomically in order to provide the best arch support, and it is also removable, which allows to keep your boots aired out.
SOREL Women's Tivoli High II
Weight: 9 pounds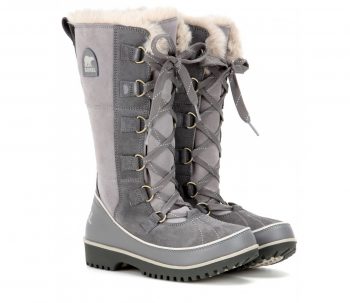 Product dimensions: 17 x 15 x 6 inches
Material: Suede
Features: Rubber sole, faux fur, the shaft height is approximately 11,5'' from arch, 100 g Thinsulate and full fleece lining, waterproof breathable membrane construction, microfleece topcover, removable EVA footbed,
Best use: Hiking, snow walking
When you put Sorel Tivoli High II on, you can expect a stylish, warm, and comfortable outdoor experience. Thanks to its full fleece and thinsulate lining, your feet will stay warm even in the most rigid temperatures. Even if the weather conditions are wet, you can safely go out: these suede Sorel boots with breathable and absolutely waterproof membrane construction will keep all moisture out.
Their removable EVA footbeds with cushioned rubber midsoles and fleece top covers provide shock absorption and long-lasting support even for your most active and longest days outdoors. Probably one of the best advantages of this pair of boots is their excellent traction which is needed for walking though slick terrains, thanks to its thick rubber sole inspired by the classic Pac boots designed in 1964.
At first glance, these boots look like serious snug snow footwear, but their faux fur edging and outsole colour pops add some style and attractive notes.
Tecnica Unisex Moon Nylon Fashion Boot
Product dimensions: 20 x 14 x 6 inches
Material: Synthetic
Features: Synthetic sole, the shaft height is approximately 10.5'' from arch, the heel height is approximately 2.5'', the boot opening height is around 12'', wide branded stripe at shaft.
Best use: Snow and ice walking, camping
Being lightweight, Tecnica Moon Nylon Boot are the best choice for even the coldest of winter temperatures. Designed specifically for stylish snow and outdoor lovers, they protect the feet from frost, ice and snow. They allow you to safely walk in icy conditions without the risk of falling due to the grips on the bottom.
Made of synthetic they are cheaper than other hiking winter boots, which is definitely an advantage. Thanks to their huge size, unusual but stylish design, and a range of bright colours, this pair of boots is definitely a head-turner.
Kamik Women's Momentum Snow Boot
Weight: 4 pounds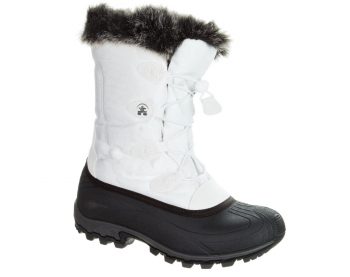 Product dimensions: 12 x 8 x 4 inches
Material: Synthetic
Features: Rubber sole, the shaft height is approximately 10'' from arch, the heel height is around 1'', faux-fur collar, quick bungee lacing. Ice traction sole, 200 g Thinsulate insulation, gusseted tongue
Best use: Snow and ice walking, camping
These techie snow boots are produced by Kamik – the manufacturer that has been producing hiking winter footwear for more than hundred years. Despite their bulky design, they do not lose their feminine style due to stylish elements such as faux-fur lining, a subtle print and embossed lacing graphics.
The main advantage of Kamik Women's Momentum Snow Boot is their warmth because they are rated to -25 F thanks to their 200 g Thinsulate insulation: even staying outdoors for hours and walking through inches of snow will not deprive you of the feeling of comfort.
In addition, these boots boast superior waterproofing qualities: even when you're trekking in wet terrain and rain weather, you can be sure that your feet will stay absolutely dry.
The North Face Women's Nuptse Purna
Weight: 3 pounds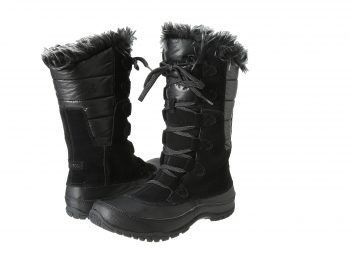 Product dimensions: 5 x 11.5 x 3.8 inches
Material: Synthetic and leather
Features: Synthetic sole, the shaft height is approximately 10'' from arch, waterproof BLC-compliant; waterproof, synthetic and lightweight shell, 200 g PrimaLoft Eco insulation, water-resistant, PET ripstop fabric.
Best use: Snow and ice walking, hiking, snow shoeing
The North Face Women's Nuptse Purna are so often chosen by outdoor girls due to the combination of winter technology, fur and an attractive cosmopolitan design. You can easily pair them with different clothing including pants, jeans and even skirts. Thanks to the broad variety of colors, you can choose the most suitable pair that you can wear not only during hiking trips, but also for a walk, to school or work.
The boots are known for their unique 200 g PrimaLoft Eco insulation which is sufficient for outdoor activities such as backpacking, hiking, and snow shoeing – just about any place where extra traction and warmth are needed. Due to their light weight, you will not feel bulky – instead, these hiking boots will provide your with long lasting comfort for many hours.
If you plan to spend many hours outdoors walking, these boots are just perfect for you due to their orthotic footbed that is designed specifically to provide comfort and relieve stress. The North Face is known for the quality density materials on footwear's sole, and these boots are not an exemption. With the ice picks on the sole, the boots boast extra grip while walking on icy surfaces.
Columbia Bugaboot Plus III Titanium Boot – Women's
Weight: 6 pounds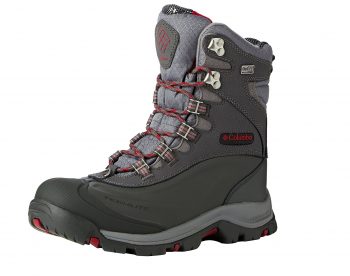 Product dimensions: 15 x 15 x 6 inches
Material: Nylon, leather and webbing
Features: Non-marking rubber outsole, waterproof and breathable construction, reflective lining, 600g insulation, techlite midsole
Best use: Snow and ice walking, camping
Even the coldest temperatures and the strongest winter storms will never pose a problem to the Titanium Omni-Heat Boot that are rated -64 F, which means that while wearing this pair, you can easily wander north of the Arctic Circle without fear of freezing.
Their outdry construction will keep your feet dry even in the heaviest downpours and the wettest mud. The expedition-worthy warmth is also provided by collaborative work of Omni-Heat thermal lining and 600 g synthetic insulation.
The Omni-Grip outsole is durable, thick and is equipped with winter traction lugs, which helps to keep your foots dry and comfy even in icy and snowy hiking trails or streets. Do not miss your chance to purchase these boots if you prefer a pair with classic style and the most efficient winter technologies.
Final words
Good winter hiking boots are very important because they are the key to successful outdoor experience in the coldest weather conditions.  Since there are so many types and models of hiking footwear on the market today, it can be difficult especially for women, to choose the best hiking boots.  Therefore, we hope that after reading this article your choice will be easier and be more informed.
So, what winter hiking boots would you prefer to buy? And what are your personal recommendations on buying a new pair of hiking footwear? We are looking forward to your comments and opinions.