Cold weather sometimes can make outdoors activities challenging, but it's a good thing that there's no shortage of jackets available on the market. They can keep you warm since that's what they're designed to do, but if you plan to challenge winter sports, generic raincoats or hardshell jackets simply aren't flexible enough to allow you to move as you wish. The best women's softshell jacket is the one you should consider getting if that's what you're after.
Softshell jackets are meant to keep you warm and to partially repel water. Sometimes these pieces are sprayed with a water-repellent solution for increased protection. This type of clothing can be worn over a fleece jacket or under a plastic raincoat, depending on the type of activities you need to perform. However, how do you shop for a softshell jacket that meets your needs? No need to fret because you've come to the right place.
The purpose of this article is to help you navigate the top-rated softshell jacket models and find the best one for you. We've rounded up the top 8 best options currently available, but before we lay out the recommendations, we will first highlight the best features to consider when shopping. Let's take a closer look!
Our Top Picks
| Product | Available Sizes | Materials | Pockets | Price |
| --- | --- | --- | --- | --- |
| Columbia Kruser Ridge | XS, S, M, L, XL | 100% polyester with nylon lining | 2 pockets | Check price on Amazon |
| Arc'teryx Gamma MX | XS, S, M, L, XL | Fortius 2.0 softshell fabric, fleece lining | 4 pockets | Check price on Amazon |
| The North Face Apex Bionic 2 | XS to XXL | Polyester | 3 pockets | Check price on Amazon |
| Patagonia Adze Hybrid | XS, M, L | 93% polyester, 7% spandex | 3 pockets | Check price on Amazon |
| Maloja OregonM | S, M, L, XL | Stormshell fabric | 1 pocket | Check price on Amazon |
| Outdoor Research Ferrosi | XS, S, M, L, XL | 86% nylon, 14% spandex | 3 pockets | Check price on Amazon |
| Helly Hansen Paramount | S, M, L, XL | PrimaLoft Black 60gr insulation, Deflector laminate softshell fabric | 3 pockets | Check price on Amazon |
| Mammut Luahna | XS, S, M, L, XL | Polyester | 2 pockets |    Check price on REI     |
Things to Consider Before Buying
Oftentimes when we go shopping for clothes, we see really high prices, especially when it comes to some sports items. There are quite a few reasons why some of them are expensive—oftentimes it reflects quality—and we'll take a look at some of these:
Price
We are usually made to believe that quality comes at a cost, and in most cases this is true. Cheap softshell jackets might have a really bad smell and can break or tear faster compared to higher quality items.
If you don't practice any sports at a professional level, or if you don't plan on entering competitions, you can easily find cheaper options. In this case, however, you will have to sacrifice some of the softshell jacket's product features.
If you're really active during the winter, it is recommended that you invest in a better quality softshell jacket. A pricy yet durable softshell jacket will be the cheaper choice in the long run compared to, say, if you had purchased a cheap jacket that keeps needing to be replaced with a new one.
Fabric
As technology advances, so do the fabrics used in our clothing. For example, even if something feels like cotton, it doesn't mean it really is cotton. When it comes to sports apparel, many manufacturers developed all sorts of materials to make the clothes more functional and comfortable at the same time.
The "fabric technology" can refer to how was the fabric created or to how it was treated. Stretchy fabric is highly used in sports clothes as the wearer needs to be covered at all times no matter how they move. The fabric can also be reinforced so as not to break or tear, should accidents happen.
Now on to the fabric technology used on softshell jackets. For the clothing item to be considered a "shell," it needs to offer some protection against the wind and rain. Treating the fabric as to repel water can help the wearer to feel dry at all time no matter their effort, and this is one of the many reasons why softshell jackets are considered so desirable especially during the winter times.
Naturally, most softshell jackets will be water-resistant at the very least. However, the things you need to consider regarding fabric technology does not stop there. Is it durable? Most softshell jackets are made from polyester treated with DWR coating. This material is tough enough to withstand most things, but if you want one that is really indestructible, you'll want the jacket to have nylon lining.
Also, how wide of a range of movements do you need for your winter activities? If freedom to move is your top priority, make sure to pick a softshell jacket made from fabric that has quite a lot of spandex mixed in.
Water Resistance
We've touched upon the topic of a softshell jacket's water resistance a bit in the previous section, but there is one thing to keep in mind. Waterproof, water resistant and water repellant are three different properties an item can have.
When it comes to clothes, waterproof and water repellent items share similar traits. For instance, to dry them all you have to do is shake them a few times. This is not really the case with the water-resistant clothes unless they have received a special treatment.
Of course, waterproof and water repellent items are generally considered the better options since they are more versatile and can be depended on no matter the weather, but they are also usually more expensive. If you don't really need that high of a waterproof capacity, by purchasing a water-resistant jacket, you'll be able to save quite a lot of money.
Insulation
Not all softshell jackets come with inbuilt insulation. In some cases, you'll need to purchase a set of thermal clothes separately and bundle up with extra layers underneath the jacket if you plan to wear it during the colder months.
Other softshell jackets, however, come with an inbuilt insulation system designed to keep you warm without allowing you to be overheated.
In most cases, the material used for insulation is fleece. An inner fleece lining is not only warm but also comfortable and breathable. Unfortunately, this extra feature usually also pushes up the jacket's price quite a bit.
Pockets
The number of pockets that a softshell jacket has is a very important factor. At the very least it should have hand pockets so you'll be able to hide your hands and protect them against the cold when you need to. Some softshell jackets also come with an extra chest pocket.
One useful feature that you should look for in the pockets of softshell jackets is the zippers. Zippered pockets allow you to store important things such as your phone or your keys without running the risk of losing them. This is especially pivotal for those of you who move around a lot – perhaps while you're challenging winter sports such as skiing or snowboarding.
Best Products on Today's Market
Now let's have a look at a selection of eight softshell jackets for women. These jackets were selected based on buyers' reviews, as well as the quality offered by their manufacturers.
Columbia Kruser Ridge Jacket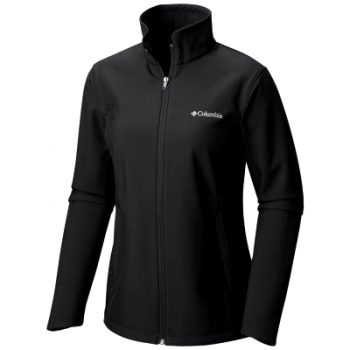 Price: $29 – $150
Size: XS, S, M, L, XL
Dimensions: 20 x 17 x 3 inches
Specific features: Lightweight, nylon lining, zipper closure, side pockets, machine washable, 100% polyester
Best use: Boating, biking, horseback riding
If you're searching for a jacket that is windproof and doesn't force you to rob a bank, you might not have to search anymore. Columbia Kruser Ridge Jacket runs true to its size, though bustier ladies should consider a size larger as the product has a fitted construction.
The sleeves are also longer, for better coverage when performing a variety of actions without the fear your arms will remain exposed. The inner side of the jacket is really soft and comfortable and the outer side is wind and water repellant.
You have two side pockets you can make use of while not having to worry about losing your stuff: they're safe thanks to the zippers. Cleaning this is super easy as all you have to do is throw it in the laundry machine using a more delicate cycle as not to ruin it.
Unfortunately, this jacket does not come with an inner lining of its own—except for the nylon but that one can't be counted on during the colder months. You'll need to purchase the inner fleece lining separately.
PROS:
Windproof and waterproof
Longer sleeves
Comfortable
Zippered pockets
CONS
:
Does not come with an inner lining for the colder months
Arc'teryx Gamma MX Hoodie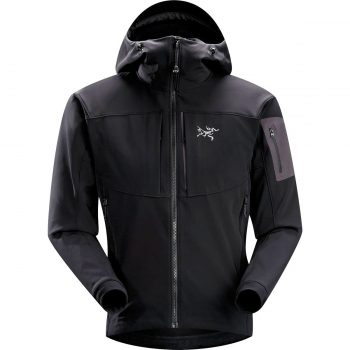 Price: $245 – $350
Size: XS, S, M, L, XL
Dimensions: 17 x 12 x 3 inches
Specific features: 4 pockets, breathable, wind flap, front zipper, helmet compatible adjustable hood, DWR finish, Fortius 2.0 softshell fabric, fleece
Best use: Mountain hiking, camping
Probably the first thing you'll notice with the Arc'teryx Gamma MX Hoodie is its price tag which is rather high. To make up for it, Arc'teryx constructed it with not 2 or 3 pockets, but 4 of them and all are really well placed.
Two of them are regular side pockets to warm your hands, a third is located on the sleeve and the fourth is placed on the chest. All of them are secured with zippers, so whatever you decide to carry they will surely be safe.
Furthermore, the piece lands closer to your hips to offer more protection against the cold even if you carry something that usually makes the clothes pile up. The hoodie adds even more protection against the weather, especially when windy or raining.
Speaking of rain, the outer fabric is specially designed to resist it, so that you remain warm, comfortable and dry. It is recommended to get a size or two bigger depending on how many layers you want underneath it. Your movements won't be constricted either, thanks to the special construction of the jacket.
PROS:
4 zippered pockets
Versatile hoodie thanks to its helmet-compatible and adjustable properties
Water-resistant
Comfortable and warm
Related: For the inner layer, try this Tesla Blank Top & Bottom Thermal Set. This clothing's heat-trapping capacity combined with Arc'teryx Gamma MX Hoodie's resistance of elements will surely protect you effectively no matter how uncooperative the weather may be.
The North Face Apex Bionic 2 Jacket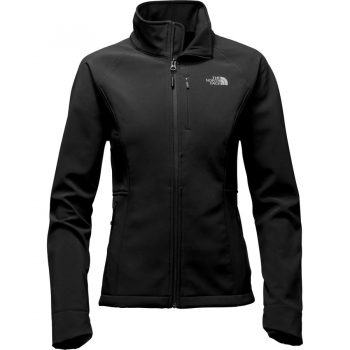 Price: $97 – $210
Size: XS to XXL
Dimensions: Not specified
Specific features: Water repellant, lightweight, windproof, lifetime warranty, inner stretch cuff, polyester, 3 zippered pockets
Best use: Spring skiing, boating
Some people go skiing or boating in spring as well, and usually, the weather is still rather cold and windy. The North Face Apex Bionic 2 Jacket is a really good choice for this type of weather as it keeps the wind and light rain away from your skin. Instead, you'll be warm at all times and able to enjoy whatever activity you're set on.
The jacket runs a bit small especially at the shoulders, so you might want to buy a size up if you want a perfect fit or think about layering other clothes under it. The sleeves are a little longer to better protect your wrists against the elements.
If you want a jacket with pockets, this one has three of them and all of them close with a zipper to secure your stuff. While two of them also warm your hands, the third one is placed on the chest. The collar of this cardigan is quite tall as there is no hood attached.
PROS:
Windproof and waterproof
Longer sleeves
3 zippered pockets
Lifetime warranty. A no-risk purchase
Related: If you plan to wear this jacket when the weather has just started to turn cold or when the winter is approaching its end, you'll want to better protect your extremities as well lest you catch a cold during the final stretch. So be sure to wear a pair of these comfy SDBING Wool Crew Socks.
Patagonia Adze Hybrid Jacket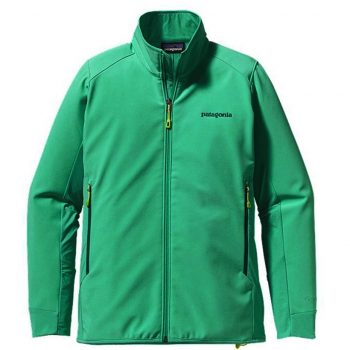 Price: Approx. $109
Size: XS, M, L
Dimensions: 14 x 12 x 3 inches
Specific features: Windproof, breathable, Polartec Windbloc (93% polyester, 7% spandex), Active fit, 2 zippered pockets, 1 inside chest pocket, DWR coating, Modified Variable Condition cuffs
Best use: Skiing, hiking, camping
If you were searching for a jacket with interior pockets then you just found one! Patagonia Adze Hybrid Jacket has 2 side pockets that close with zippers and also an extra pocket on the inside, placed at the chest area.
Sometimes when skiing or hiking you might carry a backpack with a harness that can make it difficult for you to reach your pockets. This is not an issue when wearing this jacket as the pockets are placed in such a way for you to easily reach them.
Furthermore, the jacket itself is longer to cover your bottom and stay under the harness and not pile up to leave your back exposed to the elements. The sleeves are a bit longer than you need to better protect you from the cold. They're also long enough to stay on top of your ski gloves. This jacket is treated to repel water and moisture should it start raining.
The only caveat worth mentioning is that these jackets run big. This is to anticipate the many layers of clothing you would pile up underneath it. This jacket isn't all that suitable for those milder months when the winter has just started or is ending.
PROS:
2 zippered pockets and 1 inside pocket
A lengthier construction
Longer sleeves
Waterproof
Comfortable and breathable
CONS
:
Runs big
A bit too warm for the milder months
Related: If you plan to wear this jacket on a ski trip, don't forget to wear these OutdoorMaster OTG Ski Goggles too so you can ski freely without worrying about the sun's glare.
Maloja OregonM Jacket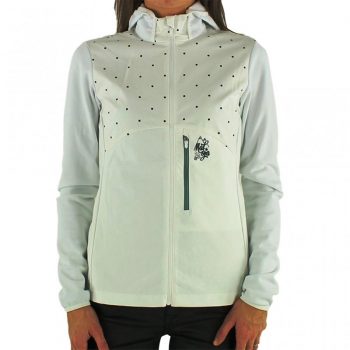 Price: Approx. $181
Size: S, M, L, XL
Dimensions: 18 x 14 x 2 inches
Specific features: breathable, waterproof, windproof, lightweight, Stormshell fabric
Best use: backcountry touring, winter running, biking, various other sports
The Maloja OregonM Jacket stands out with its small polka dots chest print, making it look young, cute and feminine while not going overboard. Should you be caught off guard by a light rain or if you are concerned about the wind, you will be happy to learn this jacket will protect you from both until you can find some shelter.
The hood will also come in handy when trying to protect yourself from the elements, especially against the wind. If you're one of those who likes listening to music or podcast shows, then carrying your handheld device with you everywhere is easy thanks to the front pocket that closes with a zipper. Although unfortunately, it comes only with one pocket.
When running, many of us feel uncomfortable when the sleeves go up and down our hands, but you can forget all about this problem when wearing this jacket. The cuffs have elastic banding to help with keeping them in place and to ward off cold air. The item reaches your hips and is also good for layering.
PROS:
Windproof and waterproof
Elastic cuffs
A lengthier construction
Related: While this jacket is thick enough to make minor impacts bounce off of you, when it comes to winter sports it's also important to keep your head protected because you never know when you might trip on something unexpected under the snow. This Traverse Vigilis Convertible Helmet will ensure a fun and safe winter adventure for you.
Outdoor Research Ferrosi Hooded Jacket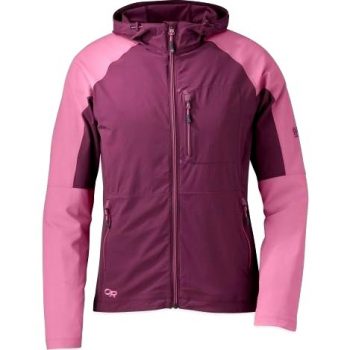 Price: $54 – $129
Size: XS, S, M, L, XL
Dimensions: 9 x 7 x 2 inches
Specific features: Quick drying, breathable, adjustable hood, water resistant, wind resistant, 2-in-1 pocket and stuff sack, 2 extra pockets, 86% nylon, 14% spandex
Best use: Biking, running, climbing, hiking
When searching for a new jacket, most of us worry about its ability to keep warm or protect against the elements. Outdoor Research Ferrosi Hooded Jacket appears to be a really good choice for those who want to keep warm and dry on colder days. Depending on how cold it is, you might want to layer up as the jacket has no lining.
While its thinness is obvious, you'll like how it covers most of your bottom and the freedom of movement when you're out and about. Accidents can happen at any time, and if you're to fall off your bike you can be sure the jacket will remain intact and even protect your skin from scratches.
Given how thin this cardigan is, you can only imagine it dries super fast. Speaking of the cleaning process, should you carefully follow the instructions, you'll have a long-lasting jacket that doesn't lose shape or color. Its three pockets offer plenty of space for keys, some change, and your smartphone without needing to carry a bag.
PROS:
A lengthier construction
Comfortable and allows for better freedom of movement
Quick drying
Durable and easy to maintain
One of the pockets doubles as a stuff sack
Related: Now that you've got your top covered, it's time to think about the rest of you. Outdoor Research Ferrosi Pants are a great choice when you want to keep your legs protected against the cold. Not only are these pants windproof, they are also very comfortable.
Helly Hansen Paramount Jacket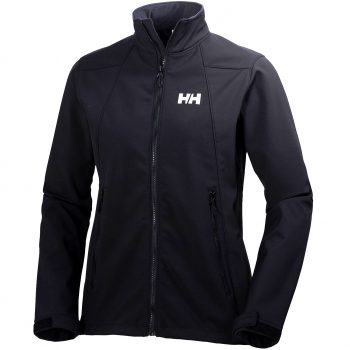 Price: $87 – $200
Size: S, M, L, XL
Dimensions: Not specified
Specific features: Windproof, breathable, PrimaLoft Black 60gr insulation, Deflector laminate softshell fabric, 3 zippered pockets, DWR treatment
Best use: Various outdoor activities, casual wear
Nobody likes to be cold and women like to cover as much as possible during the winter. The Helly Hansen Paramount Jacket seems ideal for those spending a lot of time outdoors performing a variety of activities. This jacket is longer both in the front and the back, covering the wearer's bottom.
The hood of the jacket adds more protection against the wind or even light rain if needed. The jacket closes with a zipper that goes all the way up to the hood, creating a high and upright collar. The outside part of the jacket is specially treated to repel water. Overheating is out of the question, as the insulating interior will maintain a constant warm temperature.
Many of us move around easier if we don't have to carry stuff with our hands therefore, this winter parka was designed not with 2 but 3 pockets that also close with zippers. Two of the pockets are on the side, at waist level, and the third is on the chest.
This jacket is a good choice all-around, but it runs big so you'll want to be careful about what size you end up purchasing.
PROS:
A lengthier construction
Waterproof
Insulated
3 zippered pockets
Related: As this jacket is great for all kinds of winter activities, you might be tempted to bring it to a ski resort. If that's the case, don't forget to also purchase these ZIONOR XA Ski Goggles. Be it skiing or snowboarding, you'll be ready to challenge any kind of winter sports with these gears on.
Mammut Luahna Hooded Jacket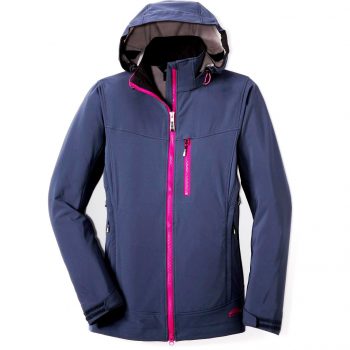 Price: Approx. $199
Size: XS, S, M, L, XL
Dimensions: Not specified
Specific features: Breathable, zippered hand pockets, lightweight
Best use: Cross-country skiing, snowshoeing, various other sports
Spending a lot of time in the snow can be scary without the proper clothing. If you like sports like snowshoeing or cross-country skiing you will want to dress appropriately for the weather and activity. Mammut Luahna Hooded Jacket is designed with a hood specifically for these types of sports.
The jacket falls down to the hips and has a polar fleece interior, therefore you can be sure you won't suffer from cold. At the same time, overheating won't pose a problem either, because this material is known as a good insulator. You should also know that wind or a light rain will pose no problems while wearing this jacket, as the outer material is highly water-repellent.
If you have a large chest area or if you plan on wearing more layers under it, you might want to get a size bigger. The pockets are secured with zippers, therefore you can safely carry your phone or other small things without worrying about losing them.
PROS:
Fleece-lined interior
A lengthier construction
Windproof and waterproof
Zippered pockets
Related: Don't forget to keep your eyes protected now that you've got your top covered. It's important to wear these Traverse Virgata Goggles if you plan to take on any outdoor winter activities that will expose you to the sun's rays as they are reflected off of the ice and snow.
Wrap Up
That concludes our list of reviews. A softshell jacket is a perfect outer layer during spring and autumn that goes just fine with a short-sleeved shirt or a thin shirt with long sleeves.
Sometimes, wearing one on colder summer nights is a really good idea. These garments are not recommended for heavy winters unless paired with several layers underneath and a winter coat on top.
The absolute best women's softshell jacket has yet to be invented, as it needs to meet the requirements of as many ladies as possible. Even though the softshell jackets we've reviewed above may not be perfect, we are certain that you will be able to find one that suits your needs.
Which one of the eight softshell jackets we've reviewed above has caught your fancy? Do you have a jacket that you think belongs in this article? If you have an opinion regarding our selection of jackets, feel free to let us know with a comment!