Many of us have a hard time staying motivated to work out for their health and overall. Wouldn't it be nice if you had a reliable device that would help you track key stats and overall progress? In this case, you might want to invest in a good fitness watch. The best women's fitness watch won't work miracles, but it can certainly help you stay on top of your fitness goals.
From tracking your workouts to setting fitness goals, fitness watches nowadays are packed to the brim with features. The popularity of smart watchers and trackers have spawned many brands and models. We know that thanks to the many models available, it is sometimes difficult to choose a tracker that best fits your needs. It's a good thing that you've found this article because we are here to help you out!
In this article, we will walk you through at some of the most important factors to consider when choosing a fitness watch. Plus, we have taken an in-depth look at some of the most popular watches the market can offer. Let's get to it!
Our Top Picks
Things to Consider Before Buying
Reading only descriptions and opinions is not informative enough. Many of us don't even think about some of the information presented below, though it should be the first thing on our minds when going shopping.
Heart Rate Monitor
Those who train a lot or want to lose weight, usually monitor their heart rate since people of different ages must have different rates to be considered healthy. What's more a higher heart rate usually indicates more burned calories.
Not all the fitness watches have one installed. Some of the models that do have one, may also have a chest strap for increased accuracy. Depending on the brand, even the devices that don't have that extra strap can give an accurate reading of your heart's beating rate.
Sleep Monitoring
This function is rather important if you plan on wearing the watch at all times. Some models don't have this feature and they can vibrate to push you to work out. One should also know that certain models analyze your sleeping as well. These would tell you how many hours you spent in a deep sleep rather than showing you how many hours you spent asleep, which can be confusing at first.
Water Resistance
Not all the fitness trackers are suitable for swimming, or not even for showering. If this is an important feature for you, unless stated otherwise, you should assume the device doesn't have it. Usually, the manufacturer will specifically point out whether you can or not go swimming with the device on.
Just because you can't swim with your smartwatch, doesn't also mean you can't shower with it. Pay attention to the instructions though: sometimes a warning against showering will also be posted. Regardless of the item being able to sustain swimming, sweat and light rain will have little impact on its performance.
Compatibility
Most trackers are not compatible with Windows phones nor can they be used with a computer or laptop. Sometimes they're not even compatible with tablets.
It's important to check the compatibility between a smart fitness tracker with the handset you own. The details you must pay attention to are the Bluetooth version installed as well as the version of the phone's operating system.
Sizing
The size of a watch is important for some: not everyone wants a small discreet wristband, nor is everyone comfortable with a really big display on their wrist. Generally the length, width and thickness of a product is mentioned, though in some cases, just the dimensions of the screen are given.
Most of the products we selected here have an adjustable band, thanks to its several holes. Some models come in sizes like the clothing articles – small, medium, large. Knowing the length of the band in this case, is important if you want to ensure it will fit you.
Materials
To reduce weight and discomfort during a workout session, smartwatches are generally made of silicone. Depending on its quality, it can be a really soft and durable one. The downside is that it can break, especially if one puts the watch on and takes it off too often.
Replacement bands are easy to find and some of them are made of metal. The type of material used for the band will also influence the appearance of the product: more casual or more stylish.
GPS Connectivity
Tracking the distance you walk or run per day is difficult without the GPS function. Many models can connect to the GPS of the phone and record this data this way.
Before buying, you should ask if your tracker can use the phone's GPS or not, if this feature is important for you. These features should give you a good start in identifying a good fitness tracker, so let's see which are the products we selected.
Best Products on Today's Market
From everything we read, it appears the items below are some of the best that you can now find. Having had a look at their pros and cons, we present them as they are, to further help you in making an informed decision.
Garmin vívosmart HR+ Tracker
Price: Approx. $180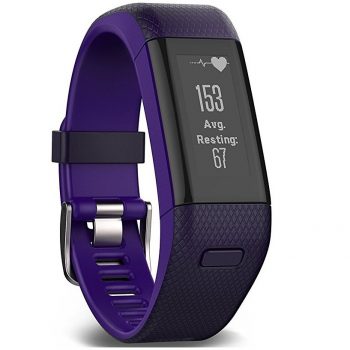 Weight: 1.6 ounces
Specific features: Touch display, personal records, Move IQ, HR monitoring
Best use: Running, cycling
If you need a new fitness tracker, this piece might just do the trick. The Garmin vívosmart HR+ Tracker comes in a purple color which suits any taste. What you'll be bothered more is that the screen is not very bright.
This smartwatch offers GPS integration features, which easily track your jogging or walking route. Furthermore, the watch also measures the distance walked, as well as calories and pace. You can track your activity automatically by using the Move IQ function.
Unlike other trackers, this one is able to also keep track of how many floors you climbed. What's more, you can also check out the speed at which you perform each activity.
The watch features a heart rate tracker which monitors your heart at any given moment. Luckily for most people, a chest strap is not needed to monitor your heart's rate. This item was built for individuals who like to keep active and is waterproof.
You can easily keep in touch with your contacts by enabling the alerts function, which allows you to receive texts and calls instantly. The smartwatch features a vibration mode which reminds you of how long you have been inactive. The fitness tracker synchronizes with your phone all throughout the day in order to download data and keep a high accuracy rate.
PROS:
Counts floors climbed
Measures your speed
Doesn't require a chest strap
CONS
:
The screen is not very bright
Related: If you don't actually like the color purple, you can change its appearance with one of the Garmin Vivosmart HR Case Covers. The pack contains covers in 10 different colors, to personalize the style of your tracker according to your mood or clothes.
Toobur Activity Tracker
Price: Approx. $28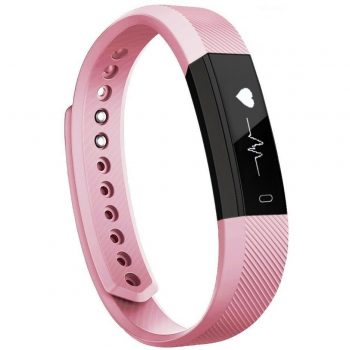 Weight: 0.6 ounces
Specific features: Silent alarms, notifications, heart rate monitor
Best use: Activity tracker
Are you looking for a smartwatch? In that case, check out the Toobur Activity Tracker. The watch has a slim design which appeals to both men and women, and a sleek bracelet that does not add any bulk to your wrist.
This fitness device keeps track of your heart rate all throughout the day and night, and keeps records of your sleep patterns. The tracker monitors your sleep cycles in order to help you get better sleep. If you need to keep in touch with your contacts, you can easily do so by enabling the text and call alerts.
These will appear at a glance in order to help you keep on track with your exercise activities. This Toobur device will also measure the distance walked, calories burned, and pace. It easily syncs with your iPhone or Android device in order to provide accurate info at any given time.
You must know that you can't use this device with a computer, nor while swimming. However, it won't get damaged if you sweat or if you shower with it. Its worst flaw by far is that the Bluetooth connectivity is poor.
The watch offers a 3 to 7 day battery on standby without the need for cables. This device is equipped with an anti-lost function that lets you know whenever it is out of the Bluetooth range.
PROS:
Ultra-lightweight
Long battery life
Anti-lost function
CONS
:
Poor Bluetooth connectivity
Related: In case your strap just gives up on you, it's always good to have a replacement handy. Look none other than the Toobur Replacement Straps as it is specifically designed for above fitness tracker and is available in two colors.
Fitbit Blaze Fitness Watch
Price: Approx. $200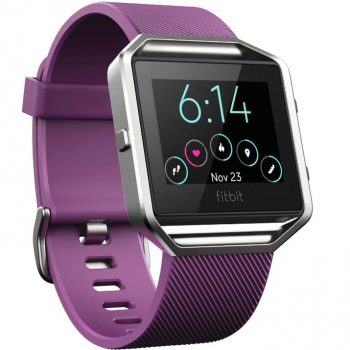 Weight: 1.4 ounces
Specific features: Control your music player, about 5 days of battery life, multi-sport tracking
Best use: Activity tracker
The price seems a bit steep for some, but the Fitbit Blaze Fitness Watch has many features to offer to make up for it. For starters you can monitor several types of sports as well as all your activities throughout the day. Tracking your sleeping time can be difficult with some other devices, but this one automatically detects when you sleep.
If you carry your phone in your bag or if you're in a loud area, you might not hear when someone calls you. This watch can be paired with your phone so that you won't miss any important calls and text messages. If the calendar alerts are more important for you, then you can also discreetly receive those on this tracker.
Do you listen to music while working out and you want to repeat the song or to skip one? This device allows you to easily control your music when you need to, all you have to do is just touch the screen.
Some people feel more motivated when they set goals they want to reach. This smartwatch has this function installed to help you easier and faster reach your fitness goals. If you want to ensure you perform the right movements, just follow the instructions on the screen.
PROS:
Accurate heart rate reader
Touch screen
Automatically tracks activities
Related: Making sure you can always charge your fitness watch can only be achieved if you have a spare charger. The Kartice Charging Stand is what you need for this purpose. This is an elegant looking dock that works with an USB wall charger.
Willful SW018 Smart Watch
Price: Approx. $57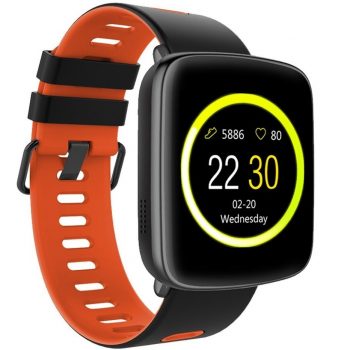 Weight: 6.4 ounces
Specific features: Sleep monitor, heart rate tracker, remote camera control
Best use: Running, workouts
This smartwatch could fit all your fitness needs. It is compatible with both iPhone and Android devices, and is built to be waterproof. The Willful SW018 Smart Watch provides a sleek and stylish design that is suitable to both fitness activities and casual walks.
The screen is scratch resistant, which allows you to enjoy your routine without being worried the watch might get ruined. This device gives you the chance to stay connected at any time with the automatic alert functions. You can receive texts, make calls and see notifications at any given moment.
The device is equipped with several useful functions such as a sleep monitor, a heart rate tracker, as well as an anti-lost function. You can easily take pictures without pausing your exercise routine, or listen to music while you run.
The device also features a calendar and a calculator. You can keep track of the calories burned, distance walked and pace automatically. You can also wear it while diving, but make sure you don't exceed the maximum depth.
Have you been told you're drinking too little water? This is about to change because this device will also remind you that you have to stay hydrated. One major let down is the battery's life as it doesn't last more than 1 day.
PROS:
Reminder to drink water
Good for diving
Big screen
Related: Eventually your straps will succumb to wear and tear, so it won't hurt to have a replacement. In this case, the Yarrashop Watch Band is a good option for its soft silicone and durable TPU strap.
Polar A360 Fitness Tracker
Price: $120 – $233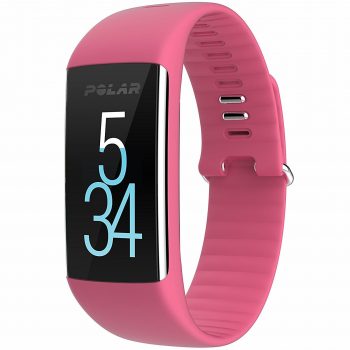 Weight: 1.1 ounces
Specific features: Calorie counter, waterproof, scratch resistant
Best use: Activity tracking, running
The Polar A360 Fitness Tracker provides style as well as efficiency. This device is stylish enough to be worn anywhere you go. You will be able to keep track of your heart rate, as well as sleep patterns that will improve the quality of your sleep.
The watch offers custom training tips for a more personal and effective exercise routine. This device features several functions such as calorie counter, distance, as well as inactivity alerts. You can view all your message and social media notifications at a glance, which helps you keep track of your goals.
The Polar smartwatch features removable waterproof wristbands and a scratch resistant screen. You can sync this device with your iPhone or Android device in order to keep connected and download your fitness data.
Furthermore, the watch provides camera and music features, as well as a color screen that will make your exercise routine much more fun. This device requires Bluetooth 4.0 or later.
PROS:
Suitable for swimming
Distance camera control
Big screen
Related: The A360 is quite a hefty investment so it certainly won't hurt to get a good screen protector. The IQShield Polar A360 Screen Protector is a matte screen protector that decreases glare and offers great protection against scratches and dents.
Homogo Fitness Tracker
Price: Approx. $24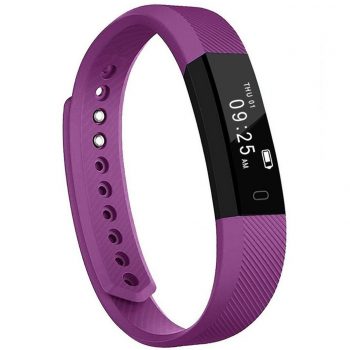 Weight: 3 ounces
Specific features: Calorie counter, distance counter, sleep analysis
Best use: Pedometer, running
If you don't want a very complicated smartwatch, then the Homogo Fitness Tracker could be it. It functions best as a pedometer, though it also counts the calories you burn and the distance you walk.
There have been several reports that you must first download the app and to sync the device to your smartphone before having it record anything. Make sure you sync at least once per week otherwise you risk losing all the recorded data. Pay attention to your handset's Bluetooth version: it has to be version 4.0 for the sync to work.
This watch doesn't have a heart rate monitoring function, so search for another model if this is something you need for your health records. If you are one to set many calendar events on your phone, make sure you can hear your alerts at all times, since this device doesn't have this function.
If you don't like its color, you can always get a replacement band in a different color. Its display is bright enough so that you can use it outside with little to no issues. To charge it, all you have to do is to unmount it from it band and connect it to your laptop or USB wall charger.
PROS:
Bright display
Lightweight
Tracks calories
CONS
:
No heart rate monitoring function
Related: It's always a good idea to invest in replacement straps for your fitness trackers. For the Homogo tracker, the FITSport Adjustable Replacement Strap is a good fit as it is specially designed for the tracker and features high quality TPE material.
Lintelek Fitness Tracker Watch
Price: Approx. $40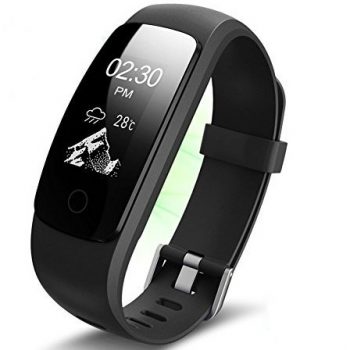 Weight: 1 ounce
Specific features: Weather forecast, sedentary alert
Best use: Running, walking
Not all the devices designed to motivate you to stay fit will automatically detect you're sleeping. The same can't be sad about the Lintelek Fitness Tracker Watch, but it will vibrate when it's time to wake up or when you've been inactive for too long throughout the day. The quality of the sleep is also recorded.
One major letdown of this product is its lack of a proper GPS: you must be connected to your smartphone in order to have certain data recorded. Monitoring your heart's rate is important during certain activities or for some people. This device is rather accurate in this function.
It is not recommended to swim with this watch on, however it won't get damaged from shower or rain water. You can pair it only with a smartphone, but not Windows phones, and no computers either. As for the apps that you can pair it with, just the Veryfitpro App is compatible.
You should know that you must sync the data recorded by this tracker before midnight, otherwise it memory resets and you'll lose your progress.
PROS:
Shows the weather
Controls the camera
Controls the music player too
Related: Looking for a good replacement strap for this particular tracker? The Lintelek TPU Replacement Straps is a must for its durable silicone, adjustable straps and easy on/off design.
Wrap Up
These were all the products we selected for you and we believe that at this point you're more comfortable with spotting a good fitness watch.
The most important thing to remember is that these watches are fit for everyone, regardless of gender. Even children can wear some of these, if they so want. It doesn't even matter when you started working out: the item can be your excuse to start doing so now.
So, what do you think about our choices: should we have included some other models as well, or leave some out? Did you use any of these products, or do you plan on doing so in the future? We're eager to hear some opinions from you as well!