Buying the best women's down jacket you can afford will be an investment that should repay you with years of faithful service. Down can't be beaten for warmth, lightness and comfort. We've gathered a few tips to help you choose the right jacket, and added some of our favorites below.
Why Down?
Outdoor wear generally features two main types of insulation – down and synthetics. While they both have their pros and cons, down is widely regarded as the best insulator available. For its low weight and lack of bulk, down is extremely warm, and so far, synthetics just can't beat it.
Down is highly compressible, making it a great option for packing, and it is very light, so you'll hardly know you're carrying it when its stuffed in a pack. However, down and water are mortal enemies, and as soon as your down insulation gets wet, it won't be much good at keeping you warm.
Manufacturers try their best to create synthetic insulation to mimic down's incredible abilities. Synthetics are more effective when wet, and are often cheaper than down, but are not as compressible and just don't come close to the insulation properties of a good down jacket.
Ethical Down
Down is the insulating layer of fluff that sits next to the skin, under the waterproof outer feathers, of ducks and geese. There has been some controversy over unethical suppliers harvesting down from live animals rather than harvesting it as a by-product of animals used for food.
The industry is now striving to make the supplies of down traceable, but some brands are moving faster than others. Patagonia, for example has been aware of the issue for a long time, while other brands are only just starting to improve practices.
If animal welfare is important to you, the manufacturers' websites should be able to tell you more about their stance on ethical down.
Hydrophobic down
Manufacturers have found ways to treat down to improve its resistance to moisture. The down is coated with a DWR (Durable Water Resistant) product. The result is known as 'Hydrophobic Down' and resists water much better than the untreated product. This treatment does not make down insulation waterproof, but it will continue to keep you warm while it is damp, and is able to dry out more quickly, too.
Some hydrophobic down treatments also increase the fill power making the jackets warmth to weight ratio slightly higher. Treated down retains the advantages of natural down, has added water resistance, but is slightly more expensive.
Fill or Loft?
How warm a down jacket will be depends on how fluffy the down inside is, and how much of that down is actually there. Down is given a 'fill power' (sometimes called 'loft') so that the buyer knows what to expect. The fill is the volume taken up by one ounce of down once it has been fluffed up and allowed to re-settle. The theory is that the more space the down takes up, the more it will insulate, and the higher its 'fill' or 'loft' number will be.
Down insulation starts at 300 fill and goes up in fifties to 900 fill. For high-impact activities in cold weather you may be comfortable in a thinner down jacket with a lower fill number, but for waiting at basecamp on Everest (not really – but you get the idea) you'd need a very thick layer of 900 Fill down.
As we said earlier, though, even if the down in your jacket has the maximum fill of 900, that jacket will only keep you warm if there is plenty of down in there. As a rule, the puffier a down jacket is, the warmer you can expect it to be.
Construction
No matter how good the down is, or how much of it there is in a jacket, it won't keep you warm if it has all fallen down and collected around the waist. The quilted construction of down jackets is there to stop this from happening – it makes sure that the insulation stays where it is needed.
'Sewn Through' construction is the quicker, easier, and therefore cheaper method of quilting a down jacket. Down is held in place by a series of horizontal stitched lines which attach the outer and inner layers of the jacket together. The down in between the layers can only fall as far down as the closest stitched line, and so stays reasonably well-distributed around the garment.
This method is adequate for most users, but it does lose some of the heat retaining qualities where the stitched lines pull the two fabric layers together – these areas have no down and so do not insulate as well as the fat mid-sections of each horizontal section. If you take a look at some down gear designed for extreme environments, you are likely to see 'Box Baffle' construction. This method avoids the differences in insulation that sewn through jackets will have.
In box baffle construction, the inner and outer layers of fabric don't meet. Instead, extra fabric is used to construct horizontal 'floors' in between the inner and outer walls of the jacket. This results in a garment built from cubes of fabric, each containing an equally spread amount of insulation. This way of making jackets is warmer, but more difficult, and because of this, more expensive.
Hoods
Some down jackets come without a hood. If you intend to wear yours as a mid-layer, you may be able to get away without one, and it will fit more easily under your outer coat, which will probably have its own hood. Without a hood your jacket will also be more compressible and easier to stuff into an empty corner of  your backpack.
If you are looking for the best down parka for warmth, though, look for one with a hood. Check out whether the hood is designed to be worn over a helmet of some sort, or whether it has adjustments that will keep it in place in windy weather. If you wear your hair in a pony-tail, check that the hood will fit up over your hair.
Outer Shell Fabric
Which material a jacket's outer shell is made from will affect the garment's durability, waterproofing, weight and warmth. The outer shell will protect the insulation inside the jacket – remember that if the shell is not waterproof, your down jacket will not keep you warm in the rain. A decent waterproof fabric will be needed if you'd like to wear your down jacket as an outer layer.
WATERPROOFING
Look for a 'HH' on the jacket label to tell you if the fabric is waterproof. HH stands for Hydrostatic Head and will be written alongside a number, for example 'HH5000'. This means that in tests, this fabric was able to withstand water to a height of 5000mm on top of it, before letting any moisture through. The following table shows how HH values relate to weather conditions.
| | | |
| --- | --- | --- |
| 'HH' in mm | Level of waterproofing | Suitable for |
| 0 – 1,500 mm | Water-Resistant | Dry conditions |
| 1,500 – 5,000 mm | Showerproof | Very light rain showers |
| 5,000mm – 15,000 mm | Waterproof | Light to Moderate rain |
| 15,000 – 20,000 mm | Highly Waterproof | Heavy rain |
A jacket can only be fully waterproof if the seams are also treated to keep out water. Potential leaks are introduced anywhere that thread passes through the waterproof fabric layer, so manufacturers have a number of ways to address this problem.
'Sealed' or 'Heat Sealed' seams will have had a sealing fluid applied all along the seams. 'Taped seams' have a special waterproof tape applied all along the joints. 'Critical taping' is a cheaper solution where only the most likely seams to leak have been taped.
Don't forget though, no matter how waterproof a down jacket's outer fabric, if water gets inside some other way (through an open pocket, or down a collar, for example) the insulation will not be as effective.
TOUGHNESS
Some of the down jackets on the market are designed to be incredibly light, while still providing maximum warmth. Their weight is mostly made up from the outer shell fabric and the zippers and hardware that make up the jacket. To keep weight as low as possible the outer shell fabric is often very thin. This fabric will be damaged by snagging and abrasion (say from pack straps) and will not last for many years.
A slightly heavier jacket should last for a lot longer, as the fabric will resist tearing and wear much better. Consider whether you need top performance and ultra-light weight or a jacket which will give you years of service.
BREATHABILITY
A breathable fabric outer shell is best with down insulation to prevent moisture build up inside the garment. If sweat dampens the down, warmth will be lost. Therefore a breathable jacket will be warmer than a non-breathable one.
Our Pick of the Best Down Coats for Women
PATAGONIA WOMEN'S PRIMO DOWN JACKET
Weight: 1 pound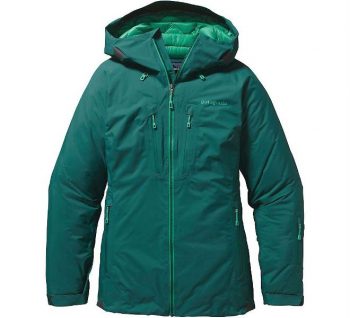 Dimensions: –
Special features: RECCO Reflector, pit zips, powder skirt
Best use: Skiing, snowboarding
The Patagonia Primo Jacket is made for skiing and snowboarding, but will make an excellent everyday cold weather jacket too. It has a 2-layer Gore-Tex outer fabric for waterproofing that is durable and windproof. Watertight zippers seal out the weather, and reduce bulk, and pit zips will allow you to cool off when exercising.
A lift pass pocket, helmet ready hood (with visor and adjustable cord locks), goggle/gloves pocket, hand warmer and stash pockets, along with a removable powder skirt, make this jacket ideal for the slopes. Patagonia ski pants can be attached using the fastenings in the jacket back. A concealed RECCO reflector safety device completes the skiing package.
The down in this Patagonia jacket is ethically sourced and certified by an independent third party, ensuring birds were not live-plucked or force-fed, making this an excellent choice for ethically minded buyers. This is a nicely fitted, full featured jacket, and is sure to be a long lasting favorite.
Orage Women's Nina Jacket
Weight: 1 pound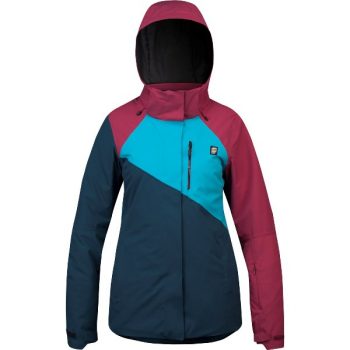 Dimensions: –
Special features: Removable hood, snow phone leash.
Best use: Skiing, snowboarding
The Orage Nina Jacket is designed to keep you warm throughout the changes of a day's skiing. With a waterproof (HH 20,000 mm) and breathable outer layer made from Prime20, and fully sealed seams, you can be sure that the weather won't spoil your day.
The jacket has a light layer of synthetic insulation, to add warmth in your less active moments, and the jackets flattering cut still has room for layering in colder conditions. The design and colorways of the Nina Jacket have proved very popular in reviews.
Features of this well-regarded jacket include a stretch powder skirt, hand gaiters, a removeable helmet hood, and 4 way stretch material. Pockets are practical, and include an insulated external media pocket and internal goggle pocket and a snow phone leash.
Arc'teryx Andessa Jacket
Weight: 2 pounds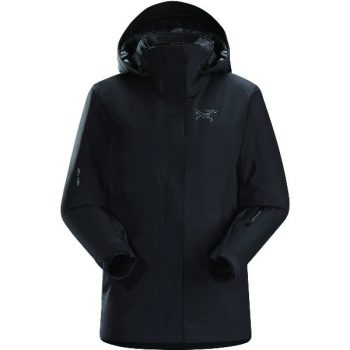 Dimensions: 8 x 11 x 10 inches
Special features: Composite mapping insulation
Best use: Skiing, snowboarding
An outer layer made from Gore-Tex waterproof and breathable fabric makes the Arc'teryx Andessa Jacket a great choice for both weatherproofing and durability, and fully taped seams complete the picture. A high tech approach to insulation combines the warmth of down and the water resistance of synthetic. Called composite mapping, the technique places synthetic insulation in the areas likely to be affected by moisture, and down in the areas where warmth is a priority.
The hood is insulated and features adjustment to keep it on place over a helmet, and is specially designed to turn with your head for maximum visibility. Zippers are watertight, and the front is protected by a double storm flap. A detachable powder skirt keeps out snow if you should fall, while pit-zips help keep you cool in the heat of the moment.
The cut of the Andessa includes gussets under the arms for maximum mobility, and the sleeve-lining is designed to glide over other layers, allowing you to move freely. Adjustable cuffs will seal out the cold and keep you comfortable, and plenty of pockets finish off this beautifully designed and well thought out jacket.
Columbia First Tracks 860 TurboDown Jacket
Weight: 1 pound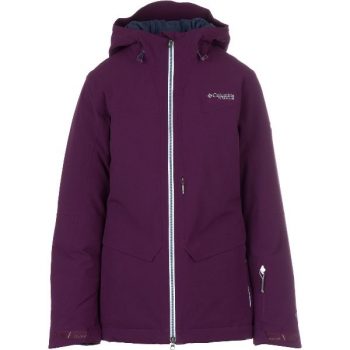 Dimensions: –
Special features: OmniTECH fabric, 800 fill power down
Best use: Skiing, everyday cold weather wear
The Columbia First Tracks Jacket combines both warmth and weatherproofing. The outer layer is made from a breathable OmniTECH waterproof fabric, and all seams are fully sealed. The center front, and all pocket zippers are also fully waterproof, for reliability in all weathers.
The insulation comes from 800 fill power goose down, and an added OmniHEAT advanced reflective 60 g insulation layer. The jacket shell is a 4 way stretch to allow freedom of movement during skiing and snowboarding. Pit zips provide quick and easy ventilation in active moments.
THe attached storm hood is  helmet compatible, and the integral powder skirt can snap back when not in use. A pass pocket and media and goggle pockets complete the ski-friendly features of this jacket. With an adjustable drawcord hem and comfortable cuffs, this active fit jacket is ideal for occasional skiing and general everyday cold weather wear.
Spyder Women's Radiant Jacket
Weight: 1 pound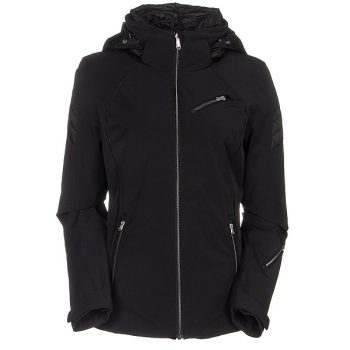 Dimensions: –
Special features: Removeable hood, powder skirt and inner collar
Best use: Skiing, Off-piste wear
This image focused, yet sporty jacket has been designed with versatility in mind. The hood, powder skirt and warm inner collar can all be removed, to give you a host of options when wearing this garment. The Spyder Radiant Jacket has an outer layer made from 360º Stretch Nylon with Xt.L™ 20k/20k Laminate and Spylon+™ DWR. What this means in real life is that the fabric will stretch with you as you move.
The Xt.L™ 20k/20k laminate is a waterproof and breathable layer that sits on the inside of the fabric and is designed to last many years and washes. Finally, the Spylon+ DWR is a water repellant treatment which will keep 80 percent of its water resistant powers after being washed 20 times. The jacket has critically taped seams and iridescent zippers on some colorways.
The warmth of the Spyder Radiant comes from 60 g Primaloft Silver synthetic insulation. This high loft product mimics goose down but has a finish which permanently resists water.
Arcteryx Sentinel Jacket – Women's
Weight: 1.5 pounds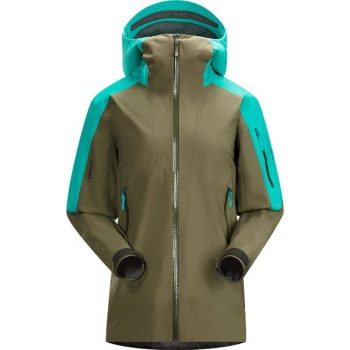 Dimensions: 16 x 14 x 3 inches
Special features: RECCO reflector, active fit
Best use: Big mountain skiing
Arcteryx Sentinel Jacket is built with serious skiing in mind. It's outer shell is constructed from N70p Gore-Tex, which is waterproof, windproof and breathable, and the seams are fully taped. The light flannel backer will only provide a light amount of insulation though, so use this jacket as part of a layering system for warmth – on its own it may not be enough in cold weather.
Arcteryx have designed the Sentinel carefully to flatter and perform. Gathered panels conform to a female body shape and features like the underarm gussets (with pit zips) ensure the jacket won't lift out of place when you raise your arms.
The hood fits over a helmet and is fully adjustable, while the powder skirt includes a stretch panel to attach to compatible ski pants. Draw cords at the hem and adjustable cuffs will keep out drafts, and the waterproof full length front zipper completes the weather seal.
Plenty of practical pockets are included for goggles, lift pass, media, cash, etc, and all are designed for easy access and security. Finally, a RECCO reflector takes care of the safety, on this great, well-designed ski jacket.
Columbia Women's Whirlibird Interchange Jacket
Weight: 3 pounds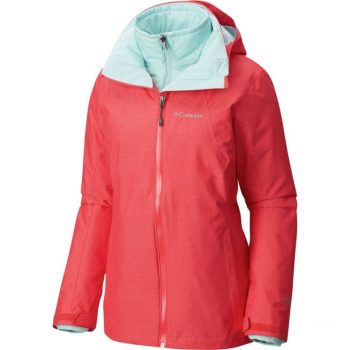 Dimensions:
Special features: Zip-out lining, 3-in-1 design
Best use: Everyday cold weather wear, skiing, snowboarding
The Columbia Women's Whirlibird Interchange is a jacket that will be truly versatile, and will see you through a range of weather conditions. Designed with a removeable inner lining, which can be worn on its own, you get three jackets in one.
The outer layer of the Whirlibird interchange is waterproof and breathable (featuring OmniTECH waterproof fabric) with critically taped seams. Wear this on it's own on warmer days or zip in the lining in colder temperatures. The inner lining is made from OmniTECH thermal reflective fabric, which is also water resistant. This can be worn on its own on dry days, or zipped into the outer for a fully waterproof solution.
The tulip hem and flattering seam lines ensure you'll feel great in this jacket – while the drop hem, powder skirt, waterproof zippers, pit zips and removable hood take care of the practicalities.
An interior security pocket, goggle pocket and zippered hand-warming pockets provide plenty of storage options. THis jacket is versatile enough to wear for skiing and at home, and should provide the flexibility to wear across the seasons.
Mountain Hardwear Barnsie Jacket
Weight: 2 pounds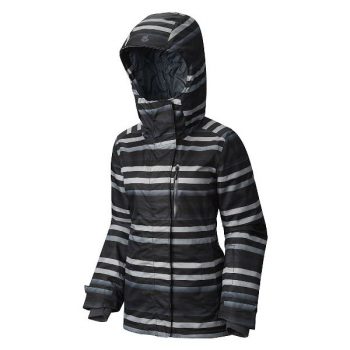 Dimensions: 26 x 16 x 3 inches
Special features: Striped design, synthetic insulation
Best use: Everyday cold weather wear
The Mountain Hardware Barnsie Jacket is an excellent value jacket that has some great ski features. Perhaps the most striking thing about the Barnsie, though, is it's striped color. You will definitely stand out in this choice, but its bold design might not be for everyone.
Thermal Q insulation is concentrated around the body (80 g) with a little less in the sleeve area (60 g). This keeps down cost and weight, while still providing warmth where it is needed. The insulation mimics the structure of down, but will resist moisture better.
The outer fabric is Dry Q Core – waterproof and breathable, and there is a full length storm placket over the front zipper to keep out the elements.  There are zippered hand-warming pockets and a single chest pocket for keys, ID and valuables, as well as the usual goggle pocket and snow skirt.
A RECCO reflector features on this jacket too, which is unusual in this price range, making this a great choice if you have a lower budget.
Found the jacket you want?
So there you have it – our pick of the best down coats for women. With a little bit of know-how you can make a choice that will keep you warm and dry for years to come, while still looking great. Did we miss any of your favorites or do you think we've got them all? Share you thoughts in the comments!