Have you ever had an experience with extreme temperatures, especially very cold temperatures, of the winter? If you have, then I guess you will agree with us that it is an experience that you will not desire to have for yourself, any more than you ever had. Never is the body uncomfortable and devastated than when subjected to such, freezing conditions of the winter, or any other cold situation as the peak very high mountains.
It goes without say that what is greatly needed is a protection against these extremely cold conditions. But often times the extremities, such as the feet and the hands are forgotten, and thus through them the body is exposed to the adversely cold temperatures which are quite detrimental to the health.
A case in point is having to endure a ski trip in a severely cold winter with no proper gears to keep your hands sufficiently warm. If you can have a good pair of gloves for your winter activities and adventures, then you will probably have an enjoyable moment in the adventures, apart from keeping you in good health, by ensuring that your hands as other parts of your covered body remain warm, during the whole exercise.
Most women who are outdoor enthusiasts, especially, have a great challenge dealing with these extremely cold situations, while at the same time taking part in the winter events.
Often times, activities are restricted due to temperature and many woman have awful memories of getting to the top of the hill with only ice cubes to serve as fingers. This is not only uncomfortable, but extremely dangerous, for it puts a strain on the health of the victim. Perhaps this should call for a good winter glove to salvage against such a scenario.
Our top picks
| Product | Weight | Material | Best Applicable | Price |
| --- | --- | --- | --- | --- |
| The North Face Etip | 2.9 ounces | Fleece | Casual wear, hiking, driving | Check price on Amazon |
| Hestra Heli | 16 ounces | Soft leather | Backcountry, skiing, snowboarding | Check price on Amazon |
| Outdoor Research Revolution | 16 ounces | Nylon | Skiing, snowboarding, backcountry | Check price on Amazon |
| Marmot Randonnee | 8 ounces | Nylon and Gore-Tex | Sledding, backcountry | Check price on Amazon |
| Arcteryx Anertia | 13.9 ounces | Fortius 1.0 and Gore-Tex | Skiing, snowboarding, touring | Check price on Amazon |
| Hestra Deerskin | 8 ounces | Leather, faux fur polyester | Casual wear, driving | Check price on Amazon |
| Hestra Morrison | 9.9 ounces | Leather, cowhide and army leather | Sledding, extreme backcountry, touring | Check price on Amazon |
Things to consider before buying a pair of gloves
If you are to get a good product that would give you a satisfactory service, then you, without doubt, need to spend enough time and evaluate what features will best suit you, and the purpose to which the equipment is intended.
It is for this reason that we so wish to engage your mind on things that you ought to consider, if you should derive the best from the gloves that you intend to buy. Here are but a few crucial features that will really be of help to you.
Know the fabric
The features possessed by material tell to a great extent, what it can be used for. Some fabrics naturally have the capabilities providing enough insulation against heat loss to the surrounding and hence become warmer and drier.
This makes them safer to use in the backcountry and over extended colder periods than others. Here is what you need to know about which fabrics are better suited to the winter months.
Cotton
Cotton is probably one of the most dangerous fabrics to wear in the winter months. By its nature it is hydrophilic, meaning it not only can absorb moisture from humidity, but it holds it next to the skin instead of wicking it away which some other fabrics can do.
In extreme cold, this can be deadly. It can lose up to 90% of its ability to hold heat once it gets wet. It is very true that cotton is quite good in summer for keeping warm. This however should not delude you into thinking that is can also serve well in the winter. It can be too deadly to you when it becomes damp, and loses its insulating ability.
Wool
The original warm winter wear, wool keeps insulating even when wet. Soldiers were even given wool blankets during WWII because it maintained its warmth during the awful conditions experienced during trench warfare. It is an important under layer, and a uniform for true outdoor adventurers.
Leather
A natural wind breaking alternative, it is also water resistant (but not waterproof). Much like nylon, it is important to use another layer or insulator underneath leather shells, but often leather is much more pliable and durable than synthetic fabrics.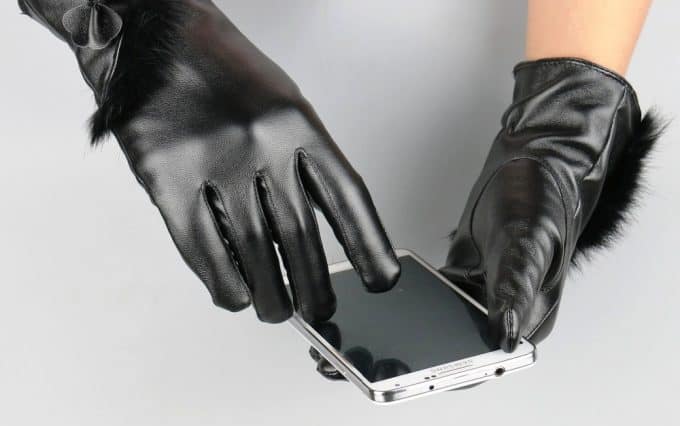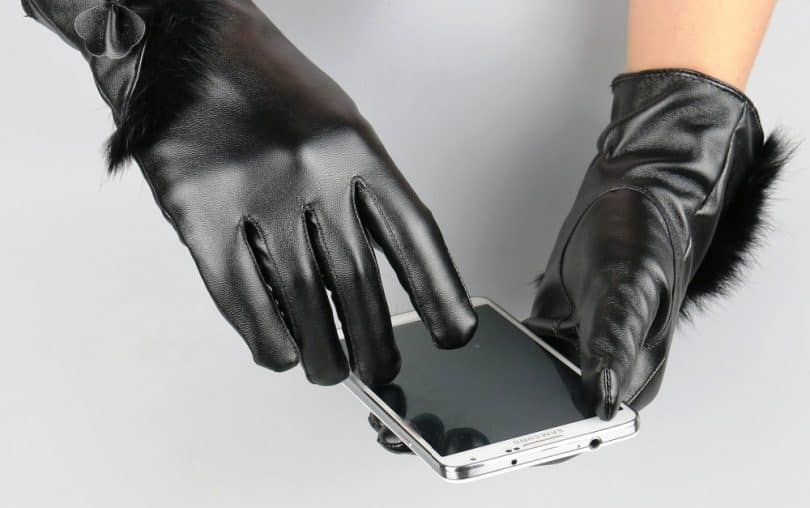 Nylon
This is a synthetic fabric with very little capability of holding onto moisture like many natural fibers. In fact, it usually dry off much quickly than the wool and the cotton, especially when exposed to air. It is best used as a shell over better insulators because it is a strong wind breaker.
Polyester
A synthetic fabric, but a good one. Polyester can be spun into a variety of thicknesses and qualities for a variety of purposes and importantly maintains its insulating capacity throughout wet and cold conditions. Unlike natural fibers it also has important wind breaking characteristics.
Know the insulation used
The insulation used in a glove determines the size of the glove, the weight and the amount of warmth that the glove will retain. Depending on the intended use of the glove you may choose one that offers the best features, suited for that particular purpose.
For instance, if you intend to use a smart phone with your gloves, then you have to choose that which support these functionalities. Here are some of the insulation materials used in garments, and those that can be suitable for the gloves you are looking for.
Down
The original natural insulation, down is made from the under plumage of geese and duck feathers. Down has a high warmth-to-weight ratio and is extremely compressible, making it one of the best choices for many types of backcountry gear. Unlike synthetic fabrics however, it doesn't hold its warmth when wet and is also one of the most expensive options.
Due to its nature it also doesn't hold up for glove applications. If down is what you are looking for however, always ensure that it is covered by an outer layer which is completely waterproof to ensure that no warmth will be lost if you encounter wet conditions.
Synthetic
Insulation built to be warm and withstand damp or wet conditions! Although down is inherently warmer, synthetic insulation is making great strides and advancements in being nearly as insulating. Importantly, it's also a bit safer for extreme conditions.
Man-made down is much more economical than natural down, much easier to dry (sometimes it only takes hours in the sun), and is typically better suited for use in gloves. Its only downside (besides being a bit less warm), is that it can require more volume and doesn't compress as nicely as the natural stuff.
Patented Examples
Companies continue to make great strides in developing better synthetic downs, some of which lend very well for use within gloves. For example Hestra uses a man-made insulation called Thermolite, which aims to reduce the overall weight that is typical in synthetic fabrics.
Because it is lightweight and flexible, it also provides better dexterity in glove applications. Outdoor Research uses a patented substance called EnduraLoft, which holds up extremely well when compressed. As you can imagine, this is a good quality for use in gloves.
Looking at the market today, you'll agree with me that there are quite a number of good gloves that are specifically designed for the women. But you can also rest assured that finding just the right glove can be another daunting task. Here we're going to discuss some of the best hand gloves for the women.
Best products on today's market
You definitely desire a good product, no doubt about it. Here we are going outline some of the best gloves for women in the market today.
The North Face Etip Gloves
Weight: 2.9 ounces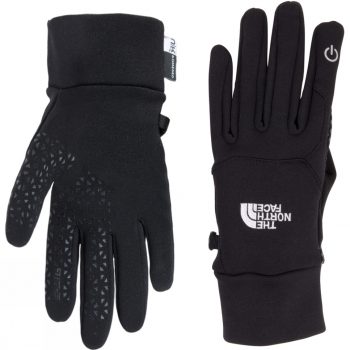 Size: XS to XL
Specific features: Superior Grip, Etip functionality, 4 way stretch fabric
Best use: Casual wear, hiking, driving
This gloves are rated at 4.4 out of 5 stars. It is touch-screen compatible, four way stretch fleece glove. It has a women-specific fit providing full palm conductivity for all the touchscreen devices that you may desire to use. The use with touch screen devices is made possible by placing a conductive surface on the index finger and the thumb on each glove.
This makes the glove emulate the conductive nature of the finger and hence such a great capability of acting as if it were your real finger.  It is also breathable, a feature that makes it quite suitable for long distance running training in a cool conditions.
Among the several things you can do with the glove include warming up your car in the morning, walking to lunch in the cold, or taking your dog for a walk. Thees gloves are exceptional for keeping warm while also keeping tabs on your busy life.
There is nothing more annoying than having to remove your gloves simply to answer the phone, but these gloves come designed specifically for touchscreens, as well as being covered with a good gripping silicon covering.
Maybe there is another feature that specifically come in handy while doing the various activities. You should always have a reasonable degree of control, dexterity and grip.
The whole of this package is offered by this glove, which makes it a bit comfortable in using your hand to do other duties just as if you were using your bare hands. If the glove is cumbersome, the user usually have a hard time in using controlling devices she is using.
The North Face Etip Gloves are also made from stretch knit construction to give the wearer with a snug fit that allows for a high degree of finger control.
This glove can perfectly come in handy when using touch screen devices, and you definitely wouldn't have to remove the gloves for you to use your phone or tablet or any such things as uses the touch screen technology.
You however have to find a warmer glove if the problem is purely keeping warm, for this glove isn't good for keeping warm in extremely cold situations.
PROS:
Enables you to maintain a degree of warmth while using a touch screen device
Convenient to use with the touchscreen
Offers a good degree of grip to the use
They look appealing to the eye
CONS
:
Does not provide enough insulation
Not suitable to use in extremely cold conditions
Related: It's not only enough to give your hands a protection against the extreme cold conditions. Find here also The North Face Denali Scarf, one of the best articles that will help you retain much heat during those extra cold days.
Hestra Heli Gloves
Weight: 16 ounces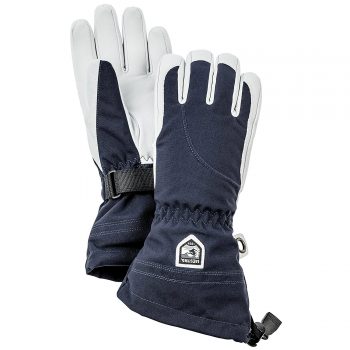 Size: XS to XXL
Specific features: Removable lining, windproof, waterproof, breathable
Best use: Backcountry, skiing, snowboarding
The Hestra Heli Gloves is weighs about 16 ounces, which provide insulation that is sufficient to keep the hands warm for a long duration of time in extremely cold environment. It is designed with an ultra durable army proofed leather which are quite strong. It has a handcuff which is an elastic band that wraps around the wrist and attaches to the gloves.
These gloves are quite good for winter hike. They are somewhat heavy duty and do preserve enough heat thus keeping the hand warm always. These are also very durable due to the material that is used in making them. They are also good for skiing, snowshoeing and even a night in a snow cave. This glove has a liner that improves on its ability to retain warmth
PROS:
Tough material
Warm
Portable
Good dexterity
Interchangeable liners
CONS
:
Heavy
Wax must be applied to maintain waterproofness
Related: I guess you're not only concerned with keeping your hands alone warm. Probably you're thinking of making the whole body warm. Here's one of the product that we wouldn't hesitate to recommend to you. The Turtle's Neck Neck Warmer to help conserve the heat in your body for a longer time.
Outdoor Research Revolution Gloves
Weight: 16 ounces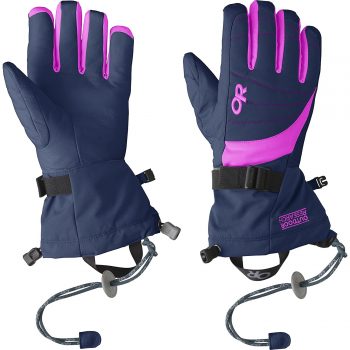 Size: S to L
Specific features: Moisture wicking, windproof, waterproof
Best use: Skiing, snowboarding, backcountry
The Outdoor Research Women's Revolution Gloves comes with a desirable protective feature during skiing because it is made of a durable nylon fabric and will enable the palm withstand abrasion.
In the same line as the Hestra Heli-Ski gloves, these Outdoor Research options offer all the same features but in glove format instead of a mitten. More dexterity but with the same overall warmth. They offer fully breathable, yet waterproof and windproof technology.
They also ensure that even if your hands get too hot, they do not get sweaty because of their interior moisture wicking technology. Unlike many brands, these gloves also have a special wrist cincher which ensures that you will not lose your gloves on the chair while taking photos or checking your phone.
Discovering that one of your gloves is missing might just be one of the worst feelings, especially if you are only halfway through your winter adventure.
PROS:
Comfortable
Waterproof
Durable
Great grip
CONS
:
Not durable
Not warm enough
Has no wrist adjustment
Related: Make your feet also warmer through this wonderful product, the Wigwam Sirocco Ski Sock, and maintain a comfortable warm condition of the body though the environment around you be freezing.
Marmot Randonnee Gloves
Weight: 8 ounces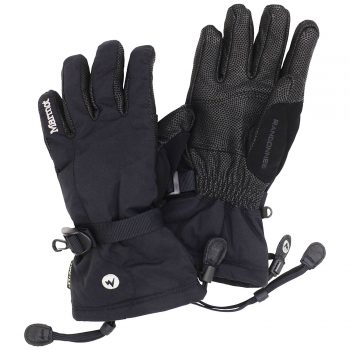 Size: XS to S
Specific features: GORE-TEX, waterproof, windproof
Best use: Sledding, backcountry
The Marmot Randonnee Gloves comes with various features including a tough leather reinforcement, thermal R insulation and the GORE-TEX insert. This makes it suitable for skiing and even for the guides. It also has a dexterous falcon grip precurved fingers and gauntlet quickdraw one handed drawcord to keep the hillside fumbling minimal.
For people who have suffered frostbite on their hands in the past, looking for gloves that actually keep your hands warm can seem like a fruitless task. However, the Marmot seems to have struck a chord with women who have perpetually cold fingers.
People have been reporting that finally, after years of searching they have found the solution to their wintertime dilemma. These gloves are also often seen on the hands of ski guides, and if you should learn anything from guides it's their equipment choices!
Also, you know the company means serious business when one of the advertised features is the Nose Wipe, they completely understand the needs of their women customers!
PROS:
Durable
Reliable good insulation
Double gloves
Good design
Related: If in case what you need is much warmth, and the glove seem not to give the amount that you are in need of then you can also try out this Marmot Women's Moraine Mitt for it provides better insulation against heat loss.
Arcteryx Anertia Gloves
Weight: 13.9 ounces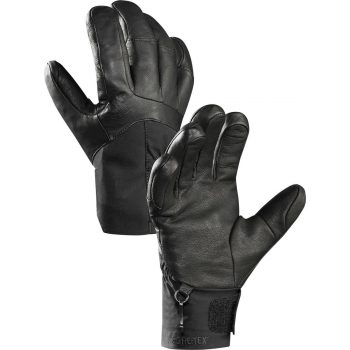 Size: XS
Specific features: GORE-TEX, waterproof, dexterity
Best use: Skiing, snowboarding, touring
The Arcteryx Anertia Gloves are quite a good glove. Anertia Built to fit perfectly to female hands, without compromising dexterity, warmth and waterproofing, Arcteryx knows exactly what the female skiier or snowboarder needs. These gloves were designed thinking about countless frigid lift rides, followed by steep windy descents.
Women shouldn't have to relive their bad memories every time they are out, and with the patented double Primal-loft lining, only good memories from here on out!. Compared to other gloves on this list, they also look much different because they were built with a female hand and needs in mind.
They also include a wrist leash, because honestly it would be very disheartening to lose one of these babies. Finally, this brand has a ton of street cred with backcountry enthusiasts, and their warranty is for life.
PROS:
Lightweight
Warm
Versatile
Excellent material
Related: You can also try one of the best glove liner that is quite suitable for hiking in the desert sun which is the Arcteryx Phase Liner Glove.
Hestra Deerskin Gloves
Weight: 8 ounces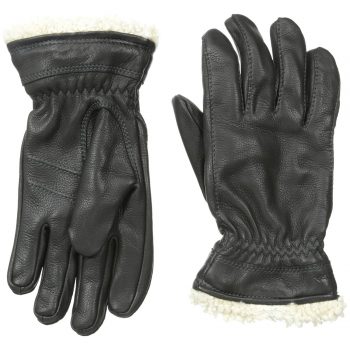 Size: XS to L
Specific features: Custom fit, soft leather, natural fabrics
Best use: Casual wear, driving
Theese Hestra Deerskin Gloves are a 4.1 out of 5 stars rated, with 100% leather, faux furr and brushed polyester lining that makes it warm and nice to use for protection against freezing of the fingers.
For a lot of women out there finding all natural materials within outdoor gear is not only vital, but increasingly difficult to find. These glove cater specifically to this natural preference, while also insuring maximum warmth. Outer layer is deerskin with a lambswool cuff, while the insulation is Primaloft lining, to insure that even in damp weather, fingers stay warm.
As an added bonus, these gloves are much more stylish than some of their more sport centric companions. Hestra also, and importantly, offers bespoke service on these gloves. This means, they will specifically build the gloves to fit the exact measurement of your hands, because nobody likes wearing poorly fit, unflattering gloves.
PROS:
Durable
Comfortable
Good dexterity
Warm
CONS
:
Need continual application of the sealant for continual waterproofing
They can lead to lots of sweating due to overheating
Hestra Morrison Gloves
Weight: 9.9 ounces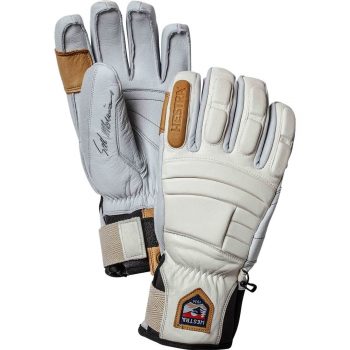 Size: M to XXL
Specific features: Knuckle and finger padding, waterproof, windproof
Best use: Sledding, extreme backcountry, touring
Made of cowhide and army leather palm with fleece lining and thermolite insulation to keep the finger toasty. It has a waterproof, breathable membrane which keeps the hand dry. It also comes with a handcuffs to secure the glove to the wrist.
The Hestra Morrison Gloves are perhaps one of the nicest looking winter glove in the market. One of excellent quality, nicely woven and warm enough, even for the coldest conditions. Maybe you should check out and see just exactly what it is like.
Has anyone noticed a trend in brand names here? Hestra, it seems, is a trailblazer in terms of backcountry and sport glove warmth. These gloves literally only has good reviews, no matter where you do your research. Based on the consumer reviews, if all other backcountry gloves fail you, this will be well worth the investment.
This style might be the most durable out of all the styles reviewed here, mainly because of the Army Leather, and padding specifically for the knuckles and fingers. It goes without saying that these gloves are breathable, waterproof, windproof and feature a Czone insert.
PROS:
Durable
Comfortable
Good dexterity
Warm
CONS
:
Need continual application of the sealant for continual waterproofing
They can lead to lots of sweating due to overheating
Related: You can also find similar features in the Hestra Morrison 3-Finger Gloves with only slight modification in the design.
Wrap Up
Now that you have better understanding of the risks associated with cold hands, what fabrics lend themselves to which wintertime applications, as well as what gloves specifically are more recommended for a variety of activities – which gloves will you choose? Are you a skier? A guide?
What are your recommendations for keeping your hands warm even during the wettest, coldest situations in the backcountry? Be sure to let us know in the comments.