If you love outdoor activities, then it means you have an experience with lighters already. They come in handy especially during winters or where there is high attitude and very windy. Lighters are not only useful for lighting but can as well be used for defense against hostile animals that one may come across while in the wild.
Night boaters and fishers also carry with them windproof lighters as there is no amount of breeze or wind that can stop them from lighting up. High pressure makes a lighter with windproof properties to operate. The fuel in the lighter is released in a high pressure steam and then combined with oxygen and spark which in turn brings out high pressure flame.
Windproof lighters come in an array of configurations. This review seeks to bring out all there is to know about the best windproof lighters.
Features of a great windproof lighter
While out camping or hiking, you are likely to find yourself in a crucial situation where probably everything will work against you. With rain and harsh weather conditions, lighting a fire is usually close to impossible if you go the traditional way or use ordinary lighters. So as you shop for your lighter, be on the lookout for the following features:
Waterproof
A waterproof lighter when submerged in a mass of water and pulled out can still continue operating as before. While having your adventure you are likely to fall and your lighter may fall in water. A waterproof lighter should continue working properly even after getting in the water.
They have a protective seal which prevents air and water from coming in and only allows fuel in. Going for a floating lighter would also be an excellent option.
Durable
Critical situations are very unpredictable and that is why you should invest in a lighter which in the event it falls, it will remain intact. Some models available in the market can even stand the pressure of a pickup truck.
Go for one that has been made with high grade stainless steel as they won't rust and thus last for a longer period.
Portability
This is obvious as you want to make your work easier as you explore the wild. Go for those that are also lightweight as they are great for survival situations. If you can, do not go for those that have covers because they may accidentally start a fire or even leak as you travel.
Refillable
This is not a prerequisite for all lighters but is convenient. With refillable models you can refuel where as for those that are not refillable must be disposed off.
Hands- free Lighting
If you are planning to do more than just start fires, hands- free versions are an excellent option to go for. They can act as a small heat source and will allow your hands freedom to perform other duties.
Maintaining waterproof lighters
A typical wind- resistant lighter should be refilled from a pressurized bottle of butane once its fuel runs out. The process of refilling is very simple and does not take up time. But if these kinds of lighters experience a problem in their electric ignition system, there is no economical way to have them fixed and the only thing is to discard them and replace with new ones. Averagely, flame lighters require charging through USB after 100 to 300 uses.
One advantage with windproof lighters is that their fuel source is always available unlike lighters that use gas or traditional fluids. Their disadvantage is that with time, they lose their charge. But butane lighters could go for months without requiring refill.
Extra caution should be taken when keeping the space between the nodes of the lighter clean. Be certain to ensure they are free of lint and other remains because there is always the risk of fire hazards.
Types of lighters
Floating lighters
These kinds can float in water and still lit up.
Pros:
Waterproof – they will produce a flame even when wet and as such they are very reliable.
Adjustable intensity – you can adjust the flame because it has a fuel conservation mode.
Refillable – they can easily be refilled with butane lighter fluid.
Weather resistant – they can withstand strong winds.
Hot flame – some can produce heat of up to 2, 000°
Cons:
Temperature sensitive – they may not be very reliable in colder temperatures.
Evaporation – their fuel evaporates rapidly.
Zippo
Zippo lighters are the most common type of lighters in the world.
Pros:
Versatile – it can operate on any flammable, spark-ignited fuel. It can be disassembled to have the cotton stuffing removed even if you do not have fuel or a wick.
Adjustable wick – its cord can be adjusted to different heights to create a small or huge flame.
Easy to use – with Zippos you do not have to use your thumbs to keep the flame burning.
Self-standing – because this model is self-standing it can be placed on a fireproof surface and burn to empty. As you do not require your hands to keep the flame on, you may use it as a small heat source or use it to heat a cup of water.
Cons:
Weight – they are heavier as compared to other options.
Not durable – they are not weather resistant.
Evaporation – when not in use, the fuel can easily evaporate.
Wind and storm proof torch lighters
These kinds of lighters will withstand wind, rain and snow and will keep on burning.
Pros:
Waterproof – they have a waterproof sealant which prohibits liquids and air from accessing the fuel chamber. They can be submerged in water and still produce a flame.
Weather resistant – regardless of wind, sleet, snow or rain, these kinds will never go off.
Direct flame – just when you badly want a flame, they will provide a pinpoint and prolonged flame.
Portable – they will fit any survival kit because they are small and lightweight.
Cons:
Costly – as compared to other lighters, these cost more money.
High consumption – they consume huge amount of fuel and do not last when being used.
Waterproof capsule and peanut lighters
They are capsule and peanut shaped lighters.
Pros:
Portable – you will actually forget you have a lighter as they are extremely tiny. They will not take up much space in your emergency kit. They are easy to use, repair and are durable.
Convenient – most of them operate on liquid naphtha fuel, which is available at any grocery or hardware store.
Versatile – these models can also work as candles.
Cons:
Evaporation – the fuel evaporates much faster.
Difficult to use – sometimes their wicks are lightly inserted and so make it difficult to use.
Problems while transporting – some are at times not tightly fitted which may cause its lower half to fall off while walking.
BIC Disposable lighters
They are available at any gas station, convenience store or supermarket.
Pros:
Affordable – anyone working on a budget can afford them.
Easily replaced – they are easy to replace because they are sold everywhere.
Can be purchased in bulk – you will require to buy them in bulk because they are disposable.
Cons:
Cannot be replaced – they cannot be reused.
Temperature sensitive – they do not operate well in cold weather.
Not durable – as compared to others in the market, they are not as durable.
Windproof lighters to go for
Ultimate Technologies Klipp Lighter
Weight: 2.4 ounces
Dimensions: –
Best use: Survival and outdoor
Features: This is a butane lighter with integrated carabiner design and produces a windproof turbo flame with piezo- electric ignition. It also has a zinc die cast locking carabiner.
The Ultimate Technologies Klipp Lighter is high performance butane lighter and has integrated design which always comes in handy just when you need it. It is also equipped with zinc die- cast carabiner for safe attachment to packs, gear as well as key chains.
It uses the piezo electric ignition to light up to 30, 000 times. The best part about this lighter is that it works even when wet. It has a fuel capacity of .04 oz. and needs a quadruple refined butane fuel. This product has a two year warranty when you purchase it.
Tesla USB Rechargeable Lighter
Weight: 4 ounces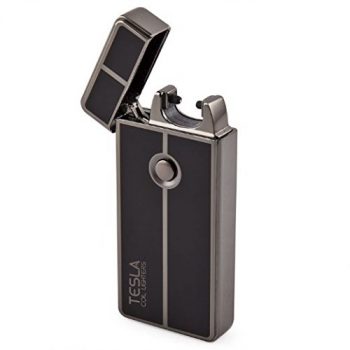 Dimensions: 1.8 x 0.5 x 3 inches
Best use: Survival and outdoor activities
Features: This lighter can be recharged with a USB cable and is simple and easy to use.
This rechargeable lighter does not need any flame or butane. It works by producing an electric arc with the press of a button. All you have to do is charge it with a USB cable and you will be good to go any time anywhere. As it uses no flame it is windproof, economical and environmentally friendly. You can forget about refills and cheap and disposable lighters. It has lid making it safe as it will not light up when you do not need it to.
Tesla USB Rechargeable Lighter is safe, simple, and reliable and has an elegant design. Use it away from your body, metallic and flammable clothing. Be careful not to use it near an open electric arc flame. Also do not expose it to temperatures above 50 °C (122 °F). Be watchful not to use this lighter in sunlight for longer periods of time and also do not keep the flame lit for more than 5 seconds at a time.
Use it in a properly ventilated room and confirm that the electric arc flame is extinguished immediately after use. Remember this is no toy so keep it far away from children. Touching the arc will result in a burn or possible small shock, so do not touch it.
Cigle Electric Lighter
Weight: 6 ounces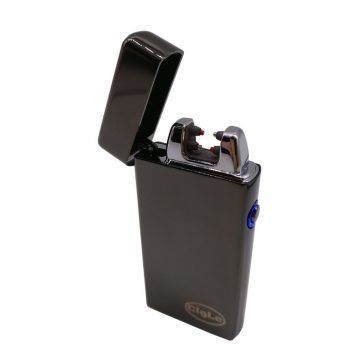 Dimensions: –
Best use: Camping, hiking, survival, outdoor and smoking
Features: It is an electric and rechargeable lighter with a USB port. It is windproof and flameless. The lighter is also butane and chemical free.
With Cigle Electric Lighter you get to save money and protect the environment as you can now forget about spending money on disposable lighters which eventually damage our beautiful environment. It has been designed in New York City with the latest technology to operate in any weather and condition. Its exterior has been made of a stainless zinc alloy and thus durable. It can spark anything because it has a wide lighting surface. This lighter is fully electric and is the most powerful USB rechargeable lighter of these times.
All you have to do is connect it to a USB charger until it is fully charged and you will have yourself more than 200 lights per charge. It is butane and chemical free and does not contain any fluids or gas. It is equivalent to 50 disposable lighters. The lighter is flameless, water resistant and windproof. For the sake of your safety, unless you open the lighter, the cap will not open. Unlike others in the market, it is easy to clean and simple to maintain.
SaberLight Plasma Beam Lighter
Weight: 5.6 ounces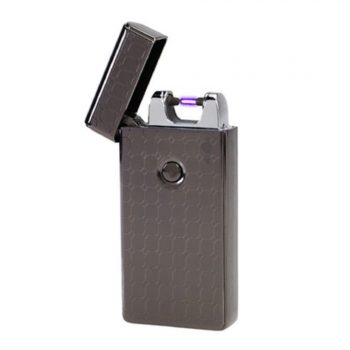 Dimensions: –
Best use: Camping, outdoor
Features: Chemical and butane free, rechargeable, windproof, waterproof, airport approved, 300 uses per charge
SaberLight Plasma Beam Lighter uses electricity to produce a plasma wave that is hotter than fire. Having taken two years to develop, it can set anything ablaze instantly in an amazing way. As butane has been proved to be toxic to humans, this lighter operates on ultra powerful lithium ion cell to produce a highly heated plasma wave.
It is windproof as well as splash proof and can withstand any weather conditions. Since it is airport approved, you take it with wherever you go.
Electric USB Rechargeable Lighters
Weight: 6.4 ounces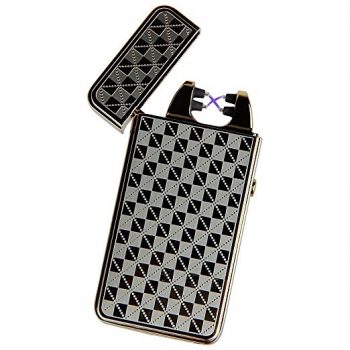 Dimensions: 7.3 x 3.6 x 1.25 cm
Best use: Outdoor and survival activities
Features: It has a luxury box, chemical and butane free, rechargeable, windproof, waterproof, airport approved, and 50-100 lights per charge.
This Electric USB Rechargeable Lighters comes in a sleek and excellent design making it a great gift to offer to someone. It is windproof, flameless, water resistant and does not use any butane or fluids. It is 100% electric and can be recharged with a USB cable. It takes between 1-2 hours for it to be fully charged and is very easy to clean and maintain.
Be careful to keep away from children to avoid any hazardous situations and do not put it in the fire or water or any other liquid. Do not connect more than or less than the power supply DC5V and when fully charged disconnect from the power supply. This lighter comes with an Arc lighter, USB charging cable and a user manual.
Zippo Color Lighters
Weight: 3 ounces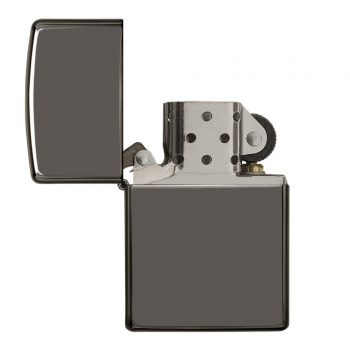 Dimensions: –
Best use: Camping, concerts and sparking conversation
Features: Refillable, windproof, full metal construction
Zippo is a USA brand that has been in the market for the longest time and has gained public confidence. This is a genuine Zippo Windproof Lighter with a distinctive Zippo click. It is durable as its entire surface is made of metal.
Thanks to its windproof design it can work virtually anywhere. It is refillable for a lifetime of usage and thus provides optimum performance.
It would best if you would use genuine Zippo premium lighter fluid, flints and wicks. The fuel, Zippo premium lighter fluid is sold separately from the lighter.
4BOSS Electronic Lighter
Weight: 2.6 ounces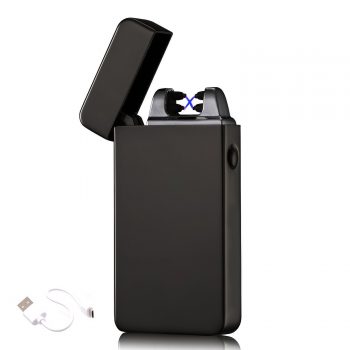 Dimensions: 2.5 x 1.2 x 0.4 inches
Best for: Outdoors and survival
Features: USB rechargeable windproof, no gas needed, no fluids needed, energy saving, safety lid, unique design.
This is the 4BOSS Electronic Lighter with high grade metal and has striking features with stylish design. It is durable as it has been made of strong zinc alloy. It has two arc lighters which are stronger and faster than one arc lighter. Once fully charged, it can last up to a week or up to 300 sparks. It is safe as it comes with a cap lid and is easy to use.
When not in use or when charging be careful to keep it away from children. It can be recharged with a USB and does not require gas or fluid and thus saves money and time. It takes about two hours to be fully charged and its LED indicator will let you know when the lighter is fully charged.
Techno Butane Metal Lighter
Weight: 1.3 pounds
Dimensions: 7.4 x 5.7 x 3.1 inches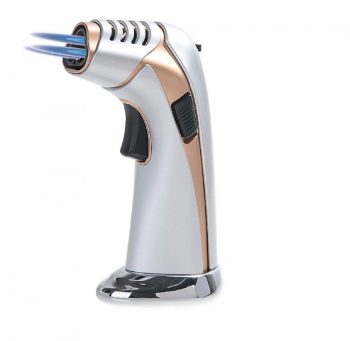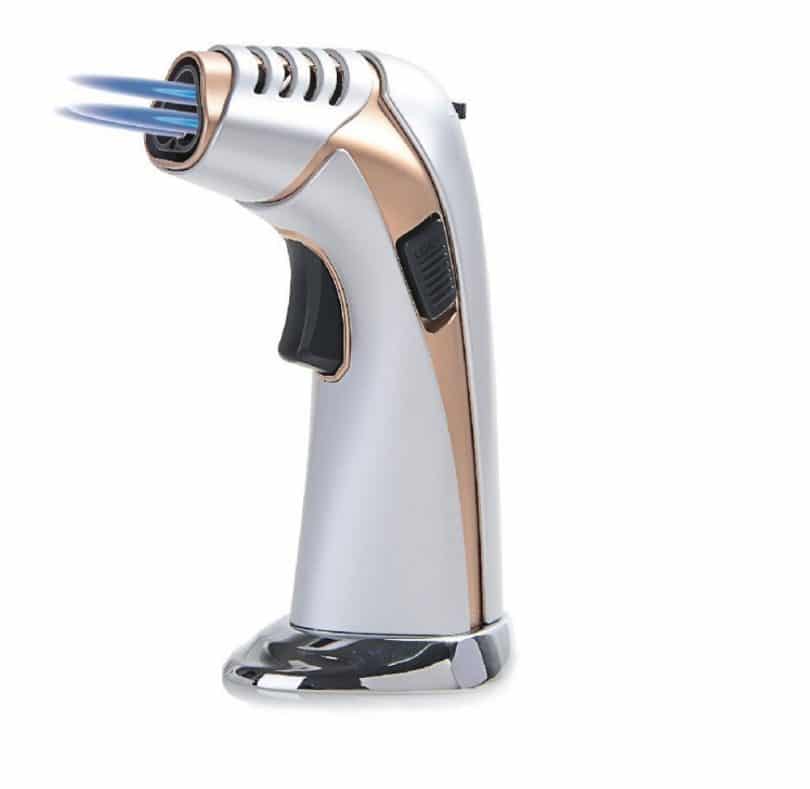 Best use: Outdoor and survival activities
Features: It has a powerful triple torch with wind resistance and comes with a quality designed gift box.
This amazing Techno Butane Metal Lighter is made of premium quality materials for leak free and long term use.
It can be refilled easily and has a very simple click to ignite and adjustable flame control. It is important that you fill before lighting for the first time as the lighters come empty due to the air mail regulation. It also has a flame lock to maintain the burn.
Closing Thoughts
In deed lighters are important tools for outdoor enthusiasts. If you are an outdoor person l bet you know how annoying and difficult it is to try and light up a fire on a windy day. Even the slightest of winds can blow off your lighter. So this is where windproof lighters come in to rescue the situation.
As you go to shop for a lighter do not just pick any ordinary lighter available on the shelf. Be certain that it has the features that have been mentioned in this review.
Getting the right windproof model that matches your needs is as simple as going through this review. You will certainly thank yourself for checking this out. Do you have any comments regarding any of the products that have been reviewed? Please share it with us on the comments section below and we shall be glad to respond to them.