When camping or hiking at night, one of the most important aspects to consider is illumination. You don't really want to compromise your safety by traversing in the dark, do you? One of the best ways to illuminate your path at night is to get a headlamp. You may ask, what if you're trekking while raining or exploring a cave? Well, it sounds like a job for the best waterproof headlamp.
Waterproof headlamps are basically illumination tools that are worn around your head, allowing you to light up anything that's in front of you hands-free. These headlamps are designed for working under the toughest outdoor conditions.
While most models are water-resistant and can be safely used in the rain, top-rated headlamps have waterproof ratings and can even be submerged under water. But finding the best waterproof headlamp on the market can be an overwhelming task. That's why we are here to help!
First, we'll start off with a short, yet comprehensive buying guide and introduce you with the most important features that you should consider when buying. Afterwards, we'll take you through a series of headlamps that we're absolutely in love with, in the hopes you'll find one that's great for you. Let's take a look!
Our Top Picks
Things to Consider Before Buying
There are plenty of factors to consider before buying a headlamp and the most important of all is your purpose. That's why we'll discuss each of the factors below in terms of exactly that: purpose.
Brightness
It's obvious that if you want a headlamp you're interested in some brightness in dark conditions. But how bright is too bright? For instance, 1500 lumens might sound really appealing, but there are some cases in which you need less brightness.
One of those cases could be hiking or small DIY projects when you don't need a blinding headlamp on. However, a very bright device is great for fishing, or you can get one with enough adjustable brightness levels.
Modes
Your basic headlamp has three main modes: low, high and strobe. The first two are continuous beams and are great for most indoor and outdoor activities, while the last one is an intermittent light great for signaling danger or your position.
There are some headlamps, though, with other modes like the medium continuous light or red/white lights. The red light is great for day use, but sometimes its intensity level could be lacking.
Battery Life
A battery life of 30,000 hours sounds really appealing and this sort of headlamp is great for people who are constantly using this device. It's also great for a headlamp you'll add to your emergency backpack because you can rest assured knowing you won't constantly have to change the batteries.
But even an average battery life of, say, 100 hours can still be great for everyday use if you have a charger nearby. Speaking of which, the recharging method and recharging time are also important. For instance, we appreciate headlamps that can be recharged in your car or via a USB cable, not just in a wall socket.
Waterproof Rating
It's obvious that you're here for a waterproof headlamp. But you also may have noticed that most such items on the market have this feature included in their name without actually being waterproof. The reason is that there are different levels of water resistance and you should know their ratings.
For instance, IPX0 isn't water resistant at all, and IPX1 to IPX4 are resistant against very small splashes like when you are caught in a very mild rain. IPX5 and IPX6 rated headlamps can resist stronger water splashes from different directions, and you could even swim with an IPX6 headlamp on. And lastly, IPX7 and IPX8 can safely be used for swing as well as diving to a depth specified in the user manual.
Design
We love headlamps that are durable, user-friendly and comfortable, but we especially appreciate those with a tiltable design. Strong materials like aluminum and hard plastic are amazing in terms of resistance to impacts, but they also make the headlamp heavier.
A heavier headlamp might not be that comfortable to wear especially for prolonged use like when you're out fishing. But if you're cycling you can place the headlamp on top of your helmet so it feels better when you wear it for extended periods of time.
With that in mind, we can move on to our list of reviewed products confident that we can interpret their characteristics according to your purpose.
Best Products on Today's Market
Each of the products below is great for different reasons but with highlighted pros and cons so you can decide faster and better what's best for you.
Coruscate Beam CREE LED Headlamp
Price: Approx. $25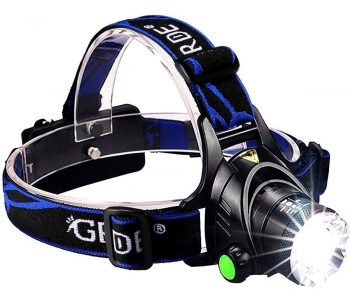 Weight: 10.1 ounces
Dimensions: 3.4 x 5 x 5.8 inches
Specific features: 1800 lumens brightness, 100,000 hours lifespan, 3 modes, can be charged with USB or wall socket, can be used as waist/ desk lamp
Best use: Frequent camping, Emergency bag
The Coruscate Beam CREE LED Headlamp is really a strong flashlight that's perfect for extreme darkness, just think of its 1800 lumens brightness and you'll get our drift. It also has a huge lifespan, you can use it for 100,000 hours, so it's definitely the right piece of equipment for people who are camping often or for your emergency bag.
This huge lifespan is ensured thanks to the two included batteries that are rechargeable themselves. Besides, you can do this with different chargers, either on a wall socket, in your car, or using a USB cable.
There are three modes for this headlamp, each with a different intensity: low, middle, and strobe, which is great versatility-wise. Speaking of which, the headlamp itself can be used in two other ways: as a waist lamp or a desk lamp. We also like that you can zoom in, but a mode with a wider beam would have been great.
Regarding the dimensions, this headlamp is a bit on the bulky and heavy side, though it's still comfortable for head use. The only actual disadvantage is that this item isn't completely waterproof, so you can't actually submerge it into the water, so it can resist a rain or two.
PROS:
Inexpensive
Versatile
Incredibly bright
CONS
:
Narrow beam
Bulky
Not fully waterproof
Related: If you would love a similarly priced headlamp but with a less bulky design, you can always consider the Bolt Lite LED Headlamp. On the downside, there are only 2 modes, with red and white lights and a maximum brightness of 220 lumens.
MyRoji Premium LED Headlamp
Price: Approx. $20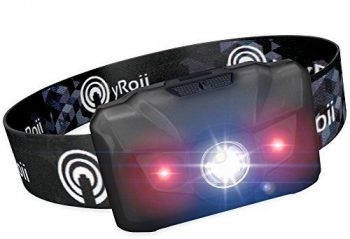 Weight: 2.6 ounces
Dimensions: 1.8 x 2.8 x 3.1 inches
Specific features: 5 modes, 2 lights, 450 feet maximum distance, pivotal design, IPX6 rating, shockproof
Best use: Running, fishing
The MyRoji Premium LED Headlamp is a great choice functionality-wise because it has 5 different modes, that can easily be employed with two switches. The light color can be set for very bright, bright and strobe, while the red light has the solid and the strobe modes, but these aren't extremely bright. That means you can use these in differently lit environments, and up to a maximum distance of 450 feet.
We also love its low weight when compared to the previous headlamp. That means it's going to be really comfortable to wear it, and the fact that it has a pivotal design is even better in terms of shining the light beam where you need.
Its body is very resistant, with an IPX6 rating that makes it great for withstanding storms, though this can't be submerged into water either. We also love its shockproof design, as well as the non-slip headband that can be adjusted according to your head circumference.
You'll get a pretty complete package with 3 included AAA batteries and a reflective headband that's perfect if you love running when dark and want to be spotted by cars. However, make sure you don't run too fast because the headband doesn't hold that well and can bounce on your head. The reflective band is also great if you're fishing at night, so you can be seen by other anglers around.
CONS
:
Red light could be brighter
Headband could be tighter
Related: If you like to listen to music while jogging, what could be better than these Rhythm Tronics Bluetooth Headphones? They're a great fit, extremely comfortable and you'll hear the sounds with the utmost clarity, so you can drown out the other noises.
STCT Street Cat Upgraded LED Headlamp
Price: Approx. $10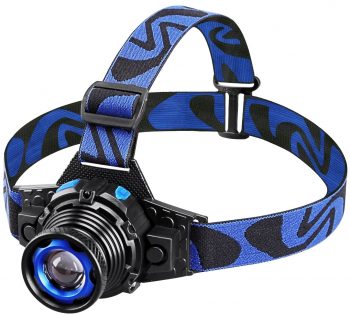 Weight: 3.88 ounces
Dimensions: 5.3 x 3.2 x 3.1 inches
Specific features: LED, 30,000 hours battery life, 4-6 hours recharge time, 656 feet maximum distance, 3 modes, charge and use safer structure, zoom, USB rechargeable, IPX6, USB charger included, elastic headband
Best use: Hiking
The STCT Street Cat Upgraded LED Headlamp is a great headlamp for all sorts of uses, including camping or DIY projects because it has a maximum brightness of 160 lumens. We've reviewed brighter items in this article, but this intensity is ok for most purposes too, especially up to 656 feet.
The LED used is very good, it's a CREE type and can last for up to 30,000 hours, which makes this headlamp great for your emergency/ survival bag.  Recharging the batteries is pretty easy with the included USB charger, and thanks to the charge and use safer structure. However, the recharging time is pretty long, at about 4-6 hours.
The IPX6 rating makes this flashlight work well against splashes from different directions, and we love its elastic headband. The three modes of functioning are fairly basic, just the low, high and strobe beams, but you can actually zoom the flashlight, which is amazing.
PROS:
Can be zoomed
Resistant
Long battery life
CONS
:
Could be brighter
Long recharge time
Related: In case your headlamp breaks, it won't hurt to have backup illumination. In that case, the Anker Super Bright Tactical Flashlight is a good choice for its 900 lumen brightness and long-lasting rechargeable batteries.
Totobay Waterproof 5000Lm LED Headlamp
Price: Approx. $25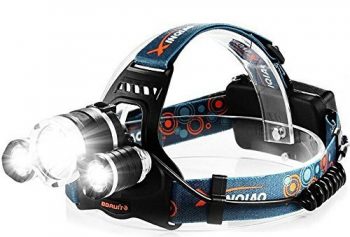 Weight: 9 ounces
Specific features: 3 LEDs, 100,000 hours battery life, 90ᵒ adjustable, 4 modes, aluminum and plastic, impact-resistant, stab-proof, adjustable head strap
Best use: Outdoor activities, sports
The Totobay Waterproof 5000Lm LED Headlamp has an amazing design in terms of brightness and functioning thanks to its 3 LED bulbs. These are very bright and function well, and we love the versatility of the four available modes. Apart from the intermittent strobe beam, you'll also get three continuous beams that have a low, medium and strong brightness levels.
With a huge battery life of 100,000 hours, and two included 18650 batteries, you can definitely count on the endurance of this headlamp. Besides, you can easily recharge it with a wall, a car or a USB charger.
Regarding the design, we love that it's adjustable to 90ᵒ and that it's incredibly resistant. So not only is it water resistant with an IP65 rating, but it's also immune to impacts and stabs thanks to the aluminum and plastic construction.
On the other hand, that makes it weigh 9 ounces, which is a bit on the heavy side. Besides, the part where the light goes is just made of plastic, with no padding, which is another reason why it might not be the most comfortable wear. However, you can fix that if you wear it on top of a bike helmet.
PROS:
Sturdy
Bright
Long battery life
CONS
:
Heavyish
Not very comfortable
Related: Even if the two required batteries are included and this headlamp has a huge lifespan, you never know when another set of batteries can come in handy. For such instances, the Canserin Rechargeable Battery & Dual Smart Charger is great to add to your emergency backpack, especially since it has a reduced retail price for ensuring your safety.
Fox Outfitters Firefly LED Headlamp
Price:  Approx. $20
Weight: 1.6 ounces
Dimensions: 1.3 x 2.2 x 1.3 inches
Specific features: 115 lumens maximum power, 100 hours battery life, CREE LED, red night vision, 6 modes, IPX6 rating, 2 AAA batteries included
Best use: Hiking, DIY, night photography
The Fox Outfitters Firefly LED Headlamp has an intensity level of up to 115 lumens, which is great for DIY projects, hiking or camping when you don't need a blindingly light beam. The 100 hours maximum runtime is also good enough if you're closer to home so you can recharge it, so you can't take it out on a prolonged trip with no sockets available. Or you can get additional AAA batteries apart from the included two.
We love the CREE LED used that's really one of the best on the market. We also like the red night vision that's perfect for saving some battery life, as well as to help your eyes accommodate faster to the light. But the real feat is the very wide beam that's going to help you see a lot more from your surroundings.
There are plenty of light modes here, with a low, medium and high for the white beam, and high, strobe and SOS for the red beam. The IPX6 waterproof rating is also a strong advantage, considering you can use this headlamp even when it's pouring rain.
PROS:
Multiple modes
High waterproof rating
Light
CONS
:
Not that bright
No USB charging
Related: The Firefly LED Lamp is amazing for hiking, but do you have all the other necessary equipment? For instance, the Sawyer PointOne Squeeze Water Filter System can really save your life if you run out of clean water to drink. But this cool system can be used in other situations too, so it's a great investment particularly thanks to its low retail price.
Flagship Expeditions Flagship-X CREE Headlamp
Price: Approx. $10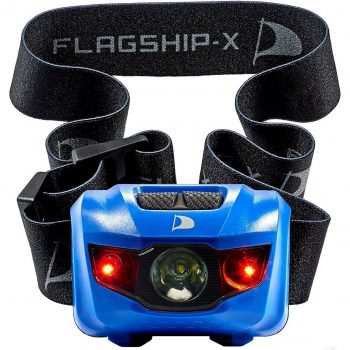 Weight: 0.3 ounces
Dimensions: 2.3 x 2.9 x 3 inches
Specific features: White LEDs, red and white light, 5 modes, 160 lumens, 3 Watts, 3 AAA batteries included, 60ᵒ tiltable, IPX6
Best use: Running
The Flagship Expeditions Flagship-X CREE Headlamp uses white LEDs, but it also has a red light apart from the white, so you'll have five different modes. The white light has high and low brightness for the continuous beam and a strobe light, while the red light has a continuous and a strobe beam. However, this red light isn't very bright, so you can't really use it in very dark conditions.
These beams reach a maximum of 160 lumens and 3 Watts, which is pretty good for most outdoor activities and sports. The 3 AAA batteries needed for this to work are included, which is another advantage. And we love the design that allows this headlamp to tilt to a 60ᵒ angle, so you can see even in the weirdest spots.
Speaking of the design, we love the IPX6 waterproof rating that makes this headlamp withstand even powerful water jets, so you can safely wear it fishing or during a storm. There's also the low weight to consider, as well as the fact that the headband is very secure, which is amazing for running.
PROS:
Inexpensive
Light
Multiple modes
High waterproof rating
CONS
:
Red light could be brighter
Related: When traveling on a group at night, increasing each party member's visibility is a must. The GLCON LED Slap Band create bright colorful lights that will help your visibility in the dark. These bands even have three lighting modes.
AIKENUS Waterproof Headlamp
Price: Approx. $15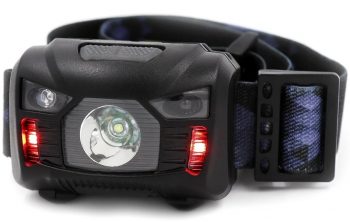 Weight: 3.5 ounces
Specific features: IPX5, on/ off sensor, 200 lumens, 6 modes, 655 feet maximum distance, 60ᵒ tiltable body, 4-20 hours battery life, 2.5 hours recharge time, USB charger included
Best use: Fishing, dog walking
The AIKENUS Waterproof Headlamp is great for fishing considering it has a high waterproof rating of IPX5, which renders it great for splashing water or water jets regardless of the direction. But you can also use it for dog walking or night jogging and still go on with your favorite activity even when it starts raining.
But the thing we love most about this device is its hand-waving sensor, which is perfect for turning it on or off. This is great if you have dirty hands when you're doing a DIY project and don't actually want to touch the headlamp and get that dirty too.
Apart from that, we like the LEDs used too because they can go up to 655 feet easily. You'll also get a red light with an SOS mode, but this can't actually be used for illumination purposes. Just like the Flagship-X, this one has a 60ᵒ tiltable body too.
The batteries can last for 4 – 20 hours straight depending on the mode used, and they take about 2.5 hours to recharge via a USB cable that's included in this package.
PROS:
Motion sensor for on/ off
Tiltable design
Resistant
CONS
:
Short battery life
Red light can't be used for illumination
Related: For another reliable illumination tool, the SMATech Tactical Flashlight is a great pick. It provides 350 lumens of brightness and has a beam distance of up to 330 feet.
Icefox Rechargeable Headlamp
Price: Approx. $30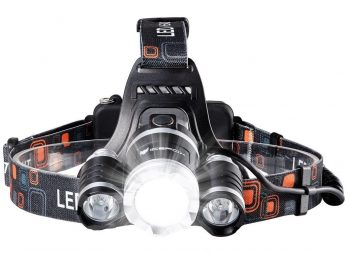 Weight: 10.6 ounces
Dimensions: 4.5 x 3.5 x 4.5 inches
Specific features: 4 modes, 90ᵒ tiltable, 6000 lumens, 2 18650 rechargeable batteries, red and white light, 8 hours battery life
Best use: Camping, hunting, caving
The Icefox Rechargeable Headlamp is a rather heavy model, but that's because it's very sturdy, made from aluminum alloy. You can, therefore, use it for more demanding applications, such as hunting or caving, but you should use it with a helmet on so it's more comfortable.
We love it's high power though for these types of activities. The total 6000 lumens are powered by 2 lithium 18650 batteries that can be recharged with ease when they deplete after 8 hours of continuous use. And if that doesn't sound so much, you should know the max lifespan of the 3 LED bulbs is 100,000 full hours.
You'll get a cool 90ᵒ tiltable design and 4 modes for the red and white lights so you can switch from low to medium, to high and to strobe easily. The only other downside is that the beams could be wider so you would have an increased scope. We also appreciate this is a weatherproof device, so while you can't submerge it directly into the water, you can certainly use it when it's raining.
PROS:
Resistant
Bright
3 LED bulbs
Tiltable design
CONS
:
Beams could be wider
Heavy
Related: For an alternative model in the similar price range, the Neolight LED Headlamp is amazing if you love high power LEDs because this device has 5 of them. The unit features adjustable focus, an angle-adjustable body and a high IPX5 waterproof rating. The only downside is its heavy weight.
Wrap Up
This is where our review ends. With so many different headlamps on the market, hopefully, our article shone some light on your decision-making process. So you can either get a fairly water resistant device like the Firefly Headlamp that's great for fishing, or you might just be interested in a weatherproof flashlight like the icefox Headlamp.
With different modes, dimensions and light intensities, all these headlamps fit different purposes, but they're all quality products with awesome designs. So which lamp will you pick and why? Please feel free to leave us a comment below.