Have you ever spent a sleepless night in the woods? That icy night weather had your teeth chattering and the whole body shivering, remember? If so, you understand the significance of a quality sleeping bag. If you've never had such an experience, well, let it remain that way by getting the best ultralight sleeping bag you can get your hands on!
A sleeping bag is a critical component of your overnight gear kit. It's essential for warmth, safety, comfort alongside helping you have a sound sleep which will, in turn, boost your next day performance. However, just like a sleeping pad, shelter or a backpack; a sleeping bag is heavy which calls for measures to save weight.
Are you interested in pushing your limits and covering more mileage each day or just being able to carry your sleeping kit up a rough and technical climb? Then, an Ultralight sleeping bag will be your best choice. However, don't just focus on reducing weight and forgo other features. After all, there's no point carrying lightweight items only to spend your entire night shivering in the woods.
So what's the best Ultralight sleeping bag? This write-up will help you sort that out by providing a comprehensive buying guide and an in-depth review of the top-rated lightweight sleeping bags in the market today.
How to choose the best lightweight sleeping bag
Selecting a new Ultralight sleeping sack for any outdoor adventure can be overwhelming. There are many choices, models and features to consider, not to forget the price tag. Getting the right pair will, therefore, require hours and hours of intensive research and comparison. No time for that? Just follow this simple guide on what to consider as you choose a lightweight sleeping bag as outlined below.
Preferred sleeping position
To purchase just the right sleeping bag for a comfortable night's sleep, figure out whether you're a back, side, or belly sleeper. For back sleepers, any style of Ultralight bag can do. From traditional hooded mummy bedrolls to hoodless models. Hooded designs work best for individuals self-trained/disciplined to lie still.
However, most people do move a little in their sleep in which case, hoodless styles will be lighter and more comfortable, to boot. Side sleepers prefer quilts. Their adjustable girth allows them to add more or few clothing alongside tightening or loosening sections of the bag depending on how high they lift their knees. Belly sleepers on their side, love quilts. Most find fully-opening models that allow them to adjust the girth from the head to the feet.
Note, when hiking in a super rugged terrain; you'll more likely find yourself in a sitting bivy the entire night. In such a case, a fully-enclosed bedroll is ideal. Go for hoodless or hooded mummies that fully enclose you in insulation. Moreover, when sleeping in a hammock hanger, go for fully-opening sleeping bags as they're easy to use and more versatile.
With that in mind, you can now narrow down your search to what works best for you.
Temperature rating
Ultralight sleeping bags have temperature ratings that aid in your selection. In general, sacks rated 15F-35F are great for a 3-season (summer, spring, and fall) use. You may also come across EN (European Norm) temperature rating. It's a standardized rating for consistency across the industry.
In EN testing, a sleeping bag is assigned 2 ratings namely: Comfort rating (the lowest temperature at which the sack will keep a cold sleeper (woman) comfortable) and lower-limit rating (the lowest temperature at which the bedroll will keep a warm sleeper (man) comfortable). The ratings are based on a camper wearing a hat and one-layered long underwear, and lying on a single-one-inch thick insulating pad. Selecting the right temperature bag has no scientific criteria. You've to identify yourself. Are you a hot or a cold sleeper?
The answer will help you narrow down your search. Note, men generally sleep up to 10 degrees warmer than women and thus choose bedrolls with higher ratings. Also, consider the camping site prevailing weather condition and your tolerance for cold. For example, a 15F rated bag will likely be an overkill if you hardly hike in below-freezing temperatures.
Remember, you can increase the temperature rating by adding layers. For example, sleeping in wool base layers, long johns, a warm hat, hooded jackets, gloves etc. With this, it's up to you to select the temperature rating that suits your needs.
Insulation
Your body and not the sleeping bag generates heat. The bag only serves to trap the warmth in an enclosed space keeping you warm throughout the night. Therefore, bags with greater insulation are warmer while roomy bedrolls are cooler as the surface area to be heated up is larger.
Sleeping sacks are obtainable with either synthetic or down insulation. Synthetics provide better insulation when wet, dries more quickly and are cheaper when compared to downs. However, most are sewn-through which lowers their efficiency.
In their case, downs have a higher warmth-to-weight ratio (30-50% less), last 2-4 times longer and are more compressible (to almost half the size) than synthetics. They're efficient as most are welded rather than sewn-through into the fabric, eliminating stitch holes.
All downs aren't equal and they vary based on their 'fill power' – a quality rating that determines the amount of insulation a given down weight provides. Higher filler powers downs offer more insulation per unit weight. As water lowers the insulation properties of a down, it's advisable to go for a hydrophobic insulation material.
Goose or duck down?
According to IDFL (International Down and Feather testing Laboratory), geese down offers more volume and consistent higher-quality and more durable loft than duck down. However, each type has a range of quality, so select accordingly based on the bag's application, environment and season, your level of experience and budget.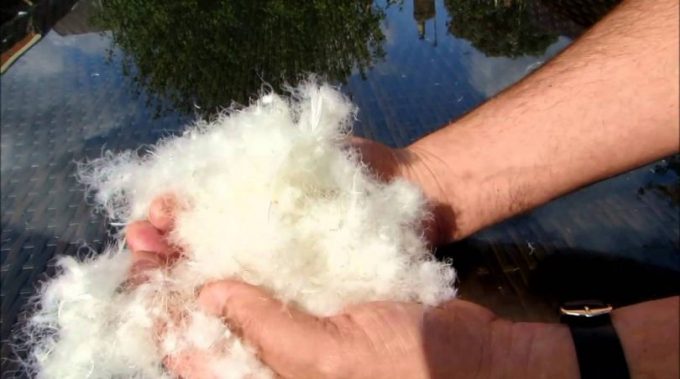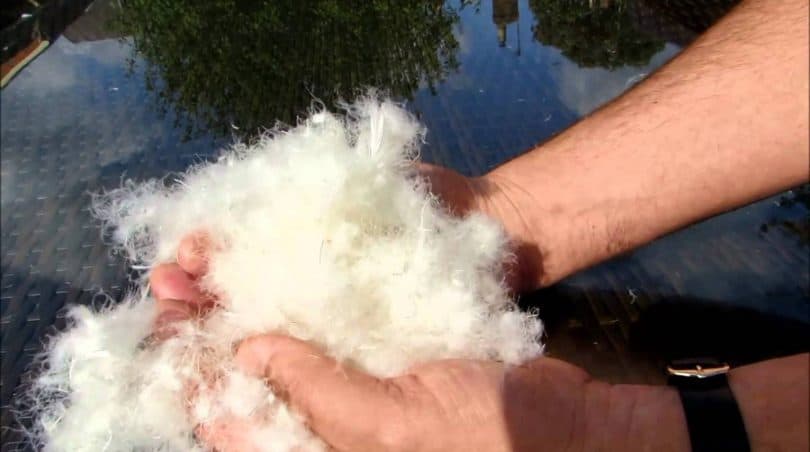 In addition, following advanced technology in outdoor gears, some models combine synthetic and down fill resulting in a high performing hybrid. In some cases, the blended insulation is applied throughout the bag while in others, the lofty insulation is at the top and the durable down at the bottom.
Shell fabric
Ultralight sleeping sacks are crafted from various shell fabrics. While purchasing the bag, consider the fabric performance in terms of water and wind resistance, down proof-ness, texture, thickness, and durability.
The thickness of a fabric is determined by a denier (D) that compares the thickness and the number of fibers in a material. The thickness mainly impacts on weight and the strength of the fabric where the higher the denier number the greater the strength. Sleeping bag models are available in deniers ranging from 10D-75D.
As expected, lighter bags are less resistant to abrasion and less durable as compared to heavier bags. Nonetheless, no bag is extremely durable when being rubbed against rough rocks or snapped against sharp thorns and twigs. Remember, these bags don't see much wear and tear due to abrasion and thus, their durability is based on how well you take care of them.
You deserve a good night sleep, therefore, go for models that are windproof, breathable and have a decent resistance to water. It's advisable to carry a synthetic bag when camping in damp places.
Size
Just like any outdoor gear, a sleeping bag should be fitting. When lying in it, the fit should be snug to minimize the empty space to be heated up. However, the bag shouldn't be too restrictive and hence the need to confirm that it's dimension are the right fit for you. Some manufacturers craft stretchable bags that are ideal for a personalized fit.
Shape
Experts recommend mummy-shaped or semi-rectangular shaped sleeping bags as they're versatile and can work while car camping or backpacking. A semi-rectangular shape is best for campers who find mummy bags too constrictive or those with larger frames. Remember, have a wiggle room but not too roomy for a warm night.
Bag design
Consider features such as zippers, draft collars, pockets, hoods etc. Bag zippers impacts on the ease of use, weight, and mating of two sacks into one. A full-length zipper increases ventilation, flexibility, and ease of use. On the downside, the zipper will result in more extra weight unlike a ½ length or a ¾ length zipper.
Meanwhile, when mating two bags ensure that the bags' zipper length and size are compatible. One zipper should be on the right and the other on the left. However, mating two bedrolls create spaces/gaps inside reducing their efficiency in terms of keeping you warm. It's advisable, therefore, to purchase a double sleeping bag instead.
A hooded model is ideal as the hood prevents warmth from radiating away. Some hats provide a pillow pocket that becomes a comfortable pillow once stuffed with clothing. Nonetheless, hoods result in an added weight which renders most Ultralight models hoodless to save weight.
Bags with draft tubes are warmer as these insulation-filled tubes prevent heat from escaping via zipper coils. Draft collars are baffles around the head and neck that prevent cold from seeping in and warmth from escaping. Differentiated cords help adjust the neck opening accordingly, for ventilation and warmth purposes.
Stash pockets serve as a storage for small yet valuable items e.g. phones, watches, glasses etc. Pad loops allow you to secure the pad on your bag minimizing chances of rolling off while a trapezoidal foot box design provides adequate space around the feet for a more natural and relaxed sleeping position. With this in mind, select a bag with features that suit your needs.
Weight
Ultralight sleeping bags are generally light, but the weight varies from one brand to the next. Regardless of your level of experience or the bag's application, you should purchase a bedroll that errs on the lighter side.
Don't just purchase an Ultralight sleeping bag for the sake of lightening your backpack. Consider other important features too. Remember, a quality bag should keep you warm, dry and cozy all night long and following the tips above, you're bound to obtain a bag that's a perfect fit for your needs.
Reviewing the best Ultralight sleeping bags
Whether you'll be car camping, kayaking, bike touring or backpacking, there's a lightweight sleeping bag out there for you. Are you open to recommendations? Here are the top picks by experts that are worth your while.
Kelty Cosmic Down 20 Sleeping Bag
Weight: 3.7 pounds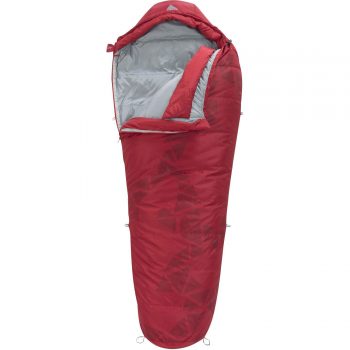 Dimension: 6 x 12 x 18 inches
Features: Thermal-comfort hood fit, top draft collar, anti-snag 58" dual-slider locking zipper construction with a draft tube, 50D polyester taffeta lining, FatMan and Ribbon drawcords, LEFTnotruc shell, 20F temperature rating, 550 fill-power down
Best use: Hiking and camping, moderate backpacking, bike touring, peak bagging
Are you new to the outdoors world or are just in need of a new bag that doesn't cost a fortune? Either case, Kelty Cosmic Down 20 Sleeping Bag is the ideal choice. The hooded bag keeps you warm in cold nights following its hood that prevent heat from escaping, the draft collar that ensures no heat escape or cold seep in around the neck, the draft tube along the zip which prevents warmth escape via zipping coils and the 550 fill-power down that provide ultimate insulation.
The taffeta lining being soft guarantees you a comfortable sleep alongside preventing sweat accumulation as it's breathable. The drawcords and full-length zipper result in a versatile bag. You can open it fully to serve as a blanket during warm summer days, enclose yourself on cold nights or just adjust the neck opening for ventilation and warmth purposes. Planning for a hike along Colorado trail, carry Cosmic down 20 for a sound sleep.
Marmot Plasma 15 Sleeping Bag
Weight: 1 pound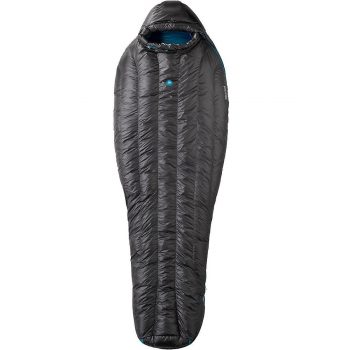 Dimension: 5 x 8 x 14 inches
Features: 15F temperature rating, hydrophobic 875+ fill goose down, vertical baffle system, DRW coated Pertex and Ripstop nylon shell, hooded design with drawcords and insulated collar, down-insulated draft tubes, trapezoidal foot box, anti-snag zipper construction, Ultralight stuff sack
Best use: Backpacking, camping, bike touring, kayaking
With a lower-limit temperature rating of 18F, this Marmot Plasma 15 Sleeping Bag is suitable for occasional winter outings and a 3-season use. It's filled with Ultralight and super-lofty 875+ goose down that offers unsurpassed warmth-to-weight ratio. The shell is durable, soft and water resistant for a dry and cozy night.
Insulated collar and hood drawcords envelop your shoulders and head in warmth while the down gusset allows you cinch the hood comfortably. Vertical baffles keep the down fully lofted preventing cold spots while the down-insulated draft tubes keep cold at bay along the full-length zipper. In addition, the trapezoidal foot box provides your feet with a freedom of movement which results in a cozier night sleep.
Mountain Hardwear Ultra Lamina 15 Sleeping Bag
Weight: 3 lbs 1 Oz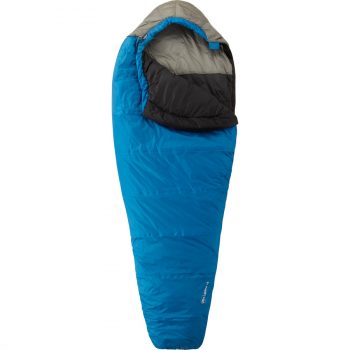 Dimension: 22.3 x 12.5 x 10 inches
Features: LEFTnotruc fabric, mummy shape, Thermal. Q insulation, soft & wind-resistant lightweight shell, welded lamina construction, dual entry half-zips, nylon stuff sack, shoulder-level internal pockets (zippered)
Best use: Backpacking, peak gearing, camping, bike touring
Despite the high price, this Mountain Hardwear Ultra Lamina 15 Sleeping Bag is crafted to keep you warm on cold nights. Thermal. Q insulation (that is lofty, soft and compressible), half-zips, and wind resistant shell combine to keep cold at bay. The welded lamina construction boost the bag's waterproofness alongside resulting in a warmer bedroll, unlike the sewn-through counterparts.
Mummy shape result in a snug fit which is ideally warmer due to reduced surface area to be heated up. Zippered internal pockets provide storage for small items like phones, glasses etc. while the nylon suck makes it easier to transport the bag to and from the camping site.
Marmot Lithium 0F Down Sleeping Bag
Weight: 1 pound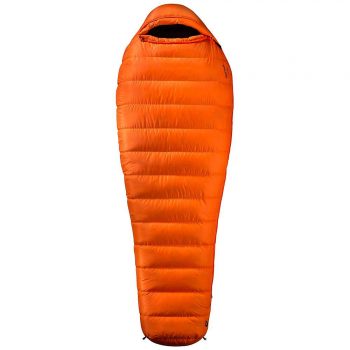 Dimension: 5 x 8 x 14 inches
Features: Certified 800+ fill-power goose down, fold-down, anti-snag zipper construction, smooth-curved baffles, 0F temperature rating, Ultralight Pertex and Ripstop nylon shell, anatomically designed foot box, a hooded design with drawcords
Best use: Camping, peak-bagging, bike touring, backpacking, kayaking
Don't let the price hinder you from acquiring this magical sleeping bag. Marmot Lithium 0F Down Sleeping Bag is crafted to overcome whatever challenge a rugged trail may dish out. With its stuffed goose down, the bag can keep you warm on a winter night out. The curved baffles prevent heat escape by radiation while eliminating cold spots which ensure you're warm throughout the night.
Ultralight shell is breathable and waterproof which keeps you dry alongside preventing sweat accumulation. A fold-down zipper makes it easy to use the bag alongside allowing you to customize the ventilation when the air is stuffy. Moreover, the zipper is lined with draft tubes for heat retention. The foot box is anatomically designed for additional warmth and the hood has drawcords for a customized fit. In addition, the bag has a slash pocket that provides storage space.
Slumberjack Latitude Sleeping Bag
Weight: 3 lbs 14 oz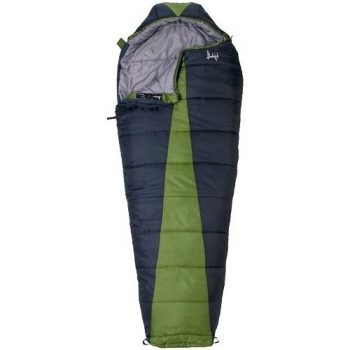 Dimension: Regular size: 82 x 32 inches
Features: 20 F temperature rating, slumberloft synthetic insulation, differential cut design, flip over hood, polyester taffeta liner, anti-snag zipper construction, trapezoidal foot box, insulated draft collar, 2-layer offset construction
Best use: Camping, moderate backpacking, bike touring, traveling
This Slumberjack Latitude Sleeping Bag help alleviates cold for sound sleep on backpacking trips. The sensation slumberloft insulation, flip-over hood, insulated draft collar, a draft tube along the zipper and mummy design shape combine to keep you warm by preventing heat from escaping and cold from seeping in. Taffeta liner being soft provide you with a smooth feel in rugged and harsh camping conditions.
That differential cut and 2-layer offset construction prevent cold spots while the trapezoidal foot box creates adequate room around your feet for enhanced comfort. In addition, the bag comes with a stuff sack for easy transportation. Will you be camping on summits of 1400ft peak? Include this sleeping bag in your overnight kit for sound sleep.
REI Co-op Igneo Sleeping Bag
Weight: 1 lb 13 Oz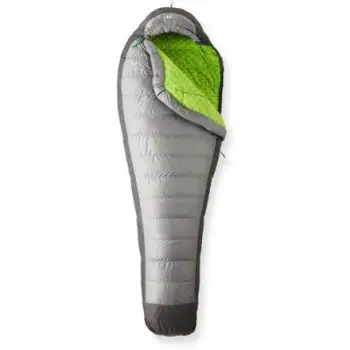 Dimension: Shoulder: 60 inches; hip girth: 55 inches; length: 72-78 inches
Features: 19F temperature rating, REI double-protection design, 700 fill-power duck down, Ripstop nylon shell, contoured and differential hood, neck drawcords, nylon stuff sack
Best use: Camping, peak gearing, backpacking, off-trail hiking
This 3-season mummy sleeping sack features REI's protection design that makes use of waterproof/breathable fabrics and water-repellant down to keep you warm and dry. The shell of REI Co-op Igneo Sleeping Bag is treated with DWR to further protect the insulation layer. It has an indispensable weight-to-warmth ratio with the contoured hood, full-length draft tube and insulated face muffler working together to retain body heat inside the bag.
The differential hood and neck drawcords simplify adjustments while REI in-the-round design incorporates vertical baffles for ultimate warmth. In addition, the bag is available with a nylon stuff sack for easier carrying. What's more? The bag can be mated with other backpacking bags to accommodate more than one individual. For a fun arctic adventure, carry this sleeping bag.
Sea to Summit Trek Tk II Sleeping Bag
Weight: 2 lbs 7 Oz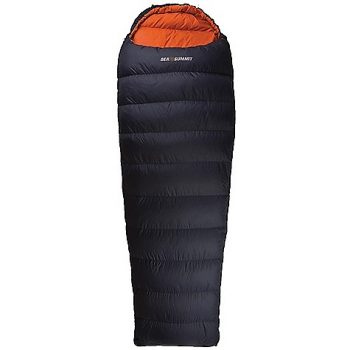 Dimension: Long fit length: 78 inches; shoulder: 61 inches; hip girth: 60 inches
Features: 650+ fill-power duck down, 18F EN lower-limit rating, anti-snag zipper construction, 33D coated with DWR outer shell, breathable 40D liner, full-length side and foot zippers with draft tubes, semi-rectangular shape, differential cut design, large internal security pocket, baffle construction, ultra-sill compression sack, mesh storage sack
Best use: Backpacking, traveling, camping, peak gearing
The Sea to Summit Trek Tk II Sleeping Bag is an ultra-weight, 3-season bedroll with a spacious semi-rectangular shape and an extremely breathable, high-loft and water-resistant 650+ duck down for ultimate warmth and compressibility. Shell fabric is crafted of a 33D material coated with DWR for durability and waterproofness. The lining is a durable, breathable 40D nylon for sound sleep.
Full-size zippers enhance the versatility of the bag while the semi-rectangular shape provides an adequate room as compared to a mummy design for a comfortable night sleep. The baffle construction ensures that the down remains fully lofted while the security pockets provide storage space for essential items. What's more? You get to rip all these benefits at an affordable price.
Related: Sleeping bags from Sea to Summit have the same design, fit and materials. Therefore, for a bedroll with similar features as the Trek Tk II but relatively drier and warmer; purchase Sea to Summit Trek TKI Sleeping Bag.
Western Mountaineering Versalite Sleeping Bag
Weight: 2 lbs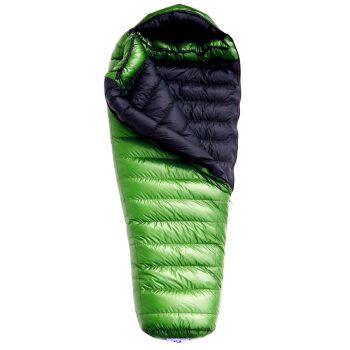 Dimension: 24 x 10 x 10 inches
Features: 10F temperature rating, full down collar, 20 Oz down fill, 850+ goose down fill, mummy shape, interlocking draft tubes
Best use: Backpacking, bike touring, camping, peak bagging, kayaking
Sporting a premium 850+ goose down, highly breathable shell fabric and a full down collar, the light western mountaineering mummy bag is the best choice for a 3-season use. The Western Mountaineering Versalite Sleeping Bag has unmatched weight-to-warmth ratio thanks to the goose down, interlocking draft tubes and the mummy shape which result in a snug fit minimizing surface area to be heated up.
Its wide shoulder girth enables you to add extra insulation layers in harsh cold environments. Are you a mountaineer looking to push the limits while carrying your overnight kit? This mountaineering sleeping bag has you covered.
Related: Western mountaineering bags have almost similar features. So, if you're looking for a bedroll similar to the versatile mummy described above but with a lower temperature rating; Western Mountaineering Antelope MF Sleeping Bag is the right pick.
Summing it all up
Selecting just the light sleeping bag can be overwhelming. Carrying out an intensive research and comparison can be tiring with the breathtaking variety of lightweight sleeping sacks in existence. Avoid the hassle! Follow the guidelines outlined above or just go for one of the recommended models for a fun adventure.
Which is your favorite ultralight sleeping bag? Why is it your best choice? Leave your response in the comment section below.