It needs no mentioning that phones are the only sure way to stay in contact with your near and dear ones when you are out in the wild. As of late, smartphones can do multi tasking which results in draining of the power juice a little early. In such a case, having an alternative power source is something you cannot afford to ignore, don't you think?
There are several portable travel chargers you can use to charge your phone or tablet while in the wild. However, the point to note is that not all travel charging solutions are the same. With so many options available in the market, it's not too difficult to come across a portable charger that is a complete waste of money.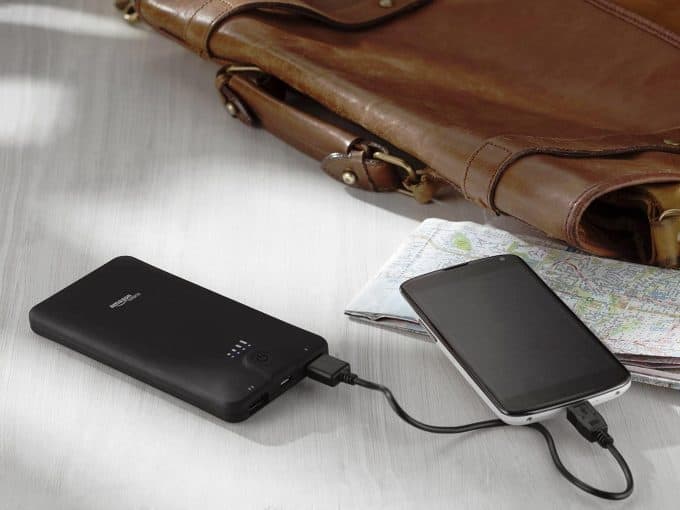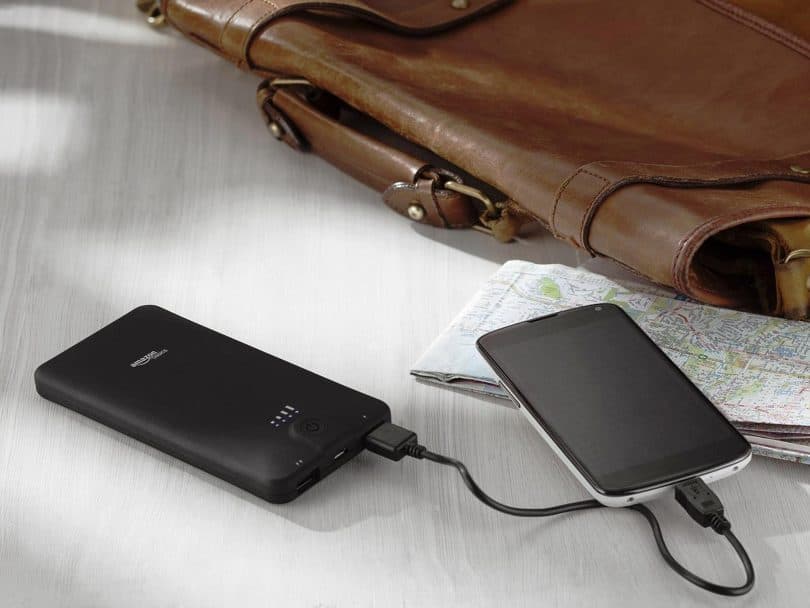 If you require some help with shopping for the best travel charger, then you've come to the right place. Below, we have created a quick guide on features to look at when shopping for an outdoor charger. Plus, be sure not to miss our reviews about some of the top rated chargers that you can buy.
Our top picks
| Product | Power | Batteries | Defining Feature | Price |
| --- | --- | --- | --- | --- |
| Zendure A3 | 10000 mAh | 3 Lithium ion batteries | Single wall charger with ultimate charging | Check price on Amazon |
| Jackery Giant+ Premium | 12000 mAh | Lithium-ion battery cells | Convenient LED Indicator | Check price on Amazon |
| Lumsing Universal | 10000 mAh | Li-Polymer Battery | Sleek & compact design with high safety | Check price on Amazon |
| Juno Power Hue Pro | 10000 mAh | Samsung Lithium Ion cells | Dual USB 5V 1A/2.1A, Digital LCD Screen | Check price on Amazon |
| Mophie Powerstatin Duo | 6000 mAh | 2 Lithium Metal batteries required | Up to four complete battery charges for most smart phone devices | Check price on Amazon |
| Anker PowerIQ | 10000 mAh | Lithium ion battery | Excellent powering technology | Check price on Amazon |
| IOGEAR Accessory GearPower | 16000 mAh | Lithium ion battery | 4 Bar LED Indicators Input | Check price on Amazon |
Features to Look For When Buying
Picking the right travel charging solution is one the most important steps to enjoy your outdoor activities. Before you give out your money you need to be sure that what you are about to buy is the right one. Here are a few things you can look for:
Efficiency
An important point to note is that no charger is 100% efficient. However, the best power bank should give you 90% energy efficiency. This means that it should be able to give you full charges on your devices such as tablets and phones.
So, you need to look for a device which is capable of giving 100% battery charge to your device. At least two to three full charges would be preferable.
Input and Output
A good charger should support the modern Quick charge USB 3.0 as well as the USB-C standard. Power banks that support both input and output are the best. You can charge it while you are charging your phone at the same time.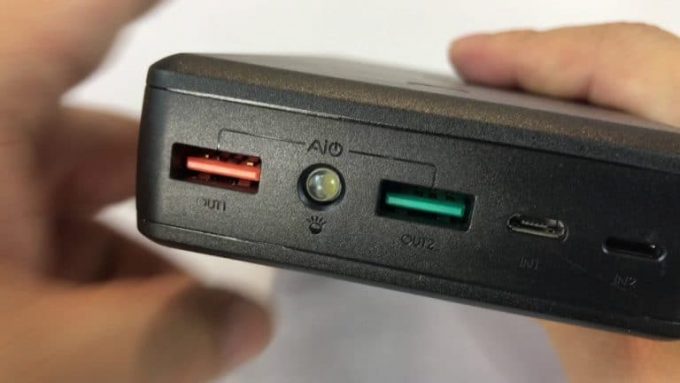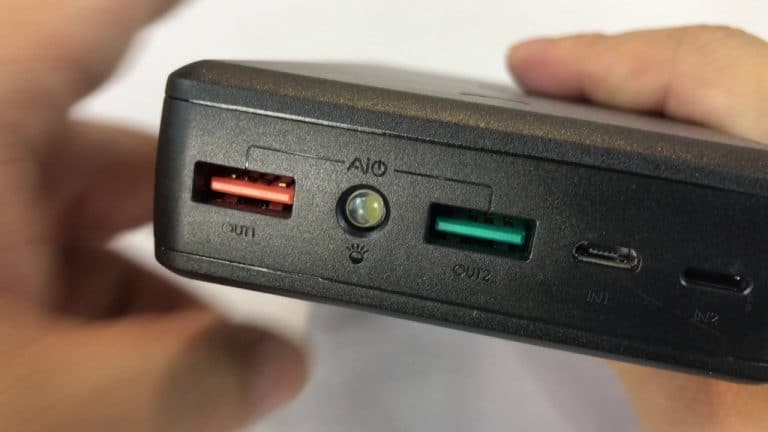 Moreover, a travel charger with input and output are the best as this property makes them easily and quickly rechargeable.
Capacity
It is important that you look at the capacity of the power bank. The capacity is expressed in terms of milliamp hours. If you check on the product it should be marked as "mAh". If you are using a tablet like an iPad then you need a travel charger with a higher capacity.
Larger devices such as tablets consume more power and thus needs a travel charger with a higher capacity. A travel charger with 10 000 mAh capacity should be good enough as it gives the ability to charge your tablet or phone from zero battery to full one.
Protection
Even though the casing is not the most important consideration when buying a travel charger, it is still worth considering. Since travel chargers are carried outdoor, chances of them being damaged is high. It is, therefore, important to ensure that your charging solution is well protected. The best way to ensure that you do not lose your battery is to make sure that it has a strong casing.
The casing can come in different varieties and materials. The choice should be made based on the stability and durability of the material itself.
Compatibility & Cable Length
Normally, several travel chargers will come with their charging cables. However, it is important to check for universal compatibility. If you have various devices, e.g. Android phones, iPhone and many others, you will need to have a charging device that can charge them all.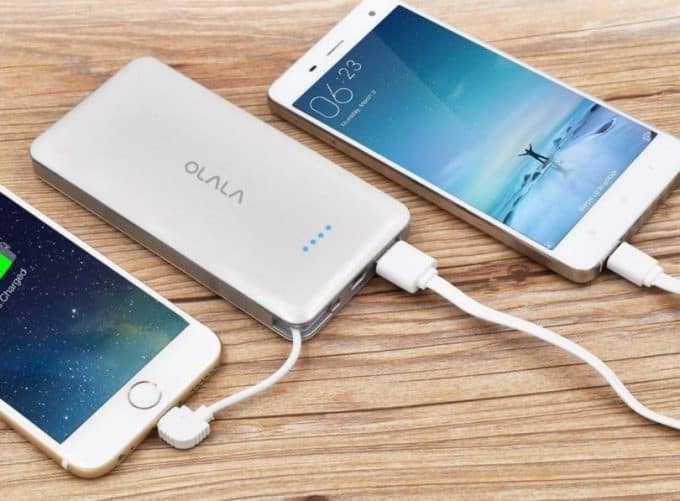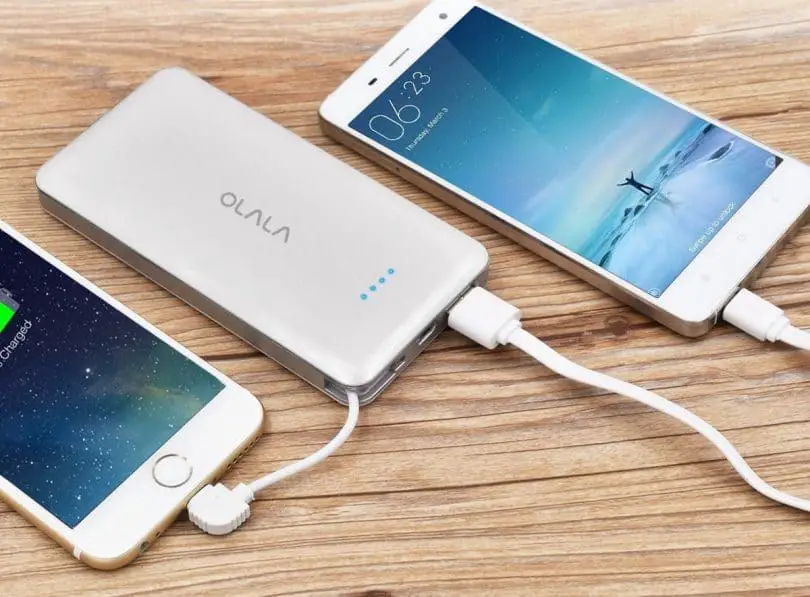 The length of the cable is also very important. Under circumstances where the charging cables are shorter it ensures that the device is compatible with your devices. This way you can use the cables you already have. On the other hand short cables are good for charging phones while in your pocket.
Size and Weight
The size and weight of the charger also matters. This is something you will be carrying around while you're hiking so it needs to be light and with a manageable size. You don't really want to lug around a heavy and large charger as it adds to your backpacking weight. Find a mobile charger that is light and portable.
It is also important to look for some extra features. While these features may not be the deciding point, they are important. Travel chargers with such features like a built in LED flashlight are very important.
In outdoor situations, an extra source of illumination is definitely not a bad thing. In addition, a LED indication system is also a fine feature to look for on a portable charging device.
Best Products on Today's Market
Having your phone battery die down when you least expect it is one of the most disappointing experiences you can ever go through, not to mention the inconveniences. To avoid experiencing this, you need a good travel charger. A good charger should be able to charge your devices more than once and these are our favorite products on the market.
Zendure A3 Portable Charger
Price: Approx. $38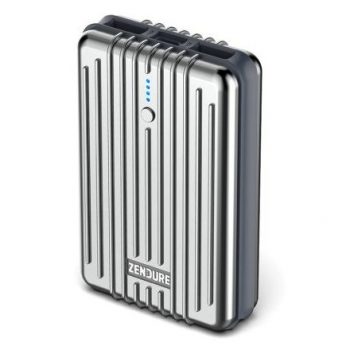 Weight: 7.2 ounces
Dimensions: 3.78 x 2.44 x 0.94 inches
Specific features: Lithium-ion battery, crush proof, USB Ports automatically detects your device
Best use: Mountaineering, hiking, battery backup
The Zendure A3 Portable Charger is one of the best ones out there, it can last long and recharge your phone repeatedly. At a maximum charging speed of 2.1 A, it is one of the fastest chargers you can use to charge your devices. This charger works well with various devices be it an iPad, iPhone, Android phones among others.
This makes sharing or charging multiple devices much easier and convenient. For an outdoor enthusiast, this charger is an easy recommendation. It comes in the right size and the right weight and it is the most convenient accessory for outdoor activities.
The ridges offer a non slip grip which provides better handling. The silver body is also durable, comfortable and stylish. Despite the rugged design, it's actually quite sturdy. The silver casing gives it a stylish look and it looks like more of a modern hard shell suitcase.
The advantages of this silvery coating are that it gives the ridges and body extra strength. Besides, it is durable it is also made up of protective materials that protect it against damage. Unlike other portable chargers, this charger comes with shock absorbing belt that also promotes stability.
PROS:
Durable
Fast charging
Stylish look
Related: The Soluser Portable Solar Charger comes with external battery pack charger. The charger is an excellent pick when you want to rely on sun rather than any source of electricity. It's an IP67 water resistant 2 USB ports solar charger. The 4 LED indicators show the power status of the flashlight and the 2 LED lights can be used as the emergency lights.
Jackery Giant+ Premium Portable Battery Charger
Price: Approx. $26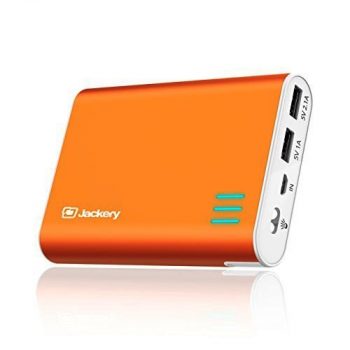 Weight: 32 ounces
Dimensions: 3.1 x 0.8 x 4.3 inches
Specific features: 12,000 mAh, compact design, premium grade A Li-ion polymer cell
Best use: Long flights, long hikes, camping
The Jackery Giant+ Premium Portable Charger has one of the highest capacities around. With this travel charger, you can charge your tablet more than 4 times as it has an output of 3.1 A. This travel charger has dual USB ports making it one of the easiest solutions for charging.
With a polymer cell, together with a premium microchip, this charger stands out among other travel chargers as the world latest and most powerful portable charger. It has 4 layers of protection which makes it a great fit for a wilderness adventure.
With its high speed charging capability, it's easy to recommend this one. Besides its capabilities, it also has a wonderful modern look. The sleek aluminum casing and LED indicator make it the most stylish charging solution out there. With an output voltage of 5 V, this charger can charge a variety of devices. You can charge your iPhone, iPad, as well as other android devices simultaneously without waiting.
PROS:
Good charging capacity
Sleek design
High speed charging
CONS
:
It doesn't come with AC wall charging adapters
Related: The iQuinx MiniPower Portable Charger is a lightweight power bank with 3351 mAh power capacity. When it comes to a charger with daily use capacity, you won't find a better option than this. The smart charging technology leads to detection of the device automatically and then offers a proper charging speed.
Lumsing Universal Power Bank
Price: Approx. $15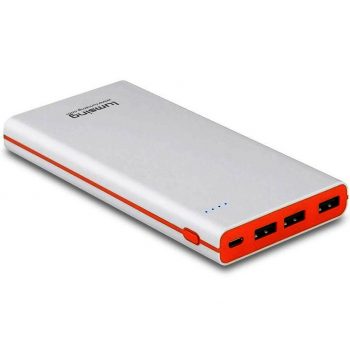 Weight: 8.46 ounces
Dimensions: 5.4 x 2.3 x 0.8 inches
Specific features: A grade-A lithium ion battery, compact design, can charge an iPhone 6 four times
Best use: Charging multiple devices outdoors, hiking, camping
The Lumsing Universal Power Bank is yet another must have. It has a powerful and reliable battery pack. With its grade-A Li-ion battery, you are sure to get more than 500 recharge cycles and it delivers up to 3.1 mAh. It is also compatible with various devices, can charge various devices such as tablets, smartphones and many others. To be more specific, it charges iPhone 6 up to four times.
Well designed and quite handy. It is sleek and feels comfortable to carry. Its silver casing gives you an excellent feeling and marvelous look. The external sturdy resin and internal double layer structure protect the case against impact. We say there is nothing to worry about even when you are using it in the worse situations.
If you want to go camping in summer, then this is the best portable charger you can have, especially for any 5 V device. It weighs about 8.46 ounces which makes it just light enough to carry around. With a soft case, this device is well protected.
Given it has good charging capacity, it is durable and compact, we surely recommend it for camping, tracking, and other outdoor trips.
PROS:
Smart external battery charger
Sleek and compact design
Protection from impact
CONS
:
You need to click the small button for starting
Related: The KMASHI 10000mAh Portable Power Bank is one of the chargers that you might like to have a look at. The smooth varnish covering allows you to light up in style. Its 4 status LEDs keep you informed about the capacity of the battery. Ultra high density battery cells are being used to manufacture this external power bank.
 Juno Power Hue Pro Portable Charger
Price: Approx. $40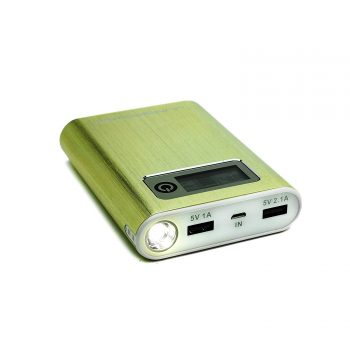 Weight: 8.8 ounces
Dimensions: 4.2 x 3.1 x 0.9 inches
Specific features: Lithium-Ion battery cells, digital LCD screen
Best use: Backpacking, hiking, camping
The Juno Power Hue Pro Portable Charger is a well designed charger, which happens to be very light, stylish, and powerful. This device comes in gorgeous colors such as silver, blue, gold, and black. It is one of the most advanced portable travel chargers on the market.
This charger can be used to charge tablets, cameras, smartphones, and any other devices that require 5 V. Apart from just being efficient, this travel charger is also very durable. If you are looking for a universally compatible device, then this is a good option. It works well with a variety of devices be it Samsung, HTC, or Nexus 4 among others.
This device is also very well protected. It comes with a well designed aluminum casing giving it an elegant design and durability. It's one of the better chargers in terms of durability. The Hue Plus is very lightweight and portable which is how most people would prefer their travel chargers.
This charger allows you to charge up to two devices at once, making it the most effective portable power source in its class. It also features a small LCD screen that allows you to know exactly how much power is left, so you can always tell at a glance when it is time for a recharge.
PROS:
Beautiful design
Durable
A number of colors to choose from
Portable battery
CONS
:
The location of the power button can accidentally get switched on
Related: The Lepow POKI External Battery Pack comes with safe lithium-polymer batteries that charges fast and gives enough juice to your smartphone. It easily fits in your pocket without having it to slip anywhere. Because of its reliable and compact design, this is surely going to work the best for you.
Mophie Powerstation Duo Power Bank
Price: Approx. $31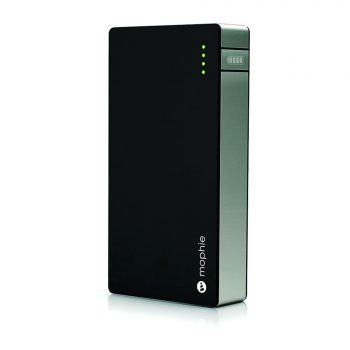 Weight: 23.9 ounces
Dimensions: 4.5 x 4.2 x 1 inches
Specific features: 6,000 mAh
Best use: Backpacking, traveling, hiking, camping
The Mophie PowerStation Duo Power Bank is one high capacity travel charger. This device is compatible with various mobile devices. At first glance, this charger stands out for its design.
It has a black rubber coated plastic body that provides a nice ergonomic grip. It is not as heavy as other travel chargers but it certainly has a bit of weight to it but still easy to carry around.
With a capacity of 6000 mAh, it is capable of giving you 4 recharges and maybe even more depending on the device. With this device, you can comfortably charge two devices simultaneously.
If you need fast ultra fast charging with a decent capacity, this is one of the better options out there. We tried it with both iPhones and iPads. For iPhones, it can charge up to 2 – 3 times and for the iPads you can charge it at least 75% in one cycle.
Overall, it's a great portable power bank that gets the job done.
PROS:
Excellent portable battery
Great for iOS devices
Up to four full charges
CONS
:
Expensive yet high quality product
Anker PowerIQ Power Bank
Price: Approx. $26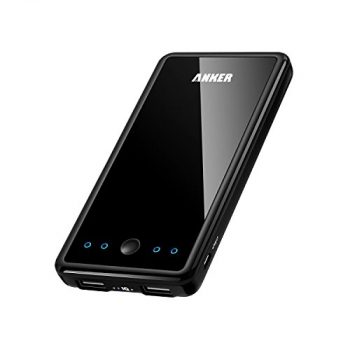 Weight: 8.64 ounces
Dimensions: 5.4 x 2.6 x 0.7 inches
Specific features: Faster charging, light weight
Best use: Hiking, camping
The Anker PowerIQ Power Bank is another charger with high compatibility as it can work with multiple devices. Its USB ports can work for both numerous Android devices. It has an energy efficiency of about 70% which should be more than enough for a portable charging solution.
While it cannot compare with other high capacity travel chargers, it's still a solid pick when it comes to a 5 V charger. The capacity is good enough and you can charge your phone more than 4 times.
In addition, this charger is also a lighter which is a nice additional feature. This makes this model an attractive option for outdoor lovers. The unit provides all the bells and whistles of a great charger with its fast charging and additional features.
PROS:
Ultra high capacity
Remarkably compact
Premium performance
Related: The Smiphee iPhone 6 Battery Case is one of the products we would like you to consider buying. Sturdy and lightweight, this is the slimmest option you can put your hands on. It will add nothing more than 2.22 ounces to your phone, which won't be more than a feather.
IOGEAR Accessory GearPower Power Bank
Price: Approx. $40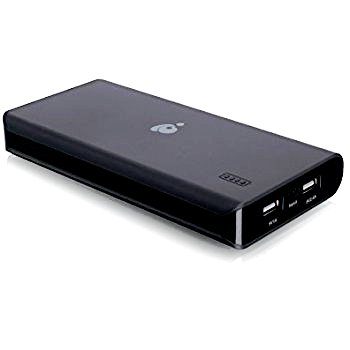 Weight: 15.1 ounces
Dimensions: 3.3 x 6.4 x 0.9 inches
Specific features: 16,000 mAh, Lithium ion battery
Best use: Outdoor events where there is no A/C power
The IOGEAR Accessory GearPower Power Bank features two output ports, 1 A and 2.4 A and comes with a protective pouch. This means that it is capable of charging two devices simultaneously which is a great feature to have for your outdoor adventures. With a micro USB cable, it works just fine as it is and you do not need any extra cables.
Besides having the capability to charge two devices simultaneously, it has protective capacity against overcharging, extreme temperature as well as short circuits. The 16,000 mAh capacity means you won't be running out of reserved battery anytime soon.
Due to its weight, the unit cannot fit comfortably in a pocket but it should have no problem fitting in your pack. You can place it in your bag pack and carry it for most of the outdoor activities enjoying long talking hours.
PROS:
Durable
Comes with protective pouch
Short circuit protection
Related: The Cable Leader 3 Ports USB Charger is one of the options you should consider with this product. It's a USB charger with 3 ports and 2 AC outlets aluminum power strips. The device is built it for supporting over current, over voltage, as well as other short circuit problems. It is suitable for Galaxy tab/note, iPad, iPhone, as well as other USB powered devices.
Bottom Line
With current technology, phones, tablets, and other handheld devices are becoming more sophisticated daily. As a result, they consume battery power faster. Manufacturers have not yet got their act together with regards to coming up with long lasting batteries but that's a topic for another day.
So in the meantime, you really need to get a portable charger if you're always doing outdoor activities or traveling.
Do you have a travel charger? Which one is your favorite? Feel free to share with us how your travel charger has been of help to you in the comment section. You may also share this article in your social media feed.