If you are often outdoors, then you understand the meaning and importance of basic needs- food, shelter, and clothing. Under the food category, there is water, which is a critical aspect of surviving while you're undertaking your outdoor activities.
If you will be on a camping trip or a mountain climbing expedition; for example, then you need to identify a source of water near you. This is not usually difficult to find if you did your research before taking the trip. However, finding a source of water and being assured that it's safe for drinking are two very different things.
This is where the best survival straw filter on the market comes in handy as it naturally cleans your water instantly. So basically, a straw water filter is a device that helps you purify your drinking water as you're drinking it. It is a handy item to have with you when you are not very sure of the source of water and how safe it is for drinking.
Throughout this article, you will find useful information on how to choose the best straw filter around and how to use it for the best results, so read on.
WHAT TO LOOK FOR IN GOOD STRAW WATER FILTER
Just like you'd expect, straw filters are made differently. They all have different properties, which make them have very different capabilities compared to others. However, the primary use of a straw filter is to purify your drinking water without a lot of fuss.
The kind of filter you choose depends on the kind of area you will be. For example, if you will be in a swampy place, you may need a different kind of filter than if you're in a dry area.
That aside, these are the basic things to look for when purchasing a straw filter:
Lightweight: The straw filter you choose should be light hence easy to carry since you do not need any unnecessary weight added to your backpack.
Capability: Most straw filters can filter out bacteria and protozoan cysts, but this varies from one manufacturer to another. So check the label for the instructions and determine whether it makes sense or not.
Size: It should not be too large not too small for reasons related to carrying it around and also ease of use.
Speed: The time each purifier takes to purify the water is different from one to the other. Some take considerably long. Hence you should opt for the fast one.
The number of times you can use it: Some filters can only be used once then disposed of while others can last quite a while. Consider of where you will be traveling then decide on the best brand based on that.
Organic: The best straw water filters should be natural and chemical free to prevent you taking in more chemicals than you are filtering out.
Legitimacy: The straw filter that you choose should follow all the EPA regulations on the making of filters to ensure that you are using a safe to use the product.
Durability: Most straw filters are made of plastic. However, some straw water filters can be made of a very weak plastic material which makes it easy for them to break. Make your investment worth it by opting for a durable product that won't break easily.
Accessories: Some filters come with useful accessories such as straw extensions and tools for cleaning which help you ease the work of drinking and allow you to clean it easily.
Ease of use: It should be easy to use such that you simply need to suck in the water and that's it. Some can get quite complicated to use, and you may end up giving up on them.
BENEFITS OF STRAW WATER FILTERS
The benefits of this valuable thing are pretty straightforward, and they include:
Easy to carry around as they are hand sized.
Purify water instantly such that you can drink it right from the source.
Help in killing most of the harmful bacteria making the water safe to drink.
Most are chemical free hence safe to use.
An affordable way of filtering water from any source, making it safe to drink.
A GUIDE TO CHOOSING THE BEST STRAW FILTER
You now know what a water filter is and what you should look for when you are purchasing one. However, you also need to consider other things such as:
The location you will be exploring.
The kind of water found in the place and the most common bacteria, viruses and diseases.
Your budget.
How long you will be exploring the location.
You level of water intake.
Whenever you are going to purchase a straw water filter, you need to consider all of these as you choose because they will guide you in picking a custom filter for you. A custom filter does not mean that you have to order a filter that is made to your specifications; it just means that you have the perfect tool for the job.
For example, if you will be in an area with a tropical climate, the important thing to note is that the water may have a lot of bacteria and viruses such as cholera, salmonella, and ameba. The filter that you choose should have the ability to filter out all these harmful organisms and allow you to drink pure water.
As you have seen, all the filters have diverse uses, and while one may not be as strong as the other, as long as it can take care of the problem you are anticipating then it is perfect for you.
THE BEST STRAW FILTERS REVIEW
LifeStraw Personal Water Filter
Weight: 2.0 oz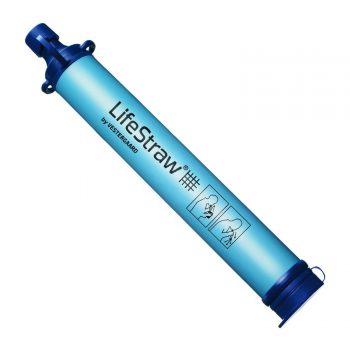 Dimensions:  8.86 x 0.98 x 8.86 inches
Features: Very lightweight, chemical-free, it is easy to use, has no defined shelf life and can be used in over 1000 gallons of water
Best use: Camping, mountain climbing, hiking, and biking
The LifeStraw Personal Water Filter is an award- winning straw filter known for its ability to filter out 99.999% of the harmful bacteria and germs in water giving you clean and safe water.
It has been labeled "the best invention of the year" by Time magazine for enabling outdoor lovers all over to drink from any source of water without worrying about health issues. One of its most known features is that it is entirely chemical free and does not have BPA which appeals to all organic lovers.
It has a user-friendly design that allows one to drink straight from the water source or easily fill up their water containers for later use. It filters out common bacteria and harmful organisms such as Salmonella, Vibrio cholerae, and Entamoeba histolitica among others.
The straw filter is one of the best to have as it gets you clear safe water to drink regardless of the source. It is also considered a must- have on your trips as it gives you a clear 1000 gallons which is quite a lot compared to what most brands offer.
You may get a bit quickly winded when using it in high altitude areas since it requires quite a bit of sucking in, but this shouldn't be a problem considering you will be getting perfectly clean water to drink.
Web-Tex British Military Straw
Weight: 7 ounces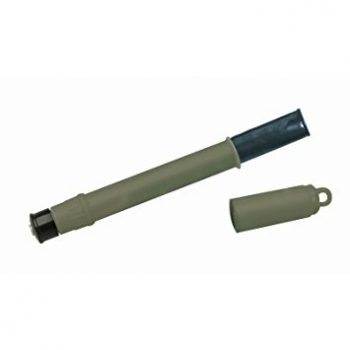 Dimensions: 18.8 cm long
Features: Easy to use, no pumping required, is fast and easy to use, very handy and lightweight
Best use: Hiking, biking expeditions, rafting
The Web-Tex British Military Straw is a relatively new straw in the US market but does not fall short of doing its work properly. It is very fast to use and efficient too, so you get clean and pure water to drink straight from it.
The Web-Tex purification system is well within the EPA regulations, so you are guaranteed that it is safe to use during your outdoor expeditions. It is well designed for ease of use and is long enough to avoid your face getting into contact with the contaminated water.
It allows you to get a clear 700 liters of clean water. There is no pumping required when using it, all you need to do is put it in the water and suck in lightly to get your clean water. The filter works against most harmful bacteria such as salmonella among others, so you are assured a fresh drink, every time you use it.
Aquamira Frontier Water Filter
Weight: 1.6 ounces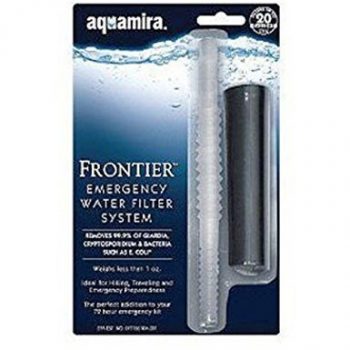 Dimensions: 8 x 4 x 2 inches
Features: Very lightweight, made in the USA, purifies water up to 99.99% and also works on protozoan cysts
Best use: Daily exercising, hiking, camping, and hunting
It is a very highly rated water filter online which shows that something is great about it. Aquamira Frontier Water Straw is very compact, easy to carry around and is well made to make it robust and sturdy. The speed and time it takes to draw water in is relatively little giving you a decent 500ml of water per minute.
Hence you don't need as much muscle to get a drink. It works on Cryptosporidium and Giardia which are quite common in contaminated water. An important point to note is that it may have quite a bit of dust in the first few draws, but this will go down depending on how much you use it.
This is why you may want to clean it all out at first before packing it for use during your hike or trip. It filters just about 50 gallons of water which is not as much hence you may need to buy quite often or have a backup during your travels.
The top part cannot fit in most water bottles hence you need to look for one with a wide mouth to make using the filter easy especially if you want to store some water.
H2O Survival Travel Max Water Filter
Weight: 1.7 ounces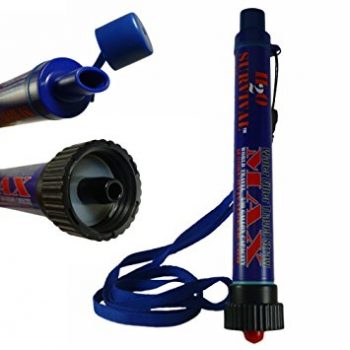 Dimensions: 1 x 1 x 7 inches
Features: Has a useful adapter that attaches to many bottles for easy transfer of water, kills 99.99% of bacteria and is quite hence can be used for an extended period
Best use: Backpacking, hiking, camping, mountain climbing, and biking
The H2O Survival Travel Max Straw is an upgraded version of the same product that was released to improve ease of use and its effectiveness. Its new and strongest feature is the water bottle adapter that makes it easy to transfer water to a bottle without any spilling.
It has an amazing 11 filtration chambers which ensure that by the time you are getting your water, it is free of every harmful bacteria. The top and bottom caps are useful for avoiding contamination during use, and when you're storing it, so you are assured that your water won't be contaminated by anything.
One of the most common problems of straw filters is clogging, but the manufacturers have combated this by including a sediment grate that prevents that, allowing you to have 2000 liters of pure water. Unlike most filters, it does have iodine but lacks the terrible taste that accompanies the component.
On the other hand, it may require you a lot more effort to suck in water compared to most other straw filters probably due to the complex filtration system, although this is not wholly a bad thing since you are assured clean water whenever you use it.
Etekcity Portable Water Filter
Weight: 4 ounces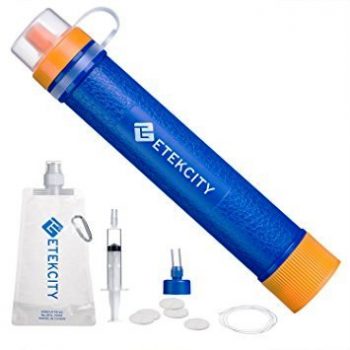 Dimensions: 1.9 x 5.1 x 7 inches
Features: It has an advanced 3 stage filtration system, comes with useful accessories for ease of use and helping with cleaning and is tested hence verified to be safe
Best use: Hiking, camping, and general traveling
Etekcity Portable Water Filter is a very affordable straw filter that is efficient and dependable that you will not regret purchasing it. The 3 stage filtration allows the water to be purified to 99.999% leaving it clean and safe to drink for everyone.
It has been verified to meet the EPA standards proving that it doesn't have any fluff claims that cannot be proven. The filter comes with accessories such as a foldable water pouch so you can carry some water even if you don't have a water bottle.
Included is a syringe for easy cleaning and a straw extension to allow you to drink without straining. The straw purifier can filter up to 1500 liters of water hence it is easy to use it for a whole year without having to replace it. It is a perfect tool to have with you and due to its affordability; you can get more than one for emergency purposes if you happen to lose it.
It is easy and fast to draw water in which is a great advantage when you are thirsty, or your source of water is not easily accessible. To ensure that this remains, you will need to clean it often using the syringe as it doesn't have a sediment grating system to help with that.
NduR 52020 Survival Straw
Weight: 0.15 pounds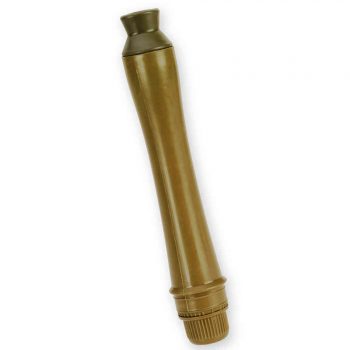 Dimensions: 1.5 x 2.6 x 7.7 inches
Features: Made using BPA-free plastic that is lightweight and easy to carry, it is EPA tested and verified for use and can filter out most bacteria, chemicals, and hard metals in water
Best use: Hiking, scouting, mountain climbing, and camping
It works on 99.99% of all bacteria, heavy metals and chemicals and has followed and passed all the EPA regulations on the manufacture of filters.
NduR 52020 Survival Straw is easy to use and suck in water using it, but it can only work for 25 gallons of water, which means that you may need to buy a couple of them or have a backup that can last longer during your travels.
It has a ceramic filter inside which is perfect as literally, nothing gets past it. It works on bacteria such as cholera, and harmful metals like mercury and lead. According to advertisements, it can filter out viruses, but this remains debatable as most people will argue that it requires a lot more to be able to kill viruses.
It is one of the smallest and lightweight straw filters on the market hence it may be the best if you don't want a lot of baggage.
FINAL THOUGHTS
The best survival straw water filter on the market is a must have even if you're not going camping or hiking to any location of your choice. It is something that you can use every day as long as you're outdoors and may not have a reliable source of water.
You may want to buy a couple and keep them just in case you need them, but one thing for sure is that you will never regret your purchase. Have you ever used any straw water filter, what was your experience? Please comment below.