Sleeping bags are an essential part of any camping trip, but when most people think of sleeping bags, they think of heavy, down bags with a below-zero temperature rating.  While many of them are constructed with cold winter nights in mind, there are just as many that are meant for camping in warmer climates. If you're looking for a lightweight and comfortable sleeping bag that won't make you overheat, the best summer sleeping bag will keep you sweat-free during your next summer camping trip.
Sleeping bags are important because not only do they provide you with a comfy night's sleep, but they also act as an extra layer of protection between you and the elements of nature. Having a reliable summer sleeping bag is beneficial because it'll allow you to avoid restless nights and sweaty mornings by keeping you at a comfortable temperature throughout the night. However, how do you exactly buy a sleeping bag for summer camp? Don't worry, because you've come to the right place.
In this article you will find tips on what to look for when choosing your next sleeping bag, how to care for your sleeping bag once you've bought it, and a list of the top summer sleeping bag choices available. Ensure that your next summer trip will leave you with cool and comfortable memories with these best sleeping bag options.
Our Top Picks
Things to Consider Before Buying
There are several factors that you should think about when looking for a summer sleeping bag. Not all sleeping bags are made equally, and different situations can call for different kinds of sleeping bags.
Take into consideration the factors below to find a sleeping bag that is comfortable and suited for your individual needs.
Insulation
There are two general types of insulation that sleeping bags are made with: synthetic and natural. Below we lay out the pros and cons of both, and which you should choose for your sleeping bag depending on your camping needs.
Synthetic is the choice insulation of most campers because of its durability and budget-friendly nature. It's also non-allergenic, making it a great choice for campers who are sensitive to other materials.
The downside to synthetic insulation is that it doesn't compact down to a very small size when compared to the natural down insulation. This makes it harder to stuff inside a backpack when going on longer hikes.
The other insulation material is made of natural goose feathers and is often more expensive than its synthetic counterpart. Goose-down insulation is great because of its insulation abilities and the fact that it can be easily compressed into a compact size perfect for backpackers.
The downside is that it's not water-resistant, and therefore not great for all weather conditions. Although in recent years, some goose-down sleeping bags have been treated with water-resistant protection to help protect your sleeping bag from rain and moisture.
Temperature Rating
The temperature rating of a sleeping bag is meant to tell its users what the lowest temperature it will be able to keep you warm and comfortable in. Although many factors go into this temperature rating—including your body size, metabolism, and the additional features you use with your sleeping bag such as a pad, warm clothing, etc.—there are three generally accepted temperature ratings for sleeping bags outlined below.
Summer (+35°and higher) sleeping bags are meant for warmer weather and terrains where you don't have to worry about the temperature dropping overnight. They are perfect for the warmer summer and spring months, and not meant for harsh winter conditions.
Winter (+10°and lower) sleeping bags rated at this temperature are constructed with extra insulation and will keep you warm through the coldest of nights. Although if the conditions you're camping in are below 10 degrees, then you may want to consider adding extra layers and pads for guaranteed protection from the cold.
3-Season (+10°to +35°) sleeping bags are the most versatile in their ability to keep you comfortable during a variety of weather conditions. These sleeping bags are the most useful during mild spring and fall nights when the weather is cool but not cold.
Naturally, we will be focusing on summer (+35°and higher) sleeping bags in this article, but keep in mind that the temperature range we mentioned was just a benchmark. Plenty of summer sleeping bags come with a temperature rating above or under the benchmark. In the end, it all depends on your individual needs.
Weight
How much your sleeping bag weighs is something you need to think about if you are planning on going on a backpacking trip, where you'll be carrying it in your sack all day. Most sleeping bags weigh in at around 1-4 pounds, depending on the construction and insulation.
Some sleeping bags are more compact than others, making them easier to fit into your backpack. Think about what kind of camping trip you are going to be taking, and take into consideration how much your sleeping bag is going to weigh you down before you choose the right bag for you.
Shape
Choosing the correct shape of the bag for you is a critical step when buying a sleeping bag. If your sleeping bag is too big or has too much room, you could be sacrificing warmth and insulation. On the other hand, if your sleeping bag is too small or tight, it could lead to an uncomfortable and cramped night's sleep.
Sleeping bags come in four general shapes: mummy, rectangular, barrel, and double-wide. Let's start with the mummy bags.
Named after the shape of a tightly wrapped mummy, mummy sleeping bags are often narrower at the shoulders and hips to provide optimal insulation. These bags are more restrictive and may not be comfortable for all types of campers' body sizes and sleeping preferences. The upside to mummy shaped sleeping bags is that they are the most lightweight and compact, making them ideal for backpackers.
The most traditional shape for sleeping bags is rectangular, and it is often the most comfortable. These sleeping bags don't offer the most warmth and insulation but are praised for their comfort and versatility.
Most campers don't have a problem fitting into this sleeping bag, and they work for taller and shorter campers alike. If you're looking for a roomy option, or are interested in joining multiple sleeping bags to create room for more than one person, the rectangular shape is a great option.
Barrel sleeping bags are similar to the rectangular shaped ones but boast a more tapered design. Barrel-shaped bags are somewhere in between a mummy and rectangular shape and give you warmth and insulation without sacrificing roominess. Barrel-shaped sleeping bags are beloved by larger-framed campers who find the mummy sleeping bags too restricting.
Double-wide sleeping bags are made for two campers to sleep in together. This shape is ideal for couples or families. Double-wides can also be created by combining two rectangular shaped sleeping bags with opposite facing zippers. Most sleeping bags that are sold as double-wides come apart into two individual bags, making this shape versatile for a multitude of camping needs.
Additional Features
While most sleeping bags come with a variety of additional features to ensure a comfortable sleep, some common features are particularly useful when searching for the perfect summer sleeping bag.
First, you'll want to pay attention to the shell and lining. It's important to make sure that your sleeping bag's lining is water resistant. Most sleeping bags come with a standard lining made of synthetic materials such as polyester or nylon.
Higher-quality sleeping bags come with shells treated with a durable water repellent finish or DWR. These DWR-finished sleeping bags are the best option for repelling water and keeping you and your sleeping bag dry throughout the night.
You'll also need to consider the stash pockets. Some sleeping bags feature internal pockets that are perfect for keeping small items close at hand such as cell phones, glasses, keys, books, etc. Stash pockets are great for items you want to ensure won't get wet, and keeping valuable items like jewelry and money close-by throughout the night.
Pillows aren't something you often think about when camping in a sleeping bag. Since sleeping bags don't come with pillows, it's a great idea to look for one with a built-in pillow pocket. This pillow pocket allows you to stuff clothing or a blanket into it to create a makeshift pillow that will support your head and neck while you are sleeping. You can also purchase a specially made camping pillow that will fit into most pillow pockets.
While most sleeping bags come with a built-in liner, if you're looking to keep your sleeping bag extra spotless and add in some additional warmth and comfort, a sleeping bag liner is a great option for you. These liners slip into your sleeping bag and act as an extra layer of warmth. They are great for turning a sleeping bag into a versatile piece of camping gear that works in a variety of temperatures and climates.
Durability
The durability of a sleeping bag can be measured based on the materials they are made of. You'll want to go with nylon if you're looking for a tough and rugged option—just make sure it's DWR treated.
The insulation also plays a role in determining the durability of a sleeping bag to a degree. Goose down is more volatile since you run the risk of ruining the insulation if you compress it too often or wash it roughly, whereas synthetic insulation is easier to maintain.
Whatever type of material or insulation you end up going for, however, the golden rule is that a good quality sleeping bag can last you for years if you take the time to care for it properly.
If you're using your sleeping bag in a tent, you don't have to worry about it touching the ground. But if you plan on using your sleeping bag to sleep out in the open, it's important that you use a sleeping pad to protect your sleeping bag from the damp and dirty ground.
Crashing in your sleeping bag after a long day of hiking can seem tempting, but the dirt and oils from your clothes and skin can ruin your sleeping bag's quality and insulation over time—especially if it's goose down. It's important to take the extra step to change out of your muddy and dirty clothes, and wipe off any sweat, sunscreen or bug spray that is lingering on your skin.
When your sleeping bag starts to smell or get grimy after a couple of uses, it's time to wash it. Washing your sleeping bag is essential for keeping it in tip-top shape. If it's not too dirty, you can simply spot-wash it with cool water and let it air dry.
But if it's due for a full bath, then hand-washing your sleeping bag in a tub of cool or warm water and gentle soap is the best option. Letting it soak for an hour in the water, and then drying it on low-heat or air-drying it will ensure that your sleeping bag stays fresh for a long time.
You should be airing out your sleeping bag every day you use it to avoid excess moisture from ruining it. To do this, turn your sleeping inside out and hang it in the sunlight. Although it's important not to leave it in direct sunlight for more than a couple of hours, as the UV rays will destroy the sleeping bag's fabric and insulation.
When you're finished with your camping trip, and it's time to store your sleeping bag away you should remember to let it breathe. Never store sleeping bags compressed or folded tightly. Air the sleeping bag out before storing it, and fold it loosely to avoid long-term damage. Cotton, mesh, or other breathable sacks are a great place to keep your sleeping bag to avoid moisture and mildew.
Best Products on Today's Market
Are you ready for our recommendation of the top 7 summer sleeping bags available on today's market? We mostly focus on mummy-shaped and rectangular bags, but we make sure to include sleeping bags of varying temperature ratings so you can adjust your choice to whether your body tends to get cold easily or not. Without further ado, here they are:
Slumberjack Lil Scout Sleeping Bag
Price: Approx. $41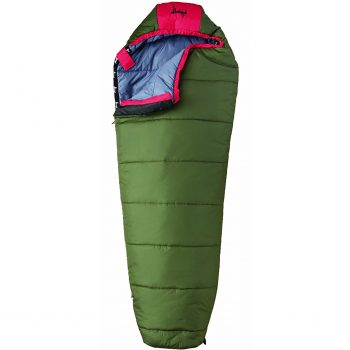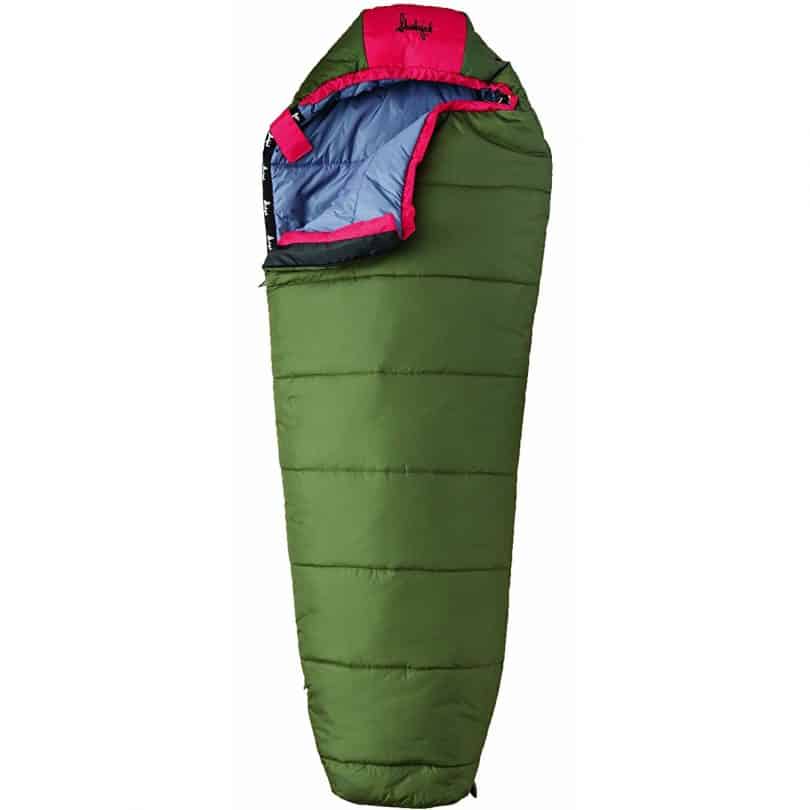 Weight: 2.2 pounds
Dimensions: 2 x 16 x 8 inches
Specific features: 100% Polyester lining, built-in pillow pocket, interior pocket, a snug hood, two-layer off-set construction to prevent cold spots, Slumberloft Synthetic insulation, draft tube zipper, 40°F temperature rating, trapezoidal foot box
Best use: For children, indoors, outdoors, warm summer nights
The Slumberjack Lil Scout Sleeping Bag is made for children under the height of 55 inches. It's perfect for frequent campers or scouts who go on camping or backpacking trips during warmer months. Weighing only 2.2 pounds, it's a great option for kids to carry around all day. Although it is light, the Slumberjack tends to be a bit bulkier, making it harder to stuff into smaller backpacks.
The zipper is strong enough to survive the pulls of rowdy children, but should still be handled with care to prevent ripping. Even though this sleeping bag is meant for kids, it boasts a lot of the same great features that adult sleeping bags do. Including a high-quality and durable Slumberloft Synthetic insulation, a flip over hood with space for a pillow, and interior stash pockets.
The rectangular shape allows for more room so children can wiggle about while sleeping, while still being tapered enough to keep them warm. The 40°F temperature rating is perfect for camping in the summer months, keeping your kids cool in the heat. The Slumberjack is a great summer sleeping bag for beginning campers who want to explore the great outdoors.
PROS:
Lightweight, easy for children to carry
Durable
Comes with a big hood
Comes with interior stashing pockets
Spacious but warm
CONS
:
A bit bulky
The zippers need to be handled with care
Related: "Make sure to drink plenty of water!" is what we always say when we send our kids off to camping trips. You won't have to worry about your kid not fulfilling his daily quota of drinking water anymore if you put one of these Osprey Hydraulics Reservoirs in his backpack.
Big Agnes Spike Lake 15 Sleeping Bag
Price: $200 – $210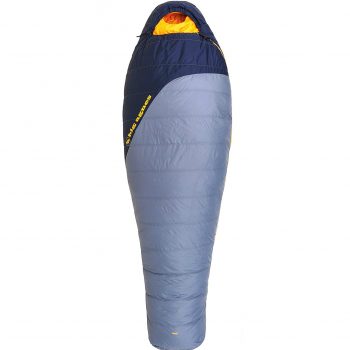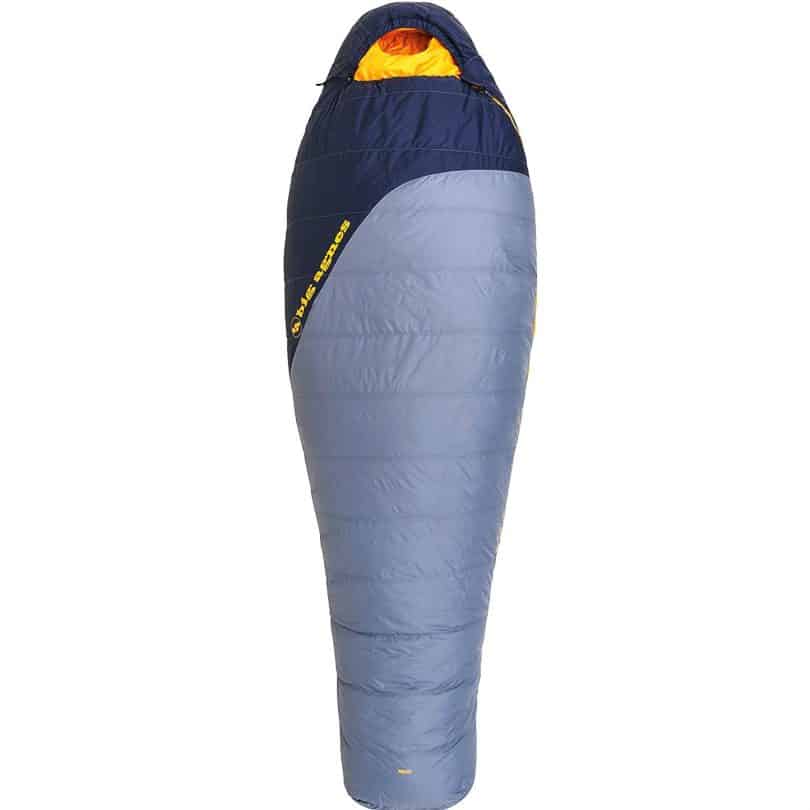 Weight: 4 pounds
Dimensions: 25 x 10 x 10 inches
Specific features: DownTek insulation, no-draft technology, exterior loops, fitted hood, 15°F temperature rating
Best use: Summer camping with cooler nights, outdoors
The Big Agnes Spike Lake 15 Sleeping Bag is a mummy shaped sleeping bag that has an impressive 15°F temperature rating. It's a very versatile sleeping bag that will keep you as cool on summer nights as it will warm on winter nights. This is mostly thanks to its 600-fill DownTek water-repellent insulation and water resistant shell.
The insulation is made with natural goose-down and treated to ensure a waterproof sleeping bag. Because of its insulation, the Big Agnes is in fact big. It weighs 4 pounds, one of the heavier sleeping bags we've listed here. This means it may not be suitable for longer backpacking trips, as its ability to fold down into a lightweight, compact package is nonexistent. But what you lose in compactness you gain in comfort and extra features.
The Big Agnes comes with a collar and zipper that covers your body from the chin down, wrapping you up in a warm cocoon of comfort. It also has nifty exterior loops that make airing out and drying your sleeping bag a whole lot easier.
PROS:
Very warm thanks to the 600-fill DownTek insulation
Waterproof thanks to the treated shell and goose down
Comes with a neck baffle
Easy to air out and dry thanks to the exterior loops
CONS
:
Bulky, even when packed down
Heavy
Related: If you've got a small backpack with little space to spare for a sleeping bag as bulky as the Big Agnes and yet you're not willing to give up on the comfort it offers either, this Big Agnes Super Light Girdle should be able to offer assistance. It compresses the sleeping bag down. Since down is more compressible than synthetic, this should help quite a bit.
Nemo Tango Solo 30 Sleep System
Price: Approx. $259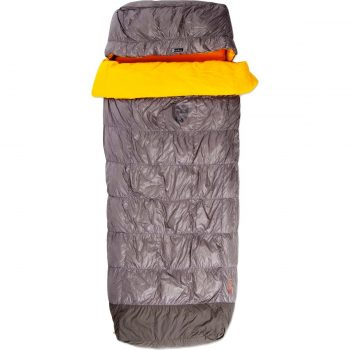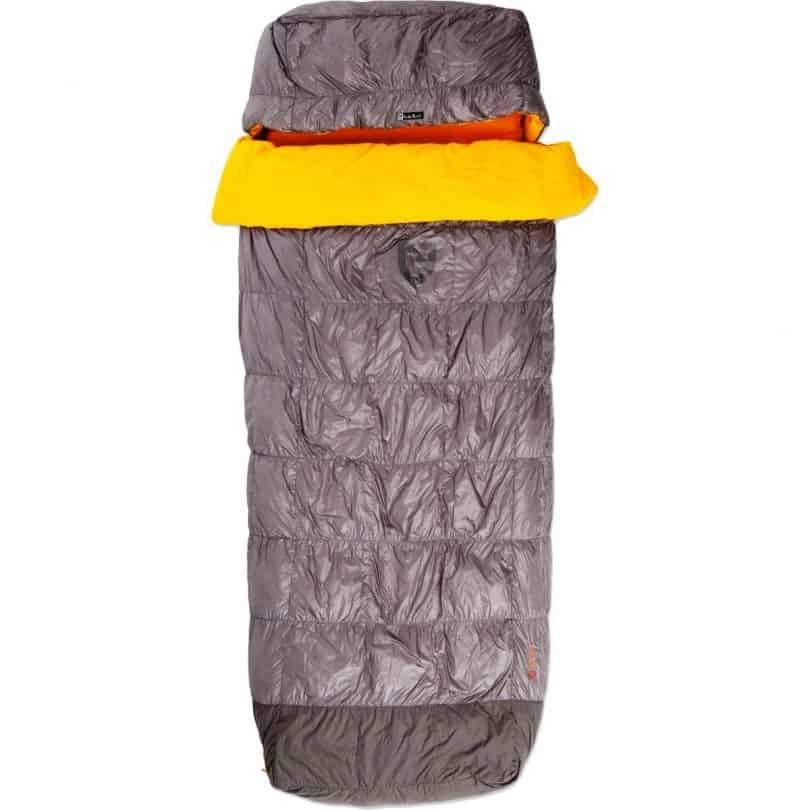 Weight: 2.58 pounds
Dimensions: 9.9 x 9.9 x 17.5 inches
Specific features: Works with any 25-inch sleeping pad, backless design, 30°F temperature rating, down fill insulation
Best use: Under-the-stars camping, backpacking
The Nemo Tango Solo 30 Sleep System is a down sleeping bag with 30°F temperature rating, making it perfect for warmer weather camping trips. It's also rather lightweight for being a down-filled insulated sleeping bag, weighing in at 2.58 pounds. This is because of its backless design.
Not having any down on the backside of the Nemo Tango may seem odd to some campers who are used to having all-over cushion and insulation. But this feature allows for the sleeping bag to be more lightweight and recognizes the issue of down losing its insulation ability when compressed. Just slip any standard 25-inch sleeping pad under the Nemo, and you'll be sure to sleep soundly through the night.
Also because of the sleeping pad, this is a great option for those campers who enjoy sleeping under the stars. The sleeping pad protects your sleeping bag from dirt and moisture that can destroy its shell.
PROS:
The unique backless design makes it lightweight
Goes great with a sleeping pad
Won't lose its insulation ability when compressed
Warm
CONS
:
A bit too spacious for one person, leaving a lot of room for air pockets to form
Related: You can crank the comfort levels up even more by putting up this Therm-a-Rest Slacker Snuggler somewhere near your camp. This hammock is also good for two people. You can snuggle in the hammock during the day then move on to snuggle in the sleeping bag as night falls.
Tough Outdoors 3 Season Sleeping Bag
Price: Approx. $32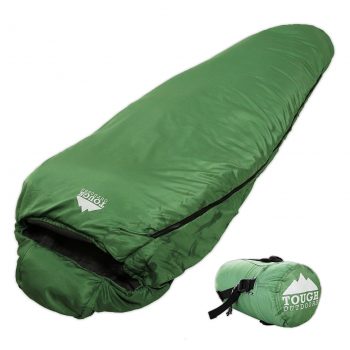 Weight: 1.55 pounds
Dimensions: 86 x 32 inches
Specific features: Lightweight, fits heights up to 6'6, tough construction, compression sack, 60°F temperature rating, face baffle, ripstop nylon, waterproof shell, high-loft insulation
Best use: Backpacking, hiking, summer camping
The Tough Outdoors 3 Season Sleeping Bag is great for campers looking for something that can easily fit into their backpacks and is lightweight. Coming in at 1.55 pounds, this sleeping bag is impressively large while managing to still be ultra-light. It can easily fit campers up to 6'6 feet tall and claims to have the longest and widest mummy shaped bag on the market.
Its insulation isn't too shabby either, with a 60°F temperature rating the Tough Outdoors bag is a versatile 3-season sleeping bag—although you might want to stick to the summers with this one if you tend to get cold easily.
It comes with a soft-woven inner liner, durable and ripstop waterproof shell, a reinforced zipper and a cinch around the face to block windy drafts from coming in at night. This is a great lightweight option for backpackers and campers alike during those warm, summer nights. It's also available at a very affordable price—perfect for beginner hikers who are testing the waters.
PROS:
Roomy despite being a mummy bag
Great for taller people
Very affordable
Surprisingly durable
Waterproof
Comes with a face baffle
Related: As this sleeping bag comes with a pull-up hood, you might want to make full use of that by slipping this Therm-a-Rest Compressible Travel Pillow inside to increase the comfort levels. It packs down small, so it will fit into your backpack seamlessly even if you have very little space left.
Ozark Trail Everest Sleeping Bag
Price: Approx. $45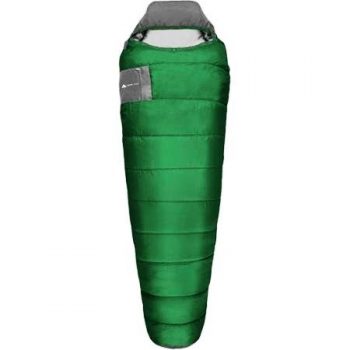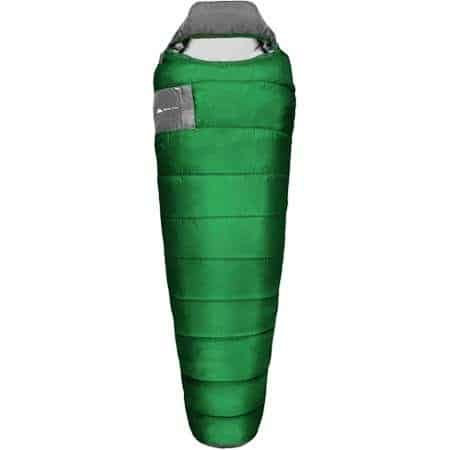 Weight: 1.8 pounds
Dimensions: 9.9 x 9.9 x 17.5 inches
Specific features: Contoured hood with drawstring, insulated draft tube, chest baffle, offset quilt construction, double layer, 50°F temperature rating
Best use: Warm climate camping, casual camping
The Ozark Trail Everest Sleeping Bag is a budget-friendly option that doesn't skimp on quality. While it should not be used for cold weather climates or nights below 50°F, this sleeping bag has great insulation and is perfect for warmer nights. It's got a double layer construction, which makes it warmer than most sleeping bags rated 50°F.
It comes with a contoured hood to give you extra support and comfort, as well as a chest baffle that will keep you cozy and warm as you sleep.
This sleeping bag is quite lightweight and is available at an affordable price, which makes it great for casual camping trips in warm climates. This sleeping bag will ensure a great night's sleep for anybody who uses it.
It comes with a zipper closure and therein lies the main problem. The zipper is not non-snag, so you'll have to treat it carefully, or you'll be in for one very frustrating trip.
PROS:
Affordable price
Comfortable thanks to the contoured hood and chest baffle
Lightweight
CONS
:
Not very warm
The zipper is a bit difficult to handle
Related: This is not a 3-season sleeping bag, but you can make do with it as long as you wear plenty of warm layers, and one of them should definitely be this Jack Wolfskin Men's Zenon XT Jacket. Filled with 90/10 duck down, which is equivalent to 700 geese down, you'll definitely be able to stay warm and toasty throughout the night.
Badlands Cinder Synthetic Sleeping Bag
Price: Approx. $155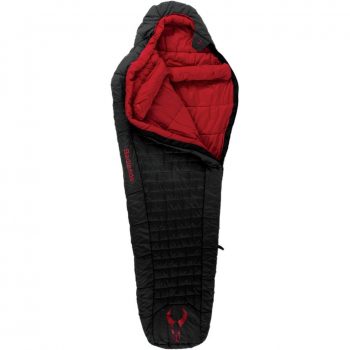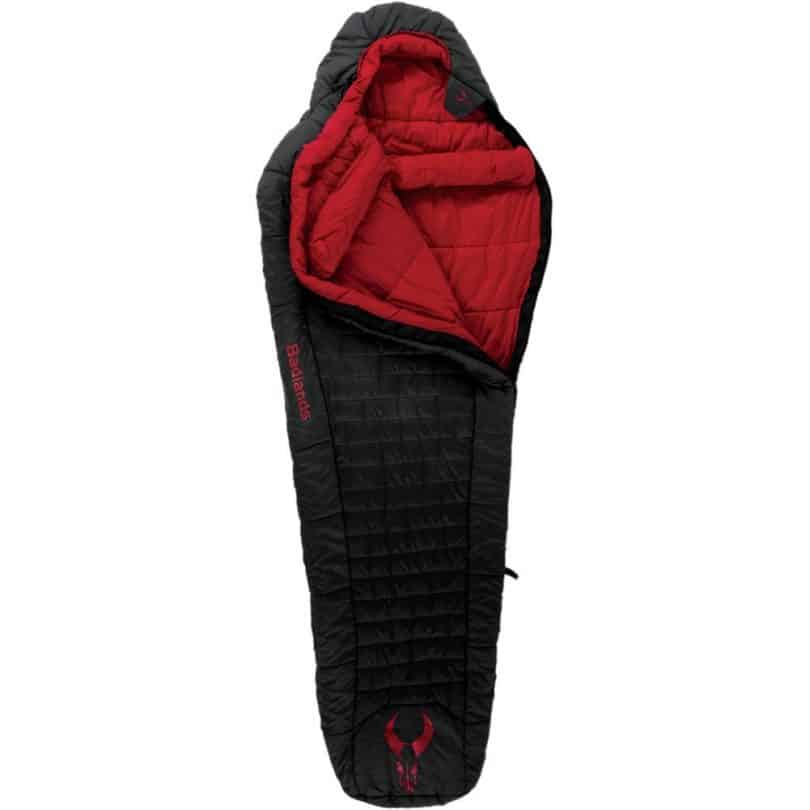 Weight: 2.6 pounds
Dimensions: 9 x 9 x 13.5 inches
Specific features: Lifetime warranty, DR resistant coating, draft collar, double-insulated foot box, synthetic, 35°F temperature rating
Best use: Camping, hunting, hiking
The Badlands Cinder Synthetic Sleeping Bag is a serious sleeping bag made with double insulation and a 35°F temperature rating. It's perfect for all camping conditions but is specially designed with hunters in mind.
It's very waterproof with a DR resistant coating and can withstand the rainiest of nights. It also features great additions like a draft collar and reversible zippers.
You'd think that the fact that it's made of synthetic material would make it lightweight and compact, but that's not the case with this one. Perhaps due to its solid construction and great insulation, it's a bit bulky at 2.6 inches, and might not be an ideal sleeping bag for compressing down into a lightweight pack.
Although it does come with the Badlands' Unconditional lifetime warranty, so you don't have to worry about quality when it comes to this sleeping bag. But if you find it isn't the right bag for you, Badlands will happily replace it.
PROS:
Very warm thanks to the double insulation
Waterproof thanks to the DR coating
Nonsnag, reversible zippers
Comes with a lifetime warranty
Related: If you're on a hunting trip, you might need to camp out for several nights depending on how the hunt goes. You'll need a versatile stove to accommodate your changing needs. One of these Etekcity Ultralight Camping Stoves would be the perfect solution for that. It's collapsible, and it comes with its own portable carrying case.
RevalCamp Lightweight Sleeping Bag
Price: Approx. $28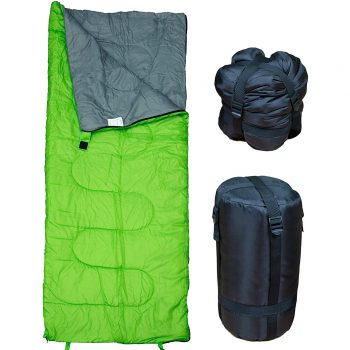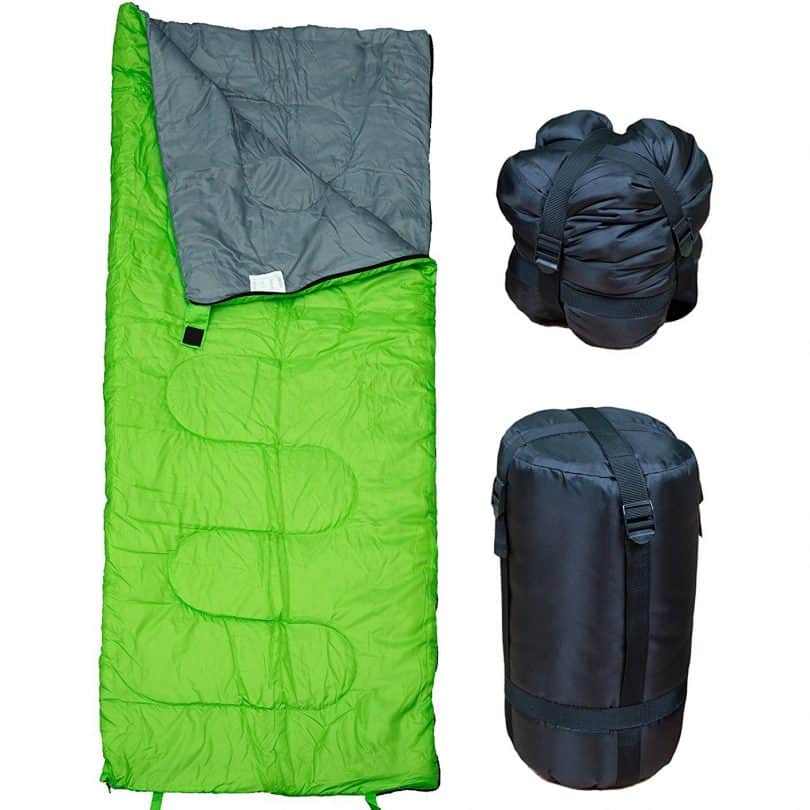 Weight: 2 pounds
Dimensions: 30 x 71 inches
Specific features: Environment-friendly, good UV radiation, weather resistant, compact stuff-sack, 100% money back guarantee, fits a person up to 6'5 in height, 40°F temperature rating
Best use: Outdoor or indoor, summer camping
The RevalCamp Lightweight Sleeping Bag is a machine washable sleeping bag that is both lightweight, and great for indoor and outdoor use. It has a 40°F temperature rating, making it ideal for summer weather. It's made with 200g/m2 polyester fiber filling and is weather resistant.
It's a surprisingly long, traditionally rectangle shaped bag that can even accommodate campers up to 6'5 in height. You might think that such a long sleeping bag would definitely be on the bulky side, but that's not the case at all. It compresses down to about 7 x 7 x 7 inches, making it ideal for fitting into small spaces when the room is tight.
Because of its ability to turn into a two-person bag by zipping two bags together, the RevalCamp sleeping bag is a great option for couples and families who want to snuggle in the great outdoors.
This sleeping bag is versatile for everything from camping to hiking, to sleepovers. The fabric feels a bit thin and flimsy, though, so you might want to treat it a bit more carefully.
PROS:
Great for tall campers
Can be zipped together and turned into a 2-person bag
Packs down small
CONS
:
The fabric feels a bit thin and flimsy
Related: No matter what kind of camping or hiking trips you're going on, never enter the woods without having one of these Etekcity Portable LED Camping Lanterns with you. You never know what kind of danger might be waiting for you in the dark when you're out there in the great wilderness.
Wrap Up
Sleeping bags are a great option whether you're camping, having a sleepover, or just spending the night in your backyard under the stars. When choosing the perfect summer sleeping bag for you, there are a lot of factors that you need to consider. Make sure you take into account the things this guide has outlined including the temperature rating, insulation, and shape when choosing your sleeping bag.
By following our tips for buying the most suitable summer sleeping bag for you, your next warm-weather outing into nature can be a cool and comfortable adventure that you'll remember for years to come. Do you have a favorite summer sleeping bag? Was it mentioned in this article or did we somehow miss it? Tell us in the comments below!