There's a good chance that you've experienced the inconvenience of running out of battery for your essential devices while outdoors, haven't you? While we all want to avoid using our phones and gadgets while outdoors, there are times that we need to use them – especially in times of emergencies.
Having a backup source of power in the wild is always a good thing. In this case, a solar charger can be your best friend while in the wilderness. With all the number of options out in the market, how do you make sure that you end up with a solar charger that meets your needs?
Well, we have written a quick guide that will help you determine the best features when shopping for your solar charger. While we're at it, we have highlighted some of the best solar chargers that you can buy in the market. Let's take a closer look!
Our Top Picks
Features to Consider Before Buying
Although knowing how solar chargers work is quite complicated, there are still some important characteristics easy to identify that you should be aware of if you do not want to end up buying useless stuff. Since we are here to help, we have written about those aspects; so, read on and learn a bit more about solar chargers.
Capacity and Efficiency
The capacity of a battery is measured in milliamp hours (mAh). The more milliamp hours a solar charger has, the longer it will be able to charge your device. Many portable solar chargers come equipped with a lithium ion battery that then charges your phone, camera, tablet and more.
Another thing to look for in a solar charger is how efficiently it converts sunlight into electric energy to power your devices. A higher efficiency is better, and most portable solar chargers average is around twenty percent efficiency.
Surge Protection
Because sunlight can be a finicky source of power, especially in cloudy or varying conditions, an important feature of a solar charger is that it employs some means of surge protection to protect your device from power surges and changes in output, which can shorten the life of your device or otherwise damage it.
This is of course an important consideration if you care for the longevity of your charged devices.
Panel Size
A larger solar panel has a larger surface area necessary for absorbing more sunlight. These large solar panels can be cumbersome to carry and use in the outdoors, so most designs are able to fold out for absorbing sunlight and then collapse again for portability reasons.
This will all boil down to your personal needs. If you are into lightweight backpacking, you will surely require a smaller charger with minimal charging surface.
Recharging Methods
Especially in the cases of smaller solar chargers, sunlight is often not the only means of gaining electricity; some designs are able to be plugged into a computer or outlet to obtain a charge much more quickly than by simply being placed in the sunlight.
Having the ability to charge your solar chargers other than sunlight is always a good thing.
Weight and Portability
If you are looking to take a solar charger on your outdoor adventures, you will want something that is easy to carry and won't weigh you down. When comparing weight, make sure that you compare apples to apples. There are many cases where the manufacturers only list the weight of the panel or including the accessories.
In terms of portability, there are models that feature integrated pockets that you can use to stash your device. Others don't have a storage system but features a compact design which you can easily fit in your backpack or even back pocket.
Best Products on Today's Market
Whether you need it for an emergency or just a way to keep your camera or phone charged when enjoying outdoor activities (music festivals, fairs, beach days, etc) having a solar charger on hand is a great idea due to its versatility. That being said, after a long research, we have selected what we believe are the best solar charging products on today's market. Those are the following.
Poweradd High Efficiency Solar Charger
Price: Approx. $46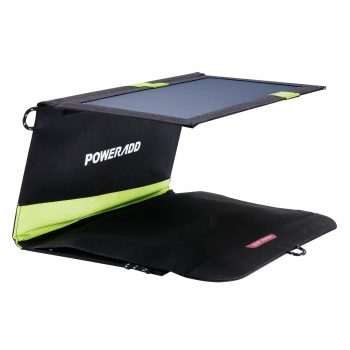 Weight: 20.8 ounces
Dimensions: 31 x 10.4 x 0.1 inches
Specific features: PowerSI technology; PET laminated solar panels; high wear PVC fabric; waterproof and weather proof
Best use: Hiking, backpacking, festivals, other outdoor events
The Poweradd High Efficiency Solar Charger has a high level of efficiency for energy conversion from solar energy to power your devices. While many solar chargers have efficiencies of under 20%, the Poweradd solar charger has an efficiency up to 23.5%.
In addition to this high efficiency, the Poweradd charger has a voltage regulator to help protect your device from irregular current and voltage, which happen with most solar chargers because of the irregular nature of sunlight.
The max output for this solar charger is 5 V/4 A and it is foldable for easy portability. This device comes with a USB output port so it can be used to charge a wide variety of electronic devices including iPhones, iPads, GoPros, MP3 players and external batteries.
Like most solar chargers, this device works best when it is placed under direct sunlight. However, it also includes a pocket for device storage to keep the charging device out of the direct sunlight as well.
According to some reviews, when the sunlight hits directly this unit, it charges really slowly, so it is better to leave it a long time in the sun before going on a backpacking trip. Also, people say that it charges devices very slowly, and that it is bulky.
PROS:
High efficiency for energy conversion
Voltage regulator
Pocket for device storage
CONS
:
Bulky
Unit charges slowly with sunlight
X-Dragon SolarIQ Solar Charger
Price: Approx. $48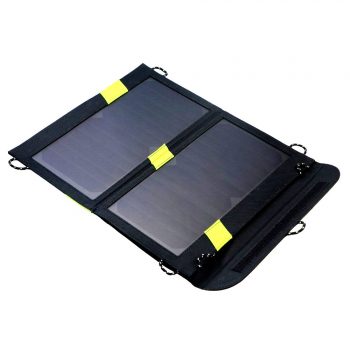 Weight: 16.9 ounces
Dimensions: 16.1 x 12.1 x 0.12 inches
Specific features: iSolar technology; high efficiency; dual USB ports
Best use: Hiking, camping, hunting, emergency use
Like the Poweradd solar charger, the X-Dragon SolarIQ Solar Charger design also boasts a high efficiency for charging your devices. When placed in direct sunlight, the X-Dragon can attain efficiencies of 22 – 25% conversion. Its dual USB ports are compatible with any 5 V USB device, including Smartphones, tablets, PlayStation Portables, Bluetooth speakers and Bluetooth headphones. The maximum output of this device is 5 V/2 A. It features short circuit and surge protection to keep your devices safe from electronic malfunction
Also, it comes with an 18 month product warranty. In addition to the X-Dragon's foldable design, it also includes a free hook and eyelets so you can hang it on backpacks while hiking. While the best way to achieve maximum charging potential is by laying the device on the ground in direct sunlight, you will still get some charge by hanging it from your pack while you hike in open, sunny areas.
People who have bought this product say that they are not completely pleased with it since they had to wait a long time to actually charge their phones. Also, they say that it is recommended for people with devices that do not consume too much battery, and that the plastic and the panels are not as durable as they should.
PROS:
High efficiency conversion
Short circuit protection
Hook and eyelets
CONS
:
Charges slowly
Better for smaller devices
Not durable enough
Related: We also recommend the X-Dragon External Battery Bag. It is a great way to carry most power banks, external batteries and even phones since it is weatherproof, has a slim and compact design, it is very fashionable and really sturdy, so you can be sure your devices will be protected from scratches.
SportsCentre Easyacc Portable Solar Charger
Price: Approx. $30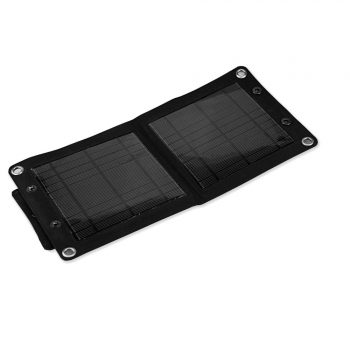 Weight: 14.1 ounces
Dimensions: 10.2 x 8 x 1.4 inches
Specific features: Lightweight, designed to charge smartphones or external batteries
Best use: First time solar panel user
The SportsCentre Easyacc Portable Solar Charger has a smaller power capacity than some of the other solar chargers we have included in this review. Unlike the previous two solar chargers, this solar charger is not well equipped to charge larger devices such as tablets. However, its relative light weight makes it a good option for charging when trying to save weight. In full sun, you can expect to receive 5.66 V and 1 A output.
Like the X-Dragon, this solar charger comes with holes on the corner to assist in attaching it to packs, trees, and other places you might want to hang it for charging. While full sun is the best place to obtain maximum charging capacity, it is possible to use this solar charger panel indoors under incandescent lights.
One thing to be aware of is that this solar charger panel is not designed to protect against power surges, so one alternative can be to use it to charge external batteries and then use those to charge your devices. Also, they materials used to build this unit are not the stronger ones, and the charging speed is not as fast as it should.
PROS:
Lightweight
Can be hanged on most surfaces
Can be used in the indoors
CONS
:
Does not have power protection
Materials not sturdy enough
Charges slowly
Related: Another great gear to take on the outdoors is the EasyAcc 20000 mAh Power Bank. It can charge iPhone and Samsung devices up to 5 times with only one full charge, the recharge time is very short, it comes with a protection against overcharging, over current and short circuits, and it is sturdy and very durable.
X-Dragon Solar Power Bank
Price: Approx. $17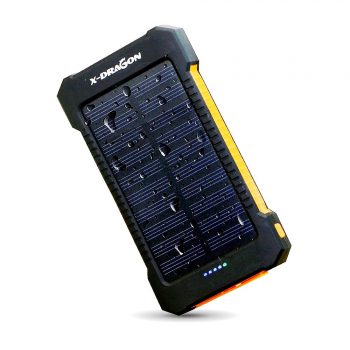 Weight: 7.1 ounces
Dimensions: 5.3 x 2.8 x 0.59 inches
Specific features: 10,000 mAh high capacity; rain proof and shock-proof design; over charge protection
Best use: Emergency use
The X-Dragon Solar Power Bank is a small and lightweight option for charging cell phones and other USB charged devices. The charging speed is very much subject to the intensity of the sunlight as well as the panel's conversion rate. However, people say that in optimal conditions, it charges small devices faster than common portable batteries.
Additionally, it is equipped with over charge protection and allows you to charge two devices at once. It's a good device for casual use and backpacking trips since it has a durable design made of silicone and comes equipped with shock absorption and will hold up against raindrops. Finally, it comes with a long lasting LED flashlight that comes in really handy during the night.
Nevertheless, due to its small size, it has less surface area to collect sunlight. That being said, even when placed in direct sunlight it can take several days to attain a full charge. An alternative is to plug it into a computer to charge it, which only takes a few hours. Also, the cable that comes with it is quite short, and the LED flashlight gets hot after a while.
PROS:
Small and lightweight
Over charge protection
Rain and shock proof
CONS
:
Small panel
Slowly recharges using solar power
Related: The X-Dragon 20000 mAh Power Bank is another fine gear to take with you on your trips. It is very small and compact; it can fully charge several times a wide range of Smartphones, can detect what device it charges to provide a better performance, has a digital screen and a LED flashlight.
Anker Dual USB Solar Charger
Price: Approx. $43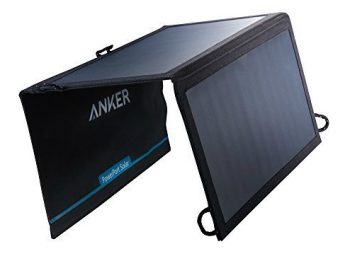 Weight: 12.5 ounces
Dimensions: 18.9 x 11 inches
Specific features: PET polymer faced solar panels; elastic loops for attachment to backpacks or trees; PowerIQ charging technology
Best use: Longer backpacking treks
The Anker Dual USB Solar Charger features short circuit and surge protection to keep your devices from irregular solar patterns while they charge. With enough direct sunlight, the Anker charger can provide 2.1 A of charging speed to your devices. Its light weight and portable size make it ideal for long backpacking trips, especially when you can attach it to your pack and use it as you go.
It is compatible with most modern USB charged devices including iPhones and Android phones. Additionally, it comes with elastic loops on each of the corners to assist you in attaching the solar charger to backpacks and trees while hiking or camping. Like some of the other solar panels we have included in this review, this solar charger has a high efficiency up to 23.5%.
However, it is not compatible with iPod Nano, iPod classic, iPod shuffle, Asus tablets or HP TouchPad. Also, some people say that this unit is too big and bulky for backpacking. Finally, even though it has a pocket to put devices in while hiking, it is too small to fit phones, so charging big Smartphones while walking might be difficult.
PROS:
Short circuit protection
High efficiency conversion
Elastic loops to attach it to surfaces
CONS
:
Not compatible with some devices
Too bulky
Too small pocket
XTG Technology Compact Solar Charger
Price: Approx. $21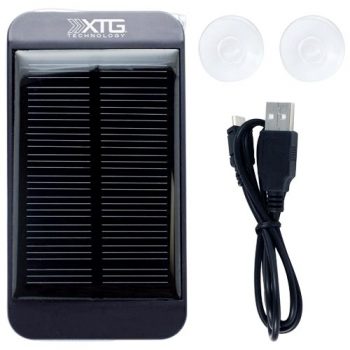 Weight: 3.5 ounces
Dimensions: 2.5 x 0.5 x 4.8 inches
Specific features: LED flashlight; capacity indicator for charge; built in lithium ion battery; includes suction cups to mount on a window
Best use: Camping, hiking, backpacking
The XTG Technology Compact Solar Charger is unique from the other devices we have included in this review because it is more of a backup battery than a charger. Due to its small size, it is best used for emergency situations or short backpacking trips where you want to minimize weight and space. It's about the size of an iPhone, and has a 5 V output.
The built in lithium ion battery can be charged either through solar power or by using the USB cable included to charge it from a computer or other electricity source. It comes with suction cups for window use to obtain sunlight from the outdoors while driving and it also has a bright LED flashlight built in to the unit.
One important thing to note is that when using only solar power, the unit will only charge to 50% of its total capacity. Its 1500 mAh battery will charge USB powered devices, but it is better used for smaller devices, such as phones, rather than large tablets. Finally, people say that once it depletes its charge, it takes a long time to be recharged using either solar or electric power.
PROS:
Very small and lightweight
Suction cups for windows
LED flashlight
CONS
:
Cannot charge completely using solar energy
Struggles charging big devices
Recharges slowly
Related: The XTG Technology PhotoPro Dual Charger is a must have for photographers. It can charge two batteries simultaneously up to three times faster than normal chargers, it has a LCD screen that displays charging status, battery capacity, charging voltage and USB output voltage, and it comes with both wall and car adapter.
Waka Waka Power+ Solar Charger
Price: Approx. $71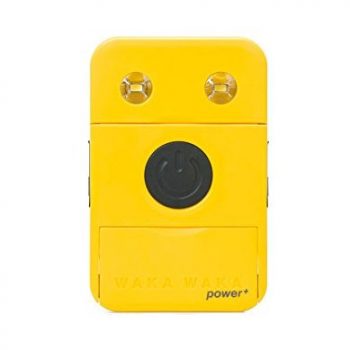 Weight: 7.1 ounces
Dimensions: 4.8 x 3.1 x 0.7 inches
Specific features: Highly impact resistant; can be charged using solar energy or electronic source; includes flashlight
Best use: Emergency use
The Waka Waka Power+ Solar Charger is capable of charging smartphones and its flashlight has the capacity to provide 150 hours of light. Its 2200 mAh battery can fully charge after 12 hours in the sun and can charge a small Smartphone in a few hours. The flashlight has four settings from 5 to 75 lumen, as well as an SOS emergency beacon. This charger is made of recycled PC – ABS and has great impact resistance.
In addition to being made of recycled material, another feel good merit of the Waka Waka charger is that the company that manufactures this device goes by a buy one, give one policy in which they donate a charger to someone in need. Light can be especially important for those in areas that have limited access to electricity because it allows them longer amounts of time to work on tasks that require light as well as have light in medical and other emergencies.
Before you buy this unit, you should consider that it takes a long time to be fully recharged. Also, if the unit you are trying to charge has a big battery, this solar charger might not take it to 100%. Finally, the circuitry is "two way", so you have to be aware that it might drain your device's battery from time to time.
PROS:
High quality flashlight
Made with recycled materials
Shock resistant
CONS
:
Recharging it might take a long time
Might not fully charge big batteries
Two way circuitry
Related: The WakaWaka Base Solar Power & Light Kit is one of the best recommendations for backpackers. Its solar cells are very efficient since they are quite resistant to shocks and drops, while also being foldable and compact; it comes with 3 USB charging ports, it is rain proof and it comes with 2 flashlights and energy transformer.
Goal Zero Venture 30 Recharger
Price: Approx. $85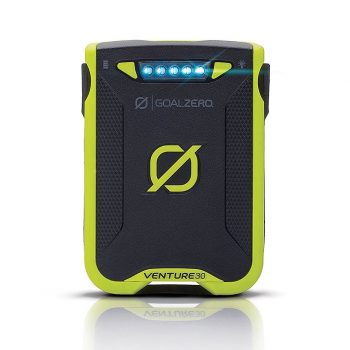 Weight: 8.8 ounces
Dimensions: 4.5 x 3.2 x 1 inches
Specific features: Submersion waterproof, 7800 mAh power pack, three USB ports, 4.8 A ports
Best use: Backpacking and camping
The Goal Zero Venture 30 Recharger was designed to charge multiple devices at once, as well as being weather resistant. Its ports have an output of 4.8 A, which is a high speed feature for charging devices quickly. You can use the charging cable to charge this charger from a computer or other electronic source and use the solar panel as an alternative method of charging it.
A fully charged solar panel can charge a smart phone two to three times and a tablet once. Because of its durability and high charging speed, this is a great choice for backpackers. It's also usable even when it is wet, which is important when you need to use it in a wet climate and there are limited chances to be able to dry it out. The kit includes a battery pack and a solar panel, as well as a charging cable.
Even though this solar panel charges quickly than most units in the market, it still takes a long time to fully charge a Smartphone. Additionally, it needs to be pointed directly to the sun to get its best performance, and finally, the cable that comes with the kit is too small.
PROS:
Charge multiple devices in the same time
Strong materials
Waterproof
CONS
:
Charges slowly
Small cable
Related: The Goal Zero Nomad 7 Solar Panel is a great recommendation from the same company since it charges most USB and 12 V devices, it collects around 7 W of solar power from the sun, it can be folded to ease transport, it is weather resistant and has a rugged design.
Wrap Up
While it may or may not be a tool that you use on a daily basis, having a solar charger is a great measure to take for emergency preparedness as well as daily use in the outdoors. Over the last few years, solar energy for personal use has become increasingly affordable.
For many people, having access to an electronic device even while off the grid is an important safety precaution. For others, it is necessary to avoid dead batteries in cameras or radios when you are planning on being away from an outlet for some time.
Whether as a safety precaution or a tool to help you stay connected even when away from an outlet, having a solar charger on hand can be a major asset.
Do you have a favorite solar charger? When have you needed to use yours out in the wilderness? Have you used one of the units we mentioned in this article? Let us know what you think on the comments!