One of the most satisfying adventures to relieve yourself of the daily upsets of life is to go skiing. Skiing has been proven to boost your moods and overall well-being. It is also beneficial to your health and physical alertness.
When making preparations with your friends to escape from that city traffic, congestion or overcrowding to enjoy yourselves in the snow, you will have to bring along the best ski gear you can find. For those of you who have never had any interests in skiing gear, consider yourselves lucky today as we intend to discuss everything you need to know about ski gear.
To help you choose your next gear easily, we are going to discuss some of the best ski gear currently in the market so as to save you from the embarrassment of a wet gear or a non-breathable gear the next time you are out skiing.
Our top picks
| Product | Weight | Material | Dimensions | Price |
| --- | --- | --- | --- | --- |
| Smith Transit Goggles | 1 pound | Silicon straps | 9 x 5 x 4 inches | Check price on Amazon |
| BURTON Women's Gore-Tex Gloves | 1 pound | Polyurethane/polyester | 2.25 - hand circumference | Check price on Amazon |
| Salomon X Pro 120 Ski Boots | 10.03 pounds | Polyurethane/polyamide/4 micro aluminum buckle | 45 mm strap, 100-106 mm cuff | Check price on Amazon |
| Outdoor Research Mount Baker Mitts | 0.9 pounds | 70 D Gore - Tex | 17 x 9 x 4 inches | Check price on Amazon |
| Canada Goose Expedition Parka | 6.6 pounds | Cotton/nylon/fur/white duck down | 7 x 15.5 x 21.1 inches | Check price on Amazon |
| Mammut Bormio HS Pants | 0.9 pounds | Polyamide/polyurethane/polyester | 15 x 8 x 4 inches | Check price on Amazon |
| Vasque Women's Pow Pow II Winter Boot | 1.3 pounds | Leather and fabric | 11 x 7 x 4 inches | Check price on Amazon |
| Dragon Alliance X2 Ski Goggles | 1.1 pounds | Silicon straps | 9 x 6 x 6 inches | Check price on Amazon |
| Giro Nine Snow Helmet | 2.4 pounds | Polycarbonate shell | 10 x 10 x 10 inches | Check price on Amazon |
Things to consider before buying a ski gear
During this age and time when the manufacturing sector is booming, those who intend on surviving the market have to strive to outdo the other. Various manufacturers produce a broad range of ski gear with very distinct features.
The first step in choosing the right gear is to identify what you need the gear for; this is a part of the price of course. When you know what you want then finding the right gear will be very easy. It is the same principle as "you get faster to your destination when you know the route and the destination itself".
Getting the right features for your gear will be the difference between a fantastic outing and a total embarrassment out in the cold. The various gear i.e. goggles, gloves, boots, pants, helmet and coats all need to have a particular feature you need to look out for.
Ski jackets
Waterproof and breathability
The jacket you choose should be able to keep out the snow and at the same time permits the exits of the moisture and heat that your body produces to escape. Not all the gears will have the same waterproofing and breathability factors. As you shop, look for those with higher factors. The waterproofing factors can range from as low as 5,000mm to highs of 28,000 mm.
The breathability indexes range from less than 6 to around 20. A very high index is not appropriate for activities that will need a lot of energy. Waterproofing always compromises on breathability. Too much waterproofing lowers the breathability index. Look for a compromise between the two. High-end jackets can achieve both
Insulation
Insulation properties are measured in grams. The higher the grams, the more insulating the jacket is. The factor of insulation will be dictated by the temperatures of the location of your skiing activities. Warmer places require not so much insulation. These changes when the place is snowy and very cold. These places need more insulation. You can choose from padded, natural down, shell or synthetic insulation.
Natural down is less bulky as compared to synthetic but becomes less insulating when it gets wet. Shell jackets are more versatile but less warm than padded jackets. Synthetic jackets are more insulating when wet but are less compressible.
Length and fit
Ski jackets come in various sizes and shapes. Make sure you choose one which properly fits you perfectly. You have the choice between regular, slim or loose. Lengths are availed in long, medium and short. Each of these sizes become appropriate depending on the weather conditions you are going to experience when skiing.
Hood
When you do not plan on carrying a helmet, look for a hooded jacket. The hood can be detachable to prevent it from filling with snow. The hood is meant to protect you from weather conditions. Adjustable hoods come in handy when you have to prevent it from covering your eyes.
Seams
The type of seams depends on the conditions of weather. These can be critically or fully taped seams. The seams around the neck and shoulder regions should be taped critically to offer appropriate protection and waterproofing.
Ventilation zips
These are located beneath the arms and are critical in cooling you down when temperatures rise. If you normally get warm faster, then you should go for a jacket with these ventilation zips.
Pockets
You need a jacket that will be able to hold some of the accessories that you carry along. We know you love listening to your music wherever you go. Your phone and mp3 need to be safe from the freezing cold and moisture. Pockets come in handy for these purposes.
Snow pants
Bibs or no bibs
Bibs in a pant are meant to keep snow at bay and keep you warmer. The choice of bibs also depends on the ease of attending to calls of nature. The ones with no bibs are easy when you want to use a restroom. There are pants that in place of bibs, suspenders are provided to serve the same purpose.
Length
The pant of your choice should be such that it can cover up to the top of your boots. Keeping the snow out is crucial when skiing in freezing conditions. Leaving no spaces between your boots and the pants keeps out the snow from your feet.
Warmth
Aside from keeping the snow out, a pant should also be able to keep you warm for the whole time. Insulated pants provide more warmth to the legs. Shell pants have more layers and are more flexible for outdoor activities.
Breathability and waterproofing
Just as with the jacket, the pants should be breathable and prevent water from dampening it. The last thing you need is a leg that is wet and heavy from all the moisture. The pant should be able to allow for free flow of sweat from the legs out into the atmosphere.
The waterproofing and breathability factors should be carefully chosen while allowing for a compromise between the two factors as the more breathable a pant is, the less the waterproofing ability.
Quality zippers
When you are out in the cold, the last thing you need is a jammed zipper or one that snaps open in the extreme colds. The zippers should be such that they can withstand the frequent squatting and bending movements involved. The freezing cold can be very painful when a zipper refuses to close, and there is nothing you can do about it.
Best products found on the market today
The market is saturated with lots of skiing gear. Finding the right one that fits right into your financial means is the real problem. Here are some of the best products that are available to be purchased.
Smith Transit Goggles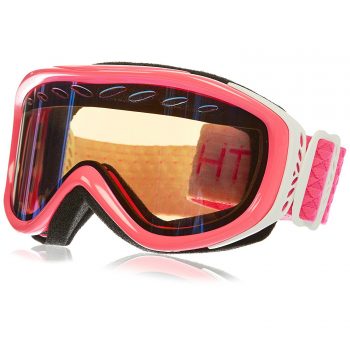 Weight: 1 pound
Dimensions: 9 x 5 x 4 inches
Specific features: Dual lens systems for ventilation, the lenses are flat and not compatible with eyeglasses
Best use: Skiing and snowboarding
Your face might be small, but that should not shrink your ski adventure appetite. The Smith Transit Goggles will fit you perfectly well. It has a flat lens to protect you from the Ultra Violet rays from the scorching sun reflecting off the snow.
Articulating outriggers make these goggles compatible with nearly all the snow helmets. You, therefore, do not need any special helmet to rock these goggles. Straps made out of backed silicone maintain these goggles in position as you speedily roll downhill.
There is no distraction from falling goggles which sometimes can spoil all the fun. There's also the fact that it is available in many fun colors.
Overall, this is a great pair of goggles that gets the job done. It is compatible with most snow helmets and has enough features to make sure it stays on while you ski at breakneck speeds.
PROS:
Fits those with smaller heads perfectly
They are compatible with almost all snow helmets
Perfectly covers your eyes, keeping out the cold air
They are great goggles at a cheap price
There is an easily adjustable band
CONS
:
They sometimes fog easily
They scratch easily
Related: Are you a fan of Smith Googles, worry not if you do not find particular one on sale. The Smith Scope Googles offers a great alternative to the Smith Transit Goggles and at it is slightly cheaper. It has dual lens and a built in anti fog.
BURTON Women's Gore-Tex Gloves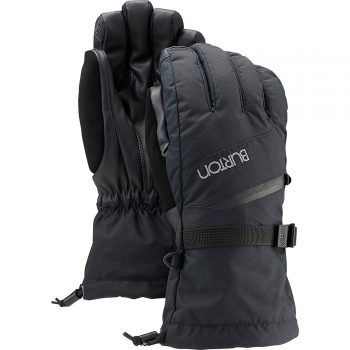 Weight: 1 pound
Dimensions: 2.25 – hand circumference
Specific features: It is storm proof; the gloves are made from Dryride Ultrashell; it has a waterproof membrane; has Grab Tough prop Palm material that gives ultimate grip; a microfiber lining makes it soft and also comfortable
Best use: Skiing and snowboarding
Need storm proof gloves for your hands? You got it. Burton Women's Gore-Tex Gloves are stormproof, shielding your hands from the blistering cold outside. For effectiveness, the gloves are made from Dryride Ultrashell 2-Layered fabric and Gore-Tex waterproofing membrane for ultimate waterproof protection.
You do not have to worry about slippage as you grip. The gloves have the latest ultimate gripping material, the New Screen Grab Tough prop Technology. Some gloves can be somehow rough when handled, not these. Brushed microfibers used in the lining material have a luxurious handle for superior comfort.
All in all, this pair is about as stormproof as it gets as far as hand protection goes. Despite that, it's still very comfortable and soft. It's a highly recommended pair of gloves for your ski outings.
PROS:
The 2 layers give it more insulating properties in extremely cold weather
The gloves remain dry even in heavy storms
There are storage pockets for some of your smaller stuff like wipes
The design is sturdy and well made for durability
CONS
:
Have a short wrist fabric that does not cover the jacket sleeves
It sometimes gets damaged easily
Related: The Dakine Women's Sequoia Glove is a good alternative pair with cuff closures, Gore-tex, shell fabric, and high loft synthetic solution.
Salomon X Pro 120 Ski Boots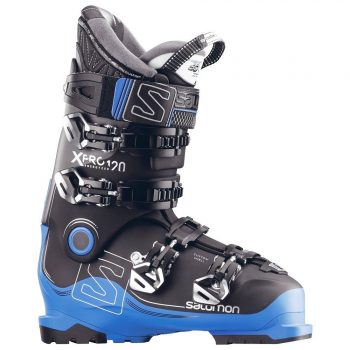 Weight: 10.3 pounds
Dimensions: 1.8 inches strap: 3.9 – 4.2 inches cuff
Specific features: Has a flex index of 120; made from polyurethane and polyamide; the buckle material is a 4 Micro Aluminum 3 D Buckles; has a 45 mm Velcro Adjust Power Strap; has a custom shell and cuff of 3.9 – 4.2 inches
Best use: Skiing and Snowboarding
The Salomon X Pro 120 Ski Boots offer a great option for a skier who has wide feet. Wide feet should not inhibit your desire for boots with very high performance. The boots are expandable from a minimum of 3.9 to 4.6 inches. This is while still maintaining their high performance properties.
They are highly stiff that is reminiscent of racing days. They stiff enough so that you can tip with confidence, blast into pillows of snow and arc in turns without losing your confidence. The Polyurethane/Polyamide material ensures that the boots can take a great deal of punishment without breaking down on you. The 1.8 inches Velcro Adjust Power Strap is also a nice touch for ensuring you get a great fit.
Overall, there's not much to say about this high performance ski boots other than it's well-built to serve you well on your skiing adventures.
PROS:
They are super stiff
High performance boots
The boots are customizable
CONS
:
They are stiff and come sometimes be uncomfortable
Related: For another good pair of ski boots, it is highly recommended that you should check out the Rossignol Alias Sensor Ski Boot. It has sensor technology, Sport Thermo Fit Plus liner and 100% Aluminium construction. Definitely a great pair of ski boots.
Outdoor Research Mount Baker Mitts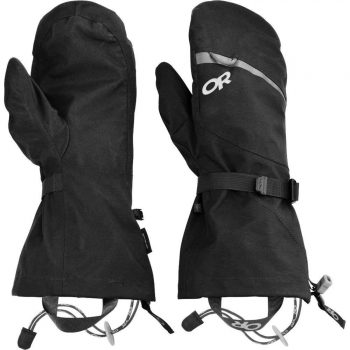 Weight: 0.9 pounds
Dimensions: 17 x 9 x 4 inches
Specific features: Machine washable, no need for bleaching under medium heat; pre-curve in a boxed construction; waterproof; breathable; made from a 70 D Taslan ripstop GORE-TEX shell
Best use: Skiing and snowboarding
These mitts are constructed using the same three layering used in the manufacturing of the Seattle Sombrero and crocodile gators which are award winning. The Outdoor Research Mount Baker Mitts are versatile, waterproof and technical and are the warmest amongst the Mt. Baker group of mitts.
Specially made insulated liners protect you from cold and damp conditions found in high altitudes. When it comes to construction, these mitts are definitely on point. Although you may notice that the pair's outer material has a certain "crunchy" quality to them.
The liners are not exactly waterproof but they do feel really warm and has a good fit. It is also worth noting that it provides increased dexterity which is a huge plus.
Overall, the material may not be the most high quality out there but these mitts are definitely a good addition to your ski arsenal. It has enough great features to warrant a purchase.
PROS:
They fit properly
You never experience cold fingers
They are waterproof
There is increased dexterity not found in others
CONS
:
It looks cheap at a first glance
The materials used for the shell can put one off
Related: Water proof mittens are essential when going skiing, particularly in extreme cold weather. There is no merry when Frostbite affects your hand. In that case, the Black Diamond Mercury Mitts should be a solid buy. It is very lightweight and 100% waterproof to keep your hands nice, warm and dry.
Canada Goose Expedition Parka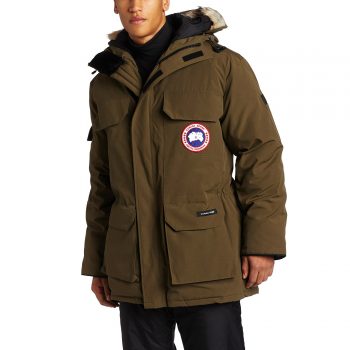 Weight: 6.6 pounds
Dimensions: 7 x 15.5 x 21.1 inches
Specific features: The outer shell is made from 85% polyester/ 15% cotton; the lining is 100% nylon; interlining is 100% nylon; the fill is 100% white duck down; fur is 100% Canadian Coyote fur; adjustable bracing; many pockets
Best use: Skiing and Snowboarding
The Canada Goose Expedition Parka coats offer warm and cargo pockets. They were developed by the scientists who were working at McMurdo Station, Antarctica. This coat is the warmest and has a lot of pockets. It fits nicely even with people who are large bodied.
The nice fur ruff should come in handy when it comes to keeping the wind out. If you are worried about not having enough pockets, there's no need to fret as the coat features numerous large pockets which includes the hand warmers.
There's also a storm flap that is hidden behind high quality YKK zippers. For adjustability, there's the waist cords and draw cords.
Overall, this is an amazing parka that brings all the goods and should find a good place in your ski gear repertoire.
PROS:
It offers great warmth
It has lots of pockets
Mammut Bormio HS Pants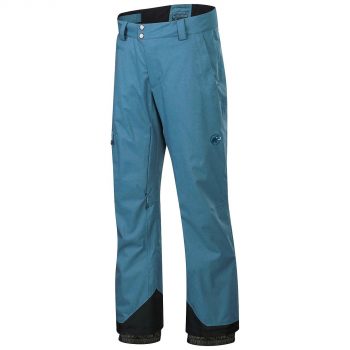 Weight: 0.9 pounds
Dimensions: 15 x 8 x 4 inches
Specific features: Has two layers, lined and warm; 2-Layer, (160+160) x (160+160) DEN 20008; the face material is 100% polyamide; the membrane is 100% polyurethane; the element face material is 100% polyester
Best use: Alpine skiing and snowboarding
These pants are made from very robust outer materials which takes care of the durability aspect. The waist width is individually adjustable which definitely helps with finding the right fit. A mesh backed layer ensures proper ventilation in case things get too hot. There is a leg pocket for your skiing passes and other small belongings.
The structure of the Mammut Bormio HS Pants is robustly structured on the outer material. A high quality padding waist regulatory system connects it to the jacket which is great for providing high level of comfort. The leg pockets are lined with cozy fleece to keep your maps. There is also the edge regulator that helps prevent edge stripping at times.
PROS:
It is well ventilated
The robust design can withstand any weather
Has pockets for your maps
It is light weight
Related: If the above pair of pants isn't able to meet your needs, the Arctix Youth Snow Pants is another good pair to consider. The ThermaTech insulation gives great warmth, the 600 Denier Ballistic provides the much-needed durability and zippered hand warmer and boot gaiters are great additions.
Vasque Women's Pow Pow II Winter Boot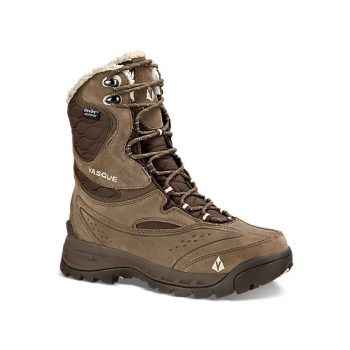 Weight: 6.4 pounds
Dimensions: 11 x 7 x 4 inches
Specific features: Made from both leather and fabric; has a rubber sole; insulated with ghillie-style with quilted panels; has 0.9 pounds 3m ultra-insulation; dual density; the waterproofing system is ultra-dry; molded rubber kick
Best use: Skiing and snowboarding
The Vasque Women's PowPow II Winter Boot boasts of high-tech waterproofing features provided by the Molded Rubber Heel Kick UltraDry technology. So you can trust that you will stay nice and dry. The ghillie style lacing is certainly a nice touch which features quilted panels and faux-shearling lining.
One look at the boots and you can certainly say that it's a high quality footwear. The construction  is just something to behold. The dual density EVA footbed ensures the highest level of abrasion resistance. The ultra dry waterproofing system should be more than enough to keep your feet dry from any rogue snow.
It is an innovative, functional and good looking boot which performs to the highest levels of standards. If you're looking for a good winter boot that won't break the bank, this is a solid recommendation.
PROS:
Very comfortable
Good insulation
Abrasion resistant footbed
You can hike in these boots for hours
CONS
:
They are a little small around the ankle area
Toe box might be a little confining
Related: The Vasque Women's Snowblime Boot is a very similar pair in case the above boots just don't do it for you. It features the 3M Thinsulate Ultra which is a lightweight insulation that provides maximum warmth and comfort. The EVA midsole and TPU shank offer great performance without the unnecessary weight.
Dragon Alliance X2 Ski Goggles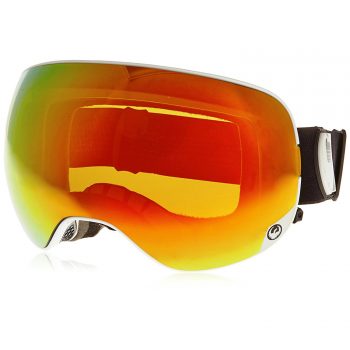 Weight: 1.25 pounds
Dimensions: 9 x 6 x 6 inches
Specific features: 100% UV protection mounted on 6 base injected lens; armored venting with a Patented Frameless Technology; compatible with a helmet and silicon; large size;  bonus yellow blue ion lens; made from hypoallergic Micro Fleece Lining
Best use: Snow skiing and snowboarding
These Dragon Alliance X2 Ski Goggles are a game changer in terms of functional versatility. The patented Frameless Lens Technology and Swiftlock is applied in the design of these amazing goggles. The On and Off system allows you to promptly swap lenses in no time with ease and more securely.
The triple foam with micro fleece lining provides the much needed comfort which certainly comes in handy if you're going to wear the goggles for extended periods of time. As with all good ski goggles, it comes with 100% UV protection that comes with the optically correct 6 base injected lens. Overall constructions feels tough and sturdy.
Overall, this is one of the most innovative goggles that you can find in the market. It allows you to adapt quickly to any sort of condition that Mother Nature may throw at you.
PROS:
Easy to change lenses
Good fit
Good selection of colors
Then colorful night lens can be used during the day or night
There is the ability to optimize the performance of your set
CONS
:
The lenses are too easy to remove, you can easily lose one
Fogs very fast
Related: The JULI Ski Goggles is another great pair that is worth considering with great features like detachable lens system, professional ventilation, frameless design and more.
Giro Nine Snow Helmet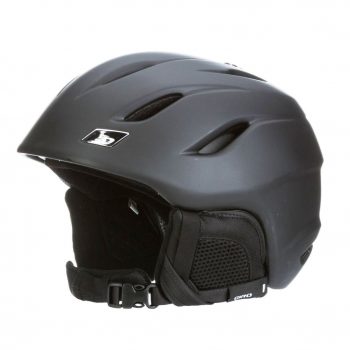 Weight: 2.4 pounds
Dimensions: 10 x 10 x 10 inches
Specific features: It has compatibility with all the Giro audio systems; seamlessly compatible with Giro goggles
Best use: Skiing and snowboarding
Over the past decade, Giro products have had the Giro Nine Snow Helmet as their lead product in the market and for good reason. It is the pioneer of snow helmets with high-performance standards.
The helmet features a low streamlined profiled design which is good for those who prefer the minimalistic approach to their helmets. With a thermostat control for warmth, it provides you an option to easily adjust the ventilation. The Form Fit System makes it a lot easier for you to find that perfect fit, even if you are using gloves. On top of that, the Vertical Tuning ensures that it can fit a wide variety of heads and goggle shapes.
This helmet is definitely a classic. It might look simple and streamlined but it has enough features to please even the most jaded daredevils of the slope.
PROS:
Great for its price
Comfortable
Lightweight
Vertical tuning
Good quality
Bluetooth compatible
Adjustable air vents
CONS
:
The size labeled small can be too small
Related: The Giro Onset Spherical Lens Goggle is a great pair that should go great with the Giro Nine Snow Helmet. It has a great selection of colors and boasts Carl Zeiss Vision lens for the widest peripheral vision. Again, this is a perfect fit with the helmet featured above.
In Conclusion
Skiing gear is inevitable when you want to go out and hit the slopes. Skiing experts or even first timers need to have the appropriate gear. Being safe should be the utmost priority when you are planning on going skiing. When shopping for these gears, look at your budget and see what is in your reach and at the same time meets the minimum criteria for skiing gear.
Featured Image Source: https://unsplash.com/photos/pmfJcN7RGiw