Quickdraws, quickdraws, quickdraws. Next to a rope, these little pieces of gear might be the most important part of any sport or trad climber's rack. Whether you need five or one hundred, many of you will agree that buying quickdraws can be an expensive, and painful, task.
Luckily, you don't have to buy your next quickdraws on a guess! We've put together a guide on how to buy the best quickdraws – from what you need to look for to reviews on seven great products. Let's dive in!
Our top picks
Things To Consider Before Buying
Before you buy your next set of quickdraws, there are a few things you need to keep in mind.
Carabiner Strength Rating
As we said above, quickdraws are one of the most important pieces of gear in any trad or sport rack. They reduce strain on your protection, keep your rope moving smoothly, and help buffer falls. All those jobs require a lot of strength  and the weakest link in the quickdraw chain is the carabiner.
Carabiner strength is rated on three scales – closed gate major axis, open gate major axis, and minor axis. The closed gate measurement basically refers to when the biner is aligned properly and clipped – and should be a minimum of 20 kN (we'll leave the mathematics to the lab team).
Even with a heft fall, most climbers are going to be hard pressed to get that much strain on a properly placed quickdraw – which is why the open gate and minor axis ratings matter.
The minor axis and open gate ratings are usually much, much lower than the closed gate. This is because in order to distribute weight on either of these axes, something usually has to go wrong. However proficient of a climber you are, accidents do happen, and you should always have carabiners that can take at least 7kN on either.
Now that the mathematics are out of the way, one final note on strength: Never, ever use a carabiner that doesn't have a kN rating!
Sling Length
The next thing to consider when buying quickdraws is the sling length. This refers to how long the length of webbing between the carabiners is, and it varies from about 3.9 – 9.4 inches. The correct sling length is less essential to a safe climb than having a good strength rating, but it's still an important preference to consider before buying.
The longer a sling is, the more flexibility you have to transverse on a route. This is nice, but longer slings also mean more weight – and weight adds up quick on a climbing rack. For sport climbing, shorter lengths are usually just fine.
On trad climbs, however, longer slings give you the opportunity to place better protection, and carrying a range of lengths is probably a smart idea.
Gate Style
With all the fancy climbing technology of the last few decades, climbers now have a ton of options when it comes to carabiners. Different carabiners have different applications, though, and for quickdraws you want to find the best protection for the least weight. That usually means your carabiner gate will be one of three styles: wire, straight, and bent.
Straight gates are the standard for most carabiners. They are solid, durable, and easy to clip into, and more lightweight than bent gates. Bent gates are slightly heavier, but they're even stronger than a straight gate. Many quickdraws use a combination of the two for easy rope clipping and full-strength advantage.
The third option for a carabiner gate is a wire gate. Wire gates use a loop of wire instead of a solid gate, and are much more lightweight than standard gates. They're less prone to freezing shut – which is great in cold and wet weather. The biggest downside to wire gates is that they lose a lot of strength that standard gates have – so if you're planning on difficult routes or a lot of use, they might not be worth the extra ounces.
Gate Lock
Just like gate styles, carabiners have about a million different closing and locking mechanisms. For rappelling or belay carabiners, you might see screw gates, twist locks, and even magnetic locks. Quickdraws don't utilize fancy locking systems, but you do have a few options for your closing style.
The most common type of gate lock on a quickdraw is a nose hook. These look like a tiny little hook and help secure the gate into place. Nose hooks are usually more affordable, but they run the risk of getting caught on gear and weakening or breaking. Keylock carabiners use a slim nose that fits snugly into place and reduces the risk of catching.
Regardless of which gate lock you choose on your quickdraws, gates are only strong when properly used. Always make sure that your draw is properly positioned on your protection, and that your rope is properly clipped into the other end.
Carabiner Profile
The final thing to consider with quickdraws is the carabiner profile (had enough of carabiner talk yet?). Carabiners come in several different shapes and sizes, including oval, pear, and D-shaped. Quickdraws usually utilize either a D-shape or an asymmetrical D-shape. These biners are strong, lightweight, and have a long and easily-accessible gate.
D-shaped carabiners are a classic style. They are strong and durable and often affordable – but they are heavier than asymmetric D's and more difficult to clip into. Asymmetric D-shaped carabiners are more lightweight and easier to clip into – but they're a little less strong and often much more expensive.
Now that we've gone over some of the things to look for when buying quickdraws, let's get into the reviews!
Best Products On Today's Market
Can't be bothered with shopping on your own? Here are 7 great quickdraws and all their specs to get you started.
Petzl Ange Finesse Quickdraw
Weight: 2.5 ounces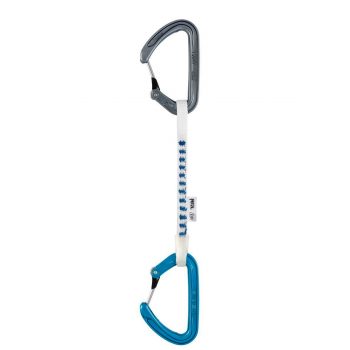 Length: 6.7 inches
Specific features: Small/large carabiner design, keylock gate, H-profile carabiners, wire gate, 9 kN open gate
Best use: Alpine trad, multi pitch trad
For the multi pitchers among us, Petzl Ange Finesse Quickdraws are the best you can buy. These quickdraws feature ultralight H-profile carabiners with wire gates that shave off every spare ounce without sacrificing strength.
One carabiner is slightly smaller than the other – reducing even more weight while still leaving enough room to clip on the other end. The 6.7 inches sling is perfect for trad climbing, and the keylock wire gate is specially designed to retain strength in alpine conditions.
These quickdraws are the perfect companion on multi-pitch trad climbs, and will remain durable through all types of conditions. Their price matches their quality, and climbers who stick to sport or single pitch climbs might not need the specialization.
Additionally, while the keylock gate is deceivingly wide, it's strength makes it a little stiff. All in all, these PETZL draws are perfect for trad climbers who like to go far.
PROS:
Lightweight
Strong gate design
Durable in all conditions
CONS
:
More expensive
Stiff wire gate
Related: If you can't get enough of the carabiners on these draws, check out Petzl Ange L Carabiners. These additional carabiners are perfect for setting anchors in alpine conditions.
Petzl Spirit Express Quickdraw
Weight: 3.3 ounces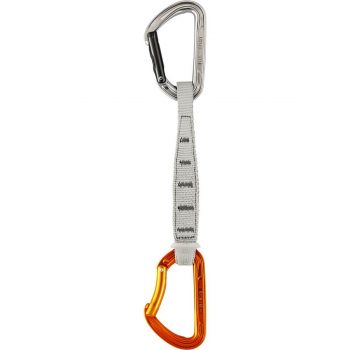 Length: 4.7 inches
Speciic features: 23/8/9kN strength, H-profile carabiners, straight/bent gate combination, keylock gates
Best use: Serious sport and trad
If you're a hardcore climber (or want to be), there are few more loved pieces of gear than the Petzl Spirit Express Quickdraw. These quickdraws are a perfect combination of strength and affordability, with standard keylock gates and H-profile biners.
The gates are designed for the best clipability without sacrificing safety, and the higher than standard strength rating proves it.
While these quickdraws are great for clipability and durability, the standard gates are prone to freezing in alpine conditions. Additionally, the added weight isn't ideal for long treks and big multi-pitch climbs. For single day sport and trad climbs, however, you can't go wrong with this product.
PROS:
Easy clipping
High strength rating
Very durable
CONS
:
Heavier
Standard gate prone to freezing
Related: For extra protection and versatility, take a look at the Petzl Express Sling – sold individually. These slings have an added option of 9.8 inches for serious trad.
Petzl Djinn Axess Quickdraw
Weight: 3.7 ounces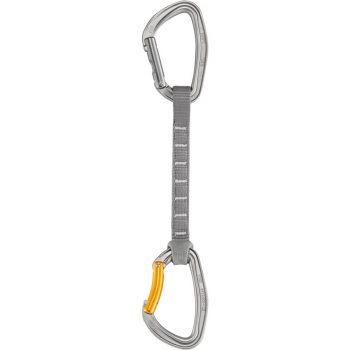 Length: 4.7 inches
Specific features: Straight/bent gates, large gate, 23/8/9 kN strength, keylock gate
Best use: Casual sport
The Petzl Djinn Axess Quickdraw is a perfect companion for any sport climber. These quickdraws feature a straight gate for bolt clipping and a bent gate for the rope end, allowing for easy clipping.
These quickdraws comes with a 3 year warranty, but their durability is well tested, as shown by the higher than minimum strength rating.
While these quickdraws are great for sport climbing and more casual trad, they are a little heavy. The standard gate isn't suited for alpine conditions and is prone to freezing, but for casual sport they hold a lot of bang for their buck!
PROS:
More affordable
Multiple sizes
Large gate for easy clipping
CONS
:
Heavier
Standard gate prone to freezing
Related: If you love the Djinn Axess, why not buy it with a personal anchor system? In that case, the Metolius Personal Anchor System is a solid option for its great safety features and overall versatility.
Mad Rock Concorde Quickdraw
Weight: 3 ounces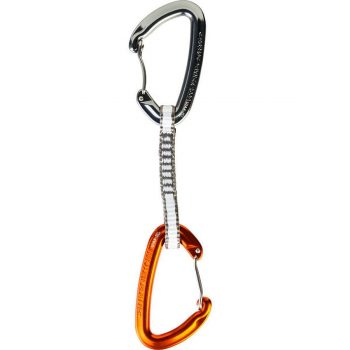 Length: 3.9 inches
Specific features: Wire gate, 26 kN major axis strength, aluminum
Best use: Sport climbing
For serious sport climbers, gear is rarely available on a budget. Luckily, the Mad Rock Concorde Quickdraws come to the rescue with affordable-priced, high quality draws. These quickdraws come in a six pack and feature 3.9 inches slings and a 26 kN strength rating.
Their strength doesn't add weight, however, and the aluminum design makes for a super-lightweight draw. Each draw weighs only 3 ounces – making them one of the most lightweight draws for their price range.
These are the perfect quickdraws for sport climbers who don't want to overspend for quality gear. Their short sling length and aluminum design isn't ideal for trad climbing, but that's about the only drawback to these draws.
PROS:
Affordable
Lightweight
Dogbone slings
Wild Country Helium Quickdraw
Weight: 2.4 ounces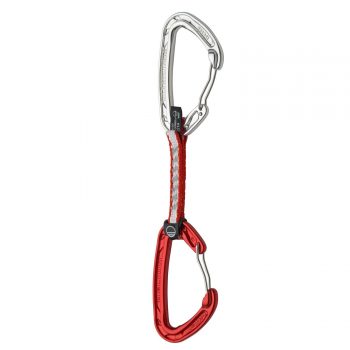 Length: 3.9 inches
Specific features: 24/10/7 kN strength, no hook wire gate
Best use: Alpine sport and trad
The Wild Country Helium Quickdraw combines the very best of strength and limited weight. These 2.6 ounces draws feature a 24 kN major axis strength rating, keeping you safe even on the hard falls. The wire gates utilize a no hook design for ultra easy clipping in the most difficult of spots.
While these draws offer some of the best in durability and ease, they are a little more pricey than some of the other options. Their price, however, comes with added strength, less weight, and smooth clipping. For alpine climbing, however, you can't go wrong with this quickdraw.
PROS:
Lightweight
Easy clip wire gate
Extremely strong
Camp USA Wire Express KS Quickdraw
Weight: 3 ounces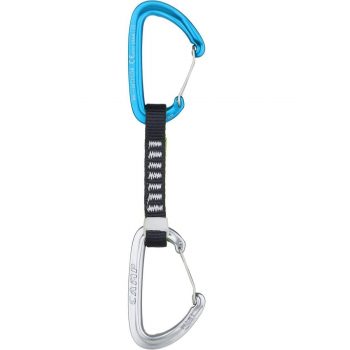 Length: 4.3 inches
Specific features: Bent/straight wire gates, lightweight, 22 kN major axis strength
Best use: Multi pitch sport
For another great sport climbing draw, check out the Camp USA Orbit Wire Express KS Quickdraw. Sold as a set of 5, these 4.3 inches quickdraws are an affordable and durable product.
They feature a straight wire gate on the bolt side and bent wire on the rope end, allowing for ease of clipping without sacrificing safety. Their light weight makes them a perfect option for multi-pitch sport.
While the affordability does not sacrifice safety, these draws are rated at 7/7 kN on the open gate and minor axis. That, and their short length, make them better suited to sport than trad, especially when protection is sparse. Nonetheless, this quckdraw makes a great addition to any sport rack.
PROS:
Affordable
Lightweight
Straight/bent gates for easy clipping
CONS
:
Only one length
Sport climbing only
Related: With all these draws, you need a harness to put them on. Check out the Camp USA Energy Harness – an affordable and high-quality way to store your gear on the rock.
Black Diamond FreeWire Quickdraw
Weight: 3.6 ounces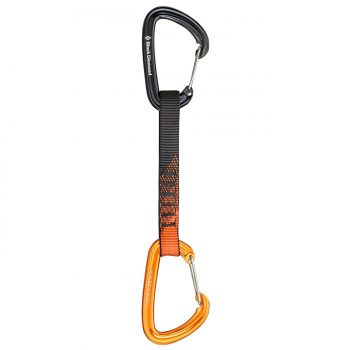 Length: 7 inches
Specific features: 25/9/7 kN strength, wire gate
Best use: Trad climbing
The Black Diamond FreeWire Quickdraw is one of the go-to choices for trad climbers. These strong, durable quickdraws come from one of the most renowned and trusted climbing gear brands and they don't disappoint here.
The draws are perfect for tricky trad climbs where protection is sparse. The dual wire gate design makes for easy cleaning, freeze resistance, and quick clipping.
While you can't go wrong with Black Diamond, these draws are built tough – that means a stiff gate that requires some breaking in before you're rope is going to glide in.
Additionally, their strength means they weigh a little more than some of the other trad draw options. Nonetheless, these are a great option for any trad climber who can handle a few more grams of weight on their rack, and for alpine trad climbers.
PROS:
Affordable
Long lengths for trad
Strong
Related: Trad climbing is a dangerous sport – which is why protection, on the rock and on your body, are so important. To stay safe through all your trad adventures, check out the Black Diamond Half Dome Helmet. This high-quality climbing helmet protects against falling rock and ice and dome-splitting falls.
Summing Things Up
We've gone over everything you need to know about quickdraws. We took a look at some of the buying considerations you might have – like gate style and lock and strength rating, as well as what kinds of designs are better for sport and trad climbing.
With all you need to know before you buy, we went over 7 of the top-rated quickdraws on the market, from trusted brands like Petzl, Black Diamond, and Mad Rock. Now get out there and get climbing! Do you have any recommendations for buying quickdraws? Any tips on good protection placement? Let us know in the comments!