There exist a wide variety of pocket knife sizes, styles, and designs. All pocket knives are not created equal, and while they may serve several common purposes, they have also become quite specialized to suit different needs, styles, and tasks.
Whether you are in the market to buy the best pocket knife for yourself or to give one as a gift, it is worth taking the time to educate yourself before you make your choice – it could end up being a choice that saves the life of you or a loved one, or at least make your lives a lot more convenient!
While it may be true that "you get what you pay for", buying the most expensive pocket knife doesn't necessarily mean you are getting the one that is right for you. When it comes to selecting the right pocket knife, there are no absolutes.
Everyone has their own unique needs and preferences, and therefore the knife that is best for one person may not be a good fit for you. Pocket knife selection may sound like a daunting task and it is certainly easy to become overwhelmed by options, but we have made it easy for you to get up and running quickly in order to make an educated decision that you can feel confident about. Read along as we help you determine what to look for and review some of our favorite choices.
Our top picks
Important features to consider
When choosing your pocket knife, make sure that you keep an eye out for these important features.
Knife Opening Mechanisms
Most pocket knives on the market open by one of three ways: manual, assisted, or automatic opening (switchblade).
Manual Opening Knives: This is likely the most common style available. They usually have a small nail indent in the blade, and the user simply places their nail in the slot in order to slide the blade open. They sometimes also have a thumb stud (or two thumb studs to make it ambidextrous) which allows you to place your thumb inside of a hold on the blade in order to pull it open.
Assisted-Opening Knives: This type can be opened more easily, by applying direct pressure to the blade. This extra assistance makes the knife easier and quicker to access.
Automatic or Switchblade Knives: These simply needs the push of a button to open the blade. Although they may be convenient, these types of knives are considered the most dangerous of weapons, and were even outlawed in the fifties. To this day, they are still considered illegal in many states and countries. If you want to choose this blade, you will need to do careful research ahead of time to make sure it is legal in your area.
Number Of Blades
You can just as easily find a pocket knife with one blade, as you can find one with multiple blades or other tools. The number of blades and/or tools you choose depends upon your plan for the knife.
Multi-tools, such as Swiss Army Knives, may be a handy piece of equipment to have on hand since they are able to serve a variety of functions. However, the quality of the knife may not be as good as you are looking for if you will simply be using the knife for cutting applications.
Blade Material
The two most common materials for a pocket knife (and other knife types as well) blade to be made from include Stainless Steel or Carbon Steel (usually powder-coated). Stainless Steel is very strong, stainless, and not highly susceptible to rust from moisture or humidity. It can also perform well without the need for frequent maintenance, but stainless steel is also known to lose its razor sharp edge more quickly.
Carbon Steel knives are commonly known to keep their sharpness longer than stainless steel knives, but they need regular cleaning and lubrication to avoid rust and damage, and are more susceptible to moisture and humidity.
Blade Style
Straight and serrated are the two most common blade options. Many prefer a serrated blade for its added abilities, but it is a matter of choice.
Whichever you prefer, you will want to also be prepared for a means by which to sharpen your blade out in the elements. Straight blades are generally quicker to sharpen, and in an emergency situation, may even be sharpened with a stone found in nature. Serrated blades, however, pose a more difficult sharpening challenge.
Locking Mechanisms
A locking mechanism is important to keep your knife in the open position and prevent it from closing on the user's hand while using it. The most common style is the liner lock, which keeps the knife in place by the user moving it forward and backward to open and close it. There are other types of locks that are located on the handle.
A ring lock is another style that is designed for the user to switch a ring around the base of the blade to lock or unlock it. There are also lever locks and slip joints, which are less common types of locking mechanisms.
Pocket Knife Pricing
Price is another important consideration when choosing a pocket knife. As mentioned earlier, you don't always get what you pay for in terms of quality, and you could easily end up paying more than you need to and getting a lot of seemingly cool features that you may never use.
There are many options under the $20 price point, however these may not be of the highest quality and most likely would not be suitable for a collector either, nor would also they hold their value well. They may be a great option for a novice user or for an emergency backup.
Generally, you can expect to pay between twenty and one hundred dollars for a good quality knife. Anything costing over one hundred dollars is more likely to be for the most serious of users, or for knife collectors.
Now that you have learned about some of the most important features, continue along as we review some of our top choices and discuss what these features may mean for you.
Product Reviews
Benchmade Knife 585
Weight: 3.5 ounces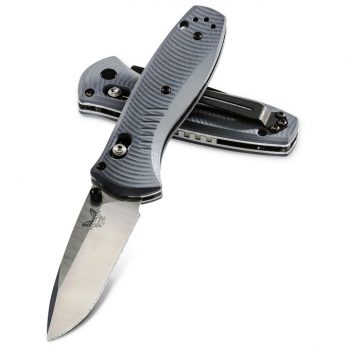 Blade length: 3 inches
Specific features: Plain blade edge with a satin finish, black valox handles and liners made from stainless steel
Best use: Every day carrying, able to withstand heavy outdoor use
The Benchmade Knife 585 is a solid pocket knife that is built to last for many years to come. It is equipped with the "AXIS Assist" feature that makes it quick to open with only one hand, and can be used just as easily whether you use your right or left hand to open it. This locking mechanism holds the blade steadfastly in place so that it does not wiggle, but it is also easy to close.
Some users complain that it is difficult to get used to, but once they have it down most users love this feature, because it also ensures that the blade will never fall open on its own. The handles of this knife are somewhat unremarkable in comparison to the blade and locking mechanism, but they are in fact functional and durable.
The biggest complaint people have with the handles is the way they feel in your hand. It is important to keep in mind, however, that better quality handles would also increase the price of this knife. All in all, this is a solid pocket knife that is built to last for years to come.
It also bears the Benchmade lifetime sharpening policy, which is another great perk that could save you money or time in the long run. Provided the knife is corrosion resistant, it offers excellent stiffness on a long term basis. Even the price for the knife is moderate, so, you hardly have to think about the price also.
PROS:
Corrosion resistant
Sharp edge
CONS
:
Pricier side of the scale
Related: The Benchmade Knife 551-ORG is one of the products that you can buy with this knife. The plain edge and satin finish gives the blade a great finish that works well in all most every condition. We like the locking mechanism of this knife which makes it open and close in seconds.
Victorinox Swiss Army Knife
Weight: 0.8 ounces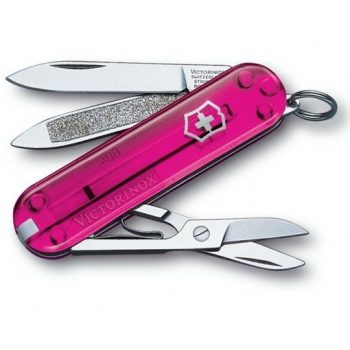 Blade length: 2.3 inches
Specific features: Stainless steel construction, performs seven functions
Best use: Light, multi-purpose use – perfect for carrying in bag, purse, briefcase, or storing in the car or desk
Neat and compact, the Victorinox Swiss Army Knife is a trusted standby for anyone who is resourceful and likes to be prepared for common encounters. Don't be fooled by its small size, as it packs in many options that could really come in handy in a variety of situations, yet it is so light you won't even know it is there.
Of the seven tools contained within the knife, all are stainless steel except for the toothpick, which is made of a strong plastic. All of the tools stay attached to the unit except for the toothpick and the tweezers, which slide out when needed. This is a potential drawback, in that those items could be misplaced if not immediately returned to their slots after use.
Another potential complaint regarding this knife is its very small size means that each of the seven tools is in fact rather small, and may be difficult to operate for those with larger or clumsier fingers. For the most part, users find this tool to be extremely useful and fairly easy to operate. Overall, this is a great little tool that is available in a variety of colors and designs at a very reasonable price, and it is synonymous with Swiss Army quality.
PROS:
Sharp scissors and knives
Nail filler end is flat
Plastic pick helps in cleaning
CONS:
The spring of the knife tends to knock out of alignment
Related: The Victorinox Pocket Knife Sharpener is one of the most often bought products with this knife. When you talk about compactness, there can't be a better option than this knife. At a very affordable price, you get a compact and sturdy knife that works well for light duty tasks. You can easily carry it down in your pocket without filling its weight and even presence. Good for you when you are not willing to bother the people around you.
Kershaw Leek Knife
Weight: 3.2 ounces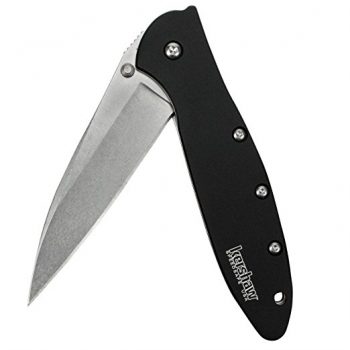 Blade length: 3.2 inches
Specific features: "SpeedSafe" assisted opening, frame lock, reversible pocket clip, stainless steel, made in the USA, includes limited lifetime warranty
Best use: Light outdoor use
The Kershaw Leek Knife is an ideal knife for your everyday carry needs. The blade is a decent size (three inches long), and is longer than many other pocket knives yet its not too large to carry with you due to its sleek design. The blade is razor sharp and is designed for high performance, made of stainless steel with a modified drop point.
It also features the "SpeedSafe" system for easy opening, which allows the user to open it quickly and easily with either hand. To open it, simply apply pressure to the thumb stud, and the blade will open smoothly and the frame lock will keep the blade locked in place during use and also when folded, so you can feel confident that it will not fall open on its own or close on itself during use.
However, users will note that this mechanism requires regular cleaning and lubrication to stay operating as it was designed. One important drawback of this knife is that the handle is so lustrous that it can be difficult for some users to grip in wet or adverse conditions, so it is best suited for lighter duty, common outdoor tasks.
Overall, this knife is a well-designed, well-made pocket knife at a great price.
PROS:
Easy opening
Razor sharp blade
Frame lock
CONS
:
Needs regular lubrication
Light duty
Related: If you are looking for lightweight and handy pocket knife the Kershaw Little Lockback Knife is also a great option. For the affordable price it comes with, there are a whole lot of excellent features. Compact and sturdy, this knife contains safety lockback that maintains the safety when opened and closed. With a good slicing power, the knife also has a strong piercing point. 
Spyderco Paramilitary 2
Weight: 3.9 ounces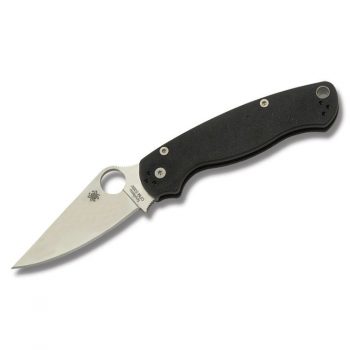 Blade length: 3.4 inches
Specific features: Made in the USA, tested for quality and durability, G-10 handle, compression lock and ambidextrous four way clip for carrying, CPM S30V steel full flat black blade with non reflective coating
Best use: Heavy outdoor use
The Spyderco ParaMilitary 2 was released in 2010 with several changes over the original version to make it sharper, slicker, and more comfortable to use. This version generates more fluid movement, and the handle is narrower at the bottom for better ergonomics.
The blade and handle are both thinner and smoother so that there are no hard angles when the knife is in its closed position, making it easier and more comfortable to carry in your pocket.
The compression lock is reliable and easy to operate, located on the palm side of the handle. The blade is flat ground and made of CPM S30V, with a longer tip, and a "Diamond like Coating" (DLC) which makes it non-reflective.
Of all of the features of this knife that users love, this DLC tends not to be one of them, as some have found it to stain easily and take on an oily look that does not come clean. Although this may affect the appearance of the knife, it has no effect on the knife's performance and it is also available in plain steel as opposed to black.
Although this knife bears a higher price tag than many other pocket knives, it also has better quality and precision to match. Simply hold it in your hands and observe its design and it is not hard to see why it costs more than other knives designed for the similar purposes.
With proper care and normal use, this knife is designed to last for a lifetime of service, or even longer.
PROS:
Last a lifetime
Quality precision
CONS
:
Higher on the pricing scale
Related: The Spyderco Delica4 Lightweight Knife is one product that you can buy with this knife. Made with highest quality material, the knife is highly durable and can be used for your daily as well as miscellaneous chores. We like the FRN Bi-Directional Textured® handle that makes it easy to make grip on the handles. The enlarged opening hole makes it easy for you to open and close again and again.
Kizer Cutlery V3471a2
Weight: 3.74 ounces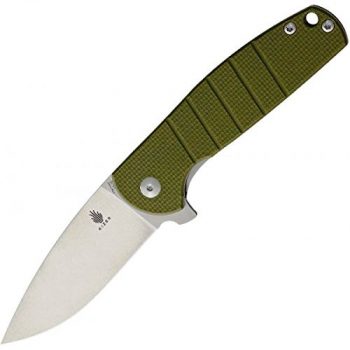 Blade length: 3.1 inches
Specific features: Drop point blade with flat blade grind, and plain blade edge
Best use: Every day carrying, able to withstand heavy outdoor use
As with all knives crafted by Kizer, the parts for this Kizer Cutlery V3471A2 were cut using wire machines as opposed to laser or water, and human hands are involved in every one of the finishing steps to ensure the best possible quality and sharpness for each and every knife.
This knife is a collaboration between Kizer and custom knife craftsman Ray Laconico (LV Knives) inspired by the Jasmine folder knife he had designed previously. The blade is flat ground VG-10 and has a drop point.
It opens smoothly, due to the bearing pivot system as is standard in all Knives produced by Kizer. The OD green handle features an easy to grip texture with a lanyard hole. The knife also has a titanium pocket clip, and stainless steel liners.
Made with comfort and precision in mind, this knives serves well for the surrounding where you don't want to astound people with the presence of a knife. Given the knife is lightweight, you can put it in your pocket, pouch, handbag, or even in a bigger purse. Given all the perfectness in one piece, this knife comes with a pricey tag, but it's truly worth it.
PROS:
VG 10 flat ground blade
Drop point in the blade for piercing purpose
Related: The Kizer Knives Flipper is one of the more often bought product with this knife. Blade length of this knife is 4.09 inches, which also showcases drop point and plain edge. The frame lock makes sure it gives a strong grip on the hand and you can use it in some medium duty tasks too.
Ontario Rat II
Weight: 3.2 ounces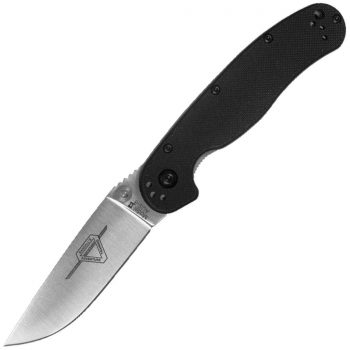 Blade length: 4.1 inches
Specific features: Stainless steel, nylon handle, plain edge full flat blade, dual thumb studs, 4 way reversible pocket clip
Best use: Every day carrying
The Ontario RAT II is a great knife, available at one of the greatest prices around for knives that perform in a similar fashion. It is compact and lightweight, lending itself to being carried comfortably and easily.
The design of the blade is highly functional, and is built solid. The blade is secure and does not wiggle in the open position, and it also locks up securely. It has dual thumb studs that are easy to open with one hand, whether you are right or left handed.
Aus-8 stainless steel has been used to construct the blade while the handles are made up of Nylon. The plain edge, full flat taper grind blade appears to be perfect for most of the daily jobs. Provided the handle is of Nylon, there are few complaints about the gripping, mostly when moisture builds up.
It is fully sharpened, lubricated, and ready to use right out of the package, and holds its edge very well. There are certainly other knives that look more impressive, as this one looks more basic, but better styling would also add to the price. It may not be fancy, but the quality level is solid and dependable.
Overall, this knife could be an excellent choice for anyone who is looking to stay at a lower price point, but still desires a solid and dependable product.
PROS:
Compact
Lightweight
Easy to open
CONS
:
There can be issue with the grip in few situations
Related: Made up of AUS-8 steel Ontario 8848 RAT Folding Knife is one of the most commonly bought product with this knife. You can rely on this 3.5 inch plain edge blade for most of the medium duty activities. Provided it is just 4 ounces, you are hardly going to feel its presence in your pocket. The pocket clip is 4 position types, which will act moderately strong. It acts well for an EDC knife and even the price for it is quite low.
Buck 110 Knife
Weight: 7.2 ounces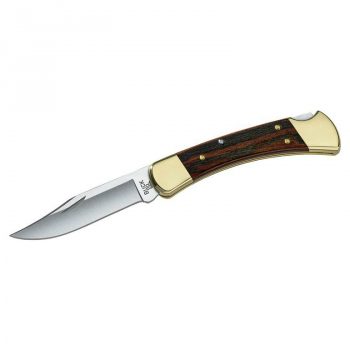 Blade length: 3.7 inches
Specific features: Crescent tip blade, lockback design, "dymondwood"wood-grain handle, bolsters, liners, and rivets made of brass
Best use: Every day carry, with special emphasis on detail work
This Buck 110 Knife is their signature knife-originally designed in 1962-it has stood the test of time and is has become one of the most imitated knife designs around the world.
The rugged blade comes razor-sharp and has a crescent tip clip blade, which also makes it very well suited for more fine detailed work such as cutting in close quarters and piercing.
While the nail-notch lockback design is great for safety, please keep in mind that it can take some getting used to, as it might be an easy mistake for a new owner to accidently hold their fingers across the blade while closing it. Once you get the hang of it, it is very easy to open and it closes securely.
It is also somewhat large for a pocket knife, and it may require two hands to open for those less experienced. The woodgrain handles and brass are timeless and simple, yet elegant. It also comes with the fantastic unconditional lifetime warranty by Buck, ensuring that you will always be covered.
Contact the customer service and they will diligently replace your defective or damaged knife. Unlike many other companies, this one sticks to its warranty policy very well.
The knife is manufactured by keeping in mind how you will feel while holding it in your hand. At the start you might need to settle your hand on the knife and once you are used to it, you will hardly like any other knife.
Even if we talk about the cost aspect, then this one is way cheaper than many other pocket knives. And, low price don't even asks you to adjust with your requirements.
PROS:
Razor sharp blade
Well suited for piercing and other fine works
CONS
:
Users generally take time to get used to this knife
Related: The Buck Knives 112BRS Ranger is one great option to buy with this product. It serves your need of pocket knife in a very subtle way and you don't really need to spend too much. The 3 inch clip shaped blade comes handy when you are doing some minor chores.
Final Thoughts
It is easy to see that not all pocket knives are created equal. It is also easy to get caught up in options, accessories and details that may sound and look cool, but that you may never end up actually using.
Naturally, the more features and options, the more expensive the price tag will be as well and you would be better off buying a knife that really shines with regards to the features that matter most to you. This is why it literally pays to be educated in pocket knife features and to evaluate your options and be true to your own preferences.
Even if you are purchasing a pocket knife as a gift, you will still want to consider which features the person for whom you plan to buy it is most likely to take advantage of. Hopefully we have helped you get off to a great start in selecting the best pocket knife for you and yours!
What are some of the things for which you rely on your pocket knife most? How many pocket knives do you own? What are some of your favorite brands? We would love to hear about your experience! Let us know by leaving a comment or two below!