Out of the dizzying number of options, which are the best men's ski pants? Note, you'll use and abuse these garments throughout their lifespan, mostly in unforgiving conditions. Therefore, you'll require pants that fit perfectly, match your skiing style, protect your legs from the wind, cold, and abrasion, last long; while stylistically complementing your other layers.
Selecting such a pair can proof to be cumbersome but we've the process simplified. All you need to do is consult our ultimate buyer's guide and an in-depth review of the top ski pants in the market today; for a rewarding choice. These guidelines and the reviews are discussed below starting with…
Our Top Picks
| Product | Material | Waterproofing | Breathability rating (g/m2) | Price |
| --- | --- | --- | --- | --- |
| Arcteryx Stingray | Nylon | 28,000 mm | 20,000 | Check price on Amazon |
| Patagonia Reconnaissance | Polyester | 10,000 mm | 10,000 | Check price on Amazon |
| Patagonia Snowshot | Polyester | 10,000 mm | 10,000 | Check price on Amazon |
| Flylow Chemical | Nylon | 20,000 mm | 20,000 | Check price on Amazon |
| Marmot Mantra | Polyester | 10,000 mm | 10,000 | Check price on Amazon |
| Salomon Chill Out Bib | 86% Nylon & 14% Elastane | 20,000 mm | 20,000 | Check price on Amazon |
| Helly Hansen Legend Cargo | Polyester | 10,000 mm | 30,000 | Check price on Amazon |
Features to Consider Before Buying
While in pursuit of your outdoors, chasing those untracked lines and lapping the mountain; the ski pants work tirelessly to keep your legs dry and comfortable. Thus, when selecting a new pair, it pays to look for features, styles, and fabrics that'll be most applicable to your skiing excursion. In short, take the following into account.
Waterproofing
Most ski pants have a hydrophilic rating of 5-20K (that is between 5000 and 20,000mm) and the higher the figure, the more waterproof the fabric is. The table below shows various pants waterproof ratings.
| Waterproof rating | Range | Description |
| --- | --- | --- |
| Very high | >20,001 mm | They make use of great water resistant fabric and DWR coating and thus can keep you dry in moderate rain and deep snowfall |
| High | 15,001-20,000 mm | Pants with this rating will keep you warm and dry in wet snow and heavy rain |
| Moderate | 10,001- 15,000 mm | The pant can keep you dry in light rain and moderate snow |
| Mild | 5,001 – 10,000 mm | Pants keep you dry in light rain and average snowfall |
| Water-resistant | <5,000 mm | Pants treated with just a DWR coating. They can keep you dry in light snow but not in the rain |
| Not specified | - | The pant is waterproof or water-resistant but exact measurement aren't provided |
| Not specified | - | Pants for casual wear |
The majority of waterproof pants derive their waterproofness from water-resistant membranes such as Gore-Tex, MemBrain, eVent, and HyVent that are used as a lining or as laminates. A durable water repellant (DWR) coating can also be added to boost the hydrophilic nature of the garment.
Seam taping affects the waterproof rating too. Is the pant fully or critically seam-taped? The latter work best for cases where you'll be spending short periods in snow or wet weather. However, for skiers who will be lapping mountains in heavy snowfall, fully taped seams are the best option.
Your rating choice will mainly be influenced by the region you'll be skiing. E.g. in Washington and Oregon, a high rating is preferred as the regions are relatively wet. But for excursions in Colorado or Utah, a low rating can do as the regions are relatively dry. The price can come in handy too as the higher the rating the more expensive is the pant; so, select accordingly.
Breathability
Breathability can be termed as how effective a pant resist sweat accumulation when in pursuit of vigorous outdoors. This's achieved through incorporation of the membranes mentioned above as linings or laminates of the pant shell. Their pores are large enough to allow sweat vapor to escape yet too small to allow water drops to get into the pant.
Breathability ratings are indicated in grams where the higher the number, the more breathable fabric. The table below shows the various ratings.
| Breathability rating | Range | Description |
| --- | --- | --- |
| Very high | >20,001 g | No sweat accumulation regardless of the condition |
| High | 15,001- 20,000 g | Great for skiers who ski frequently |
| Moderate | 10,001 -15,000 g | Keep you comfortable and dry amid moderate activities and sustained durations of high activity. They strike a great balance between the function and cost |
| Mild | 5,001 -10,000 g | Keep you comfortable amid low to moderate exercises and short duration of high activity |
| Low | <5,000 g | Can allow sweat accumulation amid moderate to high exercises |
| Not specified | - | Mainly for pants that aren't tested for breathability |
| Not breathable | - | Pants specified by the manufacturer as allowing sweat vapor accumulation (non-ventilated) |
Warmth
Much as the legs aren't significantly affected by extreme temperatures when compared to the torso, selecting a pant that'll keep your lower body warm is a necessity. The level of warmth depends on your activity vigor, the duration of pursuit, personal tolerance to extreme temperatures and the prevailing weather condition in the region of your activity.
Below is a description of various ski pants based on their warmth factor.
| Warmth factor | Description |
| --- | --- |
| No insulation | These are shell pants. They offer the highest mobility at the expense of warmth. For you to be warm in them, consider wearing thicker base layers |
| Slightly warm | Pants that are lightly insulated or lined to help you retail a little heat. Excellent choice on warmer seasons but you should add layers on windy or cold conditions |
| Insulated pants | Pants ideal for normal cold conditions. Wicking base layer is incorporated for moisture management while additional layers can be added when skiing in icy conditions or you tend to be cold easily |
| Warmer | Pants with synthetic or down insulation. Base-layers are incorporated for moisture management but mid-layers are considered too stifling |
| Warmest | Pants with heat and insulation properties. The former help keeps the warmth trapped inside the pant while the recommended base layers aid in wicking moisture |
Material
Ski pants are ever abused. They're exposed to harsh conditions, rubbed against hard snowflakes and rocks while lapping the mountains. Interestingly, they're expected to last for long periods. To achieve this, ski pants are constructed from excellent materials (nylon, polyester, and Elastane) that boost their longevity.
The secret to their survival lies in a layered construction. Pant can be said to 3-layerd or 2-layerd. The former are crafted from a laminate of 3 different materials. The outer layer resists abrasion, mid-layer (a breathable and waterproof membrane) that serve to ultimately block water from getting into the pant and the inner lining that protects the membrane alongside providing adequate comfort against the skin.
The 3-layer constructions are stiffer, durable, more confining, and breath well. However, they aren't that comfortable against your legs and thus should be worn with long pants.
2-layer constructions make use of laminate consisting of a membrane and face fabric material. The lining, however, hangs independently boosting the pants warmth and comfort. Nevertheless, they can be more fuzzy, heavier, or both.
Note, the durability of the pant is also gauged in terms of how long the waterproof coating last, how breathable it will be with time etc. Therefore, you should select a ski pant that's crafted from durable fabric and quality waterproofing membrane and coating.
Fit
This mainly depends on the pants' shape and your preferred look and style. This can be broken down as indicated below.
| Fit | Description |
| --- | --- |
| Slim | Pants designed to be tight from the upper thighs' section to the calf. Best for individuals in need of shapely and sleak fit |
| Slim/Regular | Pants with a tight fit but aren't too constricting |
| Regular | Cut pants providing a traditional fit. They provide a classic style without being snug and constricting |
| Regular/Loose | They offer adequate room for layering with a fitting look. Best when in need of mobility and adequate breathing and layering space |
| Loose | They're way roomy around the thighs and hips than regular pairs. Best when in need of a baggy style |
Special features
There are beneficial features that you can look out for to help narrow your search. They include built-in gaiters, venting, pockets, jackets-pants connection, bibs, and cuff reinforcements. Your choice of either of this 'bells and whistles' will largely depend on your personal preference and style of skiing.
That will again depend on their function and importance. For example, gaiters prevent snowflakes from getting into your footwear and lower extremities. Zippered vents aid in air circulation once opened while pockets provide additional room to store frequently needed valuables.
Cuff reinforcement protects the garment from wear and tear. They're placed on the inside to offer protection against ski edges/crampons contact with the pant. Bibs help in fitting (waistband free comfort), protection against snowflakes down your back and the wind in front. With this, just select additional features that'll suit your needs.
Unlike ski jackets, most skiers own a set of ski pant (shell) with 1 or 2 base layers/fleece. Why? These pants are normally exposed to harsh treatment when sliding on the snow. Like you'll sit on wet chairlifts, rub at the pants with crampons/ski edges, and spend countless hours knee-deep in snow.
This gives a justification for most skiers to spend less on their pants. However, following the points highlighted above, you can be sure to make a rewarding choice that will serve you for years.
Reviewing the top-rated men ski pants
Arcteryx Stingray Pant
Weight: 1.4 pounds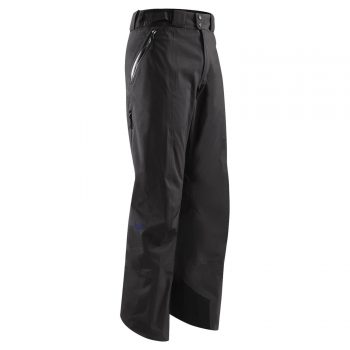 Specific features: Breathable and durable 510D nylon material, 13mm Gore seam tape, a keprotec hem, low profile waist adjusters, 1.6mm micro-seam allowance, hidden recon reflector
Best use: Storm skiing, snowboarding, ice climbing
Is brutal weather preventing you from achieving mountainous glory all-day-long? Well, use Arcteryx Stingray Pant and re-acquire your groove. Crafted from a breathable membrane and softshell (nylon 510D) laminate, the pant is set to overcome any prevailing weather condition on your ascent and flying snow and wind on the descents.
Other than being breathable, the fabric is also waterproof, stretchy, more pliable and soft which ensures that you're maximally dry and cozy throughout your skiing adventure. Keprotec insteps save the hem from ski edges and crampons.
Amazingly, the RECCO reflector can help in your rescue by a RECCO equipped rescue team in case of an accident or a slide. In addition, the pant has a regular fit that augers well with the base layers. Therefore, carry this pant on your next trip to Bulgaria Ski Breaks for a memorable adventure.
PROS:
Soft and comfortable
Lightweight
Adjustable hip belt for customized fit
CONS
:
Tight pockets
Small thigh vents
Bright colors are easily marked
Related: The pant is commonly bought together with an Arcteryx Satoro AR Bottom. It's a Merino wool crafted with nylon fabric for increased durability and strength. The AR Bottom weighs just 0.87 pounds and way cheaper making it the ideal long wear under the stingray pant.
Patagonia Reconnaissance Pant
Weight: 1 pound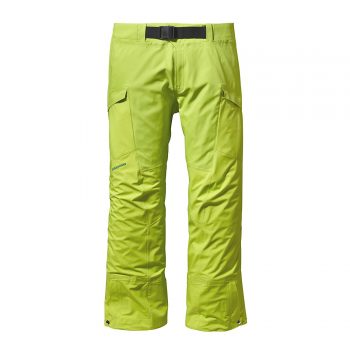 Specific features: Reinforced cuffs with snow seal in-built gaiter, stretchy belt, 3 layer stretch, windproof panels
Best use: Backcountry skiing & touring, snowshoeing, snowboarding
In deep backcountry settings, conditions change rapidly and the ability to keep on pushing depends on your ability to adapt and the preparation made prior to the excursion.
However, with Patagonia Reconnaissance Pant you're set with a breathable mountain system thanks to its soft shell construction around the legs in conjunction with the waterproof shell outlays for increased durability and protection where needed.
DWR coating, internal gaiters, and taped seams work in harmony to keep you dry and snow out for snow-thigh approaches. The vents allow for air circulation while the pockets provide extra storage space. The RECCO reflector can help in your recovery by a RECCO equipped rescue team in case of an accident or a slide while the stretchy belt allows for a customized fit.
PROS:
Good fit/stretch
They occur in both dull and bright colors
CONS
:
No hand pockets
2 button waist combo can be weird!
No transceiver pocket
Patagonia Snowshot Pants
Weight: 1.5 pounds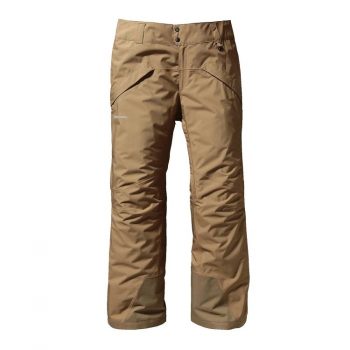 Specific features: Scuff guards, snow gaiters, articulated knees, looped waistband rear, RECCO reflector, H2No performance standard waterproofing
Best use: Snowboarding, skiing
The Patagonia Snowshot Pants are a trusted pair for all sorts of snow slayers. They allow you to make amazing, waist-deep turns, the top glory of your excursion, while keeping you dry and cozy all day. This 2 layer construction makes use of H2No standard performance and DWR coating to keep out snowflakes as they billow around.
Waist details consist of an internal lining for a tuned fit and a brushed tricot lining for comfort. The vents keep you fresh and cool in warm days, gaiters seal the snow out while the cuff guards add edge protection and durability.
While the wait loop allows for connection to the powder skirt on Patagonia ski jackets for a complete protection from snow and wind, the 2 cargo pockets ensure you don't have to keep carrying the backpack everywhere you visit. Therefore, as you plan for the next Austria ski holiday; pack the pant and enjoy your skiing tradition.
PROS:
Amazing fit
Basic and reliable function
Fully seam sealed to keep off moisture
CONS
:
Muted color choices
Less breathable as compared to other options
Flylow Chemical Pant
Weight: 1.8 pounds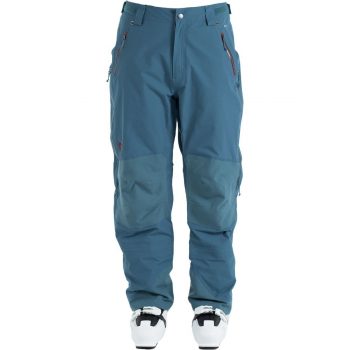 Specific features: 100% nylon material, 20k/20k waterproof breathable membrane, 1,000D Cordura reinforcements, YKK waterproof zippers, articulated knee box
Best use: Skiing, snowboarding, ice climbing
Regardless of the condition (snowy or icy), when skiing too fast, you've to allow 'your boys' breath. Flylow Chemical Pant ensures that that's just what happens. The pair keeps out pow during big lines but allows in a cool breeze when ascending the mountains. If you slay deep snow and big lines daily, you'll be amazed by how this 3-layer shell survive years of harsh treatment.
As you work on your turns, the outer and inner vents work in conjunction to provide all the needed ventilation to lapping and skinning your favorite zone. What's more? The Cordura reinforcements around the cuffs and knees help keep the pant in shape regardless of the skiing style alongside boosting its durability.
The adjustable waistbands allow for a customized fit while the relaxed fit assures you of indispensable mobility. Unsure of what pant to carry on your Italy ski holiday? Just tag this pair and save your day.
PROS:
Excellent fit
Lightweight
Durable fabric
Related: Are you comfortable with the design features present in the chemical skiing pant, but are looking for a pair that is a little lighter and cheaper? Then, Flylow Magnum Pant is the best choice.
Marmot Mantra Pant
Weight: 2 pounds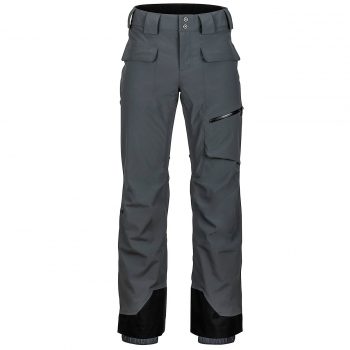 Specific features: Thermal R insulation, MemBrain waterproof breathable membrane, straight leg pant, adjustable snap closure, wrap-around Cordura scuff guard, gripper elastic internal gaiters
Best use: Skiing, snowshoeing
Designed for slaying waist-deep snow and big-mountain lines, Marmot Mantra Pant will have you dancing to the tune of fresh tree stashes, pow-stacked pillows, and steep chutes during icy and wintry conditions. Its waterproof/breathable (10k/10k) MemBrain and fully sealed seams ensure complete protection in deepest, fluffiest powder and wettest snow alike.
The inseam vents allow for air circulation keeping you cool during vigorous activities.
Wrap around Cordura scuff guards boost the durability of the pant by preventing premature wear, tear, and abrasion. The pant has a relaxed fit for mobility and comfort whereas the waist is adjustable for a customized fit.
Elastic internal gaiters seal the snow out as you leave a signature mark down the mountain. In addition, the flap-style hand pockets provide room for storing essential and valuable item. In short, wear this pant on your Oregon skiing excursion for a comfortable and dry adventure.
PROS:
Perfect fit
Durable fabric
Warm pant
CONS
:
Relatively heavier than other options
Low waterproofing and breathability ratings
Related: Are you looking for a pair with similar features as Mantra insulated pant but one that is cheaper, smaller and lighter? Marmot Men's Motion Pant is the ideal pick weighing 0.6 pounds less.
Salomon Chill Out Bib Pant
Weight: 2 pounds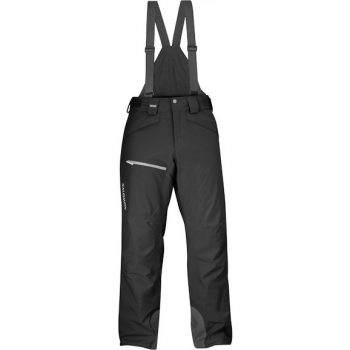 Specific features: 2L 4 way stretch plain weave, advanced skin warm insulation (60 g/m2), 86% nylon & 14% Elastane materials, bib construction with removable suspenders, belt loops and external leg air vents
Best use: Skiing, storm touring, snowboarding, deck shoveling
Salomon brand is well known for making most out of an epic season – a thing all too apprehensible with the Salomon Chill Out Bib Pant. The breathable & waterproof fabric together with fully sealed seams keep off moisture in icy and wintry weather conditions while the 60 g synthetic insulation assures you of adequate warmth even when not lapping and skinning the mountains.
The bib and suspenders keep the breeches up in deep snow but can be removed for spring skiing to prevent excessive heating. Gaiters keep snow out, vents allow for air circulation while the zippered pockets provide safe storage for your valuables and frequently needed items.
The relaxed fit and adjustable waistband work in conjunction to provide a customized fit and high mobility.
PROS:
Excellent breathability and waterproofing
Warm
Durable fabric
Comfortable fit
CONS
:
Heavier than alternative options
Costlier than most Salomon pants
Related: Salomon pants are designed using similar technology and fabrics. Therefore, if you are comfortable with the features present in the chill out bib pant but are in need of a cheaper pair; Salomon Men's Iceglory Pant is the ideal pick.
Helly Hansen Legend Cargo Pant
Weight: 1.1 pounds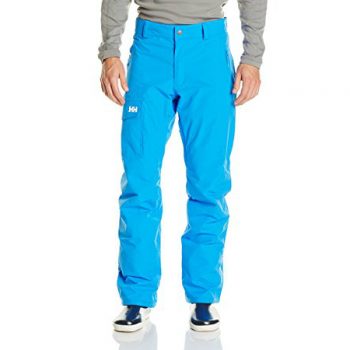 Specific features: Polyester material, Helly Tech performance, 2 ply fabric construction, PrimaLoft block insulation, YKK quality zips, RECCO reflector, reinforced bottom hem
Best use: Skiing, snowboarding, ice climbing
Just as its name suggest, Helly Hansen Legend Cargo Pant is a legend when it comes to breathable pants. This ensures you remain fresh and cool even in your most vigorous descents. It has a regular fit with an adjustable waist and articulated knees for a customized and natural fit. What's more?
There's a 60 g PrimaLoft insulation to keep you warm, 10k waterproof rating, waterproof zippers, and fully taped seams to fend off moisture and zippered vents for air circulation.
The fabric is stretchable for comfort and mobility. In addition, the pant has exterior hand pockets that provide storage space for your valuables, internal gaiter to seal out snow and edge guards to boost the durability of the pant. What more can you probably require? Just slip on this pant on your next trip to Washington ski resorts and make endless memories.
PROS:
Greatly affordable
Warm
Highly breathable
Lightweight
CONS
:
Less waterproof as compared to other options
Only perform maximally in temperatures between 15°-30°F
Related: Most skiers go for Helly Hansen Sogn Cargo Pant when the legend cargo pair is out stock. Why? The two have similar features and equal prices.
There you have it! An in-depth review of the top-grade ski pants for men in the current market. They're the experts' recommendations thus purpose to check them out as you're bound to find a pair that suits your needs. If not, you will have a clear understanding on how to select a durable and rewarding ski pant.
Summing up
Having your lower body protected from cold, wind and abrasion isn't a simple task. To achieve its due purpose, the ski pant needs to be crafted from quality fabrics, laminates, membranes, and coatings. So, which is the right pair for you, following the overwhelming varieties in the market today?
Simply follow the buyer's guide outlined above for a quick pick of a rewarding pant. If research is too much hassle, go for one of the recommended pairs above for a memorable skiing activity.
Which of the recommended pairs above would you recommend to a friend and why? Do you play favorite, which is your best ski pant and why? Share your thoughts on the comment section below.