When it comes to navigation in the backcountry, many hikers run into a wide variety of difficulties. When you are hiking, do you ever find yourself struggling to know exactly where you are? If you do, then you could really benefit from having the best Garmin GPS unit.
Garmin is a well known brand when it comes to GPS devices and has released many make and models over the years. Many Garmin GPS devices are specifically designed for hiking. Many hikers do use their smartphones as a makeshift GPS system but most smartphone devices will run out of charge within just several hours of using a map feature.
That's why it's best if you make use of standalone GPS devices instead of smartphones. However, shopping for the best Garmin GPS can be rather tricky as the options can be quite overwhelming. Fortunately, we are here to help.
In this article, we highlight some of the most important features to consider when shopping for a GPS device from Garmin. On top of that, we have reviewed some of the most noteworthy Garmin GPS devices available that you can treat as our recommendations. Let's take a closer look!
Our Top Picks
Things to Consider Before Buying
There are a lot of different factors that you need to take into consideration when you purchase your first handheld GPS system.
Satellite System
Garmin devices have a good reputation for being a lot more functional than other brands of handheld GPS that you can find on the market. With a Garmin product, you should be able to navigate with ease, no matter where you are. Most of the Garmin models have access to two different satellite systems, GPS and GLONASS.
Some models only have access to GPS while others also allow you to access GLONASS. As you probably already know, GLONASS is the Russian version of the US' GPS. It depends on 24 satellites to GPS's 31. Combined, they offer a much bigger coverage than any one of them could offer alone.
If you don't mind paying more, choose a unit that offers both. This means that even in the depths of canyons, or the dark of a forest, the GPS that you use will be able to pick up on your location precisely. If you find it too expensive however, it's okay to go for the one with the GPS feature only.
One thing to remember is that when you are out adventuring in the backcountry, you do not want to get lost. Getting lost is not a fun experience – depending on your point of view of course!
Durability
Sometimes hiking can be a little tricky, especially when it involves dealing with rough terrain. Sometimes while you hike on rough terrain you could be involved in an accident, or you could drop your handheld GPS system.
Due to this, you should make sure that you look for a sturdy design that does not feature any flimsy attachments, otherwise, your device could be quite likely to break. We would not want that to happen!
Two other factors that will directly affect the durability of your device are shock resistance and water resistance. You should make sure that your handheld GPS system is resistant to both, as it is highly likely that your GPS will be involved in situations directly related to water and shock while you adventure in the backcountry.
Versatility
The versatility of your device is important, it needs to suit the exact requirements that you have for it. Everyone has different requirements and different goals for their devices. Garmin products are impeccable for this type of situation, especially considering the fact that you can directly upload your own maps to the devices.
As a brand, Garmin believes that you should be allowed to upload your own maps from a variety of sources, rather than tricking you into only purchasing maps from them. You can even upload your own fully customized maps for your personal, custom adventures.
If you do purchase a map or a mapping bundle from Garmin then you will find that they are considerably more affordable than alternative mapping systems. You should also note that a lot of Garmin products are sold in a bundle with different maps.
If you can find a map set that suits your requirements, then it could be considerably more affordable than buying all of the maps separately. You can also add your own points of interest, and plan your own routes.
A lot of customers use Garmin handheld GPS products for hiking, climbing, and mountaineering. But, people have also been known to use them for sports like hunting and fishing. Many families also use them for geocaching. The only limit is your imagination.
Screen Quality
Do you remember when hiking was done with a compass on a string around your neck, and your map in your hand nestled safely in a little, plastic bag? Then this new technology appeared. The same can be said about going from monochrome images to color images.
You should avoid monochrome devices whenever you can, they are considerably cheaper, but they are cheaper for a reason. Don't think that they are all bad, they can be perfect for simple geocaching adventures. But, they are relatively useless for anything else.
They are useless because you need to be able to reliably read and interpret what your GPS system is showing you, otherwise you will put yourself at risk. Ordnance survey maps should always be viewed in color. Remember that a lot of Garmin products also feature incoming weather animations, and those would look odd without color!
If you have found a device with a screen that looks perfectly visible indoors, make sure that you check it outdoors too! Have you ever had a phone that you cannot see the screen of as soon as any glare hits it directly?
Unluckily, a lot of GPS devices can be like that too. Luckily, Garmin products have all been designed with that in mind. They can be used in direct sunlight, and even in low light situations.
Garmin products actually feature a mixture of both touchscreen usage and button usage depending on the device. Usually, the most affordable devices feature buttons, and the least affordable devices usually feature touch screens.
The size of the display screen on your product is also very important, and you should never settle for a small screen. This is because the majority of people will require a relatively large screen size of between 2.5 inches and 3 inches. The larger screen sizes allow you to see a lot of detail at once, and give you a broader overview of the terrain that directly surrounds you.
Battery Life
You should always look for a GPS device that features both a rechargeable battery system and a replaceable battery system. Most of the products that you can find on the market feature this dual system design.
Rechargeable batteries are more cost effective in the long run, and replaceable batteries are ideal in an emergency situation. If you are out hiking in the middle of nowhere then you are not going to be able to plug your batteries in if your device runs out of charge, so you will need to be able to replace the batteries while you are out adventuring.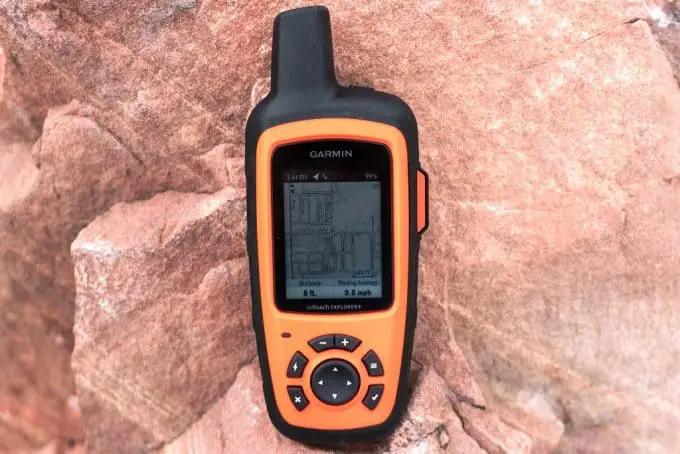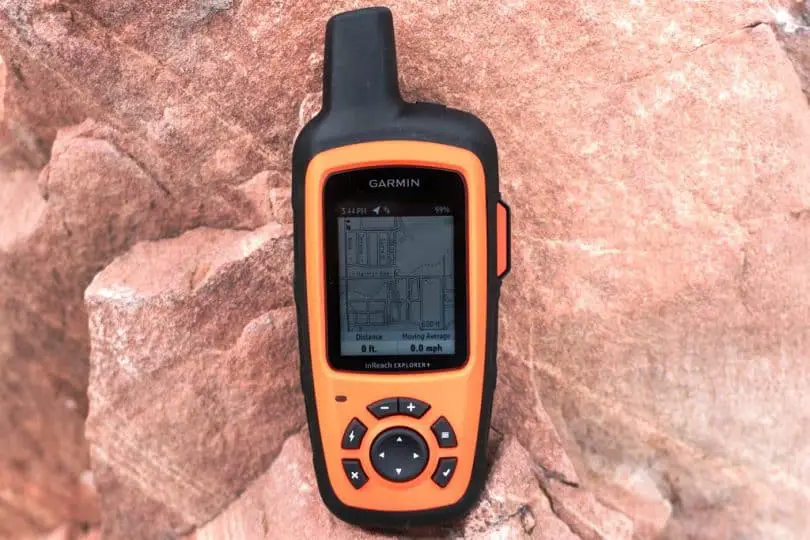 Ideally, the battery life of a GPS system should last for around 10 hours. But, Garmin devices have been expertly designed to last for between 16-20 hours, depending on the type of battery that you are using.
Replaceable batteries usually last slightly longer than rechargeable devices. That means that if you go out hiking then you can go out for a full day without worrying. The best Garmin handheld GPS devices all feature relatively long battery life.
Extra Features
After you have considered all of those factors, you can start to consider whether you will benefit from any of the other 'special features' that some devices will have. These special features are not completely necessary, but they are useful in their own ways. Remember that the more extra features a device has, the pricier it would be.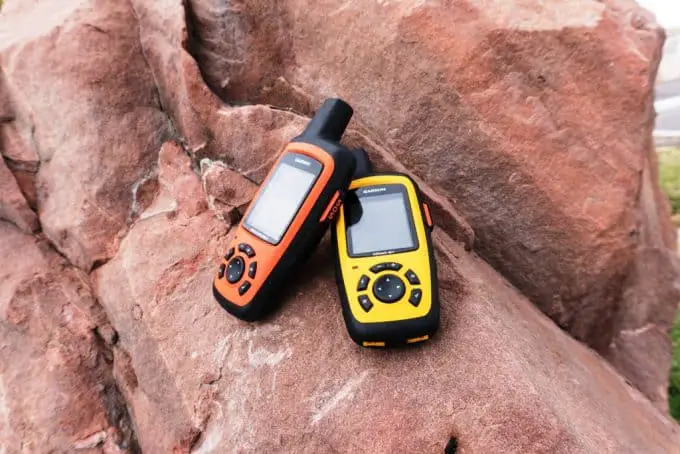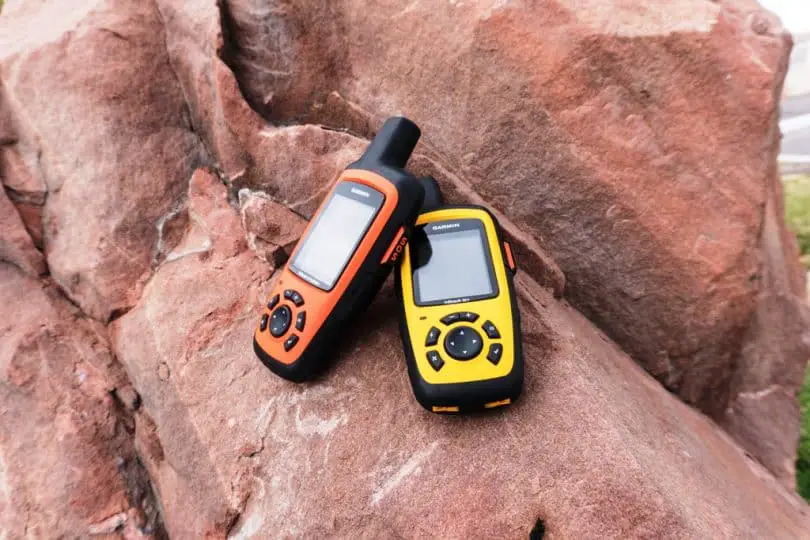 With devices that do not have electronic compasses you have to hold them straight, otherwise, they will not work. An electronic compass eliminates the risk of your device not working, it can keep track of you even when you are not moving!
Also, consider the syncing capacity of the device. In the technology generation, the ability to wirelessly share things is both useful and important, especially if you can do it directly from your device while you are out in the backcountry.
The best Garmin GPS devices also come equipped with a camera. Sometimes when you hike it can be too risky to take your smartphone, or camera out with you. Especially when you are working against bad weather conditions. Nowadays a lot of modern handheld GPS devices come with attached cameras, of which most are waterproof.
The GPS devices can be used to capture your favorite memories, while also capturing your location. This means that you will have a permanent record of exactly where you were when you took the photograph!
Best Products on Today's Market
After we thoroughly learned about the features of Garmin GPS devices, let's see the best products and why they found their way right on this list.
Garmin Montana 680t GPS
Price: Approx. $490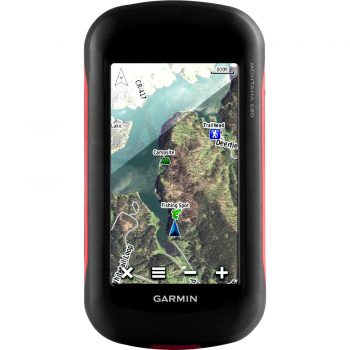 Weight: 10.24 ounces
Dimensions: 2.9 x 1.4 x 5.7 inches
Specific features: 8MP camera included, GPS and GLONASS compatibility, built in maps, runs on Lithium ion battery and AA batteries, 4 inch display
Best use: Hiking, climbing, driving
If you are looking for a Garmin handheld device that features a camera, then the Garmin Montana 680t GPS could be the ideal product for you. The camera that it features shoots photographs at a full 8MP, and it has an automatic autofocus system. That means that you can take photographs on the go without experiencing motion blur.
Whenever you take a photograph with this device it also 'geo-tags' your location, so that you can always find the exact spot where your photograph was taken.
Like most Garmin handheld GPS systems, this particular model features expert GPS and GLONASS satellite compatibility. That means that you could go climbing through canyons and the device would still be able to pick up on your exact location. Add that to the onboard electronic compass and you have a product that will never lose your location!
On the lithium ion battery that comes with the package, this GPS has around 16 hours run time. You can also use AA batteries on it, and that would give it around 22 hours battery life. It's quite expensive, but overall well worth the money.
PROS:
Great GPS accuracy
Comes with an electronic compass
Comes with an 8MP camera
Runs on two types of battery
Related: Don't forget to purchase this Garmin Universal Carrying Case so you can carry this device around easily without the risk of dropping it. Since this is a rather pricey device, you don't want to have to replace it with a new one just because of a small mishap.
Garmin Rino 750 GPS
Price: Approx. $500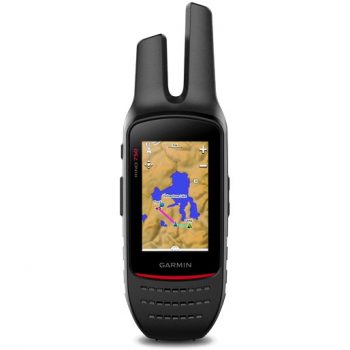 Weight: 12.8 ounces
Dimensions: 1.6 x 2.6 x 7.9 inches
Specific features: 3 inch touch screen, active weather forecasting, wireless communication, 8MP camera included
Best use: Hands on activities
Meet the Garmin Rino 750 GPS, the lightest product that we are reviewing on our review list. If you are looking for a product that you can barely feel the weight of, then this product could be ideal for you.
It also offers expert wireless communication via a Bluetooth audio headset, so you can use the headset rather than your hands. This makes this device the perfect option for situations where you can't use your hands, such as climbing.
Garmin like to trail test all of their devices, and they understand that weather can be a problem. This particular device has been designed to feature an onboard active weather forecast that automatically updates.
On the screen, you will see animated weather forecasts coming into the area that you are in. That means that if you are in an area where the weather could quickly change, then you have a type of early warning system!
This device comes with a lithium ion battery that should be able to last for 24 hours after one full charge. Unfortunately, it does not support external batteries so even if you carry around some AA batteries with you as a backup, you cannot use them on this device.
PROS:
Lightweight
Compatible with an audio headset. Great for when you can't use your hands
Equipped with a weather forecast system
CONS
:
Expensive
Only supports one type of battery (rechargeable lithium ion)
Related: Keep the screen protected against scratches and oil marks using this BoxWave Garmin Rino 750 Screen Protector. This one is among the more expensive ranks of Garmin devices, so you should treat it well unless you don't mind forking out for a new one.
Garmin GPSMAP 64s GPS
Price: Approx. $239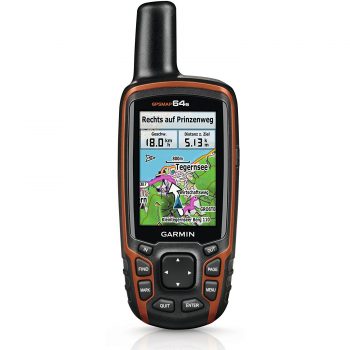 Weight: 9.28 ounces
Dimensions: 1.4 x 4.2 x 6.3 inches
Specific features: World wide base map, compatibility with GPS and GLONASS, runs on 2 AA batteries and rechargeable NiMH battery, expandable 8 GB internal memory, 2.6 inches display
Best use: Backcountry use
The Garmin GPSMAP 64s GPS is known to be one of the best products that the experts at Garmin have ever designed. It features a handy electronic compass, an accelerometer, and a barometric altimeter.
One of the best features on this particular model is the battery life, which averages at between 16 and 22 hours depending on the type of battery that you are using. Rechargeable batteries last slightly less than replaceable batteries.
This product also comes with an already installed worldwide base map, but it supports additional mapping too. You can either purchase maps directly from Garmin, or you can directly upload maps to the device from other sources. This also gives you the opportunity to customize your own maps.
With an internal memory of 8 GB, you can upload any map you want onto it no problem. It is even expandable with an external SD card.
The 2.6 inches screen is a bit smaller than the other Garmin GPS devices, so you might have to squint a bit to pinpoint your location.
PROS:
Supports two types of batteries
Have all kinds of useful extra features such as a barometer and an accelerometer
Expandable memory
Affordable price
Related: As aforementioned, this device runs on 2 AA batteries and a rechargeable NiMH battery. You'll have to purchase this Garmin Rechargeable NiMH Battery separately, though.
Garmin Oregon 600 GPS
Price: Approx. $246
Weight: 7.4 ounces
Dimensions: 1.3 x 4.5 x 2.4 inches
Specific features: Water resistant, runs on 2 AA batteries and a NiMH rechargeable battery, 3 inch screen
Best use: Water based activities, hiking
Sometimes you need a device that works excellently on the water, for example, you might want to go sailing but need a GPS for navigational purposes. To take a non waterproof device sailing could result in some disastrous consequences in the wrong situation.
That is why Garmin designed the Garmin Oregon 600 GPS special water resistant device, which floats when it is dropped in the water. The card slot for this device is located in one of the waterproof battery compartments, so you do not even have to worry about your card getting damaged.
This device has an expert battery life that lasts for around 20 hours at a time. It also has a certain amount of built in memory that you can use without the use of a memory card.
One unique feature of this device is a comfort. The molded, rubber side grips on the sides of the device have been designed so that you can comfortably hold the device for as long as possible.
It even comes with all kinds of extra features such as a barometer and an accelerometer. The screen is also big enough to allow you to pinpoint your location without having to strain your eyes. The only downside lies in its app. It takes some getting used to, and even after that you might find that it simply doesn't work up to the expected capacity. It crashes rather often.
PROS:
Waterproof
Long battery life and runs on 2 types of battery
Useful extra features
Offers a comfortable grip
Affordable price
CONS
:
The app leaves much to be desired
Related: The 3 inch screen is a marvel that we think should be protected properly. You should cover it with this layer of ArmorSuit MilitaryShield Screen Protector. This screen protector is designed to accommodate the Oregon 600's waterproof capacity, so it won't turn unresponsive even when it's soaked.
Garmin GPSMAP 78 GPS
Price: Approx. $170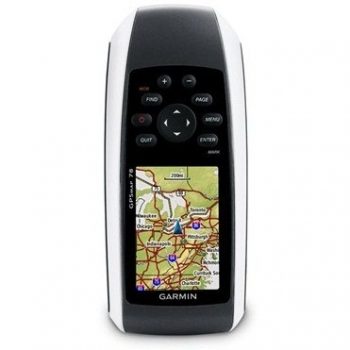 Weight: 7.68 ounces
Dimensions: 1.2 x 2.6 x 6 inches
Specific features: Long battery life, water resistance, shock resistance, 1.7 GB built in memory, 4 inch screen, runs on 2 AA batteries
Best use: Hiking
If you are looking for a device that would suit the nature of a water sports enthusiast, then the rugged Garmin GPSMAP 78 Marine GPS has your name written all over it. It comes with the pre installed worldwide base map, and you can upload all of your own water maps to the device.
You do not even have to purchase the maps from Garmin, the devices are suitable with maps from multiple sources! Although Garmin is known for having excellent marine maps.
This device directly records all of your activities, by connecting the device to the internet you can see a detailed analysis of everything that you have done. You can track exactly where you have been if you enjoy fishing the tracking feature could be ideal for locating good spots.
Unfortunately, its waterproof capacity leaves a lot to be desired considering it's designed for water sports. Make sure not to leave it in the water for more than 30 minutes. Also, the depth should be no more than 1 meter or you'll go over the listed water resistance capacity and Garmin cannot be held responsible for what happens next.
PROS:
Very affordable price
Big screen
Can download maps from many sources
CONS
:
The water resistance is not all stellar considering it's a marine GPS
Related: While you're challenging water sports, especially when it's a rough one, you'll often need to use both hands. That's when this Garmin 78 Series Marine Mount will come in handy. It's designed to grip the device tightly and securely. It can be mounted on a boat's console.
Garmin eTrex 20x GPS
Price: Approx. $165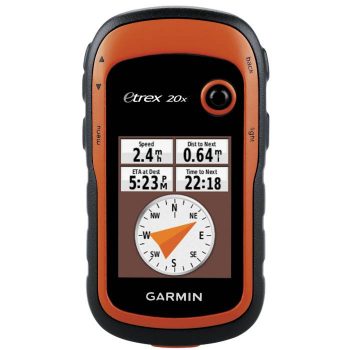 Weight: 4.96 ounces
Dimensions: 2.1 x 4 x 1.3 inches
Specific features: Pre loaded worldwide base map, high sensitivity, 3.7 GB internal memory, 2.2 inch display, runs on 2 AA batteries
Best use: Hiking
If you are looking for a device that has a large amount of onboard memory, then the Garmin eTrex 20x GPS could be the ideal device for you. It features a massive 3.7 GB of onboard memory—that is a memory that you can use on the device without the need for a memory card.
On the device, you will initially find a pre installed worldwide base map. The base map features shading to represent a variety of different terrains and altitudes.
Just like with most Garmin devices, you can add your own maps to this particular device. That includes the maps that you customize yourself for your own adventures! There is also an option to turn on a routing system while you are out, to completely eliminate the risk of getting lost.
The unfortunate part of this device is its rather small screen. At 2.2 inches, you'll definitely have to strain your eyes to see your exact position on the map. But if you're looking for a highly accurate GPS device that's easy to carry around, look no further.
PROS:
Large internal memory
Very affordable price
Small and compact design
Related: You might want to purchase this Garmin eTrex Carrying Case so you can carry this device around easily. You can clip it to your belt. It's easy to slip on and off so you can take it out of the case even if you only have one hand free.
Garmin Montana 610 GPS
Price: Approx. $423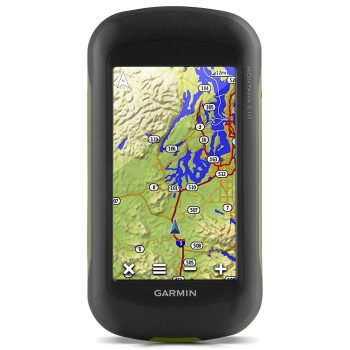 Weight: 4.96 ounces
Dimensions: 7 x 7 x 4 inches
Specific features: Oversized design, an electronic compass, 4 inch display, runs on lithium ion battery and 3 AA batteries
Best use: Hiking, and climbing
The Garmin Montana 610 GPS features a much larger design than other products that you can find reviewed on our list. This particular model is much bigger and features a much more rugged construction than all of the other products that we are reviewing.
This wasn't done by accident; this particular model has been designed to be ideal for people who are working directly with rough terrains. Smaller devices would be much easier to break!
There is no camera on this model. A camera would, unfortunately, be a weak spot in the structure of the design. This makes the product ideal for hikers and climbers that want the basic functionality of a GPS, without the issues that could come with a GPS with a million different features.
You can even go ice climbing with this device! It was designed to have a glove friendly touchscreen display. The only downside with this device is the app. It has a rather complicated user interface.
PROS:
Supports 2 types of batteries
The display screen is big and is glove friendly
Very durable
CONS
:
Quite expensive
No camera
The app is not very user friendly
Related: If you plan to take this device ice climbing, you'll need this Garmin Anti-Glare Screen Protectors. The light that reflects off of the ice will force you to strain your eyes when you want to pinpoint your location if you don't have this anti glare layer.
Garmin eTrex Touch 35 GPS
Price: Approx. $230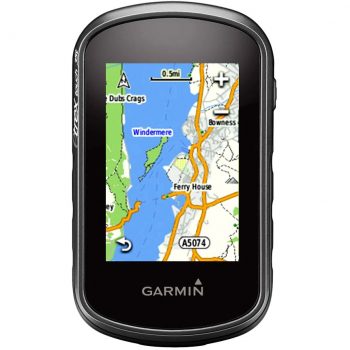 Weight: 5.6 ounces
Dimensions: 1.3 x 2.3 x 4 inches
Specific features: An array of activity profiles, an electronic compass, GPS and GLONASS compatibility, 2.6 inch display, 4 GB internal memory, runs on 2 AA batteries and NiMH rechargeable battery
Best use: Hiking, climbing, hunting, biking, geocache hunting, fishing
Sometimes it can be hard to find a product that directly suits your needs and requirements. Garmin has directly considered this while they were designing the Garmin eTrex Touch 35 GPS.
They developed a special set of activity profiles, all of which feature a variety of features. These include everything from hiking, to climbing, to fishing! This means that you can tailor the device to your own needs. You can pick the profile that directly suits you.
A lot of customers praise this device for having an impressive battery life, and it is known to last a lot longer than other GPS devices on the market. So, if you are seeking a handheld GPS that can handle multi discipline adventures with ease, then this product could be ideal for you.
The downside you'll want to be aware of lies in its relatively small screen. Its touch screen is pretty reactive, but you'll have to really focus on it in order to figure out where you are currently. Also, it is rather difficult to adjust to the app's user interface.
PROS:
Long battery life
An array of useful functions
Compact design
Reactive touch screen
Affordable price
CONS
:
The screen is relatively small in size
The app is not very user friendly
Related: If you plan to take this device on your next rock climbing trip, don't forget to purchase this Garmin Carabiner Clip. It will keep the GPS device securely attached so there's no risk of it slipping out of your hand or pocket and breaking into a million pieces.
Garmin Approach G3 GPS
Price: Approx. $130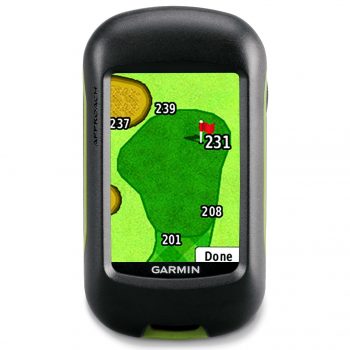 Weight: 5.3 ounces
Dimensions: 2.2 x 1.3 x 3.9 inches
Specific features: Unique design, GPS and GLONASS compatibility, thousands of pre installed courses, 2.6 inch display, 1 year warranty
Best use: Golfing
Garmin has recently started advancing into other markets, and one of the products that they have successfully brought out is the best Garmin handheld GPS for golf!
The Garmin Approach G3 GPS  has been specifically designed by golfing experts to provide people with incredibly detailed golf course maps. These maps show golfers all of the distance information that they need for the fairways, as well as any hazards that are on the course.
This device comes pre installed with thousands of North American and Latin American courses. All of the pre installed courses come with free course updates, you don't even need a subscription. You can use the product to continuously update your position as you play, showing you the exact distance between you and your ideal target.
The screen is rather small if you're considering taking it with you on outdoor activities, but it won't hinder you if you're just using it to play golf.
This unit is considered rather retro today. Its build is relatively big and bulky. Its screen resolution is also not that good. But it's still a good value for money considering its affordable price and the features it comes with.
PROS:
Very affordable price
Very detailed golf course maps
No subscription needed
1 year warranty
CONS
:
Relatively big and bulky
The features are kind of dated
Related: This device is adored by many veteran golfers. If you are one of them, you might want to purchase this Garmin Silicone Case so you can protect it against impact if you happen to drop it while playing.
Wrap Up
And that wraps up our list of some of the top rated Garmin GPS devices that you can buy in the market. Hopefully, we have made it easier for you to shop for the navigation device that will serve you on your outoor treks.
Now you can leave your smartphone screen at home and take out a satellite controlled GPS system that will always pick up your location! Just remember to take some spare batteries with you!
Which of the Garmin GPS devices we've reviewed above seems like the best of the bunch? Or do you have better suggestions? Let us know in the comments below!