Do you want to know how to find the best energy bars for you? With such a wide range on offer, it can be confusing to know which products are truly healthy, and which ones are no better than an ordinary candy bar. We've gathered some helpful information all in one place, so you can get back to enjoying a hassle-free healthy lifestyle.
Our top picks
Things to consider before buying
Energy bars are designed to give your body a quick and easily digestible energy boost under active conditions – they shouldn't be relied upon as an alternative to good healthy meals.
If you would like to use an energy bar as an occasional meal replacement, you should look for one that has 15g or more of protein, and around one-third of the recommended daily intake of vitamins and minerals. Meal replacement bars will need to be fairly large, and should have enough calories to keep you going.
Energy release
For energy when exercising, some bars will be better than others. Tests have shown that while some bars are little better at boosting energy than a traditional candy bar, others do have a sustained effect. Bars with a ratio of 40 % carbs, 30% protein and 30% fat were shown to raise blood sugar over a sustained period, which could translate to a prolonged increase in energy.
If your activity levels are low, then these bars may be more than your body needs and will certainly end up costing more than regular snacks. If you are very active, then they can help you plan your nutrition, but not all energy bars are equal – there are some ingredients that are better than others, so read on to find out more.
Carbs
Our bodies store energy in a few different places. The muscles have a small amount (about 400 calories) of stored energy available, but this is quickly used up, and using this energy results in a build-up of lactic acid which brings on the familiar burning feeling in worn out limbs.
A further source of energy can be found stored in the liver in the form of glycogen. These glycogen stores were created from the food you have been eating and are the energy your body will go on to use up after the muscle energy is consumed, as you continue to exercise.
When your energy stores are used up you will 'hit the wall'. Your body uses carbohydrates as an energy source, so eating a high carb energy bar just before or during exercise can fuel the body for a longer period.
Proteins
Proteins are essential for muscle and tissue repair in the body. In addition, proteins can help you feel fuller for longer. In the 30 minutes after exercise your body will still be firing on all cylinders, so eating a high protein bar during this window will help your muscles get the ingredients they need for growth and repair.
Fats
Despite a lot of bad press over the years, fats are essential to our health and our bodies couldn't function without them. Fats help build cell membranes, control inflammation, assist blood clotting, and build nerve sheaths.
Monounsaturated and polyunsaturated fats are good for the human body, whereas man-made trans-fats are associated with health problems, such as increased insulin resistance and an imbalance in cholesterol levels.
Vitamins and Minerals
Vitamins and Minerals are essential for the body to repair, heal, grow, and process food. While we should be able to get all the vitamins and minerals we need from a balanced diet, it can be easy to miss out if you have a busy lifestyle, and often eat on the go.
In these circumstances a vitamin and mineral fortified power bar can be beneficial. It will deliver the nutrients your body needs in a convenient package that you can carry anywhere, ready for when you need it.
Antioxidants
Antioxidants are the super-heroes of nutrition. When free radicals enter our body and try to damage our cells and DNA, the antioxidants are on hand to foil their plans.
Free radicals occur naturally in our bodies, and they are counteracted by antioxidants. The best sources of antioxidants are fruits and vegetables such as broccoli, raspberries, blueberries and spinach. Antioxidants are also found in green tea and dark chocolate.
To up your intake it is recommended that you eat as many portions of fresh fruit and vegetables as possible, with a range of different colors, for a range of antioxidants. Some of the best energy bars on our list are boosted with antioxidant high ingredients, making hitting your target even easier.
Choose from These Top Choices
With the previous information in mind, we recommend the following energy bars
Kind Plus Bars, Dark Chocolate Cherry Cashew
Serving size: 1.4 oz
Specific features: Kosher, no trans fats, no gmo, gluten free
Best use: Quick energy boost while exercising
With added vitamins (A, C, E) and minerals (copper, calcium, iron, magnesium and manganese) the Kind Plus Dark Chocolate Cherry Cashew bars are certainly packed with nutrients. However, they may not contain enough calories for use as a meal replacement. A 1.4 oz bar contains just 170 calories, moving this bar closer to the snack category.
The antioxidant vitamins should contribute to healthier skin and boost the immune system – one bar contains 50% of the recommended daily Vitamins A, C and E. These bars are relatively high in carbs (a 1.4 oz bar contains 0.7 oz). Although the main ingredients are nuts and dried fruits (the good kind of carbs – complex carbs), there is additional sugar and honey.
These bars are well liked for their chocolatey, nutty flavor, and we are told that kids love them, too. Also, they are one of the most expensive energy bars from our list, which is an aspect to always keep in mind.
PROS:
It does not contain trans fats
It contains vitamins A, C and E
CONS
:
It does not have enough calories to be a meal replacement
It contains added sugar and honey
It does not contain enough protein
Related: If dark chocolate is not one of your favorite flavors, you could think of buying the Kind Bars, Nuts and Spices Variety Pack. There's a good deal of variety of snacks here that will keep you on high energy while on the trail.
ClifBar Chocolate Chip
Serving size: 2.4 oz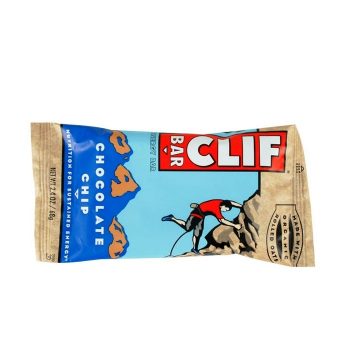 Specific features: Great taste and texture, large bar
Best use: Energy boost when partaking in strenuous activity
Buyers praise the decadent nature of this 'treat' (as Clif themselves call it), and note that the bars are generously filled with chocolate chips. However, some people consider that the Clif Bar Chocolate Chip is just too sweet.
Clif bars can also boast a good texture and aren't prone to melting, which is a plus when the bars are squeezed into a pack until you need them. These bars are free from artificial flavors and preservatives and are made with 70% certified organic ingredients.
They contain 0.4 oz of protein for every 2.4 oz of carbs, and the carbs are from a combination of simple and complex sources.
Some users have warned that the protein in this bars comes from soy, which serious male bodybuilders may want to avoid. Also, it contains medium to high levels of caffeine, which might represent a problem for some consumers, especially if you are buying it for children.
PROS:
It is larger than common energy bars
It does not contain artificial flavors or preservatives
It does not melt quickly
CONS
:
It might be too sweet
It comes from soy
It contains caffeine
Related: If you want to mix things up a little bit, you might want to buy the Clif Bar 12 Bar Variety Pack, which has one bar of each flavor. Fans of the organic trend will have a lot to love about this healthy set of bars.
Clif Mojo Honey Roasted Peanut
Serving size: 1.6 oz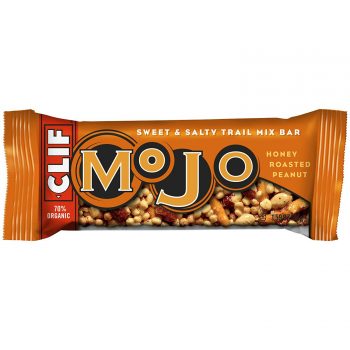 Specific features: Peanuts a-plenty, won't melt, good flavor
Best use: Energy during light activity
The Clif Mojo Honey Roasted Peanut Bar sounds delicious, and users agree, loving its 70% organic, super tasty, salty-sweet flavor. A low Glycaemic Index means that this bar should release energy over a relatively long period, but it contains less nutrient rich ingredients than other bars on the list.
Again, the 0.4 oz of protein in this bar come from a soy source, ideal for vegetarians, but which some bodybuilders believe can affect testosterone levels, so if you are trying to build serious muscle then you may need to do more research before choosing the Clif Mojo.
For those who want a simple, tasty snack that won't melt in a pack, and will give an energy boost while out on a hike or bike ride, this is a good option. However, some users have claimed that its flavor is a little too salty, so those who are used to sweet bars might not like this one.
PROS:
It does not melt
It releases energy for a longer period of time
CONS
:
It does not contain enough nutrients
It comes from soy
Related: If you are looking for a twist in the way you eat power-up food, you should try the Clif Organic Energy Food – Sweet Pouches. It is flavored banana beet and ginger which gives it a great taste while keeping you energized. It's made from real food ingredients, so that's a nice touch.
Balance Bar Caramel Nut Blast
Serving size: 1.6 oz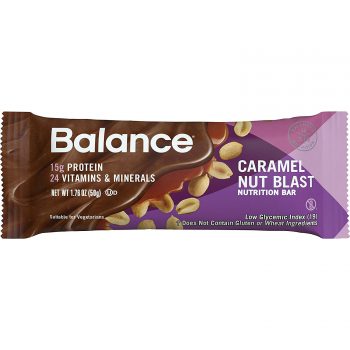 Specific fetures: 40/30/30 nutrition, caramel, and chocolate layers
Best use: Prolonged energy release, energy when exercising
The Balance Bar Caramel Nut Blast flavor contains layers of creamy caramel and contrasting crunchy peanut for a decadent taste. The calorie count comes in at 200 calories, making this a snack that is ideal for people who exercise moderately.
The 40/30/30 nutrition balance refers to a ratio of 40% carbohydrates, 30% protein and 30% fat, which studies have shown to be the optimal nutrition ratio for a sustained performance boost. A mix of 24 vitamins and minerals add to the benefits.
Users report that the chocolate coating on this Balance Bar has a good flavor, while the inside has a delicious cookie dough texture. This bar would make a great snack if you are rushing out to the gym or need an energy boost while out on the trail.
Nevertheless, this bar has a high amount of sugar in it, which is the reason why some consumers think that it is too sweet.
PROS:
It has the 40/30/30 nutrition ratio
It contains a mix of vitamins and minerals
CONS
:
It has high levels of sugar
It is too sweet
Related: For those who are always seeking for chocolate, there is the Balance Chocolate Peppermint Patty, which we strongly recommend for its delicious flavor. This delicious chocolate bar is a great source of fiber and protein.
Think Thin Bars, Brownie Crunch
Serving size: 2.1 oz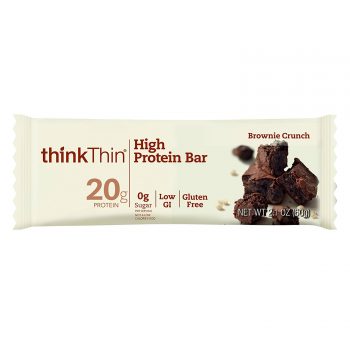 Specific features: 0 sugar, gluten free
Best use: Low sugar diet, low Glycemic Index
Designed to be nutritious and delicious with natural ingredients, this energy bar will appeal to chocolate lovers. Who could resist a brownie flavored snack bar?
Think Thin Brownie Crunch Bars are relatively high in protein, with 0.7 oz for every 0.9 oz of carbohydrate. This is one of the highest protein to carb ratios on our list. They also boast a low Glycemic Index, for slow energy release over time.
While the name may suggest that these bars are low in calories they actually contain 230 cals per 2.1 oz bar. The bar is low sugar however (0 oz) but uses maltitol, a sugar alcohol that contains half the calories of sugar. The amount of maltitol in a Think Thin bar is well below recommended daily maximums, but some buyers have reported an uncomfortable stomach after eating maltitol.
Also, consumers have claimed that the bar is kind of dry. Some even said that they had to drink a lot of water, which can be counter-productive when hiking or backpacking.
PROS:
It is high in protein and calories
It is low in sugar
CONS
:
It contains maltitol, which can produce stomachache
It is quite dry
Related: We also recommend the Think Thin Chunky Peanut Butter Bar because it has pretty much the same benefits with a different and less sweet flavor. Every bar has 0.7 oz protein and 0 fat which is great for the health conscious backpacker.
PowerBar Performance Energy Bar
Serving size: 2.3 oz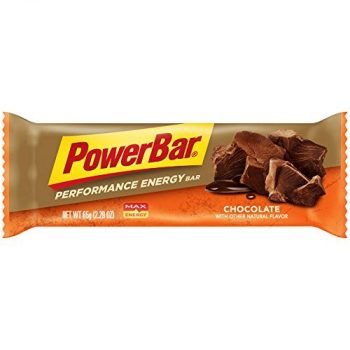 Specific features: 0.007 oz of sodium, no preservatives or artificial flavors
Best use: Energy boost for active people, before or during moderate exercise
The PowerBar Performance Energy Bar is a great deal for an energy boost while climbing, skiing or hiking, these bars are easy to pack for when you need them. One daily serving bar delivers 0.3 oz of protein and 0.1 of dietary fiber.
Each 65g bar contains 220 calories and a range of essential vitamins and minerals – including calcium and iron. Also, it contains 0.007 oz of sodium, which is an important electrolyte that is really helpful when walking long distances.
Buyers love to take these bars everywhere – for an energy boost before hitting the gym, or for a quick snack at any time of the day. These bars are easy to eat – think of a granola bar with added protein.
Some users have claimed that the texture is quite chewy, that it melts rather quickly and that it sticks to the wrap quite often. Also, it has high caffeine levels, which might be good for energy but bad for health.
PROS:
It is made only with natural ingredients
It has high levels of sodium
CONS
:
It is low in protein
It has a uncomfortable texture
It has caffeine
Related: There is a different way to fuel your body with protein. It is the PowerBar Ready to Drink Protein Shake, with 1.1 oz of protein in a classic chocolate flavor.
Musclepharm Combat Crunch Bars
Serving size: 2.2 oz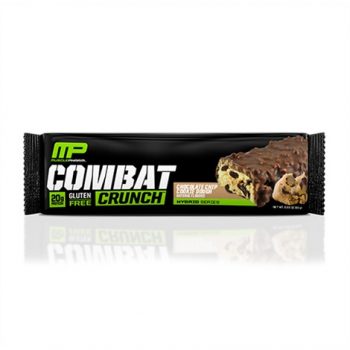 Special features: Proprietary baking system for best taste and texture, gluten free
Best use: Protein boosting snack, strength and muscle building
The Musclepharm Combat Cruch Bars are great for muscle building and added strength; these bars have a high protein to carbs ratio, with 0.7 oz protein to every 0.9 oz of carbs. The proteins come from milk and whey sources rather than soy, for a happy endocrine system.
The carbs in this bar are made up from simple sugars, so although the protein levels are good, the energy boost could be short-lived. Smaller athletes should find this 210 calorie, high protein bar easy to fit into a weight maintaining eating plan.
These bars are very filling for their size and calorie count, and the texture is good – like cookie dough should be. Some buyers love the flavor and eat these every day, so give them a go and see what you think.
Some users have said that in hot days, the bars melt quite fast. Also, they claim that it weighs less than what it says in the package.
PROS:
It is high in proteins
It does not comes from soy
CONS
:
The energy boost does not last long
It may melt quickly
It may not weigh what it says in the package
Related: If you like cinnamon, the Musclepharm Combat Crunch Cinnamon Twist is what you are looking for. Musclepharm makes some of the most delicious trail snacks and this one is no exception.
Quest Nutrition Protein Bar
Serving size: 2.1 oz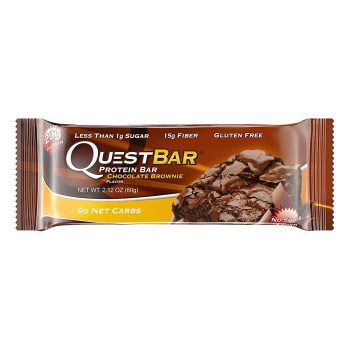 Special features: Gluten Free, real chocolate, no added sugar
Best use: Low carb snack, muscle building, low calorie
The Quest Nutrition Protein Bar really is high in protein. Each 190 calorie bar contains 0.7 oz of protein, from whey and milk sources – no soy here.
Some users are concerned about a recent switch by Quest to using cheaper soluble corn fiber instead of plant based fiber sources, but Quest says that the ingredient change is an upgrade, and helps to improve the texture of the finished product. Quest also says soluble corn fiber has nothing to do with corn syrup, and will help improve immune and anti-inflammatory responses.
Even though it is quite expensive, it does not have the quality that other bars of the list have since users say that it crumbles. On the flavor side, consumers are divided. The bars are too sweet for some (they contain not one, but three sweeteners), but others praise both the flavor and filling properties of this protein bar.
PROS:
It is very high in protein
It does not come from soy
CONS
:
It might be too sweet
It falls apart while eating
It is quite expensive
Related: If you want to try some protein plus to drink at home, you definitely have to buy the Quest Nutrition Protein Powder, with 0.7 oz of protein and less than 0.04 oz of sugar.
Now Go Out and Find Your Favorite
As you can see, each brands' approach is unique making their energy bars a little differently. There are bars suited to weight loss, meal replacement, healthier snacking or serious fueling and muscle building. Now that you know a little more about what to look for, try a few and let us know what you think.
Do you like taking energy bars when you go outdoors? Do any of the bars provide your perfect balance of nutrition, energy and taste – which one has it all for you? Feel free to let us know your thoughts.