One of the great jots of dog ownership is the pleasure of being able to take your canine companion along with you as you travel through life; the existence of dog-friendly stores, restaurants, and resorts has proven this much.
So it's only natural to want to bring your pup along as you traverse the great outdoors – after all, if your dutiful doggo bides his time patiently at home along while you work all week, there's nothing the two of you will enjoy more than an energetic, exhausting day out on the trail.
And just as you wouldn't dream of stepping out without your do-or-die choice of gear, you should also think of your pup when it comes to making sure you have everything you need to guarantee a healthy and comfortable hike for all parties involved. We're taking a look at some of the best dog backpacking gear available to help you make an educated purchase for your four-legged best friend before you take on the wilderness together.

Every Dog Has His Duty
You might assume that the only purpose your pup can serve on the trail is companionship, but there is so much more your furry pal can do. Joring and canicross (explanations to follow, promise) are just two of the next-level activities you can enjoy with your dog out in nature, and they don't usually require much more than your typical hiking gear for dogs—just a little more discipline and practice.
No one knows your dog better than you do, so as you learn more and more about the outdoor activities you can participate in with your dog, you'll be able to choose which ones suit her particular personality, build, and breed. Even if you think your sleepy couch potato pup won't ever be game for such demanding duties, it might be worth a try—she might just surprise you given the opportunity.
"Joring" comes from the Norwegian word for driving or pulling, and dog joring covers a wide range of actives from skijoring (having your dog pull you while you're on skis) to bikejoring (same deal, but you're on a bike). Many dogs like to channel their inner ski dog and enjoy the challenge of having a load to tow, and this is how you can capitalize on that instinct while bonding with your pet.
A sturdy hip belt is responsible for connecting you to your dog's harness, and then sheer dog power does the rest. Joring requires quite a bit of learning for both dog and human; there are all sorts of balance and speed/force issues to iron out before this particular sport becomes rewarding for the two-legged and four-legged parties involved.
Canicross is a similar dog-led activity that rose to popularity stemming from dog mushers practicing with their packs in Europe. During the off-season, mushers would exercise their dogs by attaching themselves to their pups via waist-mounted bungee cord and running behind them to create a similar pull to a sled.
The practice caught on, and now many non-mushers across the world have gotten in on the fun. Canicross is a perfect way to give your pup a rigorous workout while also giving yourself the world's most adorable (and motivating) running partner.
A word of warning: Joring and canicross can be enjoyable and extremely rewarding pastimes for you and your dog, but not every dog is a good fit for the activity. Typically, a dog should be 35 pounds or heavier to withstand the demands of joring, and both joring and canicross require the dog to obey numerous verbal commands.
A dog who isn't sharp or responsive to these commands can create a dangerous situation for his human, so sufficient training time is essential before you ask your pup to participate in these particular sports.
Now that you have a little background information about what duties your dog can do on the trail (…besides the obvious ones, and we imagine you will clean up after those), let's take a closer look at some of the best hiking gear for dogs!
Top Backpacking Gear for Your Dog
Ruffwear Cloud Chaser Soft Shell Jacket
Weight: 3.5 ounces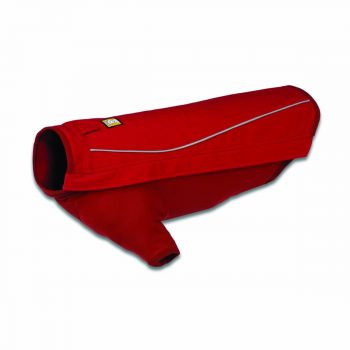 Dimensions: 12.5 x 7.5 x 0.5 inches
Sizes: Small, Medium, Large (Up to a 31" Chest)
Specific features: The Ruffwear Cloud Chaser Soft Shell Jacket offers a waterproof, windproof, and breathable three-layer soft-shell fabric, four-way stretch for optimal fit, beacon safety light, sleeved construction, and zippered closure.
Best use: This breathable, weatherproof jacket is perfect for cold weather outings with your pup in even the messiest winter weather.

The Ruffwear Cloud Chaser Soft Shell Jacket is sure to keep up with even the most energetic canine sidekick when your pooch's fur may not be enough to shield it from Mother Nature's more extreme conditions. With its nearly impenetrable waterproof and windproof (yet breathable!) three-layer soft-shell, four-way stretch fabric and cozy, ergonomic fit, you can be confident that your best friend will be comfy throughout the day.
Messy trails aren't a problem for this fully washable jacket, which has coated lower fabric to easily shed moisture and dirt. Even though its sleeved construction provides maximum coverage from the elements, this jacket still manages to provide full range of motion for whatever moves your pup cuts.
A snug, insulated interior retains a warm core temperature, and the zippered closure ensures this snazzy pup-wear will always stay in place. Reflective trim provides an extra measure of safety and visibility, and a built-in loop can accommodate an extra safety light in case your adventures stretch beyond sundown.
Related: The weather-resistant Ruffwear Powder Hound Jacket for Dogs blends synthetic insulation with highly stretchable fabric to provide optimum warmth and range of motion.
Ruffwear Front Range Harness
Weight: 5.9 ounces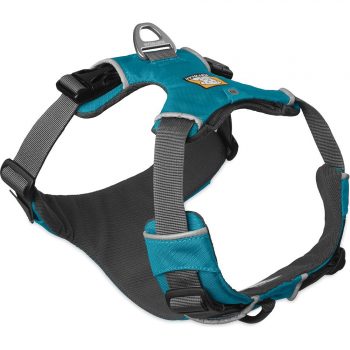 Dimensions: 14.2 x 11.4 x 0.2 inches
Sizes: Small, Medium, Large (Up to a 31" Chest)
Specific features: The Ruffwear Front Range Harness features a four-point adjustment system for customizable fit, padded chest and belly panel, reflective trim, secure leash attachment points, and an ID pocket to stow your dog's tags.
Best use: This durable harness is suitable for everyday wear and casual, mild weather hikes on the trail.
The Ruffwear Front Range Harness is perfect as a go-to choice for your dog's daily rambles through the neighborhood as well as longer, more intense hikes along the trail. The four-point adjustment system ensures that a customized fit is always achieved (even if Fido packs on a few pounds), and the padded chest and belly panel gives your pup ultimate comfort and load dispersion.
You can be sure you'll maintain your grip on your best buddy thanks to two secure leash attachment points; you can use only the aluminum V-ring for casual strolls, or add on the reinforced webbing attachment point for more control. A convenient ID pocket allows you to stow your dog's jingly ID tags for a quieter outing, and the reflective trim gives you the peace of mind you need in low-light environments. The Ruffwear Front Range Harness is fully machine washable with mild detergent (once you secure the fasteners), and can be quickly air dried.
Related: The lift-and-assist Ruffwear Web Master Pro Professional Harness for Dogs is designed especially for search and rescue purposes.  
Ruffwear Grip Trex Dog Boot
Weight: 0.5-0.8 ounces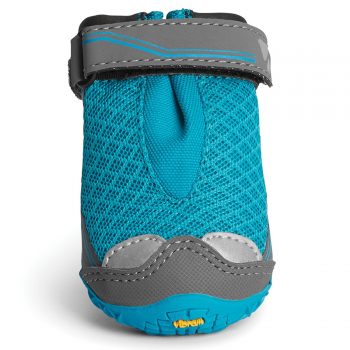 Dimensions: –
Specific features: Ruffwear Grip Trex Dog Boots have a Vibram non-marking outsole, durable lug traction, breathable woven air mesh, hook-and-loop cinch closure system, gusset design with wide opening, and reflective trim for visibility.
Best use: These sturdy boots are the ideal footwear for the active pup who loves to tag along for their human's hiking, biking, or running excursions on rough or rugged terrain.
Once the highly adorable nature of DOG BOOTS wears off (if that's even possible), you can fully appreciate the Ruffwear Grip Trex Dog Boots for their amazing design and construction.
If you're looking for a reliable boot to protect your pup's paws on every hike, run, or walk, look no further: these boots are well-ventilated with breathable mesh to keep paws supported but not sweaty, and the Vibram outsole will keep your dog's every step secure, even on rough terrain.
You'll want to keep an eye on your dog's boots after the first 15 minutes into activity to ensure that the fit hasn't shifted, but the Ruffwear Grip Tex's hook-and-loop closure system makes adjustments a breeze. The boots' reflective trim gives Fido's feet high visibility in the dark, and the gusset design ensures that you won't have to spend too much valuable trail time wrestling these cute booties on and off your doggie's paws.
Ruffwear Roamer Leash
Weight: 6.6 ounces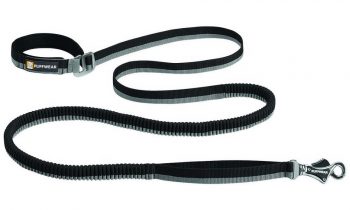 Dimensions: 92.1 x 1 x 1 inches
Specific features: The Ruffwear Roamer Leash offers wavelength stretch webbing, traffic handle, accessory loop, ergonomically-friendly Talon Clip for easy attachment, and can be worn around the waist or used as a hand-held leash.
Best use: This strong, extended range leash will keep you connected to your best furry friend on any outdoor adventure.
If you want to venture into joring or canicross, the Ruffwear Roamer Leash is an essential piece of gear for your adventurous outings. This leash's Wavelength Webbing provides ultimate stretch for your pup's pull while still allowing you tap control, and it can be either hand-held or waist-worn (or hitched to a tree for a pit-stop) with the signature Talon Clip depending on your preference.
A handy accessory loop gives you a spot to clip on your must-haves, and the traffic handle enables you to gain quick control of your dog whenever the situation calls for it. The Ruffwear Roamer Leash can get as muddy or messy as you like on your outdoor adventures; it is easily hand-washed clean with mild detergent and then hung to air dry. You can purchase this leash in either large (stretches to 11 feet) or medium (stretches to seven feet).
Related: The Ruffwear Slackline Dog Leash can be lengthened or shortened to provide the desired amount of freedom or control for any given situation.
Filson Shelter Cloth Dog Coat
Weight: 1 pound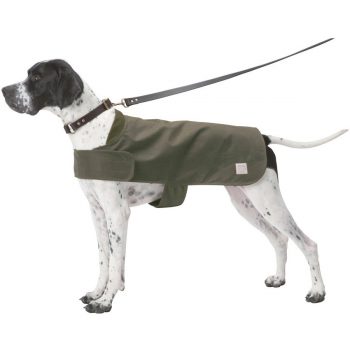 Dimensions: 12 x 8 x 2 inches
Specific features: The water-repellent Filson Shelter Cloth Dog Coat sports a lining of 100 per cent virgin wool, a double-layer sueded Moleskin neck, and a velcro snap closure.
Best use: This durable and comfortable coat is perfect for chilly or rainy rambles on the trail.
Your daring dog may always be ready and raring to go in any kind of weather, but the truth is, even the hardiest pups need some protection from the elements when it comes to extended exposure in extreme temperatures or damp conditions.
You can keep your dog's core toasty warm with the Filson Shelter Cloth Dog Coat—a reversible, water-repellent garment designed to keep your canine companion comfortable no matter what Mother Nature has in store.
A 100 per cent virgin wool lining provides optimal heat retention, even when damp, and the double-layer sueded Moleskin collar protects against uncomfortable friction against your dog's neck during extended periods of activity. The velcro strap closure allows you to adjust the coat perfectly to your dog's body, and even if the Filson Shelter Cloth Dog Coat gets grimy or gritty over the course of your adventures, it is easily wiped or brushed clean.
Mountainsmith Small K-9 Pack
Weight: 15.8 ounces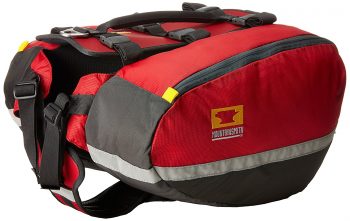 Dimensions: 8.2 x 11 x 7.8 inches
Specific features: The Mountainsmith Small K-9 Pack is constructed of sturdy nylon with an embossed liner, adjustable belly strap, ergonomic torso shape, two zippered pannier pockets, air mesh side panels, 3M reflective trim, and metal D-ring leash attachment point.
Best use: When you need your puppy pal to help you haul gear on a long hike or outdoor adventure, this thoughtfully designed pack is an ideal choice.
Sure, your dog is cute, but no one gets away with not carrying anything as a member of your trail team. Why not give your pup a pack to stow his essentials, just like you? The Mountainsmith Small K-9 Pack features an ergonomically tapered torso shape that is veterinarian approved to ensure your dog won't feel any extra strain, and the air mesh panels provide ultimate breathability when things get moving.
This pack is constructed from highly durable 210D nylon with an embossed liner to stand up to years of trail use, and the four-point adjustable chest harness and padded sternum strap provide a secure and comfortable fit.
Two zippered pannier pockets can stow water, ID tags, snacks, extra leashes, and whatever extras your puppy pal might need along the way. A leash is easily attached to the metal D-ring, and 3M reflective trim on the front, read, and side panels makes your dog visible in low-light conditions.
Related: The 840d ballistic nylon Mountainsmith K-9 Backbowl Packable Water Dish is an easily packed and cleaned collapsible bowl that can be used for food or water breaks along the trail.
Ruffwear Omnijore Joring System
Weight: 0.2 ounces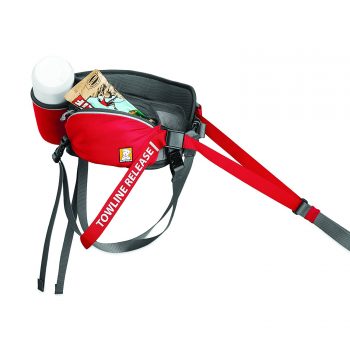 Dimensions: 17.5 x 13.2 x 0.2 inches
Specific features: The heavy duty Ruffwear Omnijore Joring System includes a harness, towline, and human hip belt, has been designed to international joring regulation standards, and is available in three sizes.
Best use: This reliable joring system can be used for skijoring, skatejoring, bikejoring, or canicross in any and all weather conditions.
If you and your dog are serious about joring, look no further than the Ruffwear Omnijore Joring System to take your pup-and-master activities to the next level.
This all-inclusive system contains a sturdy, all-weather dog harness, towline, and human hip belt that have been specially designed to work together for optimal trail performance—as well as meeting international joring regulation standards.
The harness is made for pulling, whether it be skatejoring, bikejoring, mountainboard-joring, or even canicross, and has a four-point adjustment system to ensure a customized fit. The towline features shock-absorbing Wavelength webbing and a secure Talon Clip attachment point, and the human hip belt provides a load-dispersing design and 180 degrees of tow direction.
The Ruffwear Omnijore Joring System is available in three sizes (small, medium, and large; consult their website for specific measurement guidelines depending on your dog's girth), and can be hand washed in mild detergent and air dried.
Related: The Ruffwear Front Range Harness for Dogs offers an easily-worn and comfortable fit with two leash attachment points, and is perfect for every day walks and casual outings on the trail.
Final Thoughts
So many of us have the privilege of sharing our lives with a furry four-legged friend, and now there are even more ways for us to include them in our extracurricular activities.
Whether you just need a reliable cold-weather coat to keep your pup toasty on winter walks, or if you're interested in entering the exciting world of joring or canicross, today's manufacturers have all the gear you need to stay safe, secure, and well-equipped on the trail with your very best friend.
Do you regularly take your dog on outdoor adventures? Have you experimented with joring, or are you a die-hard canicross fan? Feel free to share your questions and insights about dog-related trail sports in the comments!