We've all spent a cold night in the wilderness and had a terrible night's sleep. You probably had the wrong sleeping bag for the weather or a wet one that never dried. Well, we don't ever want to make that mistake again and we're sure you don't either. That's why we will see what is and what makes the best cold weather sleeping bag you can get so you don't risk another one of those freezing nights.
In this article, we'll talk about what features you need in a bag and what specific details you might want included for the type of sleeper that you are. Then we'll review the best cold weather sleeping bag on the market. It's time you had a toasty night's sleep on the trail!
Important Features to Consider
If you're reading this, you're looking for a bag that's built to withstand cold weather and you're either backpacking or camping.
The distinction between the types of activities is important here. If you're backpacking for long miles, the weight and size of your sleeping bag matters a whole lot more than if you're car camping.
The activity you focus on can even dictate the level of warmth you'll need. Once you've figured out if this bag will be used mostly for backpacking or mostly for camping trips, you're ready to look at the nitty gritty details that will get you closer to choosing the right bag for you.
European Norm Rating
The first thing you want to look for is the degree rating, this will immediately narrow your results and you won't get distracted by summer bags. There's a rating for bags called the European Norm (EN).
It's internationally accepted as the standard in being the most objective degree rating system. Bags are assigned two temperature ratings through the EN system.
The Comfort Limit Rating and the Lower Limit Rating. These ratings are based on a sleeper wearing one layer of long underwear and a hat, and sleeping on a one inch thick sleeping pad.
Comfort Limit – the lowest temperature at which the bag will keep the average "cold sleeper" comfortable.
Lower Limit – the lowest temperature at which the bag will keep a "warm sleeper" comfortable.
Look out though, not all bags are EN tested.
Temperature Ratings
Temperature ratings signify the lowest temperature at which a bag intends to keep a sleeper warm. For example, a 20˚ bag means that most sleepers will be comfortable as long as the air temperature drops no lower than 20 degrees.
Be sure to buy a bag with a temperature rating slightly lower than the lowest temperature you expect to encounter. It's easier to vent your bag or take off a layer than to add on when you're out in the field.
A quick cheat sheet to temperature ratings:
| | |
| --- | --- |
| Bag Type | Temperature Rating (˚F) |
| Summer | 35˚ and higher |
| 3 Season | 10˚ to 35˚ |
| Winter | 10˚ and lower |
Weight and Size
Knowing if you're going to be backpacking or camping comes into play especially when thinking about the weight and size of your bag. Bags usually come in short, regular, and tall sizes.
You also may want to consider looking at a bag's packed/compressed size if you think pack space will be an issue for you.
Shape of Sleeping Bag
How sleeping bags work may seem like a no brainer but it's actually a pretty complex and interesting process. Learning more about how bags keep you warm will help you choose the right shape and insulation for you.
Sleeping bags trap "dead" or non-circulating air between your body and the bag. This air is heated by your body and the bag blocks it from the ground and outside air. The less space that needs to be heated, the faster you get warmed up and stay warm.
One difference between camping and backpacking bags is roominess. Camping bags are roomier and more comfortable but less efficient at warming the dead space and are far less packable than backpacking specific bags.
Rectangle. The most common shape for camping bags. Rectangle shaped bags are thought to be the most comfortable because they are the roomiest. There's a fun plus if you and a buddy have rectangle bags too.
If one bag has a right-hand zipper and the other has a left-hand zipper, you can mate the bags and create one giant bag. Great for sharing body warmth and cuddling! Some campers even use this method to keep their dog beside them at night.
Semi-rectangular. Good for both camping and backpacking, the tapered design of semi-rectangular bag allows for an economical use of heat while offering more space than a mummy bag. Backpackers who are larger framed or restless sleepers tend to find these more comfortable.
Mummy. While some backpackers and campers find the mummy styled bags restrictive, they are great for either activity and offer less weight for more warmth. Mummy bags have narrow shoulders and hip widths.
While you can buy bags with wider shoulder and hip specs, a semi-rectangular bag is often a better option if you find yourself not totally comfortable in a mummy bag.
Insulation Type
Sleeping bag insulation is also called "fill" and you should be aware that many product descriptions will use the term "fill" instead of insulation. The fill works by minimizing the amount of heat you lose while sleeping.
There are two types of fill: down or synthetic or you can buy a bag with a combination of down/ synthetic.
Synthetic
Synthetic fill is typically made of polyester and is easier on the wallet than a down bag. Synthetic fill is also quick drying, durable, and non-allergenic. It even insulates when wet. It doesn't pack as small as down which is something to consider if you're more of a backpacker than a camper.
Down
Down fill is just as durable as synthetic and it excels in cold, dry conditions. It's a bit pricey but it maintains an important factor for longer called loft. Loft is the heat trapping ability of the material.
Down bags maintain their nearly original state longer than synthetics. It's a more expensive purchase that can pay off in the long run.
There's another term you should be aware of before we move forward: fill power. Fill power is the term used to measure down's ability to loft. It's calculated by how many cubic inches 1 ounce of down can fill.
Higher grade down is taken from more mature birds. Fewer plumules are needed to fill the space and achieve a certain temperature rating. Example: a 700-fill power bag rated at 20˚F will be lighter than a 600-fill power down bag rated at 20˚F.
Down comes from either goose or ducks, we'll break down the pros and cons of each bird's feathers next:
Goose Vs. Duck. Most down is a byproduct of the meat industry. Because more ducks are being eaten, duck down has become less expensive and more prevalent. Goose had been considered the superior choice because it can achieve a fill power rating of 900 but duck has become the more popular option.
The conscious shopper should look into their sleep bag manufacturer's practices when it comes to down. Many manufacturers are moving towards ethically sourced, 'traceable" down. This means that the birds are monitored throughout their life, are raised humanely, and are never live plucked.
Water Resistant Down. The major con of down fill is that is loses its insulating power when wet. To counter this, some sleeping bags offer down fill that that has been treated to be water resistant.
While water resistant down will dry faster than untreated down, if exposed to heavy water, the down will still get wet. As any outdoorsperson will tell you, there's a big difference between water resistant and waterproof.
Down/ Synthetic Combination
If you can't decide between down or synthetic, you don't need to! There are some bags that offer a combination of down and synthetic fill. The idea is that the imperfections of either can be accounted for by the other.
Sometimes the fills are totally blended together and sometimes the synthetic material may be on the bottom and the down on top.
Other Design Features to Consider
Sleeping Bag Hood. Especially when looking at cold weather bags, you'll want to consider having a sleeping bag hood. As so much heat escapes your head, you'll want to make sure your bag has this feature. It's most commonly found on semi-rectangular bags and mummy bags. Just cinch a drawstring cord until it comfortably covers your head.
Pillow Pocket. Similarly, in the head area of some bags, there's a pocket for you to stash your clothes to make a pillow and keep your clothes warm for the morning.
Stash Pockets. Some bags come with strategically placed pockets so you can keep eyeglasses, your watch, headlamp or phone close by. Your body heat will help electronic batteries from dying too soon and it's just nice to not have to rummage around for your headlamp in the dark or your alarm in the morning.
Draft Tube. This is a tube filled with insulation that runs along the inside of the bag's zipper. This way, no heat can escape between the zipper coils and ensuring you have an extra toasty night.
Draft Collar. Also known as a neck baffle, a draft collar insulates around your head and neck to prevent body heat escaping and cold air from entering.
Sleeping Pad Sleeve. A feature that is especially beneficial to sleepers who toss and turn, running the risk of rolling off their sleeping pads. Sleeping pad sleeves are on the bottom of bags and hold the pad and bag together throughout all your nighttime acrobatics.
Top Products on the Market
We'll now go into seven of the best sleeping bags for cold weather hiking and camping. We've organized them from weight: lightest to heaviest.
Sea To Summit Trek TK I 32 Degree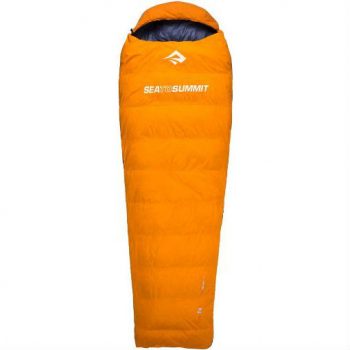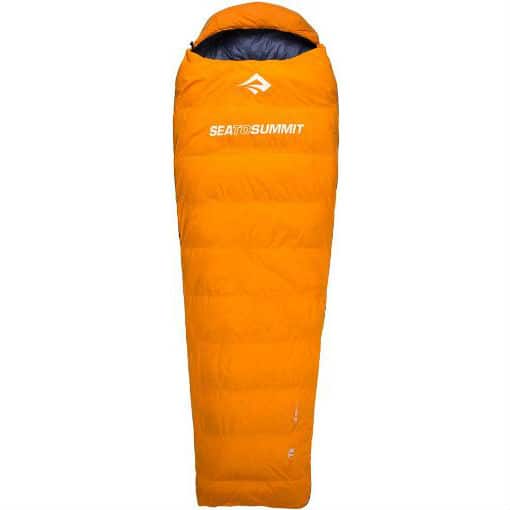 Weight: 1 lb 13 oz
Features: Semi-rectangular, rated at 32˚F, 2D PermaShell Durable Water Repellant shell fabric, side block baffle, Down insulation, 650 fill duck down, unisex.
Best use: Backpacking
Description: The Sea to Summit Trek TK I 32 Degree Sleeping Bag is rectangular shape that tapers. This feature gives you more space to move around while minimizing the cold spots a true rectangular bag would give you.
This bag is filled with 650-fill duck down insulation making it easy to compress and very light. Sea to Summit includes a stuff sack, storage bag, and washing implement to keep your bag in great condition for years to come.  
Related: Like this bag but want it for even colder environments? You're in luck. Sea to Summit makes this same bag but rated for 12 and 18˚F.
Nemo Past Season Nocturne 30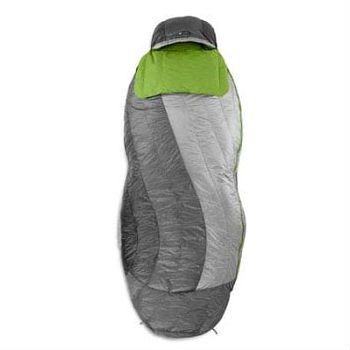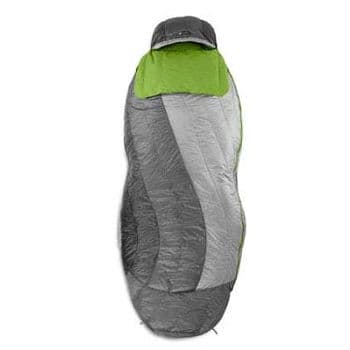 Weight: 2 lb
Features: 700 fill power down with DownTek, spoon shape, tuckable Blanket Fold, and Waterproof/Breathable footbox, EN lower limit: 23˚ F, Temperature Rating: 30˚ F, unisex.
Best Use: Backpacking
Description: The Nemo Past Season Nocturne 30 is wide in the shoulders and tapers down to the hips, gently flaring out again around the knees to allow for movement as you sleep through the night.
The baffling on this bag also curves to fit perfectly around your body and keep heat out. The blanket fold tucks in for extra warmth and comfort as well. This semi-rectangular bag is filled with DownTek, down treated to be water resistant and maintain loft.
The footbox is made from breathable, waterproof material so the condensation from tent walls doesn't seep into your bag. Some find that this bag has cool spots but they have been alleviated by adding more down. This bag has a left-hand zipper.
Related: Nemo offers a 2016 version of this bag in red as well as a similar bag, Nemo Salsa for 15˚ and 30˚ F.
Sierra Designs Backcountry Bed 600 Fill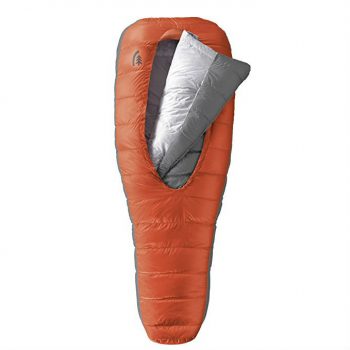 Weight: 2 lbs 3 oz
Dimensions: 23 x 15 x 11 in
Features: Mummy style, 800 Fill DriDown, versatile integrated comforter wrap allows you to easily adjust to varying temperatures, insulated hand/arm pockets, sleeping pad sleeve, stuff size: 7″ x 14″.
Best use: Camping, backpacking.
Description: The Sierra Designs Backcountry Bed 600 Fill has no zippers or Velcro. This is essentially a bag and oversized comforter paired together for a comfortable and warm night's sleep. The comforter can be tucked in or out of the bag making is the most adaptable sleeping bag we're reviewing.
It's a great choice for campers who like to sleep on their back, side or stomach or to adjust to the changing nighttime temperatures. For example, if you get too hot, it's easy to stick a hand or foot out of the comforter or its pockets.
The footbox also utilizes a lip feature that's easy to tuck your feet inside or outside of. This bag utilizes DryDown technology and is extremely light.
While not meant for arctic temperatures, this bag covers most of the temperatures an average camper would encounter and offers unparalleled versatility when it comes to sleeping position and temperature regulation.
Related: The Sierra Designs Backcountry Bed comes in more colors: Scuba, Red Clay, Piquant Green and Boysenberry.
Western Mountaineering Antelope MF 5 Degree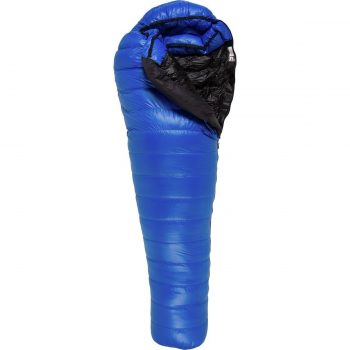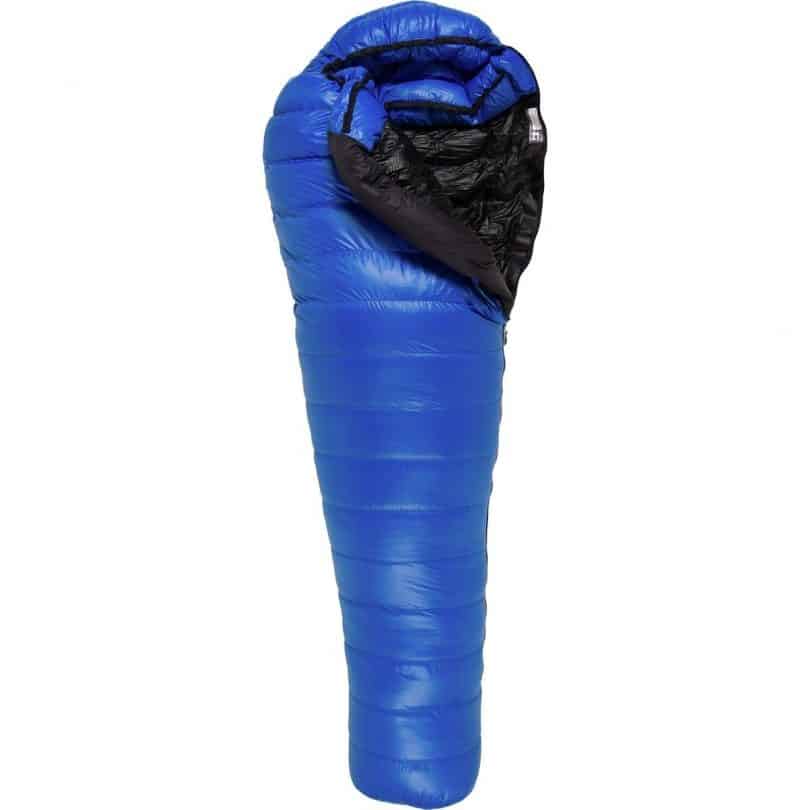 Weight: 2 lbs 7 oz
Dimensions: 5' 6"
Features: 5 1/4″ continuous baffles, full down collar, 7″ loft, 62" shoulder girth, 5°F temperature rating.
Best use: Backpacking
Description: Western Mountaineering Antelope MF 5 Degree Sleeping Bag is a great three season (early Spring to late Fall) sleeping bag. It's a mummy bag that has a down filled collar and draft tube, effectively sealing your heat in from the cold night air.
This bag is rated to 5˚ F and it's 7" loft will keep you warm throughout the night. Its shell is water resistant and is made from MicroLite XP which also maintains breathability. You can get either a right or left zipper on this bag and it's made in the USA.
Related: Western Mountaineering also offers sleeping bags in 20˚ and 10˚ ratings. Check out the UltraLite 20 Degree Sleeping Bag and the 10 Degree Versalite Sleeping Bag.
Kelty Cosmic 20 Degree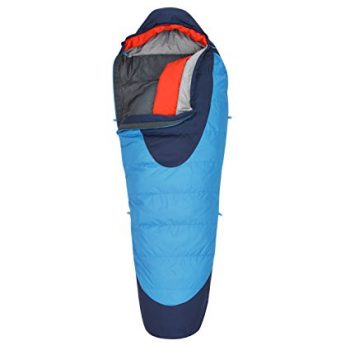 Weight: 2.8 lbs
Dimensions: 8 x 13 x 8 in
Features: Temperature Rating: 20°F, Stuff Size 8 x 14, stuff sack included, 550 fill DriDown, 60in dual-slider locking zipper, draft tube, full draft collar, Thermal comfort hood & natural fit foot box.
Best use: Backpacking.
Description: The Kelty Cosmic 20 Degree Sleeping Bag has a 19°F EN lower limit and is filled with DriDown. DriDown means that each down plume is treated with a hydrophobic finish. DriDown stays dry longer, lofts better and stays dry longer than untreated down.
This bag is also a mummy style and considered unisex. These bags are well constructed and have great packability. If you're a cold sleeper this bag might not be best for you, it's comfort level is 30°F and for some that's not enough.
That being said, Kelty make's a women's version to help combat this issue. Other helpful notes: the zipper doesn't jam easily.
Related: Kelty Cosmic is also made for a 0 degree rating and a women's 20 degree rating.
Mountain Hardwear Phantom 0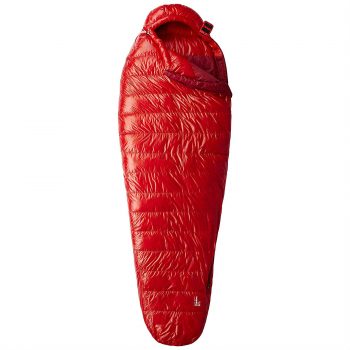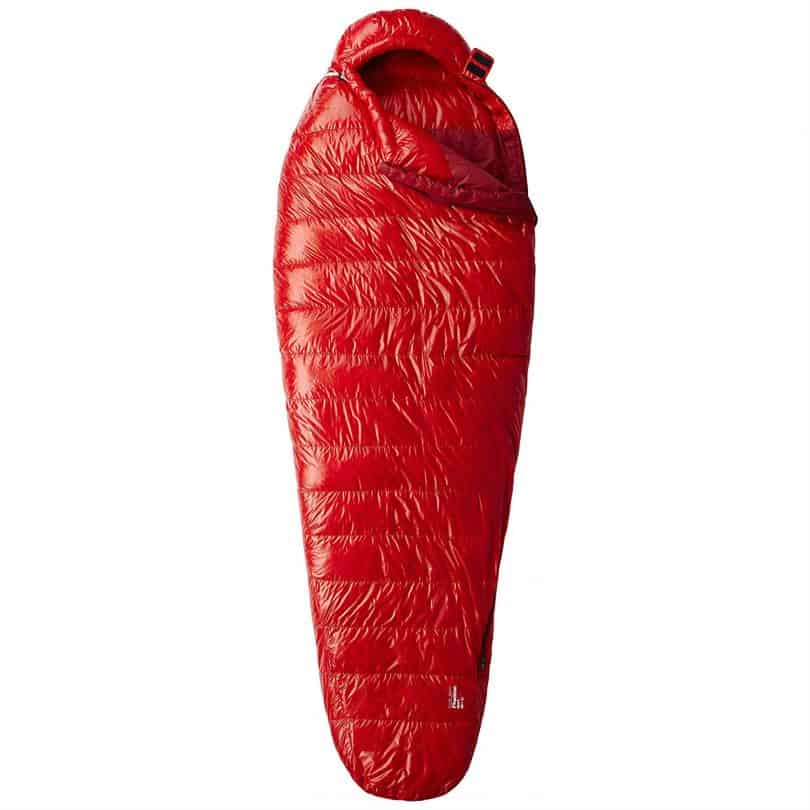 Weight: 2 lbs 14 oz
Features: 800 fill down, mummy style, Q. Shield DOWN maintains heat and maximum loft in damp conditions, 5″ baffle spacing maximizes loft, lightweight two-way #3 zipper, six-chamber hood design.
Best use: Backpacking.
Description: Mountain Hardwear Phantom 0 is very light and packs up easily. It's temperature rating makes it a great choice for cold weather backpacking. The Q. Shield Down maintains heat and loft in damp conditions. The tight baffle spacing and six chamber hood design maximizes loft and creates consistent warmth.
The two-piece collar covers the neck and shoulders, creating a comfortable seal. With two drawstring cords, you can get super snug in the collar as well. The footbox is also shaped to allow for a natural, unrestricted foot position as well.
The lightweight zipper is a feature to consider here. Its size makes it easy to snag and tear the bag's fabric. The colder conditions you're in, the harder this can be to maneuver.
Related: Mountain Hardwear also makes a bag for 28˚F, the Phantom Spark 28 Down Sleeping Bag and the Phantom Torch 3 Sleeping Bag, rated with an EN lower limit of 3 ˚F.
Marmot Sawtooth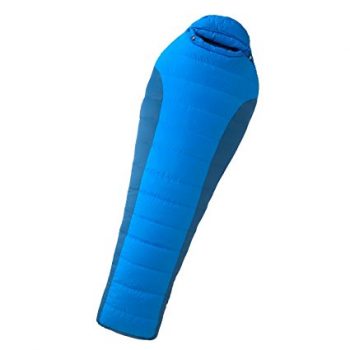 Weight: 3 lbs
Dimensions: 7 x 11 x 14 inches
Features: Rated to 15˚ F, right handed zipper, insulation material: 650+ fill power Duck Down, anatomically designed footbox, pocket in footbox for hand warmer, baffled hood that cinches around your face, draft collar, two-way snag free zipper, insulated draft tube, stash pockets, stuff sack and storage included.
Best Use: Backpacking.
Description: The Marmot Sawtooth is a unisex mummy shaped bag with an EN lower limit of 15.6˚ F and a temperature rating of 15˚ F. This bag is a great choice for spring, fall, and winter backpacking.
The baffle and the hood are well designed and easy to adjust. Stash pockets make nighttime organization easy. Around the footbox is designed to loft fully around your feet, not sink to the bottom.
It's worth noting that the zipper snags occasionally and it does not unzip around the footbox. It also packs small, around 11 liters. In terms of storage, this bag has two loops built in for storing and hanging.
Related: Marmot also offers other mummy bags, like the Trestles 15 and 20.
Final Thoughts on Choosing A Sleeping Bag
We've outlined important features to look for in a sleeping bag and to think about which ones you want to prioritize for your own adventures. The things you mainly want to be concerned with is the EN rating, bag style and type of fill.
If you're a pretty stationary sleeper a mummy bag might work for you. The more you like to toss and turn, you'll need a bag that has a little more room. Same goes for how hot or cold you run with EN ratings.
With fills, you've really got three options and that can be narrowed down by price if you're really stuck. The beauty is after outlining seven different cold weather bags on the market, you're now able to navigate these options for yourself.
The perfect bag to get you through colds nights is out there. Go find it and sleep tight!
Which bag is your favorite? Do you use one on this list or something else? We definitely want to know.