Interested in rock climbing, but don't know where to start? A lot of people like to go free hand – without the use of equipment – but for a beginner, that's a dangerous way to go. One of the most important climbing gear that you should pay close attention to is your climbing rope.
In a moment of great danger, having the best climbing rope could save your life. Many people think that a rope is just a rope, but there's more to it than just buying the longest, toughest one you can find. Depending on your activity, you're going to need various ropes to serve different purposes, and it's important to know the differences between them all.
But how does one shop for a good quality rope for climbing? Instead of fumbling around in the store and asking an assistant a million questions, we're here to provide the answers you're looking for when it comes to finding the best climbing rope for your needs.
In this article, we're going to take you through the most important features you should be keeping an eye when buying. After that, we are going to review some of the best products out there on today's market. Let's get to it!
Our Top Picks
Things to Consider Before Buying
To find the best climbing ropes to fit your needs, it is helpful to understand some characteristics of different ropes and how that affects their usefulness. Sure, they come in a lot of different colors and lengths, but knowing the specifics of the kind of rope you need to get will make all the difference in the world.
Length and Diameter
The length and diameter of a climbing rope affect its performance, and determines the kinds of activities you're going to be engaging in.
Skinny ropes
What exactly is a skinny rope? Well, any rope with a diameter of under 9.4 mm is considered a skinny rope. In general, the skinnier a rope is, the lighter it is.
When you have many meters of rope, this weight can really add up, so for long distance hiking between pitches, it might be wise to choose a skinnier rope to cut down on weight for those in between hikes.
Skinny ropes are ideal for long distance hiking between climbs, but for top roping or when you expect to take a lot of falls, a thicker rope is more ideal.
The downside of skinnier, lighter ropes is that they are not thick enough to be as durable or resistant to abrasion as thicker ropes. Skinny ropes are also not rated to withstand as many falls as thick ropes, so they don't last as long either. Additionally, skinny ropes move through belay devices, such as gris-gris, at a faster rate than thick ropes so they can be more difficult to control.
Thick ropes
Ropes with a diameter of 10 mm and higher, are best for top rope climbing, particularly at climbing gyms. Because of their durability and ability to withstand multiple falls, they are also useful for when you are working on climbing a new route and expect to fall frequently.
Because frequent falls at the gym and big walls can wear out a skinny rope quickly, a durable thick rope will help you get the most bang for your buck when it comes to investing in a climbing rope.
Most climbing ropes can be purchased in increments of different lengths, which contribute to differences in their usefulness. The most standard length is 60 meters, which will be enough for most climbers.
A rope should be at least double the length of the wall you will be climbing so, if the wall at your gym is 15 meters high, you will need at least 30 meters of rope to accommodate the distance between you, the top of the wall, and your belayer, plus some extra length to account for knots.
Weight
The weight of climbing ropes can also affect their performance. The diameter and length are usually what determine the weight of a climbing rope, but this can also be affected by how dense the rope is.
Density is determined by the specific manufacturer's method of construction, as well as the special treatments that have been applied to them to make them unique in the market and to accommodate a climber's special needs.
Rope weights are measured by grams per meter of rope. You can figure out the total weight of your rope by multiplying this value by the total length of your climbing rope.
Special Treatments
Many ropes come with specialized treatments added in the manufacturing process in order to give them useful properties for outdoor use. One of the more common treatments is a dry treatment, which reduces a rope's ability to absorb water.
This is important because wet ropes can become much heavier and less durable, so falls will not be as comfortable because the rope's ability to withstand impact force is compromised.
Plus, freezing weather coupled with a wet rope spells trouble. For mountaineering and ice climbing, having a dry treated rope is important. It is less essential to sport climbers who might choose not to climb when it starts to rain. The dry treated ropes are usually more expensive than others, but the ease of mind and guarantee of safety are worth it.
Markings
Ropes can also include markings either on the surface of the rope or woven into the pattern of the rope to help you determine the middle or ends of the rope. A rope with a middle mark is very important for rappelling and is usually denoted by black dye at the center of the rope.
Another way to differentiate the two halves of a rope is a bicolor weave pattern, in which one half of the rope has a different weave pattern than the other half, making it easy for climbers to spot.
Safety Standards
The organization that tests climbing ropes is the UIAA, or Union Internationale des Associations d'Alpinisme. A UIAA fall rating is how many falls a rope can withstand prior to failure. In order to be sold as a safe climbing rope, ropes undergo many tests of durability and the ability to hold a climber during a fall.
Elongation of the rope is also tested. A shorter dynamic elongation is better because it shortens the length of a fall, potentially preventing a climber from hitting a ledge or the ground. The best way to measure the comfort of a fall is the impact force rating, which is measured in kiloNewtons (kN).
The lower the impact force rating number, the less force is placed on the climber when he or she falls. The tradeoff here is that a lower impact force can mean more stretch, which can be a disadvantage at climbing gyms or when top roping.
Best Products on Today's Market
Most of the ropes that we have included in this review fall into the 9.5 – 9.9 mm diameter category. These ropes are best for versatile multiple uses. They are more durable than the skinny ropes but aren't as cumbersome and heavy as ropes with a thicker diameter. These ropes can be used for hiking and sports climbing, and are your best bet if you want an unspecialized rope that will perform well in most climbing situations.
Mammut Infinity Dry Climbing Rope
Price: $140 – $310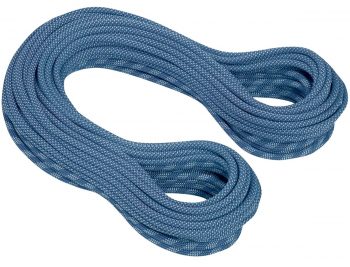 Weight: 58 grams per meter
Diameter: 9.5 mm
Impact force: 8.4 kN
Specific features: Middle marker, dry treated sheath and core, 6.8% static elongation
Best use: Ice climbing, trad and sport climbing
Description: The Mammut Infinity Dry Climbing Rope is a great option for an overall climbing rope. It's not designed to be the best in any one category, but it has the versatility to perform well in any number of climbing disciplines.
This rope is manufactured using several processes that help it retain its quality and durability, so you'll be using this rope for years to come.
A heat treatment helps to increase the nylon fibers' tenacity, so it is 120% more abrasion resistant than a rope that is not heat treated. Additionally, a dry treatment reduces friction within the rope by creating a lubricating function on the rope fibers.
Another great thing about this climbing rope is that it even works well for ice climbing. The water resistant dry treatment keeps this rope completely dry, reducing the chances of it being weighed down and fraying more easily. It's definitely a great rope for beginner climbers.
PROS:
Durable
Great balance
Excellent handling
Related: The tools make the climber, and no climber should be without the Five Ten Men's Guide Approach Shoes. These shoes come in a wide range of fantastic colors, and will provide you with the grip you need to get up those slopes, no matter how steep they are.
EDELRID Eagle Light Dynamic Climbing Rope
Price: $200 – $220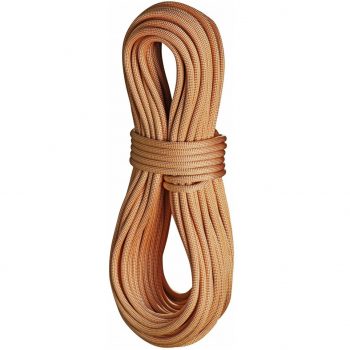 Weight: 62 grams per meter of rope
Diameter: 9.5 mm
Impact force: 9 kN
Specific features: Middle marker, Thermo Shield treatment, Pro Dry coated sheath and core, 7.1% static elongation
Best use: All around climbing; mountain climbing and sport climbing
Description: The Edelrid Eagle Light Dynamic Climbing Rope is a great option for an all around great, versatile rope. At 62 grams per meter, it is slightly heavier than some of the other ropes in the list, but has comparable overall performance. The Edelrid Eagle Light features three different coatings for optimal handling and toughness, as well as adding water resistance.
The Pro Shield finish is designed for optimal performance, the Dry Shield finish is designed for dirt and water resistance, and the Thermo Shield treatment is designed for the best handling. The handling on the Edelrid is generally smoother due to the thinner sheath, so you'll feel like you're gliding up and down the ropes.
However, the tradeoff here is that a thinner sheath can lead to poor durability in comparison to a rope with a thick sheath. All in all, this is a supple rope with a good value that will work for a wide variety of general climbing activity.
PROS:
Feels comfortable
Affordable
Optimal performance
Related: Protection is key when it comes to climbing over rough terrain, and the Black Diamond Half Dome Helmet will keep your noggin protected. Available in a number of visibly bright colors, this helmet is extremely affordable for the value that you're getting.
Sterling Rope Fusion Climbing Rope
Price: $210 – $250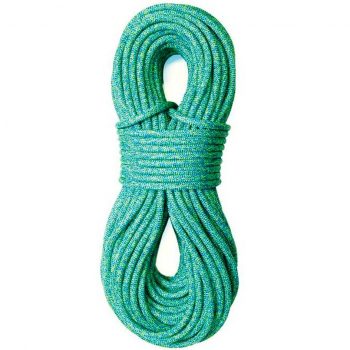 Weight: 57 grams per meter
Diameter: 9.4 mm
Impact force: 8.7 kN
Specific features: 7.2% static elongation, middle marker, comes in three colors
Best use: Light all around climbing
Description: Due to its smaller diameter and lighter weight, the Sterling Rope Fusion Climbing Rope is better used for lighter climbing applications than the Edelrid Eagle Light or the Mammut Infinity. While its durability is compromised by its smaller size, it has a nice catch for falls.
However, the thin feel of the rope makes it easy for handling and belaying, but caution should definitely be exercised for heavier climbers.
While this rope is more durable and will have a longer life than the thinnest ropes available on the market, it lacks the design to handle repeated hard use like some of the more durable climbing ropes.
However, with normal, non hard use, this rope will work wonders for your climb. This makes this rope perfect for beginners or those who are more interested in casual climbs that don't deal a lot of punishment.
PROS:
Soft feel
Doesn't fray easily
Looks great
Related: Having reliable belay devices can make all the difference when it comes to your safety. The Petzl GriGri 2 Belay Device allows you to keep both hands on the rope without having to worry about the tension in your ropes; it does all of the work for you.
Petzl Volta Rope
Price: $130 – $380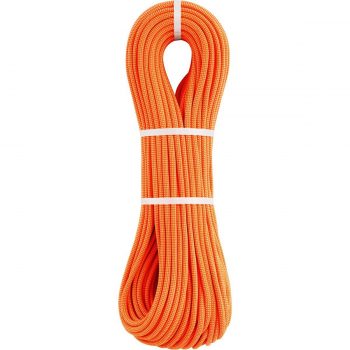 Weight: 55 grams per meter
Diameter: 9.2 mm
Impact force: 8.6 kN
Specific features: Duratec Dry treatment, UltraSonic Finish (core and sheath are bonded together), ClimbReady coil, middle mark, EverFlex treatment, 7.5% static elongation, comes in two colors
Best use: Alpine and sending climbing
Description: Although the Petzl Volta Rope is quite thin and light, it's still considered one of the best all around climbing rope, especially for an alpine and sending climbing rope. It is lightweight and supple, thanks to the Duratec Dry treatment, which is designed to make the Volta more resistant to abrasion, water and dirt, and helps it to maintain its grip and handling even when it is wet.
Its soft surface allows for a comfortable belay, and also features the UltraSonic Finish, in which the core and sheath are bonded together at the ends which help to reduce fraying on the ends of the rope. It is also certified for single, half and twin uses, giving it great versatility.
The EverFlex treatment also helps to prolong the life of this rope. Through the use of a special thermal treatment, the strands of the core are stabilized to improve consistency and grip, no matter how many times the rope is used.
PROS:
Very light
Can be used in a variety of environments, including ice
Great longevity
CONS
:
Black middle marker disappears on the grey rope
Related: For those who are more interesting in climbing during the snow seasons, the MSR Snow Picket could be exactly what you're looking for. It serves as an anchor while you belay across snow bridges or move through deeper sections of snow covered peaks, allowing you to stay safe during your uphill journey.
Sterling Rope Evolution Climbing Rope
Price: $120 – $300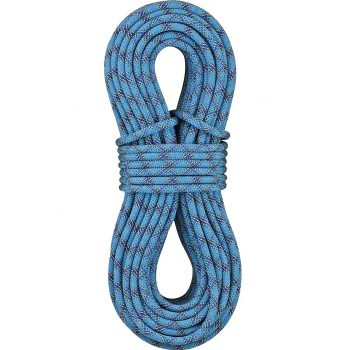 Weight: 62 grams per meter
Diameter: 9.8 mm
Impact force: 8.8 kN
Specific features: 8.6% static elongation, abrasion resistant sheath, comes in six colors.
Best use: Heavy climbing; sport, trad, ice, hard mixed climbing routes
Description: The Sterling Rope Evolution Climbing Rope is another very versatile climbing rope. Its 9.8 mm diameter means it is a strong rope with great durability. It is a smooth rope that passes over abrasive rock surfaces and passes through belay devices smoothly.
It has a UIAA force impact rating of 8.8 kN for a comfortable catch upon falling. While it could be considered a lightweight thick rope, it could also fall onto the heavy end of the versatile climbing rope spectrum. It's a great rope for someone who is buying a climbing rope for the first time.
One thing worth noting is that this rope comes factory drum coiled, so it is important to uncoil and then properly coil the rope upon purchase. Otherwise, it can become very difficult to untangle. However with all things considered, this is still one of the best ropes that climbers of all levels can buy.
PROS:
Great for both beginner and advanced climbers
Great thickness
Allows for easy climbing and reduced drag
Related: With all that rope you're going to be hauling around, it's important that you have some way to carry it all. The Metolius Ropemaster HC Bag will do the job for you, and has such a large storing capacity that you can carry as many ropes as you need on your journey.
BlueWater Lightning Pro Single Rope
Price: $180 – $310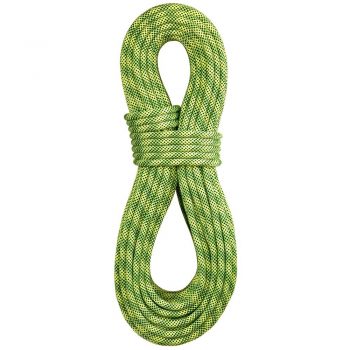 Weight: 61 grams per meter
Diameter: 9.7 mm
Impact force: 7.8 kN
Specific features: 8.9% static elongation, Double Dry treatment, double pick construction
Best use: Sport climbing, trad climbing
Description: The BlueWater Lightning Pro Single Rope is another great, versatile rope. Its UIAA impact force comes in at 7.8 kN for a comfortable fall. This rope is manufactured with a Double Dry treatment to help keep the rope from absorbing water on rainy days, as well as keeping it supple for belaying.
Climbers like this rope because it is lightweight and allows for flexibility on routes, but is thick and durable enough to withstand falls and keep you safe. It is known for its easy handling and that it is easy to clip, as well.
This rope brings the best of both worlds: being thin and light enough to make it easy to carry, while still having the thickness required to resist wear and tear. A great rope to consider for both beginners and intermediate climbers alike as it provides a great balance between lightweight utility and versatile performance.
PROS:
Great versatility
Good handling
Lightweight
CONS
:
Average durability
Gets dirty easily
Related: Sometimes you just need a little assistance during your climb, whether it's carrying gear or needing to build anchors. The Black Diamond Nylon Runners make it easy for you to get this done, and with no extra weight added to your gear. They're available in plenty of bright colors, making identification easy and saving you on confusion and pulling on the wrong one.
Beal Antidote Climbing Rope
Price: Approx. $150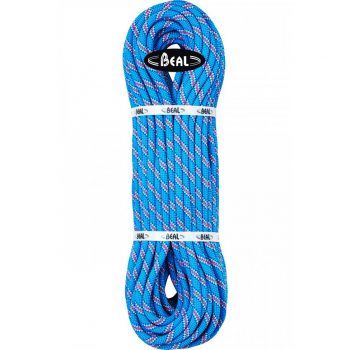 Weight: 66 grams per meter
Diameter: 10.2 mm
Impact force: 7.8 kN
Specific features: ThermoFluid rope construction, Black Limit middle marker, Ecological Bluesign approved, 8% static elongation
Best use: Sport climbing, indoor climbing, trad climbing
Description: The Beal Antidote Climbing Rope has a thick diameter but is still considered to be a relatively versatile climbing rope. Because it has a large diameter, it is more resistant to abrasion and wear, and handles nicely while belaying.
It has a Black Limit middle marker to denote the middle of the rope for rappelling and belaying, and it also received a 100% Nylon Bluesign label to indicate that it was made with great ecological construction for having no chemical treatments or dye.
With a UIAA impact force rating of 7.8 kN, the Beal Antidote Rope has great impact absorption for a comfortable fall. It does not have a dry treatment unfortunately, which could make it heavier in rainy weather. That's definitely something to keep in mind if you plan to climb in wet weather.
Its ThermoFluid rope construction helps to reduce sheath slippage and improve durability. With its thick diameter and solid construction, this rope is useful for a wide variety of climbing endeavors.
PROS:
Good for beginners
Can be used as tope rope or lead rope
Very light
Related: Carabiners are essential for any climber; they help to haul your gear, connect to belay devices, and are generally very functional outside of the climbing experience. The Petzl Oxan Screwlock Carabiner is definitely one to have on your side, since it's not spring-loaded.
Edelweiss Canyon Rope
Price: $120 – $600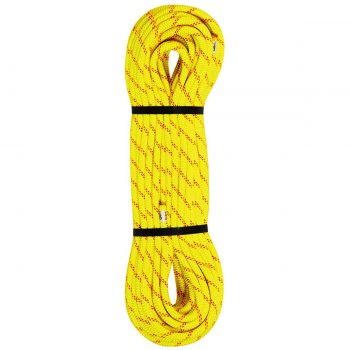 Weight: 59 grams per meter
Diameter: 9.6 mm
Impact force: 4.2 kN
Specific features: Treated with EverDry, 4.5% static elongation, nylon and polyester sheath.
Best use: Canyoneering
Description: The Edelweiss Canyon Rope functions well for the activity in its name: canyoneering. However, it also works really well as a top rope. Its claim to fame is that it is treated with EverDry technology, which makes it more abrasion resistant and remain light when wet. When it is in water, the Edelweiss Canyon shrinks by only 1 percent, so there's no real loss to its structure.
This rope has a sheath made of polyamide and polyester, which contributes to its water resistance and abrasion resistance. And at only 59 grams per meter, it is one of the more lightweight climbing ropes you'll find in this list.
One concern with treated ropesis that they can be slippery. This can be good for handling and belaying, but it can also contribute to slipping inside belay devices.
This problem is usually eliminated over time through some safe wear and tear, but it is something to watch out for when using a new treated rope. Overall, its light weight makes this a good choice for canyoneering and other climbing.
PROS:
Lightweight
Great beginner rope
Abrasion resistant
Related: If your arms are getting tired, or you need an additional way to haul the rest of your gear up with you, then the DMM Pinto Pulley can get the job done for you. It only weighs about 11 grams, but it has a strength of 50 kN, allowing it to haul just about anything without breaking. It's definitely an essential piece of climbing gear you shouldn't leave home without.
Wrap Up
That concludes our reviews of some of the best ropes that you can use for climbing. Now that we've discussed the ins and outs of climbing ropes, the various features you should be keeping an eye on, and seen the best products that the market has to offer, you're well on your way to finding the best climbing rope for your needs.
We hope that you've enjoyed all of the information we've had to offer, and that you'll keep our advice in mind the next time you go shopping.
Do you enjoy climbing? If so, do you have a favorite climbing rope that we did not include in this review? Please let us know in the comments section!