Everyone that has ever taken part in any kind of adventure climbing will know just how much meticulous planning is involved in that activity. It doesn't matter whether you're a beginner or a veteran climber. Having high quality climbing gear with you is extremely important.
With the best climbing gear, you would be able to entrust your safety completely to them while you focus on putting a tight grip on the next outcropping. Finding the best climbing gear can be incredibly difficult, as brands everywhere all claim to offer climbers the next best thing, and new products are constantly being developed and designed.
Some of these products are gimmicks, while others are perfect. If you are looking for help in finding the best climbing gear, you've come to the right place. In this article, we will help you find the best gear that will allow you to climb to the top in the easiest and safest manner.
First, we will trough some important things that you need to consider when choosing a climbing gear. After that, we will go over our in house experts' top recommendation of the best 9 products available on the current market. Let's get to it!
Our Top Picks
| Product | Material | Weight | Best Use | Price |
| --- | --- | --- | --- | --- |
| Black Diamond Momentum Harness | Aluminum and nylon | 1.3 pounds | Beginners and experts alike | Check price on Amazon |
| Anon Women's Keira Helmet | Fleece liner and shell dotted with Swarovski Crystals | 2.4 pounds | Climbing and certain winter sports | Check price on Amazon |
| Metolius Ultralight Master Cams | Aluminum | 0.2 pounds | Climbing | Check price on Amazon |
| Evolv Cruzer Psyche Shoes | TRAX rubber outsole, microporous EVA midsole | 1.2 pounds | Trail running and climbing | Check price on Amazon |
| EDELRID MegaJul Belay Device | Stainless steel | 0.15 pounds | Climbing and abseiling | Check price on Amazon |
| TRANGO Tenaya Iati Climbing Shoes | Microfiber and natural leather | 1.4 pounds | Climbing, both solo and as part of a team | Check price on Amazon |
| Black Diamond Camalot Camming Device | Aluminum | 0.15 pounds | Climbing | Check price on Amazon |
| Metolius Element Key Lock Carabiner | Steel | 0.15 pounds | Climbing | Check price on Amazon |
| GRIVEL Tech Machine Ice Tool | Steel | 1.4 pounds | Ice climbing | Check price on Amazon |
Things to Consider Before Buying
Most climbers would agree that it's worth it to spend extra money on gear that can ensure a safe, easy, and fun climbing for them. The quality of this gear can mean the difference between life and death after all. Because of that, you'll also want to invest extra effort into considering each aspect of the gear before you buy it. Here are the factors you need to consider the most:
Safety
You should always check the safety ratings of the products that you are looking into purchasing. If a product does not appear to be safe or does not meet the industry standards, then you should avoid it at all costs.
In the world of climbing, there is no additional room for error, and the only thing between you and the ground in some situations is your gear. These items are mostly for keeping you safe, and they could be considered to be the most important pieces of equipment for that very reason.
Now, if you have researched climbing then you may have noticed that there are a lot of professional climbers out there that do not wear helmets at all. The truth is, helmets are not an essential part of climbing, but in our opinion, they are a key piece of equipment that can be directly linked to your safety.
When climbing there is always a small risk that something above you could fall and hit you, usually a small rock, and there is no way at all to plan for that happening or not happening.
A carabiner is another important piece of safety equipment, and seasoned climbers will usually have quite a few of them lying around. They are used to connect your overall safety system, and without them, many safety systems would not function.
Versatility
The versatility of a climbing gear is another thing you should take into consideration. While you're out there in the wilderness, there's really no telling what kind of predicament you might find yourself in. For example, while we wouldn't typically associate rock climbing with water, there could be times when you'll have to deal with rain and such, so it's best for your gear to be waterproof and rustproof.
Let's take climbing shoes as a case example. Proper climbing shoes are essential for any climb, and they are there to protect your feet while also gripping onto the surface below you.
Initially, you should look for a pair of shoes that offer you the versatility to explore different kinds of climbing, so a good all rounder would be perfect. Otherwise, you might be limiting yourself, and stopping yourself from doing something that you could enjoy.
Support
Climbing is one of the toughest and most physically draining outdoor activities. You'll need as much support as you can get. It's important to choose the climbing gear that feels comfortable to you. The gear should also excel at pushing you up instead of dragging you down.
Make sure that any shoe that you do decide to purchase offers you an excellent level of support. A rule of thumb is that properly fitted climbing shoes will feel tight, but they will not cause any pain.
If you feel even the slightest hint of pain then you should find another pair, as pain can be debilitating while climbing. Ideally, you should aim to purchase a pair with either Velcro or lace up closure.
Adjustability
Adjustability is an especially important factor to consider when you're choosing something that's available in a wide range of sizes and types of harnesses. Many people that are new to the world of climbing, find that choosing the right harness is almost the toughest part. There are numerous different types of harness available, and it can prove to be a struggle to decide where to actually start.
Our advice to novice climbers would be to simply look at the different types of harness. We would advise that you avoid alpine harnesses to start with, as they aren't practical in a lot of situations that novice climbers will be exposed to. Ideally, you should look for either a fully adjustable harness, or a semi adjustable harness.
The fully adjustable harness would be the better of the two, as it would have both a fully adjustable waist and leg loops. The key rule of thumb with regards to fit is that the harness should sit just above your hips, and each individual leg loop should have a gap of no more than a finger width between the material and your leg.
Durability
By making sure that you have a helmet on your head you will minimize the risk, but the helmet wouldn't be able to help you much if it isn't durable. While climbing, sometimes rocks or pebbles could slide down from the top and pelt you on the head. At the minimum, the helmet needs to be able to withstand that kind of situation.
Durability is an important factor for gears other than a helmet also. Most carabiners readily available on the market are made out of either steel or aluminum, with steel offering more strength than aluminum.
The only downfall to that additional strength is that steel weighs a lot more than aluminum, and that alone will make aluminum the best choice for most climbers.
Performance Quality
Performance quality is essential for all climbing gears. Quite a while ago spring loaded camming devices were not actually seen as a necessity by climbers, and yet now almost every climber and alpinist will have more than one at home. Making sure that you have a high performance spring loaded camming device is essential, and you should make sure that you understand the different sizing associated them.
Remember that a spring loaded camming device is literally the item that when pulled during a fall will offer you just enough friction to wedge in place and stop the fall entirely. Getting a high quality one could be the difference between staying on the climbing trail and coming off of it at some speed.
Make sure that you purchase a dynamic rope initially, as the additional stretch that a dynamic rope offer makes it the best option for taking lead falls. The other option would be to purchase a rope that is semi static. They offer almost no stretch and are designed to be more suitable for rigging, and abseiling.
You will see the phrase 'standard length' everywhere when you search for climbing rope online, and when you actually look you will notice that these 'standard length' ropes can differ in length quite dramatically. All you actually have to do is to pick a length that you know will be suitable for the task that you have in mind.
A lot of climbers also go on their adventures with double ropes, and there are numerous benefits to doing so. One of the key benefits is that if one rope is damaged you will have a backup.
Best Products on Today's Market
There are dozens of different pieces of climbing equipment that are readily available to purchase, and today we are going to go through just a few key pieces of equipment with you.
Black Diamond Momentum Harness
Price: Approx. $55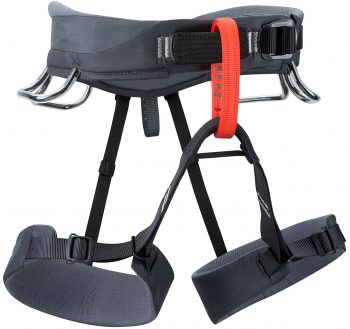 Weight: 1.3 pounds
Dimensions: 30 x 20 inches
Specific features: Adjustable waist, four pressure molded gear loops, leg loop customization using the patent pending trakFIT technology, Speed Adjust waist slider, Dual Core Construction waist belt that's shaped like a bullhorn
Best use: Beginner climbers
Harnesses can be found all over the market, and choosing the right harness can be difficult. The Black Diamond Momentum Harness is an ideal option for both novice climbers and experts alike, as it saves a climber a lot of time.
There is no buckle at all to adjust this harness, all you have to do is move the patent pending trakFIT slide adjuster directly along the webbing of the leg loop. Ideally, it should be snug to your leg, with less than a finger width between your leg and the loop.
That time that you would normally spend adjusting a buckle is gone, and it only takes seconds to adjust the harness.
The innovative design of this particular harness is quite unique, as it has been structured to maximize your comfort as a climber, while still offering you the security that a good harness should. It actually consists of two separate bands of webbing that split around the waist belt, which adds an additional layer of both comfort and durability to the product.
The only caveat is that it does not open all the way and cannot be adjusted into a double layer system, but it's a minor downside compared to all the upsides that this harness offers.
PROS:
No buckle so adjusting the harness is really easy
The bullhorn shaped waist belt optimizes comfort
Safe and durable thanks to the bands of webbing around the waist belt
Offers great fit and is available in a wide range of sizes
CONS
:
Does not open all the way
Related: Although this harness will be a great help for when you're climbing even the steepest mountainsides, the strength and tightness of your grip will still come into play in deciding whether you can get to the top or not. To improve those, this 321 STRONG Refillable Chalk Ball is a must have.
Anon Women's Keira Helmet
Price: Approx. $132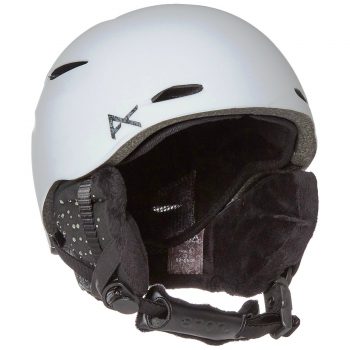 Weight: 2.4 pounds
Dimensions: 53 – 65 inches
Specific features: BOA 360 fit system, fashionable design, helmet buckle featuring the new Fidlock Magnetic SNAP technology, long haired fleece liner, active ventilation, in mold shell construction
Best use: Climbing and certain winter sports
When it comes to keeping your body safe, there are certain parts of your body that are easier to cause permanent damage to than others.
Your head is one of them, and keeping your head safe is vital no matter what you are doing. For an additional level of security, the Anon Women's Keira Helmet comes with a fantastic BOA 360 Fit system, which keeps the whole helmet tight for a fit that is both comfortable and secure.
An additional benefit to this helmet is that it can be used year round, in a variety of conditions. During the summer it will allow an optimum amount of ventilation to keep your head cool, and during the winter you can use a fleece lining so that your head does not feel the cold too much!
Not to mention the classical Swarovski Crystals around each earpiece, giving this helmet a feminine appeal. On that front, it's also designed to be more lightweight than your average helmet using the in mold shell construction so women wearing it should hardly feel bogged down while they're climbing at all.
PROS:
Offers great fit thanks to the BOA 360 Fit system
An all season helmet thanks to the active ventilation and fleece lining
Great design thanks to the Swarovski Crystals
Lightweight thanks to the In mold shell construction
CONS
:
Not available in many color options
Related: Now that you've got your head covered, you should keep your wrist protected too. By wearing this Burton Youth Impact Wrist Guard, you won't have to worry about sprained or injured wrists that often become the bane of many climbers' existence.
Metolius Ultralight Master Cams
Price: Approx. $60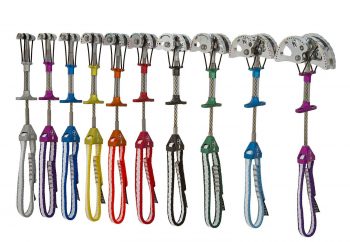 Weight: 0.2 pound
Dimensions: 7 x 2 x 2 inches
Specific features: Color coded system, single stem design, enhanced cam lobe angle, Range Finder system
Best use: Climbing
Spring loaded cams really are an essential part of any climbing adventure, and climbers are often known to carry a large number of them.
This is more than likely because spring loaded cams come in a variety of sizes, and to enable to you to tell them apart quickly, the Metolius Ultralight Master Cams set comes with a unique color coding system.
This color coding system allows you to choose the size that you need quickly and efficiently, and you won't have to hunt around for the right size. The Range Finder system further guarantees that you would be able to find the angle size that would suit your needs the best easily.
This particular set of spring loaded cams are incredibly versatile, as they are incredibly lightweight when compared to other products on the market. If you are looking for an affordable set of spring loaded cams that have been structured specifically for increased holding power, then look no further.
PROS:
Lightweight
Durable
Uses enhanced system and angle to fit your needs better
Color coded
Available in many sizes
Related: As these cams work to keep you anchored, you'll also need something to help protect your hands as you grip the cams tightly. These Ocun Crack Climbing Gloves will do the job for you. These gloves are specially designed to support crack climbing.
Evolv Cruzer Psyche Shoes
Price: Approx. $75
Weight: 1.2 pounds
Dimensions: 13.9 x 9.2 x 4.8 inches
Specific features: Collapsible heel, durable structure, TRAX rubber outsole, microfiber lined foam insole, microporous EVA midsole, 100% cotton canvas upper, canvas shoes, lace closure
Best use: Trail running and climbing
Finding the right pair of shoes to wear while climbing is quite difficult, and many novice climbers find the sensation of climbing shoes hard to deal with. Another option is found in the Evolv Cruzer Psyche Shoes, which are actually designed for trail running.
They are made out of a canvas material, and they are known for being incredibly durable. Staying cool is important while climbing, and the last thing you want is your feet getting too warm within your shoes. Luckily these shoes will wick any moisture away immediately, and they can also be worn on a barefoot basis.
These shoes boast an outsole featuring TRAX XT high friction rubber, the highest performance rubber currently available on the market. This rubber offers great traction and grip—which is absolutely necessary for climbers, especially those challenging a really steep trail.
The collapsible heel additionally makes these shoes comfortable and easy to slip on. A lot of climbers do use these shoes, and they have no problems when it comes to climbing efficiently and having fun in them.
These shoes unfortunately also have their own fair share of caveats – although there aren't many. They are not waterproof and some people may feel a slight rub on the upper heel. But these shouldn't be considered deal breakers.
PROS:
Easy to slip on thanks to the collapsible heel
Great grip and traction thanks to the TRAX XT high friction rubber
Great ventilation and anti moisture system
Durable canvas material
CONS
:
Not waterproof
A possible slight rub on the upper heel
Related: Nothing beats the feeling of climbing to the very top of a mountain and then camping out for one night as you wait for the beautiful sunrise the next morning. Since climbers prioritize minimizing the weight of their backpack, you should carry a lightweight option like Klymit Static V Sleeping Pad in preparation for the camp out.
EDELRID MegaJul Belay Device
Price: Approx. $35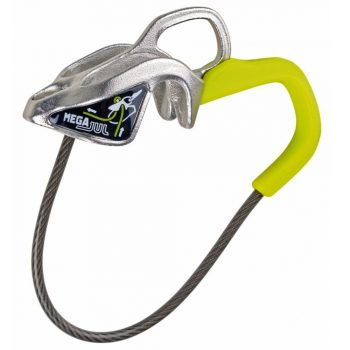 Weight: 0.15 pound
Dimensions: 1 x 4 x 7 inches
Specific features: Lightweight construction, solid structure, rapid payout, small eyelet for the releasing unit, brake booster, stainless steel, suitable for 7.8 – 10.5 mm ropes
Best use: Climbing and abseiling
Safety is one of the most important features of any belay device, which is why this particular belay device has been structured to focus on providing an incredibly high brake performance.
The actual brand that created this belay device was started by a mountaineer, and that is still reflected in their products today. The EDELRID MegaJul Belay Device is suitable for use with 7.8 – 10.5 mm ropes and 10 mm ropes would be advisable for beginners.
The lightweight construction of this device enables it to be versatile, and suitable for both belay and abseil uses. It features a conveniently small eyelet that can be used as a releasing unit with a carabiner when bringing up your climbing partner.
A lot of climbers have found this to be a great example of a belay device that performs the task in hand precisely, and effectively. This is the ultimate device when used for lead belaying, but not so much for rappelling. For that, you might want to use an ATC instead.
PROS:
High break performance and the auto lock make this device safer
Compatible with ropes of many sizes
Supports a quick payout
Lightweight
CONS
:
Not the best device for rappelling
Related: This belay device works best when attached to a momentum harness such as the Black Diamond Primrose Harness. This belay device in itself is tough and durable, but if the harness doesn't offer the same level of high quality performance, your safety won't be ensured in the most optimum way.
TRANGO Tenaya Iati Climbing Shoes
Price: Approx. $170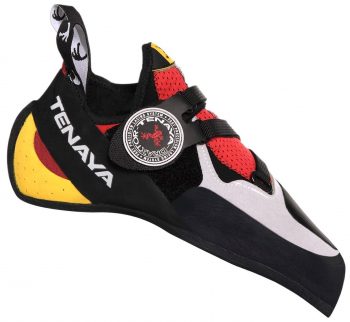 Weight: 1.4 pounds
Dimensions: 12 x 7 x 4 inches
Specific features: Breathable design, Velcro closure, Vibram XS Grip 3.5 mm, Draxtor PAT system fastener, cotton lining with TXT treatment, microfiber and natural leather materials
Best use: Climbing, both solo and as part of a team
If you are looking to purchase a proper pair of climbing shoes then look no further, as the TRANGO Tenaya Lati Climbing Shoes are known across the industry. They offer both versatility and durability while offering both comfort and high performance.
One of the most important things that a pair of climbing shoes can be is breathable, as the last thing you need is for your feet to be getting too warm. Unfortunately, a lot of breathable shoes are also loose. Luckily, this particular pair is breathable while maintaining a constant snug fit thanks to the inner cotton lining with TXT treatment and the Draxtor PAT system fastener.
The Vibram XS Grip that is featured on these climbing shoes will keep you feeling steady, as it grips to the ground beneath your feet with ease. As you know, traction is important for climbing shoes, and that's exactly what this pair offers to you.
When it comes to durability, the microfiber and natural leather should speak for themselves. These shoes, true to the spirit of high quality climbing shoes, have a uniquely shaped toe box that allows your feet to stay for a long time in a climbing position without feeling strained.
PROS:
Very durable thanks to the high quality materials
Very comfortable thanks to the great ventilation and snug fit
Offers great traction thanks to the Vibram XS Grip
Available in many different sizes
Optimized toe box for better climbing performance
Black Diamond Camalot Camming Device
Price: Approx. $65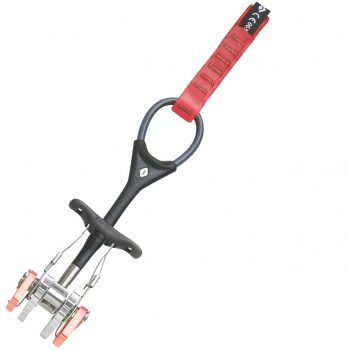 Weight: 0.15 pound
Dimensions: 3.94 x 8.46 x 11.81 inches
Specific features: Color coded system, durable design, c-loop continuous cable stem design, double axle design
Best use: Climbing
Another example of a fantastic spring loaded camming device is the Black Diamond Camalot Camming Device, which can be used as an expert security anchor. Made using the trusty c-loop continuous cable stem design, this device is one of the toughest and most durable options of its product variety.
The actual device works by reacting to the motion of pull, usually created by falling, and it immediately puts an outward pressure on the rock face by generating friction. That friction is the exact force that will stop you from falling.
These spring loaded camming devices are color coded so that you can immediately find the size suitable for the location that you want to place it in. The double axle design promises a better cam angle so you would be able to adjust it easily according to your needs.
It would be advisable to always have a variety of sizes with you. The lightweight nature of these pieces of equipment means that they will not weigh you down.
PROS:
Tough and durable
Available in many sizes
Wide angle thanks to the double axle design
Secure
Color coded
CONS
:
Price varies wildly depending on the size
Metolius Element Key Lock Carabiner
Price: Approx. $12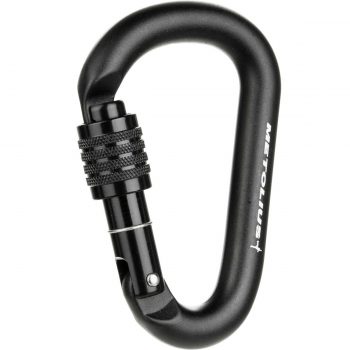 Weight: 0.15 pound
Dimensions: 0.5 x 2.6 x 3.8 inches
Specific features: Hot forged, key lock design, pear shaped design
Best use: Climbing
A good carabiner could be considered to be the best rock climbing gear in your rack, as it is a complete necessity. Your Metolius Element Key Lock Carabiner will directly protect you against any accidental falls, and falling is a real risk while climbing.
It ensures that your harness and ropes are connected directly to each other, and it enables you to make any changes quickly. This particular carabiner is hot forged and alone means that it is an incredibly sturdy piece of equipment. Keeping yourself safe is vital, and the stronger your equipment is, the safer you are.
Due to its pear shaped design, this carabiner is quite versatile and can be used for both rappelling and belaying. It is very secure and locks tightly. Unfortunately, due to the thin screw threads, the locks might just be a little too tight. They can be rather difficult to flip open.
Remember that although steel is stronger than aluminum, it is also a lot heavier. The nature of the weight means that a lot of climbers do choose aluminum pieces over steel ones.
PROS:
Very strong and durable because it's made from steel
Versatile thanks to its pear shaped design
Very powerful
CONS
:
Heavy
Difficult to flip open due to the thin screw threads
Related: Coming from the same manufacturer, it only makes sense for you to combine the use of this carabiner with this Metolius Personal Anchor System. Offering the same level of power and durability, your climb should be made infinitely easier with the help of these two items.
GRIVEL Tech Machine Ice Tool
Price: Approx. $324
Weight: 1.4 pounds
Dimensions: 19 x 11 x 3 inches
Specific features: Durable design, dual density handle, multiple grip options
Best use: Ice climbing
Not every climber enjoys climbing up rock faces in the sun, and we understand that. Ice climbing can be both beautiful and treacherous at the same time, and ice climbing can be an incredibly difficult pursuit.
To work with ice effectively you need a stable tool that can hook directly into the ice face, and that is exactly what the GRIVEL Tech Machine Ice Tool can do.
This particular model has been designed to be lightweight. This is because heavy tools often make standard climbing harder, and they can do a lot more damage in environments where the world feels as though it is against you.
Shaped like a claw and boasting a rigged anchor at the other end, this device offers amazing traction and grip. As we all know, ice is really slippery. The way this device is designed to be unmoving once planted in the ice can be a lifesaver.
With this particular ice tool, you will be able to make solid placements and keep yourself safe while among the ice.
PROS:
Great grip and traction
Very tough and durable
Lightweight
Related: Where there's a lot of ice and snow, a shovel will always come in handy. Even though you might not plan to clear the road of snow while you're out there ice climbing, having this Sona Emergency Shovel Tool Kit in your repertoire wouldn't hurt. In fact, it could even be unexpectedly useful.
Wrap Up
And that ends our reviews of the top rated climbing gear that your money can buy. Climbing is a different kind of adventure, and even people who are afraid of heights often enjoy the views that they see whilst climbing.
Staying safe while climbing is easy, and as long as you remember to take all of the right pieces of equipment with you then you will be able to give yourself the peace of mind that you need to focus solely on climbing.
Choosing the right pieces of equipment for climbing can be both difficult and unique. Did you find our article helpful? Do you plan to purchase any of the climbing gear we've mentioned above? Did we miss anything that would be considered a climbing essential? Let us know in the comment section below!