If you're looking at going camping you know that one of the most important things is having all the right tools. The best camping knife is one of those tools because it ensures that you're safe and that you're ready for anything that might come your way.
After all, traipsing through the woods is not an easy task to undertake and having a knife to help you with everything from protecting your family to getting food and setting up camp is going to make the entire process a whole lot easier.
Our top picks
Features to Consider Before Buying
You want to make sure that you have the right camping knife and the right camping tools to get you started on the right foot and that means making sure that you're looking at all the right things when it comes to those camping tools.
The right aspects of a knife are going to be essential to you being able to use it for what you want and also for it to last as long as you're going to need it to when you head out on your next camping trip. So make sure you're looking at each of these.
Fixed or Folding Knife
The first thing you want to consider is whether you really want a fixed or a folding knife.
A fixed knife is going to be a lot stronger and more sturdy. It's going to have a more rigid handle and you won't have to worry about it folding on you while you're using it. A folding knife is going to be a little safer because it folds up during transportation so the blade is on the inside. It also is easier to carry because it folds up small and you can put it in a pocket or in a backpack if you're carrying one.
Purpose
You want to think about why you're carrying this knife. Is it just as a backup safety piece if you run into trouble? Are you going to use it for cutting paracord or rope? Do you need it for hunting? Each of these purposes is going to require you to get a slightly different knife.
You want to make sure that what you have is going to work for that purpose. Sure it should work for several things, but that doesn't mean it's going to do all of them well and you want to pick something based on your main purpose, not because it does 20 things well enough.
Toughness
You want a blade that's going to last a long time and that's where the toughness comes in. This is going to get you a blade that's strong enough to do the job and even bend without breaking. For tasks that have a high impact ratio you want to make sure that you have a very tough blade as these can be tough.
You also want to make sure that you don't get something that's so tough it's not corrosion resistant however, because the two metals are generally fighting against one another.
Corrosion Resistance
The type of material that the blade is made of will have something to say about the corrosion resistance that it has. If the blade is made of a stainless steel material it may have a better ability to resist rust. Other materials may provide you with a great level of protection as well, especially if you look at what is used in different types of knives.
But keep in mind that corrosion resistance requires a strong and stiff blade. If the blade is too stiff however, it's level of 'toughness' will decrease.
Locking Blade
If you have a folding knife you'll want to look at whether or not it has a locking blade. This can make it easier to use because it ensures the blade won't fold up on you while you're using it. Though not necessarily a requirement with folding knives, it can definitely be a benefit because it helps you get a straighter cut and a better handle on the knife itself.
You want to make sure that you're paying attention to how the lock works however, since some are better for certain types of users, such as right-handed or left-handed.
Blade Shapes
Contrary to what you might think, there are actually several different blade shapes that you can choose from. Each one has a slightly different purpose so you want to think about this before you choose the knife that you're going to use. For example, a drop point knife has a pointed blade with a thick center, which is a versatile knife.
A skinner has a curve and the point of the knife is actually small and angled upward. This is a better knife for skinning game, but not as good at other things.
Blade Material
Your knife should be made of some type of steel, because this allows for a better amount of longevity to the blade. You'll be able to keep using it a lot longer and you'll be able to avoid having to care for it as much.
For example, a 5160 steel is extremely durable and doesn't shatter, 530V is extremely resistant to corrosion and maintains an edge, but it's hard to sharpen when it does get dull. You want to consider what your most important features are with the blade.
Handle Material
The material of the handle is much more open to your own interpretation. You can pretty much choose anything you want, as long as you make sure it can withstand whatever you're doing with the knife. You don't want to have a cheap material that's going to break if you put pressure on it to cut something.
The stronger you handle the better you're going to do when it comes to things like cutting pieces of wood or even rope that you need to get a good, strong grip on the handle and not cause cracks in the framework.
Best Products on Today's Market
Each of these knives is topping the list of our absolute favorites for several reasons and once you get a chance to read through them you might understand why too.
They are, after all the best ones that we could find for just about any purpose and that means you may need to do a little bit of searching to figure out which one of these (or possibly something else) are the right ones for you. But make sure you check them out, because there's definitely plenty to love right here.
Gerber Bear Grylls Ultimate Knife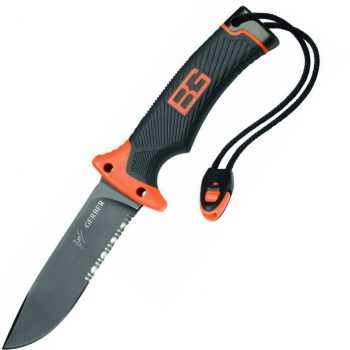 Weight: 11.2 ounces
Dimensions: 10 x 4.5 inches
Specific features: Molded rubber grip, fire starter integrated, saw ground back blade, ground-air communication patch, emergency whistle, included striking surface
Best use: Multi purpose, inexpensive, moderate size blade
Description: This Gerber Bear Grylls Ultimate Knife comes in its own sheath to provide a little more protection and security while carrying. It's bright orange accent means it shouldn't be difficult to find and the 4.5 inches blade is great for just about anything you might need.
Not only that, but it has several additional features including a fire starter, communication patch and an emergency whistle so you're going to get a whole lot all in one.
The serrated blade is good for most purposes and the average level steel that is used helps you get through just about anything, while the grip helps you hold on to the knife with no problems at all. Overall, this is definitely a great option and you'll get some good quality for what you're paying, but there are definitely a lot of options out there.
PROS:
Pocket friendly
Light weight
Comes with user guide
CONS
:
The pommel is not attached to the blade tang
After some time the serrations get bent
The whistle is not loud enough
Related: It is so disappointing to be out in the wilderness with a knife that is as good as dead. It makes the entire experience a terrible one. It is for this reason that customers who buy the Gerber Bear Knife also buy the Gerber Bear Grylls Field Sharpener. It sharpens both fine edged knives and serrated knives. It comes in a fine plastic cover that fits properly in the pocket.
Buck Knives 0119 Special Fixed Blade Knife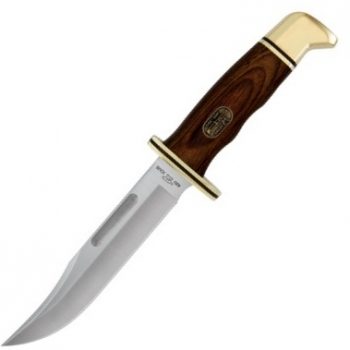 Weight: 7.5 ounces
Dimensions: 10.5 x 6 inches
Specific features: Fixed blade, leather sheath, made in USA, stainless steel handle, full tang
Best use: Extensive cutting, inexpensive, high quality
Description: The Buck Knives 0119 Special Fixed Blade Knife has a whole lot going for it for such a low price. The blade comes with two different options including a sleek black handle or a wood handle. Either looks great and works even better. They have a super sharp blade right out of the box and a stylish black leather sheath that makes them easy to carry.
Not only that, but it has a full tang all the way through the handle to improve stability and longevity. This knife is actually very easy to find just about anywhere and it can accomplish any task. In fact, you can do anything and everything from skinning game to cutting wood with this blade.
PROS:
Has a lifetime warranty in case of any defects
Locally made
Great looking design
CONS
:
A bit heavier
Pricy
A bit long
Related: Your search for the ultimate sharpener should come to a close. Those who buy the Buck Knives also frequently buy the BlizeTec Knife Sharpener to ensure their knives continue to perform as expected. It is a 3 in 1 tactical portable pocket size pen shape knife sharpener that can be used to sharpen any kind of knife. The flat edge sharpens standard surface items where as the serrated edge sharpens serrated knives.
Ka-Bar Becker BK2 Knife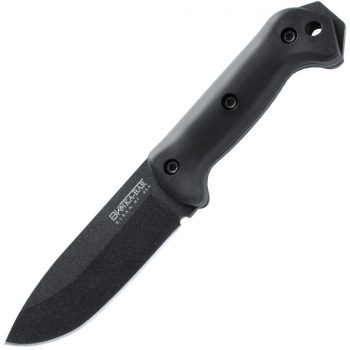 Weight: 16 ounces
Dimensions: 18 x 5.5 inches
Specific features: Full tang, made in USA, hard nylon sheath, fixed blade, 20 degree blade angle
Best use: Multi purpose, heavier weight, more expensive
Description: If you really want something that's going to give you a whole lot of versatility then the Ka-Bar Becker BK2 Knife is definitely a great option. It has a full-tang blade to provide more stability and durability and also comes with a hard sheath to keep it safe and protected while traveling.
Though it's a little more expensive and a little heavier than other options, it definitely makes up for that in the quality that you get. Made in the USA, this knife is a true field knife that's ready for absolutely anything that you want to throw at it, from skinning game and splitting wood. It can even be used for prying because of the high quality put into its craftsmanship.
CONS
:
Heavier as compared to others
Length of the blade is too short
Related: Customers who buy the Ka- Bar Becker Blade Knife frequently buy it with the Blade Tech Tek LOk with Hardware. It is the latest newly remodeled Tek Lok . This is a secure and innovative latching attachment system. With your blade properly locked in this versatile attachment system, you be 100% sure of security. It has a user friendly intergrated secondary locking system and is very easy to carry around.
Cold Steel Leatherneck SF Knife
Weight: 11.7 ounces
Dimensions: 11.8 x 6.8 inches
Specific features: Clip point blade, secure ex sheath, German D2 steel blade, versatile
Best use: Multi-purpose, high price, high quality
Description: The Cold Steel Leatherneck SF Knife is designed as a tribute to the Marine Core and for that reason it's definitely a strong piece. The blade is made of German steel and has a thick tip which allows you to use it for more difficult situations than other, thinner blades.
You will have no problem with this blade keeping the edge that you need and because it's a full-tang, you can definitely trust it to be sturdy and stable for a very long time. Though it's a little big heavier than other knives, this can be a good thing for some additional tasks and actually makes it a more versatile option for most people.
PROS:
Durable
Water resistant
Soft and warm
Compact
Lightweight
CONS
:
Imported
No serrations on the blade
The steel needs to be oiled
Related: Lots of people prepare quite well for the wilderness and even carry great camping knives such as the leather neck SF. However, they forget that the jungle has no clean source of water. That is why customers who buy the SF knife also carry with them the LifeStraw Personal Water Filter. It is an award winning lifestraw that has been used all around the globe by millions of people for over a decade now.
SOG Seal Pup Elite Knife
Weight: 5.4 ounces
Dimensions: 9.5 x 4.8 inches
Specific features: 4.8 inches blade, easy to clean, AUS-8 steel, straight edge, grip lines on handle, limited lifetime warranty
Best use: Military style, easy to hold/carry, high quality blade
Description: If you want something that has a high quality blade, high quality handle and a whole lot of capability then you're definitely looking at the SOG Seal Pup Elite Knife. This blade is moderately priced and has a little bit of everything.
The blade is made with AUS-8 steel and sleek shape to the blade as well. That means it's going to be ready for anything you need as this is designed to be more of a tactical knife. It is MOLLE compatible and it's ready right from the factory.
The TiNi finish on the blade provides more scratch protection and corrosion resistance while the handle is designed to fit just right in the palm of your hand without any problems slipping. In fact, it's designed with finger grooves to make this even easier and has a small quillon to make sure that you won't injure yourself while you're using the knife itself. Just looking at this knife you're going to easily see that it has a whole lot going for it and for you.
PROS:
Comes sharp from the factory
Reasonably priced
Comfortable finger grooves on the handle
CONS
:
Exported
Small handle for those with larger hands
The grip is not so comfortable
Related: Just like any other knife, after long term usage-depending on how you use your knife, the blade of the Guardian Tactical Knife gets dull after some time. Because of this obvious reason, customers who buy this product also buy the Smith's PP1 Pocket Pal Multifunction Sharpener.
Helle GT Knife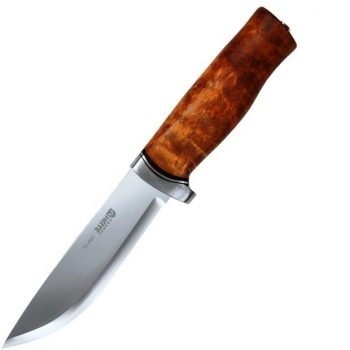 Weight: 5.5 ounces
Dimensions: 9.3 x 4.8 inches
Specific features: Triple layer laminated stainless steel blade, full grain leather sheath, finger guard, handmade handle
Best use: Lightweight, high price, multi purpose blade
Description: If you're looking for a knife that can get you a whole lot of quality and use then the Helle GT Knife is a great option for you. This knife can do a whole lot of wood working chores as well as slicing or cleaning game, but it's not intended for a lot of harder uses like chopping anything or baton. Being handmade definitely makes it unique and it's got a great blade as well.
That blade is semi thick and has a unique shape as well as a high shine to it that you're going to love looking at. The sheath is easy to use and has a leather build that makes it high quality. The blade is a semi-full tang rather than a full, with only a small balancing rod located through the handle.
Still, you'll be able to get quite a lot of use out of this, especially with the super lightweight that the entire unit is. It's easy to throw into a bag or put on your belt and carry with you all the time.
PROS:
Light weight
Sharp edge
Hand made
CONS
:
All the weight lies on the blade, making the blade heavier
Handle is not comfortable for long use
Semi-full tang
Benchmade Bushcrafter Knife
Weight: 7.7 ounces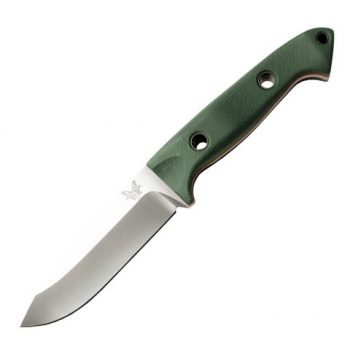 Dimensions: 11 x 4.43 inches
Specific features: Full-grain buckskin sheath, retention strap, contoured handle, made in USA, stainless steel blade
Best use: High quality, high price, reasonably lightweight
Description: The Benchmade Bushcrafter Knife has a whole lot of great features including the handle created with a vulcanized spacer and titanium tubing. Designed to last, this knife can handle just about anything you throw at it, whether it's a planned adventure or something unexpected.
The moderate weight of the knife means that it's not a problem to throw into a bag and the sheath makes it easy enough to slip onto a belt as well. You can easily hold onto the handle with the grippy sides and the finger depressions, with just about any position working great for most people.
Not only that but you can use for a great many tasks including whittling and cutting kindling or branches and even cleaning up game and other purposes. It's good at holding an edge and it resists a whole lot of other problems like corrosion and pitting. All of that without having to take a whole lot of time on cleaning and maintaining the blade. There are a lot of other knives that use different levels of carbon steel that require a whole lot more work to maintain.
PROS:
Durable
Ease of sharpening
No coating on the blade
CONS
:
The grip length is too big
Costly
Related: If you are an outdoor person, then you clearly know the importance of having a knife out in the wild. So, just as the knife is important to a backpacker, so is a fire starter. That is why customers who buy this product also buy the Exotac FireROD Ferrocerium Fire Starter. This fire starter coupled with the Benchmade knife is what you need to make it in the wild.
Wrap Up
There are a whole bunch of different reasons that you can and should have a high quality knife to carry around with you. Whether you're actually planning on heading out into the wilderness in the next little while or not, it's definitely going to be important having the right tools and making sure that you're prepared.
So make sure you get a great knife, and definitely let us know more about your choice. Which of these is your favorite knife? Or do you have a different one that you think should have been on this list? We definitely want to know your experience and maybe improve our list with some of your suggestions.