Skiing can be an extremely rewarding experience. It builds your core body temperature during the winter and helps you to burn those calories so that you're not squeezing into your pants every day. But how do you know what skis to get if you're interested in diversifying your talents on the slopes? Your old skis just aren't going to cut it, and that's why you need a pair of the best backcountry skis to help you get through all that powder and ice.
Perhaps you've got skis that you feel would be good enough for the job, but you wouldn't be able to tell until you're already going down the slopes and take your first spill. Instead of leaving your skiing experience to chance, we can guarantee that investing some time and effort into finding the right ski for you will save you those tumbles and falls, and will have you carving down the hill like a professional.
That's why we've compiled this article to help you through the process to save you from making a bad purchase that you have to return later. We'll lay out all of the details for you, such as what important features you should be looking out for, as well as a list of some of the top rated products in the market that customers are raving about.
Our Top Picks
Things to Consider Before Buying
Skis have a lot of features that you need to keep in mind when you go shopping. Weight, flex, the profile… all of this matter when you're looking for the best backcountry skis to help you get the most out of your time on the slopes. To help you out, here are some of the most important things to consider when you're out looking for skis for yourself, a friend, or a family member.
Weight
Touring skis come in a variety of weights, depending on the kind of snow you'll be going through, as well as being able to accommodate the weight of the skier. Skis are generally put into weight categories to make it easier for shoppers to determine what they should be getting.
Ultralight: Weigh under 6 pounds – skis in this category seem almost to glide along the slopes, especially compared to resort gear. These skis are relatively specialized and fragile. However, with more research and development, plus liberal use of modern materials like carbon fiber, there's improvement in the performance level of these products.
Standard weight: Between 6 and 7.5 pounds – these skis strike a balance between ultralight weight and downhill performance.
Heavyweight: Between 7.5 and 9 pounds – these skis are considered too light for all-mountain resort use but heavy in the backcountry. For some, this is their choice, as they wish to save energy over lugging resort gear, but make compromises on the downhill performance.
Snow Type
What kind of snow would you prefer, and what kind of snow will you get? There are some regional differences in snow type. Perhaps your backcountry endeavors are not frequent, and you go to the backcountry only after the lifts have closed for the season. Here, you're apt to be skiing in firmer spring conditions and can select skis appropriately to deal with these powdery snows.
Sometimes your backcountry endeavors may be after the skiing in-bounds have dried up between storms and you head out for scenery and adventure. With this in mind, you will be skiing on breakable and unusual conditions, so proper selection is paramount. You want skis that are capable of handling harder packed snow that could have crud in it, so look for those that are more durable and can carve through icier snow much more easily.
Length
After narrowing down your search to the right kind of skis, you will have to determine how long you want it to be. Skis are available in different lengths according to how tall and heavy a person is, as well as their experience level. This is so that all of your balance is in the center of your skis where it should be, and depending on what you plan on doing on the slopes.
Shorter skis are best for making fast turns and have greater maneuverability at slow speeds, but do lose stability at faster speeds. Longer skis are sluggish at slower speeds but good for making longer turns and work very well at high speeds.
The best way to determine what size range you should be looking at is to take your height, convert it into centimeters, and find your number within the 30-cm scale range that's provided on skis. That way, you can find both short and long skis that are perfect for your skill level while providing you with diversity to try out different skis for different activities.
Width
The width of your skis is also an important thing to keep in mind. Skis are usually listed with three measurements in millimeters: tip, waist, and tail. The waist is the narrowest part of the skis, usually where your feet will be; the tip is the front and the tail is the part behind you. So why is this important?
Wider skis will help you to stay above uneven snows so that you can glide down the slopes a lot easier, because of the larger surface area distributing your weight more evenly. Thinner skis, on the other hand, place your ski boots closer to the edges, making it easier for you to exert control over them so you can make turns, especially on hard snow.
So the width of your ski is all dependent on the kind of snow you'll be in and what you want to get out of your skiing experience. A good choice is to find a middle ground width that is capable of dealing with both powdery and hard packed snow, since snow conditions aren't very predictable until you're up there at the top of the slope.
Experience
Your own experience is also an important thing to consider when shopping for backcountry skis. Shorter skis are more ideal for beginners because they're quite easy to turn and this can be attributed to their smaller radius.
For more experienced skiers, this will depend on how the turns that you want to make. Assess your own personal skiing experience as well as your preference.
Best Products on Today's Market
With all the information we've provided to you, it's time to take a look at some of the best backcountry skis that customers are going for. These products are highly rated amongst skiers, but keep in mind when looking through this list that they're not for everyone, so use these products as a reference guide when looking for skis that are more to your liking.
Without further ado, here are the top rated skis in the market.
Black Crows Corvus Freebird Skis
Price: Approx. $839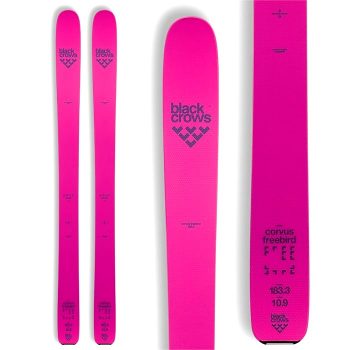 Flex: Medium to stiff
Profile: Rocker/Camber/Rocker
Specific features: Paulownia-Poplar core, glass-carbon laminate, flat tail, semi-cap ABS sidewalls
Best use: All-mountain, Alpine touring
The Black Crows Corvus Freebird Skis have the heart of a big-mountain charger and the backcountry chops of a lighter ski, including a carbon-fiberglass layer under a wood core. The subtle "beak and a half" profile pairs rocker up front with a more traditional albeit still turned-up tail for edge hold.
With a design that's similar to the original Corvus, the Freebird's capable of ascending big lines, but it excels with a blend of underfoot camber, tip rocker, and powerful laminates, along with a Paulownia and poplar wood core, which is light, lively, and energetic.
The smooth tips and tails allow you smooth out rough and variable alpine conditions, while the tip rocker helps you float over snow. The gently-raised tail enables you to skirt obstacles and cut through snow without compromising excellent turn finishing and power.
Lastly, the Freebird features a flat tail with a small skin notch, so the way up will be as smooth and easy as the way down.
PROS:
Very powerful
Great stability and grip
CONS
:
Only for expert skiers
Does require time to adapt to its stiffness
Related: Any cross-country ski adventures is going to require you to know where you're going, and getting lost is one of the worst things that can happens, especially when everything looks the same during winter. That's why you may need to invest in "Finding your Way without Map or Compass" to help you navigate your surroundings. Knowing what signs to look out for could mean the difference between getting back to civilization and being stranded out in the woods.
DPS Wailer 112 RP.2 Tour1 Skis
Price: $999 – $1,099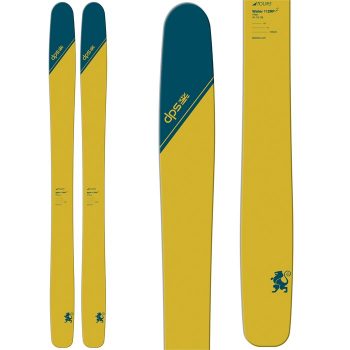 Flex: Medium
Profile: Rocker/Camber/Rocker
Specific features: Cap construction, Rockwell 48 steel edge, Balso and Tour1 (prepreg carbon-fibre and fibreglass laminates) core
Best use: Ski touring
With an 112 mm waist, the DPS Wailer 112 RP.2 Tour1 Skis construction allows it to be one of the lightest skis on the market. This is due to the carbon laminates and a balsa wood rod core, plus cap construction, which help to shed more grams.
You won't have any problems moving these skis around, without any strain to your ankles or your knees, no matter how long you ski for. The construction of this ski, with the tip and tail rocker profile, will also help to keep you floating above the snow, allowing you glide down those slopes effortlessly.
These skis were designed to help you go fast, and the construction combined with its shape helps you to make those wonderful turns, minimizing the risks of you losing control and taking a horrible spill. You'll have a difficult time finding something to hate about these skis, especially once you strap them in and really take them out for a ride.
PROS:
Very light
Easy to manipulate
Look great
CONS
:
Expensive
Hybrid version is cheaper
Related: If you're interested in taking a girlfriend or female member of your family with you on the slopes, then the Head Great Joy Skis may be the perfect pair to consider. Not only do they look great, but the Graphene construction makes these skis incredibly light, so you'll glide atop the snow with no problem at all.
La Sportiva Vapor Svelte Skis
Price: Approx. $1,200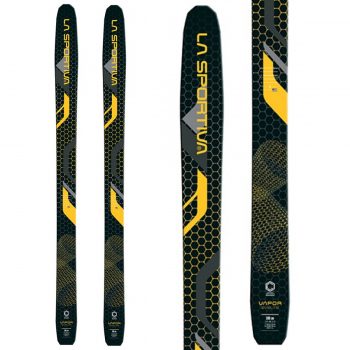 Flex: Stiff
Profile: Rocker/Camber/Rocker
Specific features: Kevlar weave composite core, carbon torsion construction, prepreg carbon nanotube laminate
Best use: Powder skiing
The La Sportiva Vapor Svelte Skis is considered to be the lightest skis on this light, and that's due to its construction as well as the materials used. It works great on powdery snow, alling you to glide atop everything without any choppiness or loss of speed. However, the slushier the snow, the less well these skis perform.
The core and laminate work together to make this one of the toughest skis out there, so they'll last you a very long time. Just be careful with how fast you go down the slopes; they tend to shudder under your feet, which can leave you feeling a bit unstable.
However, the aesthetics of these skis will definitely keep you looking stylish on the slopes, with his black body, yellow-gold highlights, and honeycomb pattern covering a majority of its structure. Overall, this is a great ski that would fit both beginners and veterans alike.
PROS:
Extremely light
Durable
Good design
CONS
:
Doesn't do well on icy snow
Tends to wobble at higher speeds
Expensive
Related: When it's just too cold outside to go skiing, you may want to stay indoors and try a bit of paddleball. However, instead of borrowing your friend's racket, consider getting your own with the Swift 2.0 Graphite Pickleball Paddle. It's made from recycled carbon fiber so you're doing your part to help the planet, and has been built to be strong, with polyester resins that will absorb impact and reduce the shock in your wrist.
K2 Pinnacle 95 Skis
Price: $389 – $801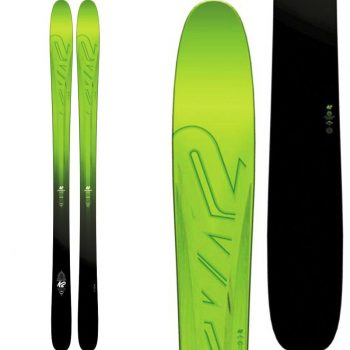 Flex: Medium to very stiff
Profile: Rocker/Camber/Rocker
Specific features: Nanolite Konic and aspen core, metal and triaxial braide laminate, Hybritech sidewalls
Best use: All-mountain
The K2 Pinnacle 95 Skis are ready to go no matter what you have planned. The Nanolite core replaces wood in the center with an aerospace grade composite, which reduces the weight which makes every uphill step easier.
A metal laminate matches the edges of the composite core, making for superb stability and energy transfer at high speeds albeit with a small weight penalty, but it's designed to keep these skis tough so that they're not disintegrating underneath your feet.
Combine that construction with long, gradual tip rocker and light tail rocker, and what you get is a small board that blasts through crud, carves down the ice, and surfs amazingly well in deep powder. Some called it nimble, speedy, and "a highly tuned thoroughbred" of a board.
Unless you ski powder every day and which is impossible, this could be the only ski you need. It can perform brilliantly on both sides of the ropes.
PROS:
Lightweight
Very well-constructed
CONS
:
Don't float as well as other skis this narrow
Related: Having the right bindings can provide you with secure connections to your skis, so why not give the Marker Griffon 13 ID Ski Bindings a try? They have a wide platform for wider skis, as well as a gliding AFD plate that ensures a smooth feeling. These bindings are designed to fit any standard alpine and lugged AT boots, allowing you to transfer them to any of your snow boots, should you need to change them over time.
Dynastar Cham 2.0 97 Skis
Price: Approx. $389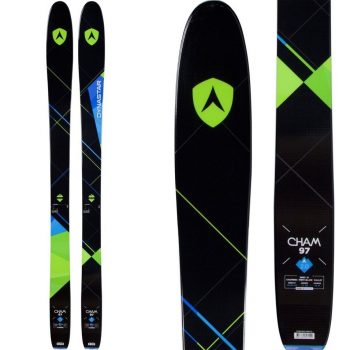 Flex: Stiff
Profile: Rocker/Camber/Rocker
Specific features: Paulownia core, 5-point side cut, fiberglass construction
Best use: All-mountain
The Dynastar Cham 2.0 97 Skis are very versatile skis, capable of owning both powdery and the packed snow with ease. It's also a lot more affordable than the other skis you'll find on this list, so it could be a good pair of starter skis to help you ease into your improved skill level.
It is lacking a metal laminate that previous incarnations of this ski used to have, but that doesn't seem to have affected its performance at all. However, at slightly higher speeds, it does tend to get a bit wobbly, so that's something to watch out for.
It does quite well on various kinds of slopes, making it perfect for every kind of skier. It has great play on turns and carving, can handle bumps, and drives right through crud (debris in the snow) with no problems. All in all, this very easy to use ski is great for beginners.
PROS:
Very user-friendly
Great shape
Durable
Lightweight
CONS
:
Does wobble at faster speeds
Related: When all the snow's gone, you may want to take to the surf to keep your exercise regimen up. The Liquid Force Slab Blem Wakeboard has a full-wood profiled core that helps you to make those perfect turns in the water. The planning hull is also smooth and catch-free; nothing will slow you down when you get to those speeds you need to pull those incredible stunts.
Blizzard Zero G 108 Skis
Price: Approx. $800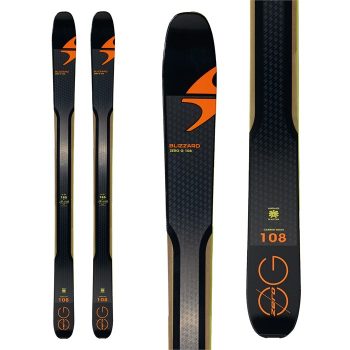 Flex: Stiff
Profile: Rocker/Camber/Rocker
Specific features: Flip Core technology, Ultralight Paulownia core, Carbon Drive laminate, Titanal Binding interface, fiberglass bottom layer, sintered graphite base
Best use: Powder skiing, alpine touring
The Blizzard Zero G 108 Skis are some of the lightest skis you'll find out there on the market, saving your ankles and knees from unnecessary stress. This is due to the carbon frame, which also helps to make these skis incredibly durable. The wood core keeps everything stable, even when you start entering those faster speeds, so you won't feel like you're going to wobble all the way down.
Stay afloat on all that powder with the wide waistline of these skis, so you can tackle those sharp turns and carves; show off to your friends, and they might starting thinking you're a professional! These skis aren't only good for powder either.
They can handle icy hardpack too so you're not sinking into the harder snows. Perfect for those who want to venture a little off the manicured slopes. For its price, it's a great buy for those who want to ski lines aggressively.
Related: If snowboards are more your thing, then you may want to consider the Bataleon 156.0 Whatever Snowboard. This versatile snowboard has been designed to tackle any kind of slope and snow, so you're in for a stable ride. You can stick to the slopes or freestyle your way through tricks; no matter which  you choose, this board will stick with you. It has an aggressive camber and long contact lengths to guarantee you a stable ride.
Wrap Up
That's all folks! We understand that there's a lot on the line to finding the perfect skis, and that not everyone finds exactly what they're looking for the first time.
However, now that we've laid out everything for you, from the important features to keep an eye out for to a list of which skis are getting the best reviews, you're well on your way to finding a pair of backcountry skis that's perfect for you.
Do you have any questions for us that we haven't answered in this article? Is there a product you've had a great experience with that you feel should be added to our list? Then please feel free to leave a comment with us below, and we'll get back to you as soon as possible.