Knowing the exact time no matter where you are is important, especially if you're on the mountain or in the wild. But when you're in such a setting, there are other important data you should be aware of, such as altitude or if the weather will suddenly change for the worst. Not many watches or even smartphones can help you in this regard, don't you agree? You're right to think that perhaps the best altimeter watch is something that could help in more ways than one.
A watch with an altimeter is usually equipped with a barometer and a compass as well, and they're very useful for those who climb mountains. These watches are usually nicknamed ABC-type of watch and they are useful in many types of situations, and their functionality should be the same even after getting submerged. But how do you know an ABC time telling piece will perform as expected, if you can't test it for yourself? We hope this short article will answer this question and many more!
We put together a guide to help you identify quality watches that won't let you down when you need them the most, as well as a list of products that meet the criteria. Talking about their most important features first, then listing the items is surely more helpful when going shopping.
Our Top Picks
Things to Consider Before Buying
You can't go shopping if you don't know what to look for. The next features are the ones that matter the most, but there might a few that are labeled as "personal preferences". Let's have a closer look!
Recharging Method
A watch with an altimeter is powered by a battery, and having it run flat at a key moment in your trip is definitely not fun. Most models will require an outlet or connection to your computer to charge. Luckily most of them are pretty good at letting you know in advance when the time to recharge has come.
Some models though, work with solar energy and therefore they just need to be exposed to the sun to repower. If you hike during the warmer months, you won't have much problems in this regard.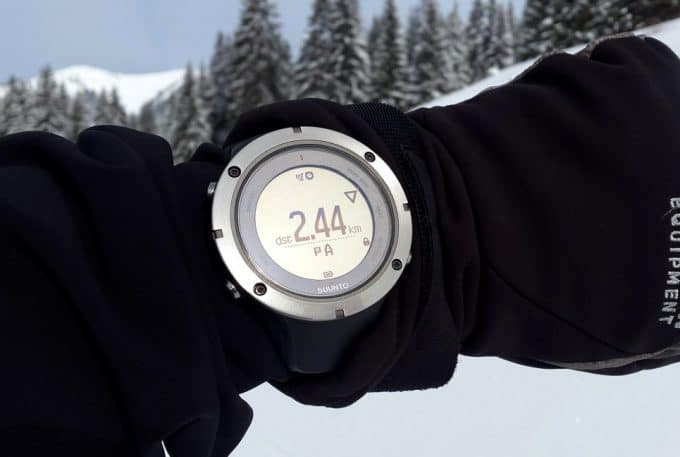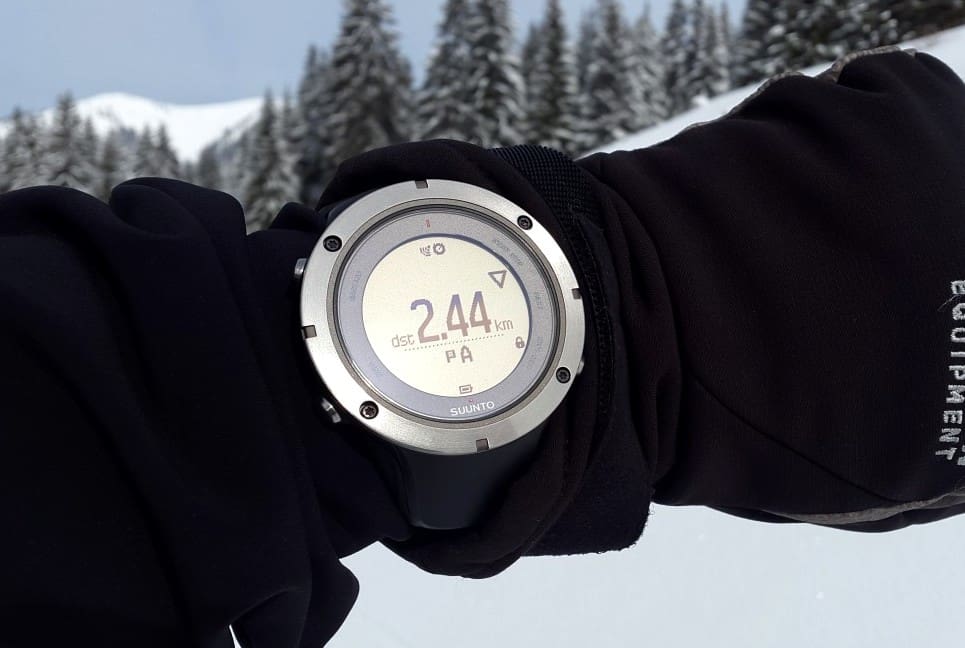 You should remember that the more functions you use on the watch, the faster you'll drain the battery. The GPS is the most power hungry app on any device, so you might want to use other devices to navigate.
Navigation
An ABC watch is designed to help you find your way no matter where you are, as long as you have a general idea of where you have to go. The compass on these gadgets is the primary navigation tool, though depending on the model you can have at least one more option installed.
The other tools are the GPS, GLONASS and the Military Grid Reference System, also known as MGRS. GLONASS stands for Global Navigation Satellite System and it's an alternative to the GPS.
Generally choosing one navigation solution over the other is a matter of personal preference. Having more than one option to find your way is a good idea, just in case one of them is not as good as expected.
Accuracy
The accuracy of a simple watch is determined by its mechanism, and those using a quartz are superior in keeping time to their mechanic counterparts. The precision of an altimeter watch is determined by at least 2 components: its quartz and its sensor.
As a general trend, most watch enthusiasts will seek Japanese quartz if they want a precise time telling device. For a watch to give a reading of the altitude you're at, it needs a sensor, and from many consumers' point of view the German sensor is the best.
Water Resistance
It's normal to sweat a bit while hiking, and it's normal to be worried for your expensive gadget as to get ruined by sweat. Most such devices are designed to resist minimal water splashes, from regular daily use.
An ABC watch should be resistant to water, at least to depths of 330 feet. One can never know where their adventures might take them and being over prepared is always a good idea. An even better idea would be to find a waterproof watch, but that's more difficult.
In case you don't know, you shouldn't attempt pushing the buttons of your watch under the water, especially when the manufacturer advises against it. Some models have a touch sensitive screen, and the water currents can activate or deactivate your device, so keep this in mind.
Extra Functions
Most people who want an outdoor watch, hope it comes equipped with all sorts of other functions than the ones used for the gadget's main purpose. These extra features can vary from person to person, but usually a heart rate monitor or a step counter are in high demand.
Most ABC watches will receive alerts from your smartphone, allow you to set alarms, or might show you when the sun sets and rises to help you organize and plan your day better.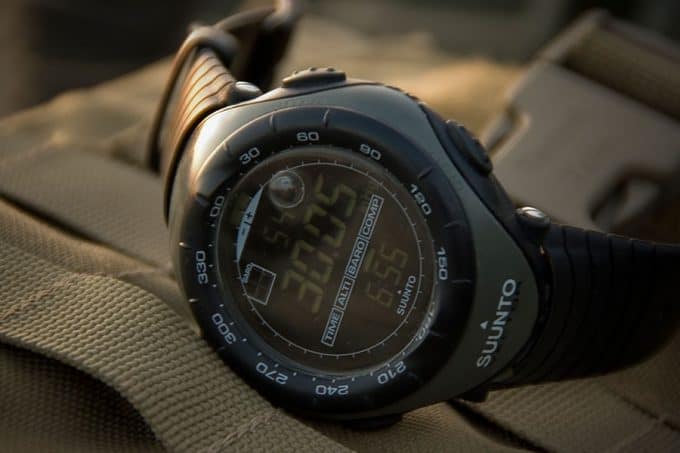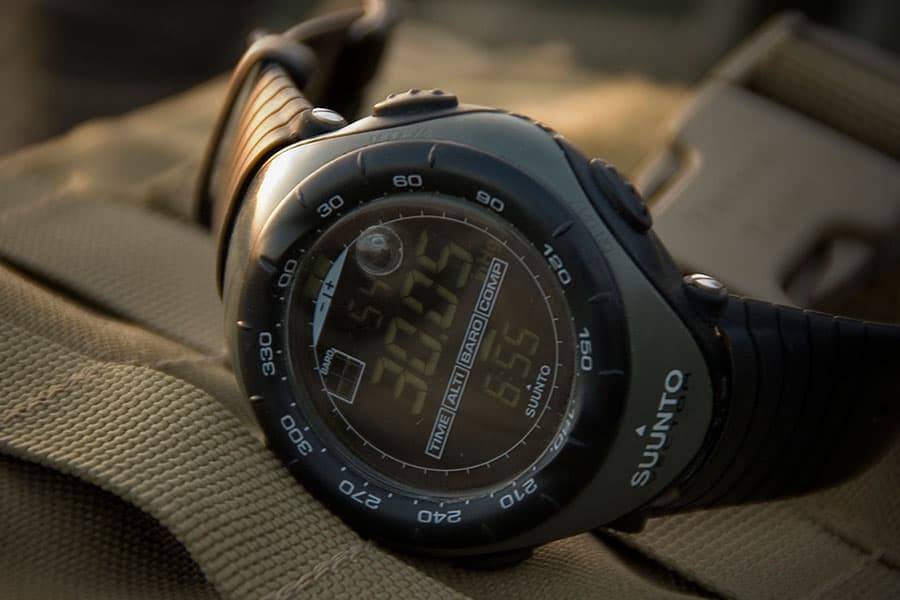 Keeping track of your activities or adventure are two other popular and wanted functions on this type of watches. A music player is rarely or never seen installed on them. Some models might allow you to control a camera from a distance if you need it.
Most hikers will check these features before buying an ABC watch. Hopefully you understand now why they matter and why you too should look for them as well if you want a watch with a good altimeter sensor. On to the items, shall we?
Best Products on Today's Market
The next selection of watches are some of the best ones you can find on today's market. We chose pieces that will fit any budget, looked at what they have to offer as well as the things that could be improved, in hopes we help you form the best decision for your needs.
Garmin Fenix 5 Watch
Price: Approx. $500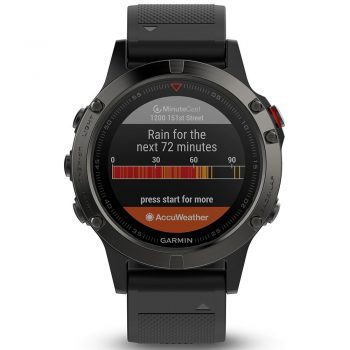 Weight: 12 ounces
Size: 0.6 x 1.9 x 1.9 inches
Specific features: Heart rate, phone alerts, Wi-Fi compatible, 3-axis compass, activity profiles
Best use: Fitness, adventures
Not all smartwatches are the same, so take a look at the Garmin Fenix 5 Watch. This watch features the elevate wrist heart rate technology which measures your heart rate during activity. The watch has a stylish but ready for adventure design, made of stainless steel.
You can activate the performance widget that keeps you updated on your stats during workouts. If you need to keep in touch with the outside world, you can simply activate the push notifications from your phone. This smartwatch can also be customized with various free watch faces directly from the store.
Additionally, the watch includes a 3-axis compass, a barometer and altimeter, as well as being compatible with the GLONASS satellite system. The LED backlight and high-resolution of this item enables you to read it regardless of light conditions. The fitness meters calculate calories burned, distance, speed, as well as recovery time.
If you are a passionate runner you can calculate your metrics better by using the performance condition and stride length features. This watch has a good battery life even after continuous use.
PROS:
Suitable for swimming
Suitable for golfing
Good battery life
Related: After paying so much on a gadget, you might want to make sure it is protected for a long time. The IQ Shield LiQuidSkin is a screen protector designed for the Garmin Fenix 5. This is a pack of 6, and you also receive the installation kit and a lint-free cleaning cloth.
Suunto Core Watch
Price: Approx. $167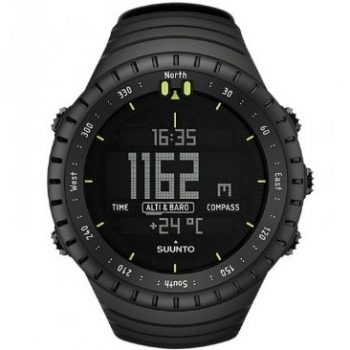 Weight: 2.26 ounces
Size: 1.9 x 0.6 x 1.9 inches
Specific features: Compass, weather trend, preset sunrise and sunset times, altitude graphics, 7 day memory,
Best use: Hiking
This Suunto Core Watch delivers good performance for any adventurer out there. The watch has a simplistic yet sleek design that doesn't add bulk to your wrist. You can take advantage of functions like the barometer, altimeter and compass which show you exactly where you are, as well as the temperatures.
This item lets you know what the weather conditions are, thus improving your workout experience. You can easily manage and plan your activities thanks to the feature that shows you the sunrise and sunset in more than 400 locations. If you are worried about storms, the storm alarm will notify you of any temperature drops.
This watch is available in many different colors, so you can be sure to find just the one you need. Maybe you are a fan of watersports, and this watch is waterproof up to 30 meters, but also suitable for snorkeling activities. This item is durable, however you may need to change the wristband as it is not resistant enough.
PROS:
Suitable for swimming only
Sunrise and sunset times for hundreds of locations
Sleek design
Related: If you want a more rugged wristband for your watch, the Suunto Core Zulu Strap might be an item of interest. This wrist strap is made of nylon, therefore you know it is resistant. It even comes with lugs adapter and can be used during various types of activities.
Garmin Fenix 2 Watch
Price: $157 – $300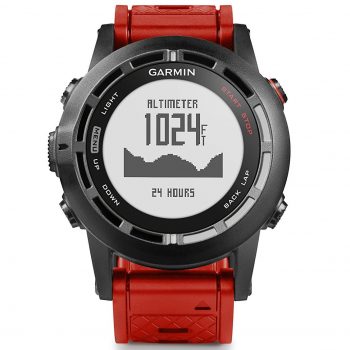 Weight: 3.2 ounces
Size: 1.9 x 0.7 x 1.9 inches
Specific features: Fitness training, swimming stroke counter, track log, weather prediction, Military Grid Reference System
Best use: Multisports
This Garmin Fenix 2 Watch could be anything you want in a watch. The limited edition device offers fitness training functions, such as calories burned, speed, distance, and heart rate. When mixed with the HRM-Run monitor, the watch can also measure intricate data like vertical oscillation and cadence.
If you are working out indoors, use the watch's accelerometer to calculate pace and distance. This device also features a ski mode that can be helpful to alpine sports practitioners as it measures vertical drops, pace, and a history of runs.
You don't have to worry about battery life as the watch provides 50 hours when used in UltraTrac mode, and 20 hours if the GPS is activated. Maybe you enjoy swimming so you can take advantage of the swim mode features that keep track of your stroke count, but also pace and time. This function is also available for pool swimming.
The Fenix 2 allows you to stay connected to the outside world by enabling real time notifications. Although described as waterproof, there is a possibility for water to get into the watch as observed by previous customers.
PROS:
Water resistant
Pace tracking
50 hours battery life without GPS
CONS
:
Not recommended for use under water
Related: If you want to monitor your heart while swimming and want to make absolutely sure your watch will be safe, then the Garmin HRM-Swim Band will help you out. It can store up to 20 hours of swimming data that will be synced as soon as a compatible device is around it. It also a non-slip design, so you won't lose it.
Suunto Ambit3 Peak Watch
Price: Approx. $313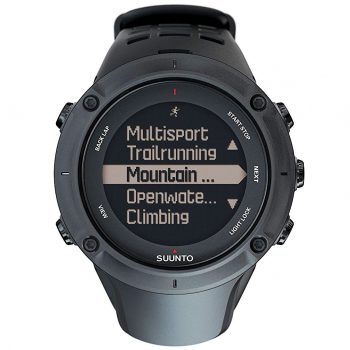 Weight: 4.6 ounces
Size: 5 x 4 x 4 inches
Specific features: Phone alerts, weather information, training programs, heart rate while swimming, route navigation
Best use: Hiking, swimming
Check out this Suunto Ambit3 Peak Watch if you need a watch for hiking on the mountain. The watch has a stylish and sleek design without adding any extra bulk to your wrist. Its functions are not bad either: the device offers a heart monitor rate that can be used to track your activities.
Additionally, the watch keeps accurate track of altitude and weather changes in any environment, notifying you whenever there is a storm approaching. This Suunto can be worn when swimming as it provides up to 100 meter waterproof functions. Its battery life can last up to 200 hours, which makes this device one of the best in its niche.
If you want to share your trips with friends, you can do so by creating a Suunto Movie. The watch is Bluetooth smart and keeps history of all your sport activities in one log. Some of its other features include a route navigation, compass and a history log.
PROS:
30 hour battery life without GPS
Menu in several languages
Bike power support
Related: If you don't want to get lost while riding your bike and have a good seeing angle of your watch, the Suunto Bike Mount might be something you could consider getting. It can be used on various models of bikes, including fitness types, and with many models of Suunto watches.
Casio Pro Trek PRW-6000Y Watch
Price: Approx. $386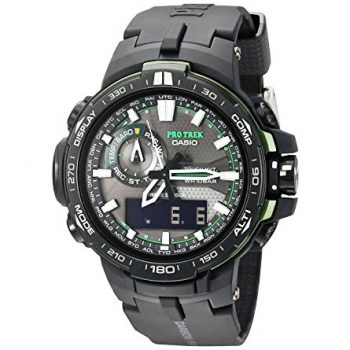 Weight: 12 ounces
Size: 5.9 x 5.9 x 5.9 inches
Specific features: Analog and digital dial, stop watch, measures seconds, barometric pressure reader, 10-meter free-fall endurance
Best use: Trekking, hiking
Have a look at the Casio Pro Trek PRW-6000Y Watch if you need a new device for your activities. The watch has a rugged yet easy to wear design for the adventurer in you. This watch is not appropriate for swimming, however it is 30 meter water resistant and thus can be worn on rainy days.
The device is known as an extremely durable one, and it can withstand 10-meter free-falls. You will not need your watch to be replaced any time soon, due to its durability and 10 year battery life. Its display is analog/digital, and features several useful functions like a GPS, barometer, weather tracker, altimeter and compass.
The weather tracking features notifies you or any temperature drops so you can plan your activities accordingly. If you need to keep in touch with contacts, all you have to do is enable the real time alerts for texts and calls. This slim watch has a carbon insert and can be worn during daily outings as well as on mountain trips.
PROS:
Water resistant to 99 feet
Functions in cold temperatures
Tough solar power
CONS
:
Heavier than other models
Expensive
Related: Some watches have a more rugged appearance and folks seem to like those too. The Casio Pro Trek PRG-600YL Watch uses solar energy, is water resistant up to 330 feet, has a compass, altitude indicator, 5 daily alarms, and appears very stylish thanks to its rugged look and leather wrist band.
Lad Weather Sensor Master Watch
Price: Approx. $45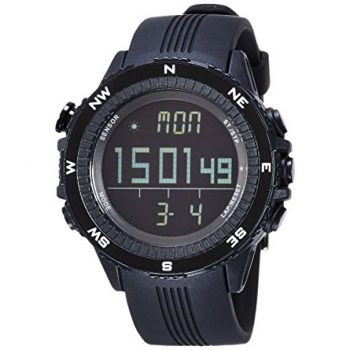 Weight: 0.6 ounces
Size: 5.7 x 4.8 x 4.3 inches
Specific features: Barometer, weather forecast, compass, thermometer, chronograph
Best use: Sport, hiking
If your budget is tight but would still like an ABC watch, the Lad Weather Sensor Master Watch is something to consider giving how affordable it is. This model is available in 7 colors, so you can be sure you will find one that you like. This watch offers a variety of features such as a weather forecast for your trip planning, and an altimeter that keeps track of 34 previous sessions.
The device also includes a barometer and an accurate compass, as well as a chronograph and countdown timer. You will also get 2 independent alarms and a calendar. The device is backlit which helps you read even in dark environments, and a power saving mode that will keep the battery last for longer.
This watch has a simplistic design that is perfect to wear during your everyday outings, but is durable enough for workouts and mountain trips. This sturdy watch is comfortable to wear and has a battery that is easy to replace when needed. The device is on the larger side, so make sure to measure your wrists before buying one.
PROS:
Affordable
Countdown timer
Water resistant to 3 feet
Related: Some people want a wrist watch with a sturdier band, like the SKMEI MG03 Watch has. This product has most of the functions you'd be interested in, including weather prediction, altimeter, compass, step counter, and can be taken swimming as well.
Suunto Traverse Watch
Price: Approx. $287
Weight: 0.8 ounces
Size: 2 x 0.7 x 2 inches
Specific features: Step counter, barometric trend, sunrise and sunset times, GPS timekeeping, compass
Best use: Trekking, hiking
The Suunto Traverse Watch delivers all the performance you would expect from this brand. The watch allows you to upload your routs for easier keeping track, while the GPS enables you to discover new places safely.
You can keep track of your fitness goals and progress by using the altimeter and calculators. This watch features a temperature trend function that you can use whenever you need to know if there will be a storm nearby. The alert notifies you of any temperature drops in your vicinity.
This device shows you the sunset and sunrise times for easier track of the daylight hours. You can enable the push notifications from your phone for real time text and call alerts. Although not recommended for swimming, this Suunto is 100 meter water resistant.
Its screen is backlit when in flashlight mode which enables you to see in the dark. You can also measure speed, calories burned, distance and recovery time with the fitness tracker. The display turns off when the watch is not used in order to save charge.
This watch doesn't function on batteries, so all you have to do is plug it in. If you wonder about design, the rugged look of this item is perfect for any adventurer on a trip.
PROS:
Breadcrumb trail function
Receives phone notifications
Water resistant to 330 feet
CONS
:
Pricey
Connectivity issues with phone
Related: If you want a gadget that is more helpful when it comes to working out, the Suunto Spartan Sport Watch is a good alternative. It has more than 80 sport modes, GPS, compass, altimeter, and has a heart rate monitor as well.
Wrap Up
This is where our review ends, and we're hopeful you feel more knowledgeable when it comes to watches with an altimeter. Even if you don't buy one right now, or for your own use, you should know how to select a timekeeping pieces that doesn't only look good, but is of a good quality as well.
You should know that thanks to their various functions, these products can be used for many other purposes, not just hiking. This is why they are also a really nice gift idea for someone special, and since they're gender neutral, you can get them for anyone.
At this point, our only hope is that we didn't skip any items, and that if we did, you'll be able to let us know using the comments below the presentation!