How your outdoor adventure goes largely depends on two things: the weather and your location. Nature is unpredictable, and although that is one of her many charms, there are times when you wish you could've known that storm was coming or how high you are above the sea level so you can make necessary adjustments. Won't it be nice if you have a reliable tool to stay on top of these environmental hazards? With the best ABC watch, you will be well-informed of all that and more.
ABC: Altimeter, barometer, compass. These are the three features that make a great explorer's watch. With a proper ABC watch, you will be able to better make crucial decisions while in the wild. As with any advanced high tech devices, ABC watches can be quite expensive.
Although we understand that you don't mind spending a bit more on something that would affect the navigation of your outdoor outings in so many ways, unfortunately, in this case, a higher price tag doesn't always equal better features. Don't worry because we're here to make it easy for you.
In this article, we will cover the most important features that you should consider when purchasing an ABC watch, as well as reviews of some of the best ABC watches on the market. Let's take a look!
Our Top Picks
Things to Consider Before Buying
ABC watches aren't cheap, so you wouldn't want to end up with one that you end up not using since it doesn't have the features you need or is difficult to operate. To make sure that doesn't happen, you need to take several features into consideration.
Waterproof Rating
Most ABC watches are at least water resistant these days. To what degree exactly they will be able to survive contact with water remains to be seen, however. You'll need to take the kind of activities you will be wearing the ABC watch during into account.
While not suitable for SCUBA diving, snorkeling and swimming are acceptable activities for the watches that typically will perform at a depth of 100 meters or more. If you plan to go a bit deeper, there are ABC watches that can withstand water to a depth of 200 meters, although these will typically be more expensive.
Budget
The price range of ABC watches is quite wide, as the price will depend on how much the watch can do and the quality of its data output. Certain watches can record data for an extended period, and they vary in their capability to sync to websites and smartphones.
If you're on a budget, you might want to stick to the watches that only feature the basic functions. Extra advanced features like the ability to analyze the past trend to forecast whether a storm is coming or not can come in handy indeed, but it's not something you can't do without—especially if it comes with an extra $100 on the price tag.
Main Features
Naturally, the main features that have to be present in any ABC watch are the altimeters, barometer, and a compass. Altimeters work well for tracking exercise routes such as hikes, running routes or cycling routes because you can see distance climbed and eventually have a summary of your route. Altimeters are useful for backcountry use if you are attempting to reach a given elevation to travel along, as well.
A barometer is an instrument that measures atmospheric pressure. High atmospheric pressure corresponds to clear weather while a drop in atmospheric pressure signifies incoming storms or other inclement weather.
The "C" component of the ABC watch is a compass. Compasses have been in use for hundreds of years as a navigational tool, and they are tried and true even today. A compass on an ABC watch can be used in conjunction with the altimeter for navigation purposes.
Some of the watches reviewed here include features that chart trends in atmospheric pressure, so you know when it is dropping or rising. Other watches actually have a storm alarm if the pressure drops too much in a short period. Having this advance warning can be crucial to being able to find shelter in the event of an oncoming storm.
Other weather instruments included in these watches can include moon and tide data, which is very useful for activities around the water such as fishing, sailing, kayaking or exploring shorelines. Although atmospheric pressure may at first seem like an arbitrary number, in reality by understanding its trends you can gain a lot of information about incoming fronts.
Fitness Tracking
Some of the watches included in this review are not only ABC watches, but also include GPS capabilities. Most of these watches can be synced to a smartphone app that helps track fitness and how that relates to GPS location. Some include heart rate monitors and use heart rate data coupled with GPS data to calculate a myriad of fitness metrics ranging from running cadence to stroke rate in swimming and bicycle power output.
They can also estimate recovery times and VO2max values. Serious athletes who need to fine tune their athletic training can seriously benefit from this data, but mere mortals can use it too, to help achieve fitness goals. Most of these watches are water resistant up to a certain pressure, a must for outdoor adventures.
Durability
Of course, you will want a watch that will not only last the test of time but can withstand a good deal of punishment as well. This is especially true if you're planning to use the watch for your outdoor activities. With that said, a durable watch will serve you for many years despite being exposed to extreme wear-and-tear.
The durability of the watch will mainly depend on the construction, design and material. The more durable the watch is, the more expensive it can be. But when it comes to ABC watches, it's certainly worth paying more for a durable model.
Best Products on Today's Market
All in all, an ABC watch can be used either as a navigational tool, an athletic training tool, or both. Here are nine ABC watches and a summary of their capabilities, but the real adventure of putting them to use is up to you!
Suunto Core Wrist-Top Computer Watch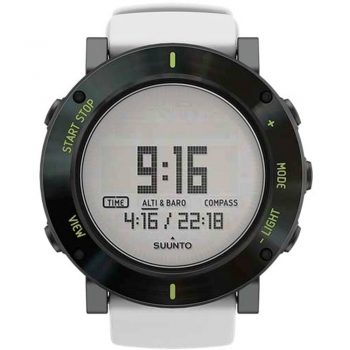 Price: Approx. $169
Weight: 2.26 ounces
Dimensions: 6 x 6 x 4 inches
Specific features: Altimeter with altitude log memory, compass with semi-automatic calibration, depth meter, barometer with storm alarm
Best use: Mountaineering, backcountry skiing
The Suunto Core Wrist-Top Computer Watch has all the required features of an ABC watch. The altimeter in the watch allows you to measure your elevation and then assists you in locating your position on a topographic map by matching the given altitude with the contours of the map.
Additionally, the Suunto Core allows you to measure your altitude without entering a reference number. The barometer on the Suunto Core measures and records air pressure and changes in air pressure, which directly correlate to weather conditions.
By keeping track of air pressure changes, you will be aware when a storm or inclement weather is approaching.
This watch also features a storm alarm that will alert you to rapid changes in barometrical pressure over a three-hour period. There is also a built-in weather trend indicator which shows the barometric history for the last three and six hours.
This watch includes a compass with a digital bearing. The altimeter also records your entire session so that you can analyze the data later if need be. This watch has all the basics of a great ABC watch and comes with a two-year warranty. It has a classic design with a retro interface. The simple look is cool but might not be for everyone.
PROS:
Also comes with a storm alarm
Measures the altitude automatically without needing reference numbers
Analyzes the weather trend for forecasting
Comes with a two-year warranty
CONS
:
The simple design may not appeal to everyone
Related: To add a bit of variety to your watch-wearing routing, you can use this Suunto Over-The-Sleeve Watch Strap. The strap is waterproof and is quite breathable, so it will feel comfortable around your wrist.
Casio PAG240-1CR Pathfinder Sport Watch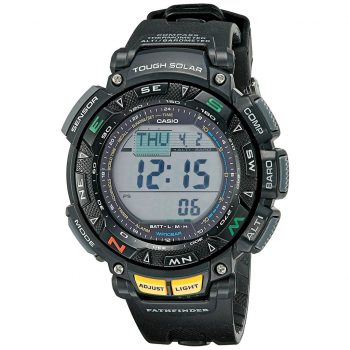 Price: Approx. $153
Weight: 3.2 ounces
Dimensions: 4.7 x 4.3 x 3.8 inches
Specific features: Alarm feature, altimeter feature, compass, stopwatch
Best use: Swimming, snorkeling, hiking, hiking at night, backpacking
The Casio PAG240-1CR Pathfinder Sports Watch is one of the most affordable ABC watches included in this review. However, it does not have as many special features as the Suunto Core, but it is still a good watch for those who do not need as much technical data information. The Pathfinder is solar powered, and its battery lasts six months without light exposure.
It features a digital compass, an altimeter, a barometer, a thermometer, a stopwatch, calendar, and five alarms. The Pathfinder is also water resistant up to 100 meters in depth. This makes it a good choice for swimming or snorkeling but not resistant enough for scuba diving.
It also features sunrise and sunset data, which can be essential for backpacking when deciding whether to keep hiking or to set up camp.
Thanks to its affordable price and all the necessary features (altimeter, barometer, compass, thermometer) this watch is a good choice for the outdoors person who does not need advance storm warnings or detailed records of their activities.
PROS:
Solar-powered
Long lasting battery
Water-resistant
Relatively affordable price
CONS
:
Lacks some advanced features such as a storm alert
Related: A fan of advanced watches that can improve your quality of life and make everything more convenient? Now that you've got a watch that keeps you covered on outdoor adventures, you may need another one like Pyle Fitness Tracker Watch that will monitor you instead of the weather. This watch will assist you in your more casual adventures such as while jogging.
Garmin Fenix 2 GPS Watch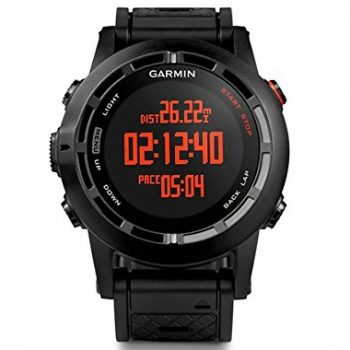 Price: Approx. $292
Weight: 3.2 ounces
Dimensions: 0.7 x 1.9 x 1.9 inches
Specific features: Connects to smartphones, altimeter, barometer, compass, GPS positioning, can track heart rate and VO2 max, modes for fitness metrics
Best use: Outdoor athletes who want to monitor the specifics of their training
The Garmin Fenix 2 GPS Watch includes many unique features that make it go above and beyond your typical ABC watch.
While it does include an altimeter, barometer, and compass, it uses the data gained from these instruments to inform the user of various fitness metrics in different activities. The Fenix 2 is excellent for trail running, especially when paired with a heart rate monitor, which is sold separately.
The altimeter and GPS record distance traveled as well as elevation change so you can see how your body responds to uphill or downhill travel. Other fitness training features include VO2max calculations, recovery advisor, and Virtual Partner.
The Fenix 2 can also report cadence, ground contact time and vertical oscillation to help monitor changes in running economy. The Fenix 2 can also track distance, pace, and stroke count for swimming and its ski board mode will track speed, distance and vertical drop.
The GPS allows you to mark waypoints, which is useful for marking the start and finish lines or your vehicle when you are on the trail. The barometer can predict weather changes by monitoring air pressure changes.
Finally, all of this data can be linked to a smartphone or computer with Garmin compatible devices. When synced to a smartphone, you can receive emails, texts or alerts to your watch when you are on the trail.
PROS:
Analyzes your fitness metrics in great detail
You can use the GPS to mark waypoints
Easy device synchronization
Related: Since this watch is quite a big investment, you wouldn't want it to drop in value because of fine scratches on the screen. Protect it using this BoxWave Garmin Fenix 2 Screen Protector. This is an award-winning screen protector that's hailed for its clarity and durability.
Suunto Ambit 2 GPS Watch
Price: Approx. $289
Weight: 3.14 ounces
Dimensions: 1.97 x 1.97 x 0.71 inches
Specific features: GPS, altimeter, barometer, compass, features for running, biking and swimming
Best use: Athletes who want to track specific fitness metrics paired with GPS data
The Suunto Ambit 2 GPS Watch is very similar to the Garmin Fenix 2, but there are several differences: the Suunto Ambit 2 is waterproofed to 100 meters while Garmin is only 50 meters. Additionally, you can download apps, and the GPS pings can be reduced to intervals which help save battery life.
Like all other ABC watches, the Ambit 2 has an altimeter, barometer, and compass. The barometer includes a storm alarm for sudden changes in pressure.
Paired with GPS data and heart rate monitor data, the Ambit 2 has the capability of providing excellent data on fitness metrics for three distinct categories: running, swimming and cycling.
The running setting features navigation, speed, altitude, EPOC/VO2max, lap comparisons, and running cadence to help track changes in physical response to changes in terrain. The bike setting gives information on bike power, bike lap and max power, and a power distance graph.
The swimming function shows the swimming time, pace, distance, and stroke rate. There are many apps available from Suunto that can be paired with the Ambit2 for various features an athlete might desire.
Overall, this is a great watch for any athlete who wants more detailed information about his or her athletic performance, especially in the outdoors when GPS data is desired.
PROS:
Water-resistant up to a depth of 100 meters
Has a power saving mode
Comes with advanced features such as a storm alarm
Analyzes your fitness metrics in great detail
Related: After a good, long day of exercising and challenging the great wilderness, you will want to reward yourself with delicious food. Even if you're far away from civilization, you can still feed yourself well with this Mountain House Beef Stroganoff Canned Food. The taste is guaranteed to stay the same for 30 whole years!
Casio Pro Trek Sport Watch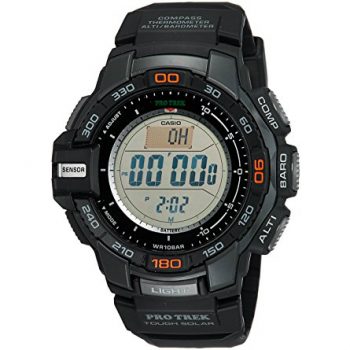 Price: Approx. $108
Weight: 4 ounces
Dimensions: 3 x 3 x 4 inches
Specific features: Solar power, digital compass, altimeter, altimeter memory, barometer, thermometer, water resistant to 100 meters
Best use: Backpacking, mountaineering
The Casio Pro Trek Sports Watch is quite a reasonably-priced ABC watch. The Casio Pro Trek series is promoted by numerous outdoor personalities including fly fishermen, kayakers, and mountaineers. You can visit the website for more detailed information.
The Pro Trek is solar powered and features an altimeter, altimeter memory, barometer, thermometer, and five daily alarms. When in compass mode, the second hand on the watch can also be used as the compass needle.
The second-hand points toward magnetic north and the LCD displays compass direction angle value, altitude, atmospheric pressure, and temperature. The Pro Trek also features a fully automatic LED light with afterglow and Neo Bright luminous hands and markers to make this watch easy to read in the dark.
It also shows a countdown timer and a fully automatic, preprogrammed calendar. There is a battery power indicator and a power saving function, although the solar powered battery will last for six months at full charge.
All in all, this is a great watch for what it does, but if you are looking for more detailed information given by a watch, the GPS watches reviewed earlier are a better value.
PROS:
Affordable price
Easy to read in the dark
Comes with a power saving mode
CONS
:
Doesn't give very detailed information
Related: After a good exercise or a hike up a hillside, you need to keep yourself well-hydrated. Survivor Filter PRO Water Purifier Pump makes sure of that. As long as there is a freshwater source, you can count on this purifier to produce safe, drinkable water for you.
Garmin Fenix 3 HR Watch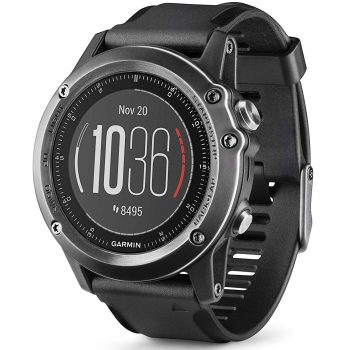 Price: Approx. $299
Weight: 3.2 ounces
Dimensions: 2 x 0.6 x 2 inches
Specific features: Wrist-based heart rate, water resistant to 100 meters, VO2 max estimator, altimeter, barometer, compass, auto-calibrates its ABC sensor using GPS data
Best use: Athletic training
Another excellent GPS training watch, the Garmin Fenix 3 HR Watch differs from the Garmin Fenix 2 in several ways, the most notable being that instead of requiring you to purchase a separate heart rate monitor and chest strap, the Fenix 3 monitors your heart rate from the wrist.
This is great for athletes who do not like the awkwardness or discomfort a chest strap heart rate monitor can sometimes cause. This watch performs similarly to the other GPS training watches but has several unique modes that are not commonly found in other models.
It does track running, including speed, heartbeats per minute, and heart rate variability. It uses these metrics to estimate your max VO2. The altimeter monitors ascent and descent data and the barometer are helpful outdoors for predicting weather changes.
In the pool (the Fenix 3 is water resistant to 100 meters depth), the Fenix 3 tracks your distance, pace, and stroke count. The Ski/Board mode calculates speed, distance, vertical drop and a run counter.
This watch has a variety of downloadable watch faces to give it a unique look or suit you best.
PROS:
Comes with an integrated heart rate monitor
Comes with several unique, rarely-found modes
Water-resistant up to a depth of 100 meters
You can change the skin freely by downloading them
Related: An ABC watch this expensive and functional needs to be protected from scratches. This IQShield Garmin Fenix 3 Screen Protector will do that for you and more. It comes with a lifetime replacement warranty, so it's a great value for money.
Suunto Ambit3 GPS Watch
Price: Approx. $344
Weight: 3.14 ounces
Dimensions: 2 x 2 x 0.71 inches
Specific features: Altimeter, heart rate, speed, pace and distance, additional downloadable features, 100-meter water resistance
Best use: Creative athletes, outdoor athletes
The Suunto Ambit3 GPS Watch unit utilizes a chest strap style heart rate monitor, which is known to be relatively uncomfortable.
However, this unit is unique in its Add Photos feature. This feature allows you to create a Suunto movie with the highlights from your trip to share with your friends. You can also connect your watch wirelessly to a phone to see calls and texts on the screen.
The Ambit3 includes a 200-hour battery when the GPS is refreshed every minute and a 30-hour battery with GPS accuracy down to every 5 seconds. When you create a Suunto Movescount account, you can see a training summary, training analysis, and a training logbook with image support if so desired.
Like some of the other GPS training watches, there are functions for running, cycling and swimming on the Ambit3. For running, it will measure cadence, stride length and average pace in real time. Some special swimming features include swim stroke efficiency, stroke rate and type, and stroke count.
As for cycling, power is measured in detail and then graphed for tracking. Hill incline is also measured. This is a good quality GPS watch for serious athletes as well as those who want photos to go along with their output data.
PROS:
The Add Photos feature is a blessing as you can create a travel movie easily with it
Long lasting battery
Very accurate GPS that is refreshed every minute
Measures your fitness metrics based on the kind of sports you're doing
CONS
:
Uncomfortable integrated chest strap HR monitor
Expensive
Related: Wouldn't you hate for a watch this expensive to lose its value not long after purchase because you accidentally dropped it and cracked the screen? Use this Ace Armor Shield Screen Protector to ensure that won't happen.
Casio PAG240T-7CR Pathfinder Watch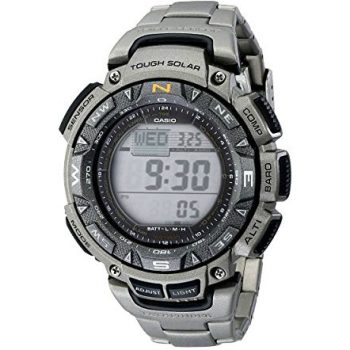 Price: Approx. $193
Weight: 5 ounces
Dimensions: 2.2 x 2 x 0.6 inches
Specific features: Solar powered, altimeter, barometer, thermometer, compass, water resistant to 100 meters
Best use: Backpacking, hiking, daily use
The Casio PAG240T-7CR Pathfinder Watch is a typical, reliable ABC watch with an altimeter, barometer, compass, and thermometer.
One nice aspect of this watch is that it is solar powered and has no batteries you need to worry about replacing. The watch can also be powered for six months at a full charge. It also has a memory feature which stores 40 information logs about altitude, temperature and time.
The Pathfinder can chart barometric changes to help predict incoming weather inclement. The altimeter features a graph with a programmable reference point so you can visually see how close you are to your desired altitude.
This watch has a large display with a backlight and is programmed with the world time for 48 different cities. It also has five daily alarms and a calendar.
While it does not have as many special features as the GPS watches reviewed here, the Casio Pathfinder is a good option for general use of an ABC watch.
PROS:
Solar powered
Long lasting battery
Huge memory
Analyzes barometric changes to forecast the weather
CONS
:
Pretty basic. Doesn't come with many special features
Related: This watch is pretty basic, but it's also functional and reliable. Another basic thing that most hikers would say they can't do without is this SURVIVAL Handy First Aid Kit. It is lightweight, portable, and it has everything you need in one compact package.
Casio PRW-2500 Pro Trek Sport Watch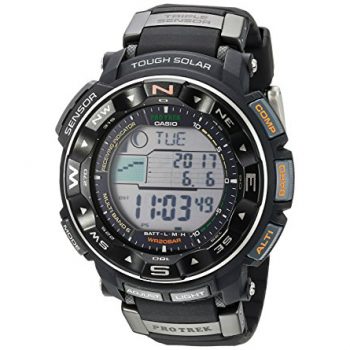 Price: Approx. $180
Weight: 5.6 ounces
Dimensions: 6 x 6 x 7 inches
Specific features: Water resistant to 200 meters, tide graph, moon data, power saving function, altimeter, barometer and compass
Best use: Runners, hikers, fishermen, kayakers, other aquatic activities
The Casio PRW-2500 Pro Trek Sports Watch is another good ABC watch with an added feature of tide and moon data.
The tide and moon data are very useful for kayaking, offshore navigation, and fishing. This watch is well-designed for water activities as well because it features a 200-meter water resistance. Not only does this mean it will hold up 200 meters underwater, but it will also perform well in situations with high-velocity water flow.
While you must know how to interpret tide and moon data for your favor, the fact that this watch provides those features is a great start.
In addition to these specialized weather data features, the Casio PRW-2500 Pro Trek has the same features as any other ABC watch, with an altimeter, barometer, compass and watch features.
This watch makes a great addition to the toolkit of anyone working or recreating in the outdoors, especially pursuing activities that might be enhanced by knowledge of moon phase or tide. It would've been perfect if only the temperature readings had been more accurate.
PROS:
Great for water activities because it provides tide and moon data
Water-resistant up to a depth of 200 meters
Can operate in a power saving mode
CONS
:
The temperature readings are not very accurate
Related: If you're on a cold water adventure and you're not sure you'd be able to keep a fire going for long, be sure to take a few of these Cyalume Green Glow Sticks with you. It comes in a pack of ten, and any one of them will last for a good twelve hours.
Wrap Up
As you can see from this review, the functions of an ABC watch can vary widely. While the information that an ABC watch is capable of providing may be too detailed and unnecessary for some people, it can be useful for navigation, predicting storms and even helping track detailed data pertaining to athletic training. Any backcountry trip can be enhanced by advance knowledge of the weather and knowing your location.
Featured Image Source: "Easy swap of orange watch band for #Garmin #fenix #GPS #abc #watch #wristshot #bluetooth #smartwatch #notifications" by istargazer is licensed under CC BY-NC 2.0