Alcohol stoves are quickly becoming more and more common in the world of both backpacking and thru-hiking. This is mostly because we enjoy packing as light as we possibly can, and alcohol stoves are usually as light and compact as they come. They are generally considered to be three season stoves, so unfortunately they would not be too useful in the harshest of cold seasons. The Esbit Alcohol Stove has quickly become one of the most sought after alcohol stoves that are readily available on the market.
This product is so popular for a number of good reasons. It's a fantastic option for people who enjoy packing light, and it does not have any major moving parts that would be likely to break during your trip.
When you are backpacking it is highly likely that any of your gear could get knocked or dropped, so that durability is essential. In fact, there aren't even any filters that could end up getting clogged up.
The environmentally conscious will also love the Esbit Alcohol Stove, as it runs strictly on denatured alcohol. There is a common myth that can be found on the internet that states that alcohol stoves are dangerous, but the reality is that any stove is dangerous if used without proper precautions. The key rule of thumb when backpacking with an alcohol stove is to never, under any circumstances, leave it completely unattended whilst in use.
Product Specifications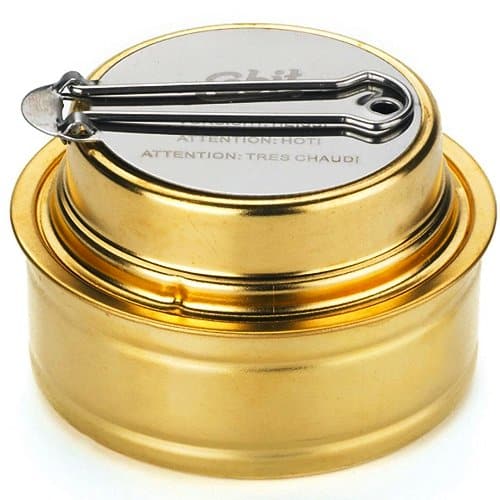 It can be used in connection with different equipment and has a leak-proof screw top with rubber seal, as well as a flame regulator with a fold-away handle for easy use
Brass body; Flame regulator with practical fold-away handle
With rubber seal, leak-proof , for safe transport

Brass Construction

Screw top with rubber seal
Flame regulator/ Flame snuffer
Review
Luckily, the Esbit Alcohol Stove runs off of a lightweight fuel supply (denatured alcohol) that can easily be found in a number of key locations. Denatured alcohol as a product is also incredibly inexpensive.
That alone is a key trait that will attract a number of consumers to this particular alcohol stove, but it also has the ability to burn the same amount of fuel for longer periods than other alcohol stoves can. This particular model has a design that works so efficiently that competitors often attempt to mimic it.
Packaging
The Esbit stove has a compact design that makes it attractive to anyone that enjoys packing light, and measures only 2 x 6 x 6.75 inches. It also weighs just 0.2 pounds, meaning that you won't even notice it in your day pack whilst backpacking or thru-hiking. It is an incredibly lightweight alternative to either a liquid gas or canister stove, and it stands up as a product that is worth having with you while you are out in the backcountry.
The Esbit Alcohol Stove is actually that small that it could securely fit in the palm of your hand, yet it still manages to fit more features than other stoves that are readily available on the market.
Design and Durability
The Esbit Alcohol Stove is made entirely out of brass, which is one of the most versatile metal alloys in the world, and it is created by alloying copper and zinc together. This means that brass gets its own traits from the two metals.
One of these traits is that versatility that allows brass objects to be finished in a number of ways, and enables the design of the alcohol stove to be perfected in the initial stages.
Brass is also incredibly durable, and it is known to last for years without the risk of either cracking or disintegrating. This durability means that brass is incredibly tolerant of high temperatures, and can easily withstand the sort of temperatures that would be seen within an alcohol stove. Home fixtures can teach us just how durable brass actually is, as brass fixtures are more likely to survive a severe house fire than any other type of fixture.
The actual design of the Esbit Alcohol Stove is incredibly simple. It features a simple brass body with a flame regulator and a practical fold-away handle. It also has a leak-proof screw top that features a rubber seal, and unlike other alcohol stoves that can be found on the market this one actually does a fantastic job of not leaking.  The leak-proof nature of this alcohol stove means that you can safely transport this stove whilst it still has alcohol inside of it, without worrying about your backpack ending up soaked.
One of the best things about this particular product is the fact that it has a binder-clip style handle directly situated on the second lid. This handle gives you the opportunity to either add or remove the lid without running the serious risk of burning yourself.
Unfortunately, a lot of other alcohol stoves available on the market do not have this particular handle built into their design, even though it is obvious just how beneficial the handle actually is. No one likes to run the risk of getting seriously burned whilst they are out in the backcountry having fun!
Fuel Compatibility
Fuel alone can show the average backpacker just how exceptional the Esbit Alcohol Stove actually is. It should strictly be used with only denatured alcohol. Denatured alcohol is both beneficial for you as a consumer, and for the environment.
It is beneficial for the average backpacker as it is an extremely inexpensive alternative to other fuel sources, and it can be found in a number of locations. These locations range from normal gas stations, to liquor stores.
The fuel is rather handy too, as it practically cleans the whole of the inside of the canister within the alcohol stove for you, and that way you do not have to do anything more than replacing the fuel when it runs out, and wiping down the inside of the canister.
There are two reasons why denatured alcohol as a fuel source is a fantastic option for the environment. The first can be viewed strictly from a safety point of view, as denatured alcohol is much less volatile, and a lot easier to extinguish than either propane or kerosene based fuel sources. The second reason is that it doesn't produce as many toxins within the smoke as other fuel sources, and that is mostly because denatured alcohol is created completely naturally through the process of fermentation.
It is worth noting that alcohol as a fuel source can take a little while to completely warm up, so you might have to add a few minutes onto the cook or boil time of your products. All you actually need to do to cook your food is place your cooking equipment directly on top of the pot supporter, and then cook the way you would cook at home.
Ease of Assembly
Purchasing any product and realizing that it comes with an instruction booklet that is the same thickness as a gaming console can be daunting for any backpacker. Luckily, the Esbit Alcohol Stove actually features an incredibly self-explanatory design.
The design is so self-explanatory that the product is actually ready to be used as soon as you remove it from the box! You do not actually need to worry about assembling the product at all, as there is no assembly required. Just make sure that you have your cookware, and your denatured alcohol, and you will be absolutely fine!
Ease of Use
Not only is the Esbit Alcohol Stove easy to assemble, it is also easy to use. Seen as there is no assembly required all you need to do is remove the sealed cap, remove the regulator, dispense fuel directly into the canister, and replace the fuel regulator. It really is that simple.
Igniting the alcohol stove is also relatively simple, but you do have to remember that it is not the actual liquid alcohol that burns when ignited. Instead it is the actual fumes directly above the alcohol that give alcohol its highly flammable notoriety. A single stray spark will have the ability to perfectly ignite your stove.
You should also note that any flame within an alcohol stove is almost guaranteed to be invisible during daylight, and in well-lit places. So you do have to be extra careful and take certain precautions, do not just assume that it has not ignited properly. Most backpackers will actually test this whilst they are cooking, by making sure that their food or liquid is actually warming up if they are unsure about whether or not their alcohol stove is lit.
As soon as you do have your alcohol stove ignited all you have to remember is that to change the intensity of your flame you have to pull the metal handle that is built directly into the second lid. This metal handle allows you to either increase the flame, or decrease the flame, giving you the ability to bring your food or liquid down to a gentle simmer. It also enables you to completely shut off the handle to extinguish the flame if you need to.
Remember that when you are using an alcohol based fuel source you should allow yourself an extra few minutes to ensure that your product is cooked thoroughly. Alcoholic fuel takes a little while longer than other fuels to cook with, but if you are enjoying the scenery around you then you probably won't have to worry about the additional time.
If you are using denatured alcohol, then you will not have to worry about finding any black residue (soot) on your cookware. However, if you do choose other products then it is highly likely that the bottom of your cookware will end up covered in black residue.
Value for Money
The Esbit Alcohol Stove is actually a product that has the ability to offer you an exceptional amount of value for money. This is mostly because it is one of the most affordable, cost-efficient alcohol stoves that are readily available on the market. The fuel alone will save you a lot of money when compared to the high cost of gas canisters that other stoves require, and you can purchase the fuel from almost anywhere.
It also features a high rate of wind resistance, although it is worth using a wind screen while you are using the product. A lot of backpackers do use this product without a wind screen, and most find that their flame simply gutters in the wind, opposed to going out completely.
Luckily you are not at risk if an alcohol stove's flame goes out, whereas you would be at risk if the flame on a gas stove went out and it did not feature a safety mechanism. You should still only use this product in well ventilated areas. Overall, this alcohol stove is a fantastic example of an affordable alcohol stove that is suitable for use in the great outdoors.
Main Competitors
Solo Alcohol Burner
The Solo Alcohol Burner Stove is the ideal choice for static campers. It is incredibly similar to the Esbit Alcohol Stove, although there are some key issues that make this stove more suitable for use in a static location, opposed to while backpacking.
The overall appearance of the Solo Alcohol Burner is incredibly similar to the Esbit Alcohol Stove, to the point where a lot of consumers have pointed out that the design may have been copied slightly. Luckily it performs almost as well as the Esbit Alcohol Stove, with a similar flame regulator and a rubber-sealed brass cap that can be used for storing food on the go.
The handle is almost the same as the handle on the Esbit Alcohol Stove, as it has the ability to take your food from simmering to boiling, and to extinguish the flame in just seconds.
The downfall of this design is that the seal on the cap is not as phenomenal as the one that can be found on the Esbit Alcohol Stove, so you do need to be careful about storing alcohol within this stove for any period of time. The storage lid is known to leak for numerous reasons. One of these reasons is simply that it has to be cranked down incredibly far, while another reason is that the threading on this product is known to have some flaws.
Overall, the Esbit Alcohol Stove is still the most suitable of the two alcohol stoves for backpackers. This particular stove should only be used in static locations due to the issues that are commonly associated with the seal on the product.
OUTAD Alcohol Stove
The OUTAD Alcohol Stove is known to be a product that you should not take out into the backcountry with you, and most consumers simply use it as an emergency stove. It is frequently found within homes, cars, or as a back-up camping stove.
One feature of this particular stove that really stands out is that it is highly ventilated. It features four separate vents directly on the base to enhance the amount of air flow within the product. This enhanced air flow means that the overall fire can last for around 45 minutes per 100 ml of denatured alcohol, which is actually a really long time when compared to similar products.
It is worth noting that this particular product is also much heavier than other options, and it comes with a built-in pot stand. The pot stand is supposed to act as both a wind screen and a place to put your pots, although it unfortunately does not perform very well when attempting to withstand wind. Due to the fitted pot stand you will also have to use pots that are rather large, and hence not suitable for backpacking, otherwise your pots could fall right in!
In a lot of cases the damper on this alcohol stove did not make a full seal on the stove, so that the alcohol would keep burning even with a fully closed damper. Unfortunately, this means that you should not use this product in the backcountry. But, it does stand up as an ideal product for use in home emergency situations.
Go Bag Stove
The Go Bag Stove is unfortunately one of the least attractive stoves on our competitors list, as it is made strictly of aluminium. You do need to use a large pan with this product, as the flame pattern is too wide for the majority of camping cookware.
If you were to use a pan that was too small then you would end up losing a lot of heat up the side of the pan, so this product would not be suitable for the average lightweight backpacker. We do not want to have to carry around large pans.
But, if you are taking a car and heading out camping then you should really consider this product. You would be able to place appropriately sized pots and pans into your car without having to worry about the weight or size of the products.
You will find that denatured alcohol will burn quicker in this product than in a number of other alcohol stoves on the market, which does mean that you will have to purchase more denatured alcohol than strictly necessary. Luckily denatured alcohol is incredibly inexpensive, so you will not have to worry about the cost associated with this.
Overview
When it comes to choosing an efficient alcohol stove we need to take into consideration all of the things that we need as backpackers. We need our products to be as lightweight as possible, and as compact as possible. That way they do not take up too much space when stored within our backpacks.
The Esbit Alcohol Stove is one of the most compact and lightweight stoves on the market, and it is also highly efficient. It's no surprise that this particular stove is frequently found in the backpacks of thru-hikers.
PROS:
Incredibly inexpensive to run – denatured alcohol can be bought in a number of convenient locations.
Made entirely out of brass, which is the most suitable metal for any adventure that involves heat. It is both durable and versatile, but that durability is precisely what you will need. The likelihood of you dropping the product is high!
The seal is known to be one of the best. It stops any leftover alcohol from evaporating, and stores it safely until you next intend on using the alcohol stove. There is no risk of the product leaking all over your backpack!
CONS
:
It is only soot-proof when you are using denatured alcohol. You should make sure that you use denatured alcohol at all costs, otherwise you will find black residue all over your cookware!
The Esbit Alcohol Stove is the ideal alcohol stove for backpackers for a number of reasons. You can put it in your backpack and forget about it until you actually need it, and you won't have to worry about carrying something that is too large and bulky. Or carrying multiple, large gas canisters. Instead you will just have a simple, small product and some denatured alcohol.
If you do find yourself in a situation where you need to stop the flame within the alcohol stove quickly, then you simply have to pull the handle. There will never be a risk of burning yourself due to the unique design of the product. So, get out into the backcountry and have fun!
Esbit Alcohol Stove
Packaging

Design and Durability

Ease of Assembly

Ease of Use

Value for Money
Summary
Thoughtfully designed with practicality in use, the Esbit Alcohol Stove is a very valuable product for the money. It is almost indestructible, being made of brass, and together with being easy to assemble and use, and the use of cheap fuel, it is a very good choice for your next camping adventures. The only downside might be that it isn't designed to run on other fuels, so you must not forget the denatured alcohol and plan it ahead… but that is little inconvenience, bearing in mind that is the most ecological fuel of all and not so dangerous.