When it comes to hiking, your feet are quite literally on the front line of combat from the trailhead to the end-of-day Epsom soak, and if you're logging thousands of steps per day on any given hike, you're going to need some tough footwear. This has traditionally meant a sturdy pair of boots—and indeed, many manufacturers have made their name in the hiking boot business—but an option that tends to be overshadowed and overlooked is the mighty hiking sandal.
A sandal? That floppy summer footwear worn by tourists on sightseeing buses and boardwalks? That senseless seasonal shoe made up of messes of straps and sparkles? Well, yes and no. Yes, hiking sandals are technically sandals. No, they are nothing like those frivolous espadrilles you bought on that weekend trip to Sarasota.
Today's hiking sandals offer stability and support in spades, and many experienced hikers prefer them over a traditional hiking boot. Come along with us as we explore the merits of women's hiking sandals and review a few of the industry's most highly-rated brands.
Why Hiking Sandals?
Let's address the obvious question first: why hiking sandals? What advantages do they offer to make the superior to the almighty boot? The answers are simple but substantial.
Hiking sandals are cool
No, not cool as wearing-shades-and-a-leather-jacket-and-leaning-up-against-the-jukebox, cool as in breathable and capable of preventing the dreaded stinky-foot sauna found inside hiking boots on sweltering summer days. Controlling the temperature of your extremities can play directly into regulating your core body temperature, so by taking advantage of the ventilation and exposure that hiking sandals allow, you are giving yourself a better chance at greater overall comfort for a longer period of time.
It should be noted, however, that many sandal aficionados recommend you wear socks with your sandals to prevent blisters. Even with this fashion-forward adaptation (reminiscent of many a suburban father's chosen look for lawn mowing), the open design of sandals will still give your feet a cooler setup overall.
Hiking sandals are lightweight
Everyone loves a sturdy hiking boot, but those suckers can be heavy. A typical pair of hiking boots can weight up to 25 ounces (1.5 pounds), but hiking sandals clock in at only 5 to 9 ounces. Choosing to sport a lighter sandal will quite literally put a spring in your step, helping you maximize energy and endurance over the course of your hike.
Hiking sandals are water-friendly
If you've ever accidentally dunked your hiking boot in high water, you know the distinct discomfort of having to spend the rest of the day sloshing around in damp footwear. Even if you choose to remove your socks and boots before a water crossing, you're still spending minutes lacing and unlacing that you would rather spend tackling the trail.
Hiking sandals, on the other hand, are waterproof and made to withstand splashy stream crossings. They air dry quickly and also afford you the distinct pleasure of giving your bare feet a splash of cool water on hot days.
Hiking sandals are hearty
These sandals aren't your Aunt Linda's espadrilles; hiking sandals are made for the trail and they know it. Good hiking sandals have deep lugs for optimal traction, and while they aren't the wisest choice for rough terrain, they can handle your typical trail with ease. Some varieties even offer a closed toe, which can reduce any toe-stubbing incidents and better prevent small rocks or debris from getting trapped within the sandal.
Hiking sandals = happy feet
This may not hold true for every hiker, but many seasoned trail-trekkers report that their feet feel better and less fatigued in sandals. While you may need to take your sandals out for a few short, initial hikes to help toughen up the skin on your feet and get it used to the exposure sandals offer, many people report far less blisters from sandals than boots.
Also, today's hiking sandals provide a wealth of support in the way of sturdy straps, thick outsoles, and padded midsoles. Although they don't offer much in the way of ankle support, you can be certain that a good pair of hiking sandals has your foot's best interests in mind.
When Hiking Sandals?
As common sense and experience dictate, hiking sandals are not the optimal choices for certain types of terrain or activities. They won't be an all-star on rough terrain or routes that include a wealth of climbing. They also shouldn't be your go-to choice for winter weather hikes with extremely cold temperatures and snow. But if you're taking to a tame trail in a mild climate, or even just puttering around a campsite, hiking sandals make a wonderful alternative to boots.
Another factor to consider when it comes to trying sandals is the weight of your pack. If you are wearing lightweight sandals on the trail, you'll want to compliment this with a lightweight pack. A heavy pack is a burden best shouldered while wearing boots, otherwise you will be placing a drastic amount of pressure on your joints, and this might result in damage to your feet.
WHO Hiking Sandals?
If you tend to be a clumsy or accident-prone hiker, hiking sandals might not be for you. If you choose an open-toed style to wear without socks, you'll likely end up with a few stubbed toes, and don't think for a minute that you'll get through the trip with that pedicure intact.
But you are not more prone to accidents or injuries in hiking sandals, you're just a bit less protected when it comes to scrapes and scratches and encounters with poison ivy. You might need to be a bit more careful with your step, but as long as you're not the kind of person who has an uncanny knack for stomping through a snake nest every single hike, you'll be just fine.
Choosing a Sandal
Now that we've covered some basics, let's take a look at what makes a great hiking sandal. These are the points to consider before you scour the internet or the shoe store looking for your perfect pair.
Environmental Demands: Before we get down to the nitty-gritty, let's take a step back and ask the broader question that will determine how you answer all the rest: where will you be wearing your sandals? On the trail? At the campsite? At the beach or sightseeing on the boardwalk? Narrowing down how you plan to use your sandals will help you make the most informed choice.
For hiking, support and tread will be big concerns, and lightweight, closed-toe options might serve you best;
For everyday wear you can relax a bit on the high-performance features and go more for comfort and fashion. Some sandals can even convert into flip-flops for super casual mode;
For water-heavy activities like boating or rafting, traction and water resistance are key.
Support: Every hiker's support needs vary, but you will want to make sure (and double-sure) that the sandal in question has the right amount of cushioning in the right places for you. Most hiking sandals come with ample amounts of arch support and a comfortably-shaped footbed to properly cradle your foot.
Fit: Just like with hiking boots, you'll want a snug fit to avoid blisters and injury from slippage. Sandals with adjustable straps will allow you to find your perfect fit, and also give you the freedom to regulate it to make room for swollen feet or thick socks.
Shock Absorption: Even a gentle hike will require your feet to absorb shock, so make sure you choose a hiking sandal equipped to do the job. Foam midsoles are one of the most common shock-resistant features on hiking sandals.
Soles: Everyone needs a little bit of [sole], and your hiking sandals are no exception. Look for sandals that have sturdy soles with ample tread.
Piggy Protection: If you're a chronic toe-stubber or just want to keep your toenails intact, opt for a sandal that has a closed toe box. As we mentioned before, a closed-toe sandal will help keep some small rocks and other debris out, but the trade-off here is that if some bits do get in, the extra coverage of the toe box makes it harder for you to shake it out.
Water Resistance: We've talked about the hiking sandal's clear advantage to tackling streams and water crossings, so if you anticipate asking your sandals to brave any bodies of water, you should definitely choose a waterproof pair. Rubber soles and synthetic materials can also help ensure your sandal's water-wearability.
Top Women's Hiking Sandals
Now that your brain is loaded up with sandal facts and features, let's take a look at some of the most popular women's hiking sandal options on the market today:
KEEN Whisper Sandal
Weight: 8.7 oz.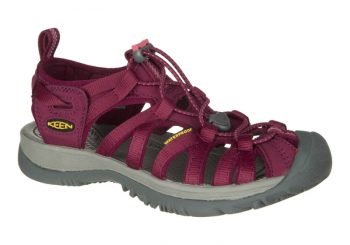 Dimensions: 11 x 7 x 7 inches
Specific features: Waterproof and washable, making it a truly robust choice for your adventures. The Whisper features a bungee lace capture system, hydrophobic mesh lining, non-marking rubber outsole, and a metatomical footbed design that provides ample arch support and a shape specifically contoured for a female foot. The Whisper features odor-reducing Aegis Microbe Shield to keep things smelling fine.
Best use: The Whisper is a great all-purpose sandal that is an ace in the water and on the trail.
The lightweight KEEN Whisper Sandal makes it a versatile choice for the hiker who wants to go from trail to beach to stream without giving a second thought to her footwear. The Whisper's elastic cording keeps the fit secure, and makes adjusting the sandal a breeze in or out of the water, and its washability and odor-resistant properties ensure it will stay clean and fresh between adventures.
This sandal is specifically designed to fit a woman's foot, ensuring a minimum of slippage even during demanding hikes and fast-paced activity. The Whisper's closed-toe design, paired with its lightweight mesh construction, gives it the protection, strength, and airy lightness hikers have come to love in a sandal.
A cushioned footbed provides pillowy support with every step, enabling you to explore in utmost comfort. Consumers report that the Whisper is true to size. The Whisper can be machine washed on the gentle cycle and air dried.
Chaco Zong X Sandal
Weight: 10 oz.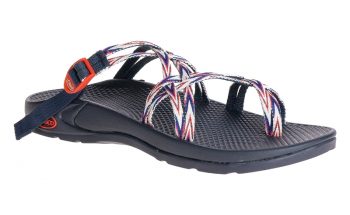 Dimensions: 13 x 6 x 5 inches
Specific features: Adjustable fit, adjustable heel risers, a LUVSEAT midsole specifically designed for women, a non-marking EcoTread 25% recycled outsole, and a 2mm lug depth.
Best use: The low-coverage Chaco Zong is best suited for tame trails and everyday activities like sightseeing or summer party-hopping.
The cute and casual Chaco Zong Sandal might not be the most heavy-duty sandal on the market, but don't let its delicate design fool you: the Chaco features plenty of support for long-term wear, and an adjustable fit system customizable to every wearer's foot. The double-strapped polyester jacquard webbing wraps around the foot and through the midsole for a snug fit, and the high-tensile webbing heel risers are also fully adjustable.
The Chaco has a toe loop for extra stability, along with an injection-molded ladder lock ankle buckle. This surprisingly rugged sandal boasts the Seal of Acceptance from the American Podiatric Medical Association, and the Chaco's LUVSEAT technology ensures that you will have proper arch support and cushioning throughout your day.
The Chaco Zong sandal is not just great for outdoor activity; it's a solid and fashionable choice for those who find themselves on their feet all day. Most consumers found the Chaco Zong to be true to size.
Chaco ZVolv Sandal
Weight: 9 oz.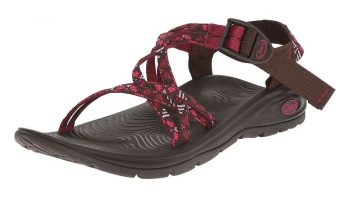 Dimensions:13 x 6 x 5 inches
Specific features: Polyester jacquard webbing, adjustable high-tensile webbing heel risers, an injection-molded ladder lock buckle, the characteristic Chaco LUVSEAT midsole, textured footbed grooves for traction, vegan-friendly construction, non-marking EcoTread, and a 3mm lug depth.
Best use: The Chaco ZVolv is a multi-use sandal that is recommended for light-to-moderate hiking, wading through streams, walking at the beach, or just everyday casual wear.
The Chaco ZVolv takes the hallmark features of your typical Chaco sandal, like adjustable straps and the LUVSEAT midsole, and works it into a sturdy, ultra-light sandal perfect for long hikes on mixed terrain. One of the biggest selling points of the ZVolv is its vegan-friendly construction, which makes it a home run for consumers concerned with making a sustainable choice in footwear.
Though the ZVolv is an open-toed sandal, users have reported great success with it on long hikes, deeming them hike-ready right out of the box without any initial breaking-in period. These sandals are built to last, and, like the Chaco Zong, the footbed is specifically molded to fit the physiology of a woman's foot.
Although these sandals are fit for water use, they are not recommended for the washing machine. However, their durable construction makes them a resilient sandal that can be used on the trail for years at a time.
KEEN Uneek 8mm Flat Camo Sandal
Weight: 8.9 oz.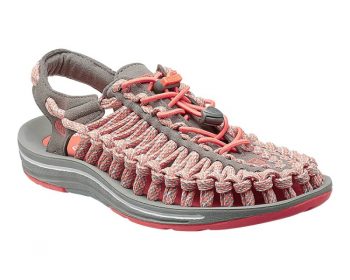 Dimensions: 13 x 8 x 5 inches
Specific features: Cleansport NXT for odor control, a lightweight midsole, metonymical footbed, soft microfiber footbed cover and heel back, a non-marking rubber outsole, and an 8mm polyester braided cord with free moving cord junctions for maximum adjustability.
Best use: The KEEN Uneek is best suited for light trail use, beach wear, or urban use.
Upon first looks, you can see that the KEEN Uneek is truly a unique sandal, and its construction is just as original: it's two-cord system with a free-moving cord junction enables the wearer to have freedom of movement while maintaining stability and structure.
A high-traction outsole keeps your step secure, while the silky-soft microfiber-lined footbed and heel back keep your foot in a cloud of ultimate comfort. These aren't the ideal sandals to strap on before sloshing through a mountain stream, but if you're on the lookout for the ultimate sightseeing sandal to take you through long days of museum tours and urban trails with ease, the KEEN Uneek is your best bet.
The KEEN Uneek is best cleaned by hand washing with a mild detergent and left to air dry away from dry heat. You can also brush dry dirt from your Uneeks with a stiff brush or soft cloth.
Teva Terra-Float Livia Lux Sandal
Weight: 5.1 oz.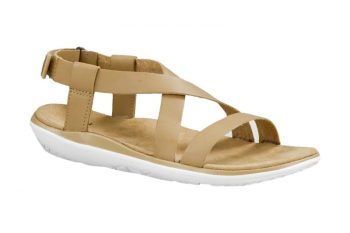 Dimensions: –
Specific Features: Hook and loop strap, a cushioned footbed with a lightweight EVA topsole, a Float-Lite outsole constructed of an EVA and rubber blend, and excellent traction for wet and dry surfaces.
Best use: The Teva Terra-Float Livia Lux is great for all-day urban wear, but as they are not waterproof, are not recommended for extended use in wet conditions, i.e., no stream wading in this one.
Weighing in at only 5.1 ounces, the Teva Terra-Float Livia Lux is one of the lightest multi-use sandals on the market today. Featuring the luxurious look of real leather straps, this sandal is perfect for a long day on your feet in the city, but not quite so suited for a day wading streams on the trail.
The Teva Terra-Float Livia Lux bridges the gap between hiking sandal and dress sandal, being outfitted with its extremely comfortable Float-Lite footbed designed to keep you supported all day long, but also sporting a look that is just as appropriate in a restaurant as it is on a stroll through the park.
This sandal is a great choice for a casual adventurer — one whose idea of wandering through the wilderness means staying on a well-marked trail — and the sturdy cross-strap design of the Terra-Float Livia Lux will make it your favorite go-to for long (sunny) days on your feet.
Merrell Azura Strap Sandal
Weight: 7.5 oz.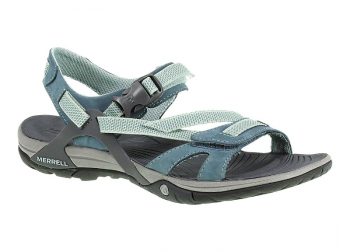 Dimensions: 13 x 8 x 5 inches
Specific Features: Waterproof Nubuck, air mesh and webbing, a breathable mesh lining treated with Aegis Select Fresh odor control, a rubber sole, an EVA integrated footbed also treated with Aegis Select Fresh odor control, and a Merrell Air cushion in the heel.
Best use: Perfect for full days on your feet on sightseeing or urban adventures on wet or dry pavement, also suitable for light-to-moderate hikes that include water crossing.
A multi-use workhorse of a sandal, the Merrell Women's Azura Strap can take you from a day criss-crossing theme parks to a solitary ramble through the forest. This sandal is fully waterproof and also features a footbed and mesh lining treated with Aegis Select Fresh odor control, which makes it worry-proof when it comes to wading streams and stomping through puddles.
The Azura Strap's design allows water to drain freely, and the synthetic mesh and webbing enable the sandal to dry in almost no time. The signature Merrell air cushion in the sandal heel provides optimal shock absorption, and the M-Select GRIP tunes on the sandal's outsole gives the wearer top-notch traction (and peace of mind) on various types of terrain.
The waterproof Nubuck is both functional and fashionable; the Azura Strap's attractive design makes it a summertime favorite for female adventurers both on and off the trail.
Final Thoughts
Now that you're an expert on hiking sandals and come armed with detailed product reviews, the next step is grabbing your wallet and outfitting your own feet with a pretty pair. However, even with all these pointers in mind, the final decision will still come down to how each sandal feels to you once you slip it on your foot. Online reviews are helpful and a great place to start, but nothing can replicate the experience of letting your foot do the talking.
Are you hiker who swears by the lightweight and versatile hiking sandal and has a favorite brand to recommend? Are you a newbie considering your first pair? Are you a seasoned boot-lover not yet sold on the appeal of a sandal? Leave us your thoughts in the comments!