When seeking to buy your first air mattress, there are abundant brands with unique features to make your choice. Decision making can get complicated in the process of zeroing in on the right model.
To guide you in the decision-making process, we have put together this useful buying guide on the best camping air mattress.
Essentials are included to help you get to know all the options and terminology involved for each brand.
Important Features to Consider When Choosing an Airbed
Price: This is a critical factor when making a decision on which airbed to purchase. If you desire comfort and more luxury, you will need to part with some extra bucks.
Cheaper alternatives are available for those on a shoestring budget, however, these cannot be compared to their pricey counterparts. Its not to say that there are no cheaper airbeds which work well.
What matters most is your judgment when making a choice among the many brands.
Size of the mattress: All the airbed brands on the market have a particular size. It's up to you to decide what bed size you are going for. Thinner or low profile airbeds are available lacking the added base, and they are slightly cheaper, smaller and more compact.
Thicker ones tend to attract a higher price tag than the thinner beds since they promise more comfort. They also come with many more extra features.
Unique features: When looking for a mattress, always watch out for the key features it offers. Some offer amenities like pumps for inflation and deflation, design, cot or frame.
It's then up to you to decide on which features wow you, to choose that particular brand.
Ease of use: Always go for a bed which is easier for you to use. You would not want to spoil your camping adventure with an airbed which gives you trouble. A good bed should not give you any problem to assemble, inflate, deflate or pack.
Portability: You should always keep the weight of the bed in mind, so that it suits your camping needs. A heavier bed with a cot is not appropriate on a car camping trip.
A sleeping bag would be a better choice since it's easy to carry.
Capacity of the bed: Each bed has a specific weight limit is supports. You will find it disturbing to purchase a bed which cannot hold your weight. You will be wasting money since it will deflate more than usual and develop leaks.
So, always check for weight specifications when making your purchase.
Dimensions: When planning to go camping in a group, consider the dimensions of the bed you are buying. Beds which can support an extra occupant are preferred.
Also, the ability of the bed to be combined with another comes in here too. You should be able to join two beds without creating discomfort to the occupants.
Nature of the pump: Airbeds have diverse types of pumps. Some require external pumps while others have inbuilt ones. This determines the ease at which it can be used.
Mattresses with external pumps are always cheaper than those with internal ones. External pumps manually powered by foot, battery or mains are powered by an external tool. And if you lose it, an extra cost has to be incurred to get a replacement. These are getting outdated, and internal ones are becoming more popular.
The Best Choices in Air Mattresses for Camping
Therm-A-Rest NeoAir Dream
Weight: 7.5 pounds
Dimensions: 13 x 12 x 18 inches
Design Features:
Luxurious 3-Layer mattress.
NeoAir construction and ThermaCapture technology enable insulation
Modular Protective cover can be removed and washable. Plus the mattress can be used separately. With inner mattress: 3 in 7.6 cm, thick with an R-value of 2.6.
Integrated straps combine with another NeoAir Dream Mattress for double-wide luxury.
NeoAir Torrent Pump included plus car DC charger.
Best Use: Base camp luxury
Description: This is the ultimate choice for sleeping well while camping. The Therm-A-Rest NeoAir Dream puts together comfort, a contour-hugging pillowtop plus top notch NeoAir mattress technology.
You get superb next-to-skin comfort and all around warmth with 4 inch stable loft. The 3-inch NeoAir core can be removed for use independently if you require less weight.
Enjoy double wide luxury with straps that connect two mattresses using a couple of kits. It comes with a stuff sack, carry handle, Torrent Pump (which inflates the NeoAir mattress within 1-5 minutes), and a repair kit.
It's a favorite for many people since its comfy even on hard ground and side sleeping, packs quickly and is warm to sleep on. On the downside, the microfiber cover picks up dirt, uses 4 CR123A batteries for the pump, which are not included and quite expensive, and the Torrent Pump needs some modifications. Enjoy your comfort and dream big.
Related: NeoAir also offers other air mattresses; MondoKing, NeoAir Camper, Luxury Map, BaseCamp AirFrame and BaseCamp.
Lightspeed Outdoors 2-Person PVC-Free Air Bed
Weight: 6 pounds
Dimensions: 79 x 55 x 6.25-inches (LxWxH)
Design Features:
2 Person PVC-free air mattress is more temperature stable, abrasion resistant, and is more durable than regular PVC air beds
Two-person Phthalate and PVC-Free air bed, you can adjust firmness thanks to the two-way Boston valve and patented stabilizer system
Airbed comes with battery operated pump and an oversized storage bag, 4 D batteries not included
Fits standard queen sized sheets; measures
Air mattress of superior durability from TPU, thermoplastic polyurethane material construction that packs up small and lightweight
Best Use: Camping and Backpacking
Description: Enjoy an exceptional night when camping on the Lightspeed Outdoors 2-Person PVC-Free Air Bed. It comes with a patented stabilizing system. This mattress evenly distributes weight using 192 independent connectors between the top and bottom layers.
There's no bouncing or movement disturbances between partners on this mattress. With a battery-operated the pump and built in Boston valve, you can adjust how firm you want the mattress to be.
The mattress is PVC and phthalate free since its manufactured using high-grade polyester Oxford. This is laminated with thermoplastic polyurethane (TPU). The combination of these superior materials makes this bed unique from regular beds. It's less prone to stretching and ballooning.
TPU is characterized with high durability standards, resistance to puncture, and abrasion. With this, you can rely on your Lightspeed mattress to be leak free throughout the years you use it.
With 6 pounds, this is a very light and durable bed convenient for travel and storage. It's less than half the weight of most air beds. Two adults can occupy this bed comfortably.
There's an inbuilt handle for easy positioning and a bag for packing. It comes with a Boston valve which makes inflation or deflation easy and also allows adjusting for comfort.
You don't always have to be scared of your cat or dog coming near you on this bed; no other product beats it for durability.
Useful Tip: Both valves have to be closed tightly. This is to prevent any leakage from the Boston double valve.
Related: Lightspeed also offers other air mattresses; Self-Inflating Sleep Pad, Lightspeed's Camping Pad, Bed and Topper.
REI Camp Bed 3.5 Self-Inflating Sleeping Pad
Weight: 6 lbs. 3 oz
Dimensions: 3.5x 25×72 inches
Design Features:
2 quick-closing high-flow valves
Horizontally cored foam to reduce weight and bulk
5-inch thickness provides ample cushioning
150-denier polyester wear resistant bottom
Welded seams
R-value equals to 6.0; most sleeping pads REI sells range in R-value from 1.0 with minimal insulation to 9.5 highly insulated
Stuff sack included
Soft, stretch polyester top
Best Use: Car camping adventure
Description: REI Camp Bed 3.5 Self-Inflating Sleeping mattress is the best choice if you desire the most comfortable inflatable sleeping pad. With a surface which is soft and offers cushy padding, brace yourself for a comfortable rest while you're away on your camping expedition. It's comfy and insulates well.
It has a beautiful and grippy suede texture. This will keep your sleeping bag from slipping off. Its self-inflating feature works well, and you will not feel the need to inflate it further by blowing it.
With a rectangular shape, this is added to 3-inches of cushion. It is an excellent choice for people who have the desire for comfort rather than weight. The model also falls under the most durable sleeping pads category and the price is also relatively affordable.
Though it offers you supreme comfort, the weight of this sleeping pad is a bit more due to its extra support. Its replacement stuff sacks and valves are not available, and it's not tested for the weight limit.
Related: REI offers this product in either regular or XL size.
Coleman Airbed Cot – Queen
Weight: 92.64 pounds
Dimensions: 78 x 22 x 59 inches
Design Features:
Airbed and cot to give elevated sleeping support
Versatile design for sleeping indoors or outdoors
Two side tables with cup holders for keeping drinks and other personal items
Cot and airbed are separated for double the sleeping space
Can close on both sides
Durable, sturdy steel frame to support up to 600 lbs.
Included 4D battery pump for inflating and deflates airbed, batteries sold separately
Best Use: Indoors and outdoors
Description: If you mind taking the comfort of an indoor bed with you, then the Coleman Airbed Cot – Queen is the ideal choice. You just need to connect the included 4D pump to the Double Lock valve for easy, leak-free inflation.
After finding the perfect firmness, its AirTight system will help keep it in one position. This product is factory-tested to be leak-free. The ComfortStrong coil system will provide all-night support even for those with back problems. It holds up to wear and tear well.
It not only offers a place to sleep with two side tables having cup holders to quickly put your drink, a magazine, or personal items on both sides of the bed, but also has a sewn-in cover that keeps the airbed in place on the sturdy steel frame.
The bed comes with a sleeve that holds the mattress in place. When you're ready to pack up, the Double Lock valve enables you to deflate the bed very quickly.  It folds up into a carry bag that you can transport and store it easily. However, it stacks up thick.
This mattress has a nasty habit of losing air over time, so you need to keep refilling it every day.
Related: From the same manufacturer also comes the Coleman Airbed Cot – Twin
Stansport Self Inflating Air Mattress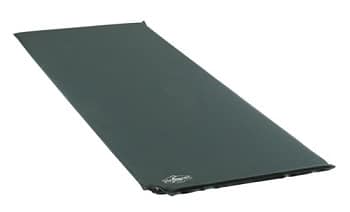 Weight: 2.8 pounds
Dimensions: 4.6 x 4.9 x 21.9 inches
Design Features:
Made from high-density premium grade open cell foam fully bonded to the outer fabric surface
Durable 1500 Oxford nylon shell to hold the bag securely to the pad and will stand up to a few years of rugged 4-season use
4000mm P.U. coating
Best Use: Outdoor sleepovers, car camping, and backpacking
Description: You need a reliable, quick, and portable bed to enjoy a good night's sleep; then you will surely invest in a Stansport Self Inflating Air Mattress. This bed is designed to provide a comfortable night's sleep. It has a lot of unique features.
It's Self-inflating; this ability is the most important feature of this air mattress. It is made from wholly bonded material for reliable outdoor performance, and offers weight support of as much as 300 pounds.
Its main point is the fact that it inflates on its own and can easily be folded into a small shape to be carried wherever your camping adventure takes you. You can apply it as an added layer of insulation on your tent floor or as a sleeping mattress in its own right, and with its considerable length, it supports users as tall as 6' 4''. Its nonslip surface ensures that it stays put.
On the small side, the included stuff sack is mesh which tends to get shredded as soon as it touches granite or sandstone. Also, it's somewhat dull and not for side sleepers.
This airbed remains a God-sent solution for all your camping needs. This airbed is big enough to accommodate a surprise guest overnight.
Related: This product comes in three different sizes.
Exped Mega Mat 10
Weight: 5.8 pounds
Design Features:
Designed with 3-D construction having vertical sidewalls for wall-to-wall comfort
Exped Mini Pump included for lung-free topping up
Air cored foam insulation to provide self-inflating convenience
Velvety soft tricot top surface for next-to-skin comfort
Individual modification of the bed's firmness can be achieved by tapping on the one-way flap of the inflation valve to release little amounts of air
Best Use: Outdoor sleepovers, car camping, and backpacking
Description: The Exped Mega Mat 10 is modeled using 3-D construction to come up with vertical sidewalls for wall-to-wall comfort. It's fitted with air cored foam insulation to provide self-inflating convenience.
The Exped Mini Pump included is used for lung-free topping up. Also, the velvety soft tricot top surface is suitable for next-to-skin comfort. It's the flagship of comfort for its manufacturing company. The mattress is exceptionally warm, soft and plush; it's also lighter and smaller when packing compared to other brands.
Personal adjustment of the mat's firmness is achieved by tapping on the one-way flap of the inflation valve. This will lead to the release of small amounts of air. Separate flat valves are provided for inflation and deflation thus easing handling.
This airbed is durable and protected from damage since it's flat in design and non-protruding. It will leave you yearning for more space.
Useful Tip: You can easily fit two of these together without feeling the divide if you attach a queen size sheet.
Related: Exped Mega Mat also has Exped MegaMat Duo 10 Sleeping Pad
Intex Classic Downy Airbed Set with 2 Pillows
Weight: 11 pounds
Dimensions:  80 x 60 x 9 inches
Design Features:
Inflatable queen airbed with two inflatable pillows including hand pump
2-in-1 valve with extra-wide opening to make inflation and deflation easy and quick
Standard queen size which works well with fitted sheets
Waterproof flocked top with wave beams to be cleaned easily
Best Use: Camping and indoors
Description: Having plush flocking on the top, the Intex Classic Downy Airbed Set with 2 Pillows has a more luxurious sleeping surface. It helps keep bedding from slipping. This package comes with two inflatable pillows including a hand pump.
Modeled with durable heavy gauge vinyl, the cozy flocked top is easy to clean and waterproof for camping use. It's equipped with a quality-tested, 20.8-gauge waterproof flocked top. Plus 14-gauge vinyl beams with 15-gauge sides and bottom. The 2-in-1 valve comes with an extra wide opening for quick inflation or deflation.
The bed is up 8.75 inches from the floor, and with 60 by 8.75 by 80 inches (WxHxL) is ideally an official Queen-sized bed. It ensures a tight fit for fitted sheets. Inflating this takes only ten to fifteen minutes, comfy and compact.
The bed can support a weight of 600-pound. It folds compactly for easy storage. You can easily clean it with mild soap and water. This airbed promises a good, low cost, portable solution.
This mattress has been known to develop leaks and random deflation problems. It's worth a try for someone who requires a quick sleeping solution on the move or needs to entertain a surprise guest who has to stay overnight.
Related: Intex has other alternatives like Intex Pillow Rest Raised Airbed with Built-in Pillow and Electric Pump, Twin, Bed Height, Intex Prestige Downy Airbed Kit with Hand Held Battery Pump, Full and Intex Pillow Rest Classic Airbed with Built-in Pillow and Electric Pump, Full
Alps Mountaineering Rechargeable Air Bed
Weight: 9 pounds
Dimensions: 14″ x 8″ x 17″
Design Features:
Easily fits in most camping tents
The high-tech pump which is rechargeable to inflate and deflate. This includes both a car charger and wall charger
Fitted soft flocked top to add extra comfort and help prevent sliding around
Comfortable coil system for support
Carry bag included for transport and storage
Inflates quickly and easily with a "flip of the "
Industry leading thick and durable PVC
Best Use: Outdoor and indoors
Description: Whether you're heading out for a weekend camping or staying with out-of-town friends, you can always count on an Alps Mountaineering Rechargeable Air Bed.
You'll be assured of a great night's sleep just as well as you do in your bed at home. ALPS air beds come with special, top-of-the line fabric and coil construction which guarantees the best durability and comfort.
They are the perfect brand for indoor or outdoor use. The bed is reinforced with construction to provide a comfortable and uniform sleeping surface. The outer ring provides a stable edge support.
These beds are manufactured using industry leading, extra thick and durable PVC materials. No brand beats them in being puncture resistant. They also come along with welded seams which offer additional durability.
Their bottom and side fabric are 17% thicker than the leading competition, and the top is 10% thick. With a plush, velvety soft flocked top, you will enjoy a luxurious sleep surface. And your bedding will never slip or slide around.
Useful Tips: For an extended pump, life ensures to charge it 12 hours before use, and charge it for 12 hours for repeated use. And make sure that the battery is fully discharged before recharging.
Related: There's a twin version for this product.
Useful Tips to Keep Your Airbed Inflated
Never over inflate it
On first use, fill up to 90 percent and deflate after 3 hours repeatedly to make the plastic get used to expansion
Don't overload
Always check for leaks
Keep away from pets
Keep prickly objects away
What kind of air bed do you use when you go camping? What are the features that you look for to choose a good one?